73 written warnings issued to diners who failed to return trays, crockery, since stepped-up enforcement on Jun 1
The written warnings were issued to first-time offenders at coffee shops, hawker centres and food courts from Jun 1 to Jun 7.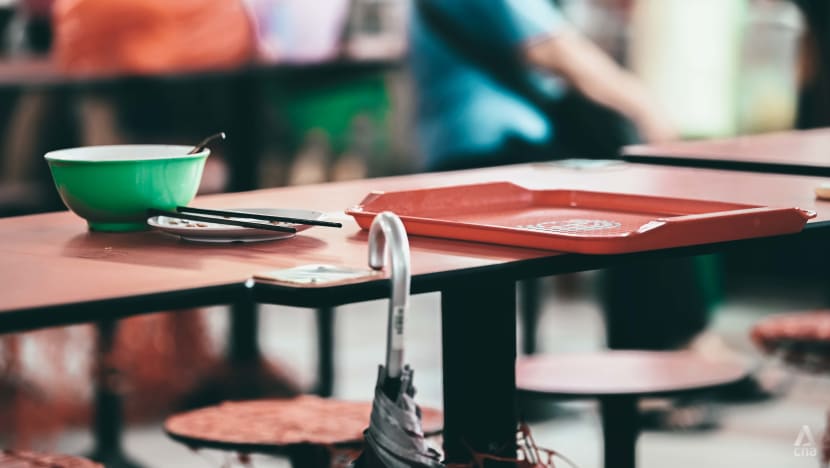 SINGAPORE: A total of 73 written warnings have been issued to diners in a week since the start of stepped-up enforcement against those who do not return their trays and crockery, the authorities said on Friday (Jun 9).
In the past week, daily enforcement operations have taken place at 95 hawker centres and 120 coffee shops or food courts, said the National Environment Agency (NEA) and Singapore Food Agency (SFA) in a joint media release.
Enforcement action was stepped up on Jun 1 against diners at hawker centres, coffee shops and food courts who failed to return used trays and crockery. As of Jun 7, 73 written warnings have been issued.
"Each individual issued with a written warning had been observed by enforcement officers to be physically able to clear their tables," said NEA and SFA. 
The agencies added that enforcement will not be taken against those who are observed to be unable to clear their tables, such as frail elderly, the less abled, or children.
"In such instances, family members or dining companions, if present, should help with the clearing of the tables," the agencies stated. 
No fines were issued between Jun 1 and Jun 7 as there were no repeat offenders.
The authorities also reminded diners not to leave behind litter, such as used tissues, drink cans, shells and bones, but to return them with the trays and used crockery. 
"While cleaners will wipe the tables after use, we do encourage diners to keep the tables clean as much as possible, especially during peak periods," said SFA and NEA.
"We thank the vast majority of diners who have displayed social graciousness at our hawker centres, coffee shops and food courts. We also urge the public to cooperate with enforcement officers if approached."
Under the enhanced enforcement, first-time offenders will be issued written warnings, while repeat offenders will be fined or charged in court. 
Before the tougher measures kicked in, enforcement officers will only issue written warnings to those who refuse to heed their advice to return their trays and crockery.
The rules to return trays and used crockery have been in place since Sep 1, 2021 for hawker centres and Jan 1, 2022 for coffee shops and food courts.
As of May, the average tray and crockery return rate at hawker centres has increased to 91 per cent, from 65 per cent in August 2021. Coffee shops and food courts have also maintained their rates at 90 per cent in Dec 2022.