'Definitely didn't see it coming': Yale-NUS and University Scholars Programme students, alumni react to news of merger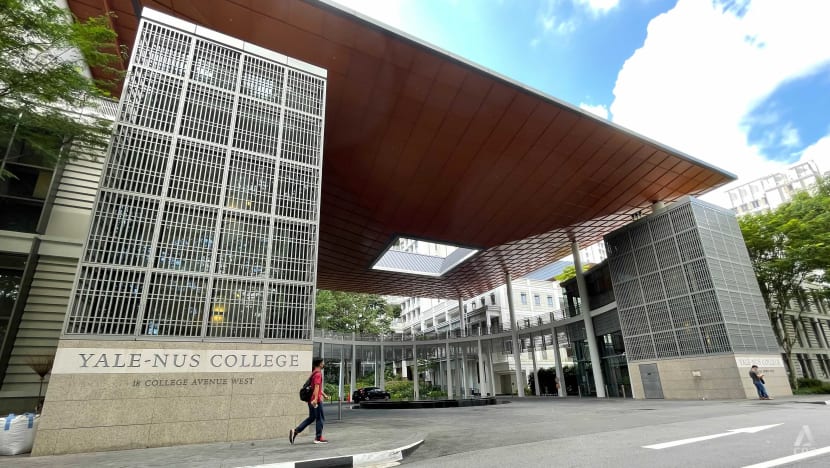 SINGAPORE: Students from Yale-NUS College and the University Scholars Programme (USP) at the National University of Singapore (NUS) have said they are shocked and confused at the news that the two programmes will merge. 
Yale-NUS will close in 2025, ceasing Yale University's collaboration with NUS, and its 2021 intake will be its last batch. The two programmes - Yale-NUS and USP - will be merged and will accept its first batch of students from 2022, NUS announced on Friday (Aug 27). 
The original affiliation agreement signed in 2011 between NUS and Yale has always given either party the opportunity to withdraw in 2025, said the Connecticut-based university. 
On its news site, Yale University said NUS announced its intention to withdraw four years in advance, which gives current students the chance to complete their undergraduate studies as planned. 
Yale-NUS was established in 2011, and USP was established in 2001. Both programmes have residential colleges in UTown. Students currently enrolled in the USP will transit to the new college from January 2022. 
Speaking to CNA at the Yale-NUS campus, first-year student Jordan (not his real name) said students were only informed on Thursday that classes would be cancelled on Friday, without further details.
Yale-NUS and USP students were given a Zoom link for a virtual townhall on Friday morning, which started shortly after the announcement of the merger. 
"Some of (my friends) are sad. They turned down opportunities elsewhere to come here … those are good opportunities. So it's a shame. I guess it's a bit irresponsible," said Jordan.
Adding that it would have been more helpful if the school had told its students about the merger earlier, Jordan said: "People's decisions would definitely change. I can guarantee that. But that's the way the world works ... I think there's a lot of people wanting to transfer now."
Classes for the new academic year began at Yale-NUS and USP in August.
For Jordan, who is Singaporean but has lived overseas his whole life, coming to Yale-NUS was a dream - and he "didn't even think about other schools". 
"Coming back to my home country, getting to know my country, and having an international curriculum. The reputation of Yale also definitely attracted me. But now it's like I'm going to a non-existent college," he said. 
He also expressed concern about applying for jobs in the future, as he thinks employers "will have to do some digging" for background on his university. 
"I was frankly quite shocked when the announcement was made because I thought that the two programmes offered at Yale-NUS and USP were sufficiently distinct," first-year USP student Chiew Chern Faye told CNA. 
She hopes that the new college will bring about new and exciting learning opportunities for future cohorts, and that current students will be given "adequate support" to navigate this new development. 
"Since developments are still ongoing, I am unsure of what exactly to expect in the new programme. However, I hope that it will bring about new opportunities and allow us access to more resources to facilitate our learning," she said. 
'DEFINITELY DIDN'T SEE IT COMING'
After classes were cancelled and the townhall was announced, students were speculating about what the announcement would be, said a Year 3 USP student who only wanted to be known as Charlene. 
"And then suddenly, when the townhall started, there were already news articles coming out on the merger itself. It was a concurrent shock because on the Telegram chat there were news articles, and the NUS president was also announcing it on Zoom," she added. 
"We were all very very surprised by this, we definitely didn't see it coming." 
Charlene, as well as a group of other Year 3 students, were "quite concerned" at first about their graduation certificates, and how the new college would affect their prospects in the future. 
"We entered USP for the USP experience and the prestige that comes with USP," she added.
"Despite USP being quite a young institution of only 20 years, I think I was quite sad about (how) when we graduate, USP will no longer be here for us.
"It just feels like all the heritage that comes with USP might vanish alongside the merger with Yale-NUS."
Moving forward, she hopes for more sessions or townhalls between the NUS admin and affected students with more information about what will happen in the future. 
"As of now, the Q&A, even though they're involving both USP admin and the NUS provost, they seem to be giving very vague answers, or they don't seem to be giving us very concrete assurance of what's going to happen," said Charlene. 
"They keep saying something is going to happen, but it's just all very unclear, and all the details aren't really there yet. I guess it's just quite disconcerting." 
For future plans, she hopes the university will engage with students first on the initiatives before "throwing us into the depths of these announcements". 
Several final-year Yale-NUS students on campus expressed sadness about the loss of college culture. 
The smaller size of Yale-NUS meant students felt "closer to management", said 22-year-old student Alice, who declined to give her real name. 
"Whatever we feel about certain things, we feel comfortable voicing it out. ... And if we scale up, I'm not sure how much support there will be in the future. I've just had a good time in this school and thinking how it will change (makes me) a bit sad," she told CNA. 
"This space is quite special, especially in Singapore … The founding faculty and admin knew what it was like to run a small liberal college," said Henry (not his real name), 24.  
"There's a closeness that's not contrived, but actually cultivated. I think a lot of people are saying they have no faith that they will be able to replicate it in a larger (setting). 
"(Here at Yale-NUS), boys can wear dresses, and in orientation there were people who would dance in the rain. People can just do what they want and (other) people would leave you alone. I'm happy that there was this space, even if you weren't so inclined to dance in the mud." 
Final-year student Lucas said he feels "doomed and lost". 
"What's the point of anything now, if all I can say is that I'm from a failed experiment that no longer exists? Why was this not made more transparent?" the 24-year-old said. 
Freshmen at Yale-NUS were also reminded to pay their university fees just before the announcement on Friday, he noted. 
In an email sent to students on Aug 2 seen by CNA, the NUS Office of Finance said that the due date for the payment of tuition fees for the first semester of the 2021 academic year was Friday - the same day of the merger announcement - for all modes except GIRO. 
Lucas felt news of the merger "trapped the freshmen", and said he was advising all of them to drop out of the programme because of the "terrible planning". 
ALUMNI SURPRISED AND SAD
Alumni for both colleges also expressed shock and disappointment at the news. 
An alumnus from the pioneer batch of Yale-NUS who only wanted to be known as Qistina said she was "genuinely shocked" despite having heard rumours of a merger. 
Noting that NUS had also previously announced that it would form a new College of Humanities and Sciences in September 2020, she added that this news now "makes a bit more sense". 
The new NUS College of Humanities and Sciences
The NUS College of Humanities and Sciences was set up in 2021 as part of a push towards broad-based and interdisciplinary education. 
Students admitted to the college belong to both the Faculty of Arts and Social Sciences and the Faculty of Science. They have access to majors and minors offered in both faculties, as well as the three types of four-year honours degree programmes - Bachelor of Arts, Bachelor of Social Sciences and Bachelor of Science.
NUS announced the new college in September 2020. At the time, the university said the proposed curricula structure will allow for "greater flexibility and the cross-pollination of disciplines" across the humanities, social sciences, science and mathematics.
"The rapid pace of change in many industries means that the old model of intense academic specialisation will no longer work for our young adults," NUS president Professor Tan Eng Chye had said. 
"Rather, graduates into the workforce will need breadth of knowledge, depth, as well as the ability to integrate multiple disciplines to solve complex problems." 
"As an alumni, I don't quite know yet how to process my relationship to an institution that will not exist in four years time. I don't know how to process how my relationship with it will change, given that this is a completely new institution, and understandably it's going to be very very different from the one that I knew and grew up in," said Qistina. 
She hopes that active student participation, which is a "core principle" at Yale-NUS, will continue on into the new college. 
"I want the students to be able to take charge of their education and feel like they have a sense of ownership over it. In my batch, we definitely very strongly had the opportunity to do it because we were so new, we were the only ones who were experiencing everything for the first time," Qistina told CNA. 
"That's something that, when I graduated, I wanted to continue. If they're able to carry that into the new school, that would be wonderful because I don't always see institutions giving students that autonomy." 
Another Yale-NUS alumnus from the pioneer batch who only wanted to be known as Mel told CNA: "Honestly, it is a mixture of shock and disappointment. USP is a great programme with its own merits, but Yale-NUS was always framed to us as an autonomous institution from the start.
"It was an experiment, but from the success and exciting outcomes of the first few batches, most of us felt that it was an experiment worth continuing. Unfortunately, we did feel like the carpet was suddenly pulled from under us with no warning."  
The tight community, the access to many disciplines and the diversity of people and ideas Yale-NUS students experience is "not something that can be easily recreated", she told CNA. 
"After graduation, I have not been able to find anything close to it, and it is something I have always missed, and will continue to miss." 
Although she is glad that interdisciplinary education paths are "gaining traction", she hopes that the spirit of "thinking with different hats, critical thought and bravery to explore new paths" will continue to be embraced in the new college. 
"I worry for the younger batches who are still in Yale-NUS, as they were sold a dream and a concept that they will only get half of. The culture will inevitably be different, since the school will be much larger, but we can only be optimistic about it," Mel added. 
"If anything, perhaps the choice that NUS made is reflective of the success of Yale-NUS - so much so that it decided to multiply it to a bigger audience. But there is still a sense of loss and heartbreak in the small special space that we created, as the sense of intimacy and purpose to make this project work will be lost." 
USP alumni Chan Meiyi said she was quite surprised by the announcement as both institutions are quite young, noting that USP and Yale-NUS were set up in 2001 and 2011 respectively. 
"I feel that it hasn't been a particularly long time since the university's infrastructure has gone through changes," said Ms Chan, who graduated in 2011. 
"It's barely been 10 years, so I don't feel like either of the colleges or USP itself has had a sufficiently long time to grow really significant and meaningful roots in the community." 
USP's small cohort size, especially before Cinnamon College was established, was a reason for the programme's success and strong alumni ties, she added. 
"The decision to terminate USP by merger for reasons of 'scale' is therefore quite disappointing," said Ms Chan. 
Adding that the merger announcement is "a bit surprising, somewhat disheartening", she said: "I'm not very encouraged by it because it makes me question why there are so many changes in a relatively short amount of time for an academic institution." 
Ms Chan also noted that the common curriculum at the new college would be enhanced with science, technology, engineering and math elements. 
"It's a bit disheartening because the whole point of USP was not to privilege any particular discipline. It was to allow people from various disciplines to take classes in other disciplines," she said. 
"Once you're saying that we're going to be enhancing it with STEM aspects, or even to say we're going to be enhancing it with humanities aspects, I would be questioning what the objective is now. 
"In the past, USP was a very open-ended disciplinary programme. When you weigh it (more) in certain areas, to me, that's a different programme. Now it has a slightly different agenda from what I was used to when I was a student."