SINGAPORE: The Yellow Ribbon Prison Run has returned with a virtual edition after a hiatus in 2020 brought about by the COVID-19 pandemic.
"This year's virtual run demonstrates the resilience and desire of the community to transcend physical boundaries in support of the Yellow Ribbon cause," organisers said in a media release on Friday (Sep 10).
Known as the Yellow Ribbon Virtual Run this year, the event will take place from Sep 1 to Sep 30.
"The yellow ribbon is a symbol of hope, acceptance, forgiveness, and second chances," the organisers said.
"Themed Challenge YRself and Inspire Second Chances, members of the public can run, walk or hike routes - with no minimum distance - throughout September in the shape of a yellow ribbon, as part of their pledge of support for second chances."
There are two categories to chose from, YR Inspire and YR Challenge.
In YR Inspire, participants will have to complete at least one virtual walk, run or hike of any distance in the shape of a yellow ribbon in a single activity during the event period. Participants can submit as many activities as they like.  
In YR Challenge, the aim is for participants to move a total of 60km during the event period. This can be done in a single walk, run or hike of 60km in the shape of a giant yellow ribbon, or in up to five separate activities, with each activity completed in a ribbon shape.
"This year, a new distance category of 60km was introduced to signify the challenging journey that many ex-offenders undergo to rebuild their lives and reintegrate into society," the organisers said.
"Research has shown that when ex-offenders stay crime-free for more than five years (60 months), their chances of reoffending (are) significantly reduced. To achieve this, family and community support are key to supporting ex-offenders over this journey.
"Each kilometre run by Yellow Ribbon Virtual Run 2021 participants represents their support for ex-offenders to stay the course of their reintegration."
For every yellow ribbon route completed, participating organisations will donate S$10 to the Yellow Ribbon Fund, up to a maximum of S$50 per runner.
Activities can be completed anywhere and at any pace. They can be submitted via the Strava app or by manually uploading screenshots on the Yellow Ribbon Virtual Run website.
All participants will receive a race pack which includes a medal crocheted by inmates. Forty inmates were trained in knitting and crocheting over the past year to produce 10,000 medals for the event.
"Each medal is handmade, symbolising every ex-offender's desire for a second chance," the organisers said.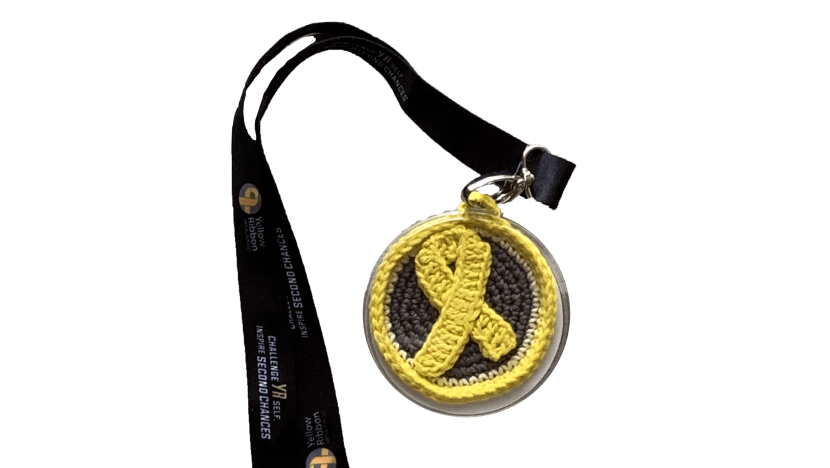 The event was launched by Speaker of Parliament Tan Chuan-Jin, who called on the public to support the reintegration of ex-offenders into society.
"It takes an entire village. All of us can start by understanding the issues, and to participate and volunteer," Mr Tan said.
"By expressing empathy and support, we can make a big difference in helping ex-offenders reintegrate into society.
"As we create a more benign and welcoming environment, we also encourage employers to step forward and be part of the community to provide them jobs and a fresh start."
The Letters from Behind the Walls display usually seen at the end point of in-person Yellow Ribbon runs will also go virtual this year. Participants in the virtual run can send in their responses to these personal reflections from inmates on the event's website.
Participants can register for the Yellow Ribbon Virtual Run from now until Sep 24. Registration costs S$15.
First held in 2009, the Yellow Ribbon Prison Run has seen close to 90,000 runners help to raise nearly S$1.2 million for the Yellow Ribbon Fund.