Defective pipes behind Yishun flat flooded with muddy water: PUB
The national water agency said it is working to rectify the defects as soon as possible.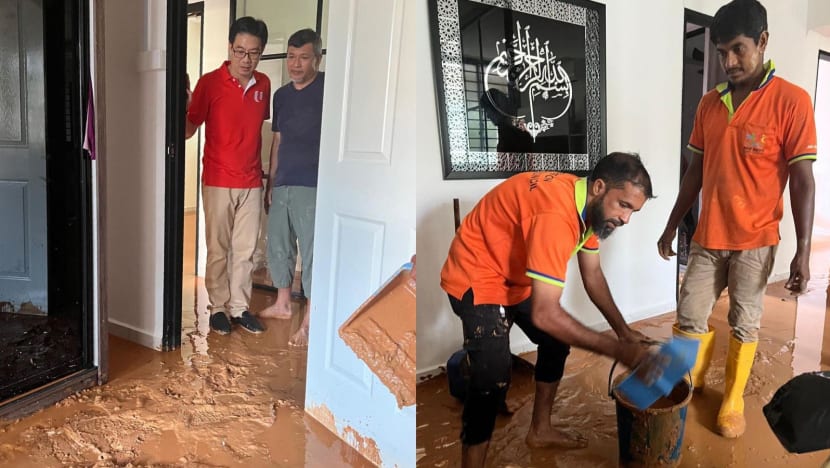 SINGAPORE: An incident that saw a flat in Yishun get flooded with muddy water was caused by defects in the unit's private sanitary pipes, said national water agency PUB on Friday (May 5).
In a statement on Facebook, the PUB said that the "unfortunate and unusual" incident resulted in flooding from within the unit, with water gushing out from the front door.
The flooding occurred on Monday in a ground-floor unit at Block 401 Yishun Avenue 6 belonging to a family of five. 
A nearby underground water pipe had burst, causing "silty water" to backflow and enter the unit via the bathroom's floor traps.
PUB said it carried out a joint inspection with the Nee Soon Town Council (NSTC) to determine the cause and found "several defects on the unit's private sanitary pipes".
The private sanitary pipes carry used water from the unit to the public sewage system.
"When a leak occurred on the underground water pipe located right next to the unit on May 1, the pressurised water from the pipe was hence able to enter the unit via the defects on the private sanitary pipes, resulting in the flooding," said PUB.
The agency added the family was "understandably distressed as they were preparing to move into their newly renovated home".
The family told Chinese daily Lianhe Zaobao on Monday that they were planning to move into the flat this week after spending S$100,000 (US$75,423) on renovation and furnishings.
"After isolating the pipe leak to stop the water flow, our officers stayed on and helped the family with the clean-up, alongside cleaners from NSTC," PUB said, adding the family was given temporary accommodation nearby so that the children can continue to commute to school.
"We (PUB and NSTC) are also supporting the family with the shifting and storage of their belongings and furniture in a storage facility. 
"As the homeowners work through the repairs to their unit, we hope our continued support will help to alleviate some of their anxiety."
MP Derrick Goh (PAP-Nee Soon) wrote in a Facebook post on Friday that the unit was cleaned up on Monday evening.
"We are in discussion with PUB to see if there's further assistance can give to the affected resident and family," he added.
On the repair efforts, PUB said it would, along with NSTC, rectify the defects as soon as possible.