Up Your Alley: Changi - an iconic airport, plane spotters' paradise and intertidal walks to remember
From marine life on Changi Beach, to an abandoned hospital that drew thrill seekers until it was fenced off; from communities of plane spotters to breakdancers, you showed us the hidden gems that make Changi special to you, in this installment of Up Your Alley.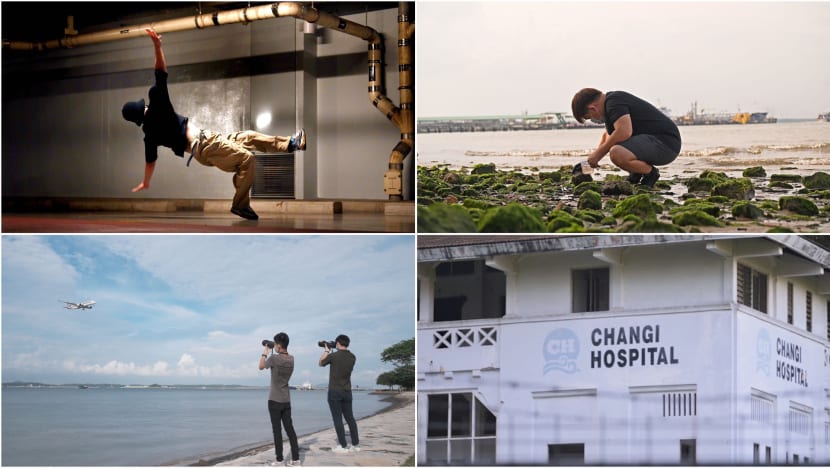 SINGAPORE: It's been said that Changi Airport is possibly the only airport in the world where generations of locals go to eat, drink, play, study and simply hang out.
But fewer are familiar with its surroundings, apart from the foodie haunt that is Changi Village. 
It runs the gamut from the abundance of marine life on Changi Beach, to the abandoned Changi Hospital that drew thrill seekers until it was fenced off.
And then there are the people who pursue their passion there - from plane spotters with their eyes trained on the sky, to breakdancers who built a community deep in the basement of the airport. 
In this installment of Up Your Alley, we met old-timers and insiders alike who let us in on what makes Changi special to them. 
CHANGI VILLAGE: MORE THAN A FOOD PARADISE
People from all over Singapore make the journey to Changi Village Hawker Centre for its laid-back vibe and nasi lemak, but at least one old-timer remembers the neighbourhood quite differently. 
Back in the 1960s, Changi Village was a "mini England", filled with parties, drinks and dancing in the street, 72-year-old Nikchand Munnilal, known as Nik, told us.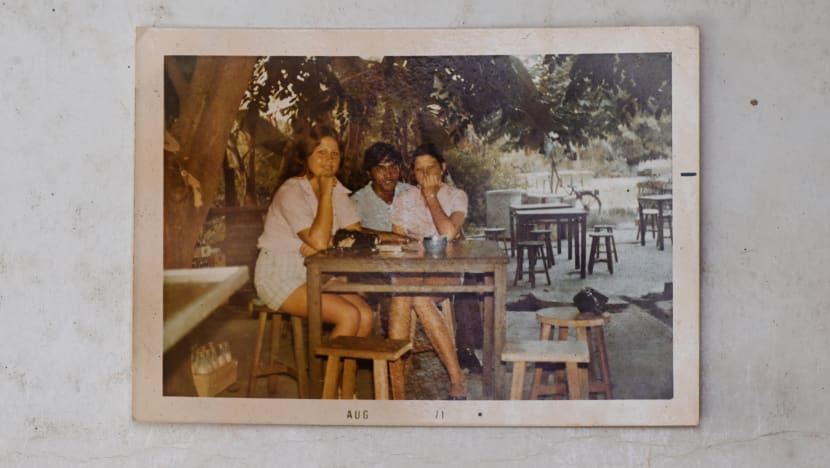 The village, after all, has its roots as a busy market place for British troops who were based in the area until their withdrawal from Singapore in 1972.
Nik and his family moved to Selarang Camp near Changi Village in 1965, due to his father's work. From there, Nik's deep affinity for the place grew as he mingled with the children of the British military personnel. 
Recounting the disco nights, cheap alcohol and swims near Changi Point Bridge, Nik said: "Those days, Changi Village was so interesting that everybody made (it) a point to visit."
He has not been to Orchard Road in ages, he added proudly. "Because everything was here! The bowling alley, the cinemas..."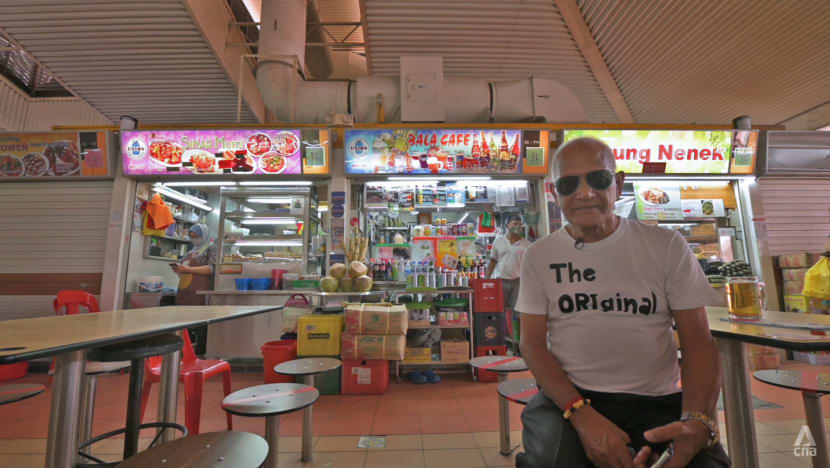 Even though Nik no longer lives in the area, he religiously makes the trip down to Changi Village Hawker Centre weekly to have a drink at Bala Cafe, a stall that has been there since 1979.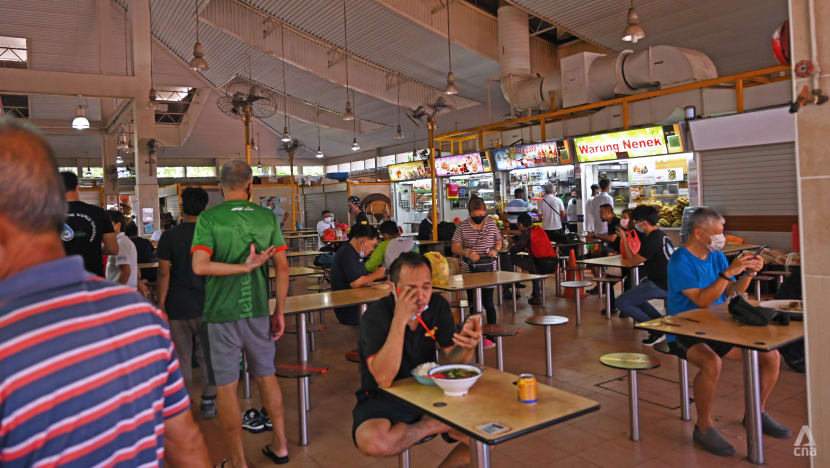 Another former resident, Laxhman Singh, 70, whose father owned a tailoring shop in the area, said that the community was so tightly knit, they were able to buy things on credit based on mutual trust.
Everyone knew each other back then, Laxhman said. "There was absolutely no discrimination amongst the various groups and everyone lived very harmoniously," he added, recalling how RAF personnel stepped in to help when a fire ravaged several shops in Changi Village. 
Laxhman's Primary 1 form teacher at Telok Paku School was Mr Soh Chuan Lam. His daughter, Geraldine Soh, says that walking down the main street of Changi Village still reminds her of her childhood days and "recalling my late father talking to the shop owners he knew".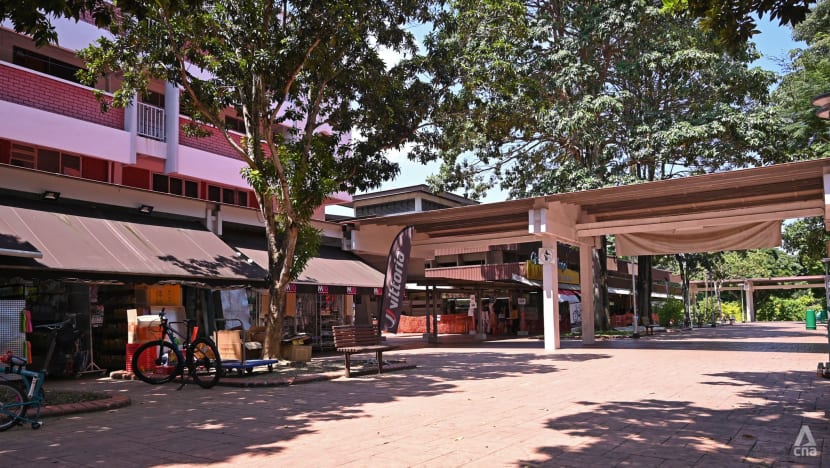 Now 66, Geraldine is based in Canada but makes it a point to visit Changi Village each time she's back in Singapore.
She's also behind Memories of Changi Village, a more than 500-strong Facebook group that shares old photos of the neighbourhood, of cobblers hunched over footwear, merchants selling their wares on bicycles and push carts and makeshift stalls that lined the streets.
"Changi Village, being quieter and without high-rise (buildings), still feels like the old days," she said.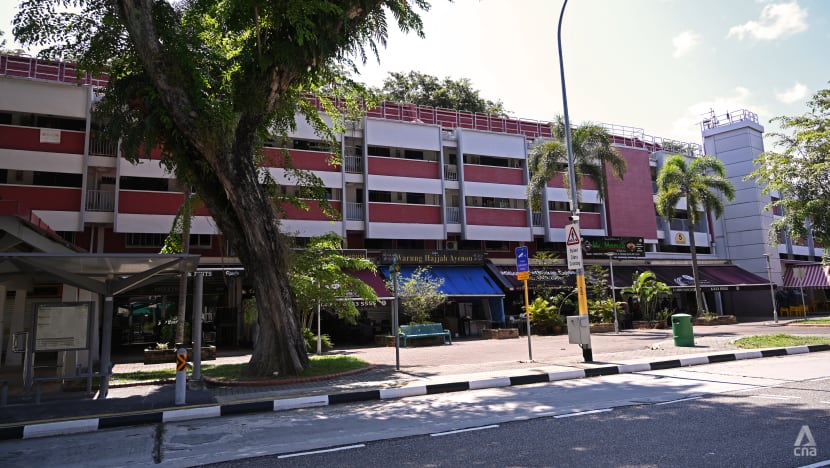 Laxhman himself now lives in Pasir Ris, the closest town he could find to Changi Village, and says he and his former neighbours still go back there and meet for old times' sake. 
"One of the greatest joys I can tell you about Changi is: As we all matured in our lives, what is left is the most wonderful closeness of a great family of true friends," he said.
Top 3 Changi Village spots Laxhman says he will never forget
1. The sarabat stalls 
"They used to make the best tea with roti john and were a good hangout for my friends when we needed to discuss personal matters or even school issues. Most of these stalls were all-night snack bars and we could go there any time to catch a drink with friends. It was also here where we made new friends."
2. Changi Cinema (where Changi Village Hawker Centre now is)
"Our favourite (place) to watch movies. Language movies (Hindi, Tamil and Malay) were 50 cents and you could catch an English movie for 30 cents."
3. Weekly "pasar malam" (night market)
"These were usually held on Wednesday evenings and would last till late night (up to 9pm or 10 pm). We could stay up late beyond bedtime just to roam around the stalls and prices seemed unbelievably cheap. My family bought most of our household items here at the pasar malam. As teenagers we could also pick up some personal bargain items such as wallets, school stationery (and) fancy T-shirts."
A short walk from the village, the 3.3km Changi Beach features prominently in their memories as well. 
Geraldine remembers family picnics at the beach, which involved feasting on the likes of rojak (mixed fruit salad) from a bicycle vendor and char bee hoon (fried vermicelli noodles).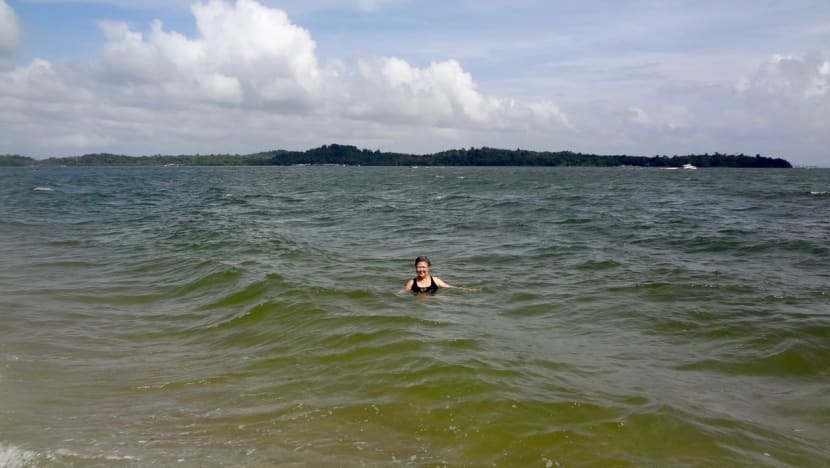 No trip back to Changi would be complete without a dip in the water, she said, adding that the visits brought back childhood memories of playing on the beach with her siblings, cousins and friends.
Laxhman, meanwhile, described the view from the beach as the "ultimate cure for whatever your heart is in need of".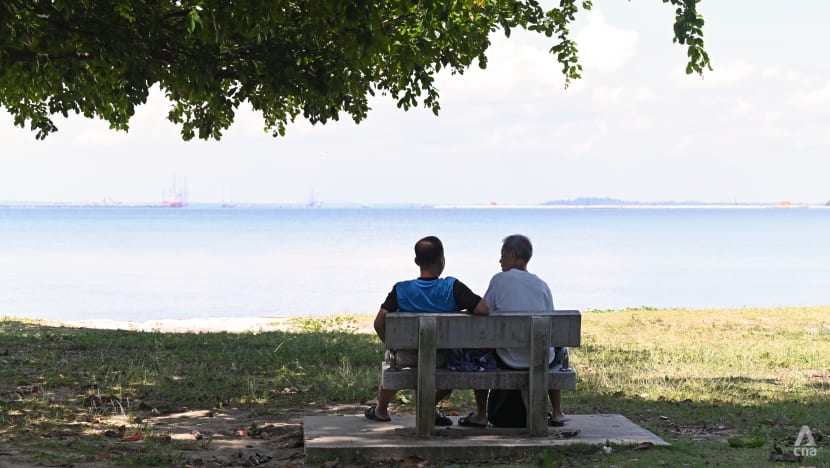 THE REMARKABLE MARINE LIFE OF CHANGI BEACH PARK
Geraldine also enjoyed exploring the marine life on the shore at low tide - a past-time that still draws people to Changi Beach. 
The stretches of beach at Carparks 6 and 7 have sandy and seagrass habitats respectively that make it a goldmine for marine life enthusiasts.
"These habitats provide very unique animals such as seahorses and sea urchins in the seagrass areas," said Marcus Chew, co-founder of Young Nautilus, an education centre that conducts intertidal walks. 
"(In sandy areas), we can find very interesting animals such as sand dollars, and moon crabs."
He added that his greatest find so far has been an octopus, known to be elusive and quick to hide from people.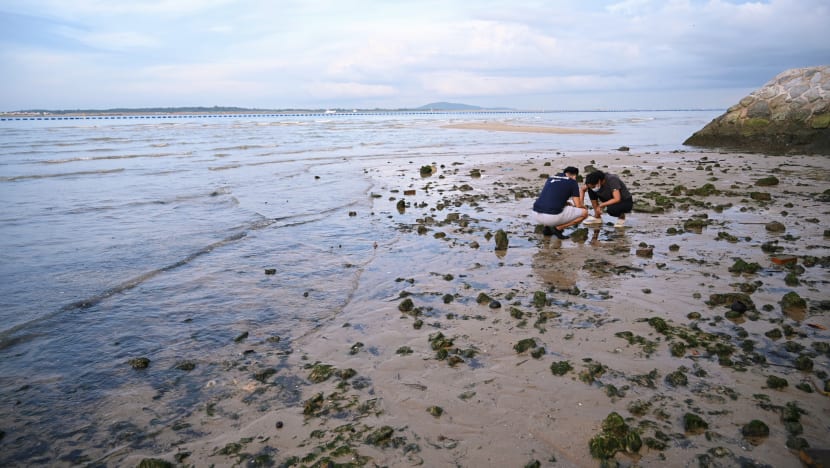 At about 7pm, the tide was about 0.6m - low enough to explore the intertidal zone, including a sandbar 2m from the shore.
Sand trails on the beach that we had thought were left by humans were actually, as Marcus explained, trails that sand dollars (a species of flat, burrowing sea urchins) leave as they burrow just beneath the sand's surface. You can tell them apart from rocks and seashells because of their flexible spines that glisten if you look closely. 
Marcus' trained eye also picked out the finger-sized yellow and pink sea cucumbers nestled in the pockets of water that had collected in the sand.
He pointed out how sea cucumbers, for example, breathe through their rear ends. Scrutinising the creatures, we watched as tiny bubbles appeared as the sea cucumber breathed.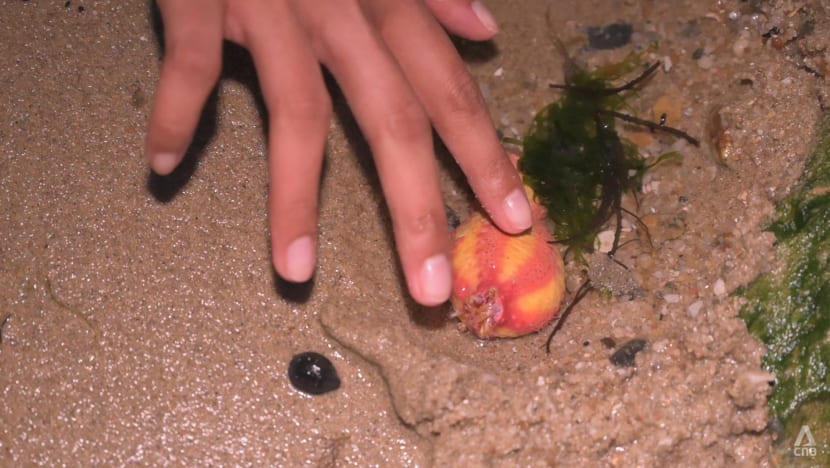 We also found a backbone of a cuttlefish with a calcium-rich layer underneath that was unexpectedly soft to the touch. The scratch marks on it, Marcus said, were made by other animals on the beach that fed on the calcium.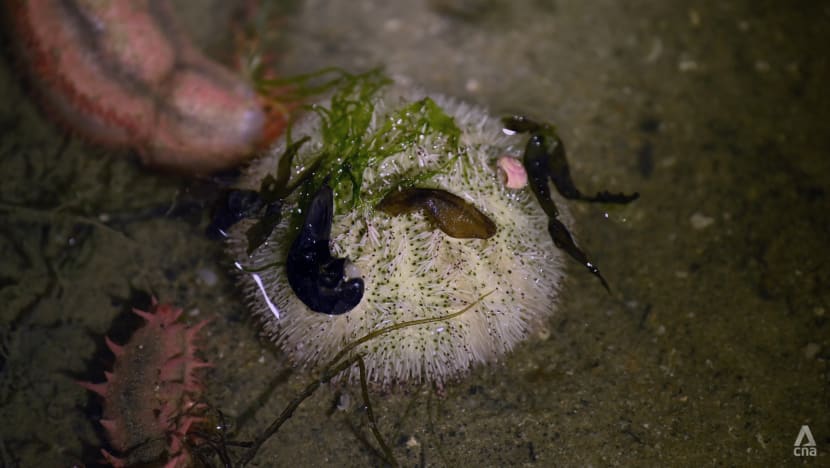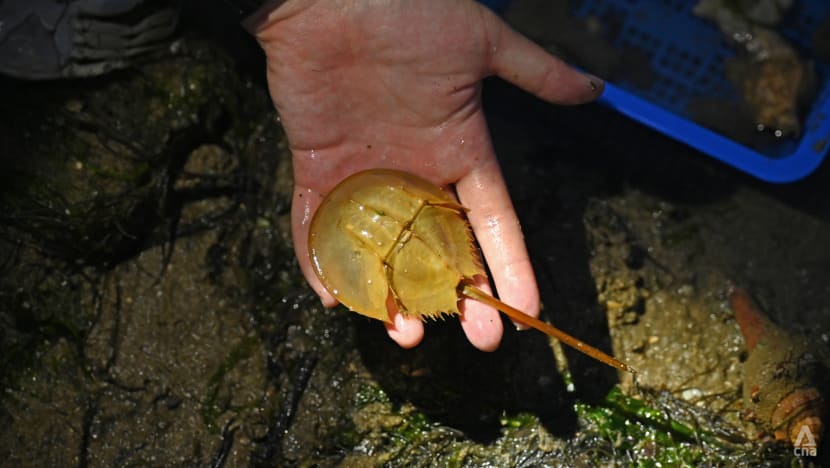 Marcus also emphasised the importance of etiquette and safety when visiting intertidal areas like Changi Beach.
"With the recent articles about public mistreating intertidal animals as they come and dig and (bring) these animals (home), it is very important that we treat our own biodiversity with respect and care."
PLANE SPOTTING: "THE CLOSEST THING TO TRAVELLING"
Peaceful as it may look, almost any visit to Changi Beach is invariably punctuated by the roar of planes overhead as they take off and land at the airport.
For the plane-spotting community that photographs, documents and studies these aircraft, the beach provides vantage points to capture them.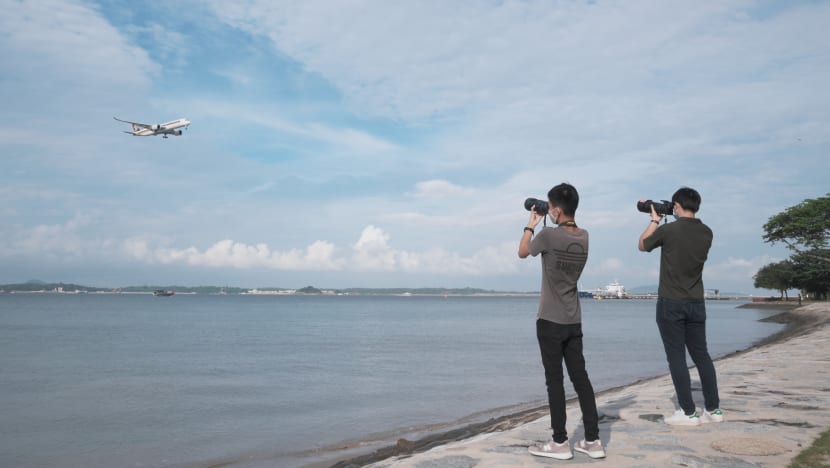 Carpark 2 at Changi Beach Park offers the best views of planes during sunsets, and that Carpark 5 is where they get their best shots at sunrise, plane spotters Hu Xiang Shi and Nixon Ong told us.
Carpark 5 also offers the best close-up views with aircraft roaring directly overhead, frequently interrupting Xiang Shi as he explained to us the planning process behind their shots, from tracking aircraft movements in real time on Flightradar24, to monitoring wind direction.
The spotters say their efforts are rewarded when they nail that once-in-a-lifetime shot.
For both of them, one such shot was of North Korean leader Kim Jong Un's plane from their vantage point at Carpark 5, as it flew into Singapore for the Trump-Kim summit in 2018.
"It's not every day you get to see a North Korean aircraft lurking around the skies of Singapore," Nixon quipped.
"Only a handful of such aircraft remain in flying condition (as) most have either been scrapped or retired long ago.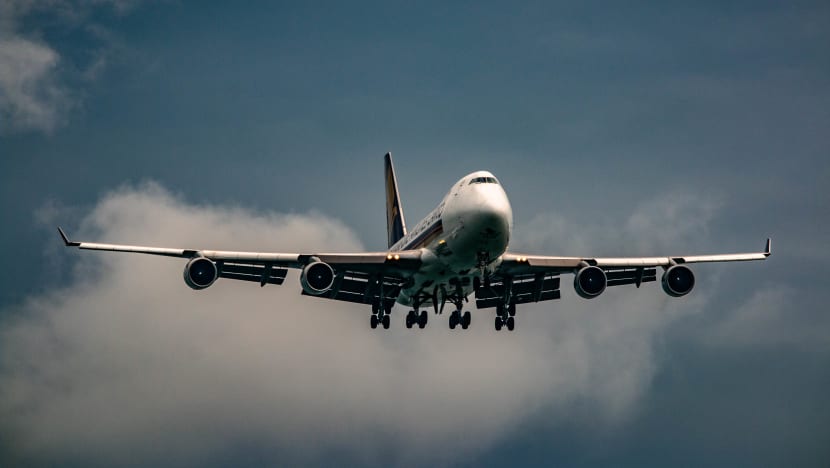 Xiang Shi's and Nixon's top picks of planes they've spotted at Changi
- The North Korean government's Ilyushin IL-62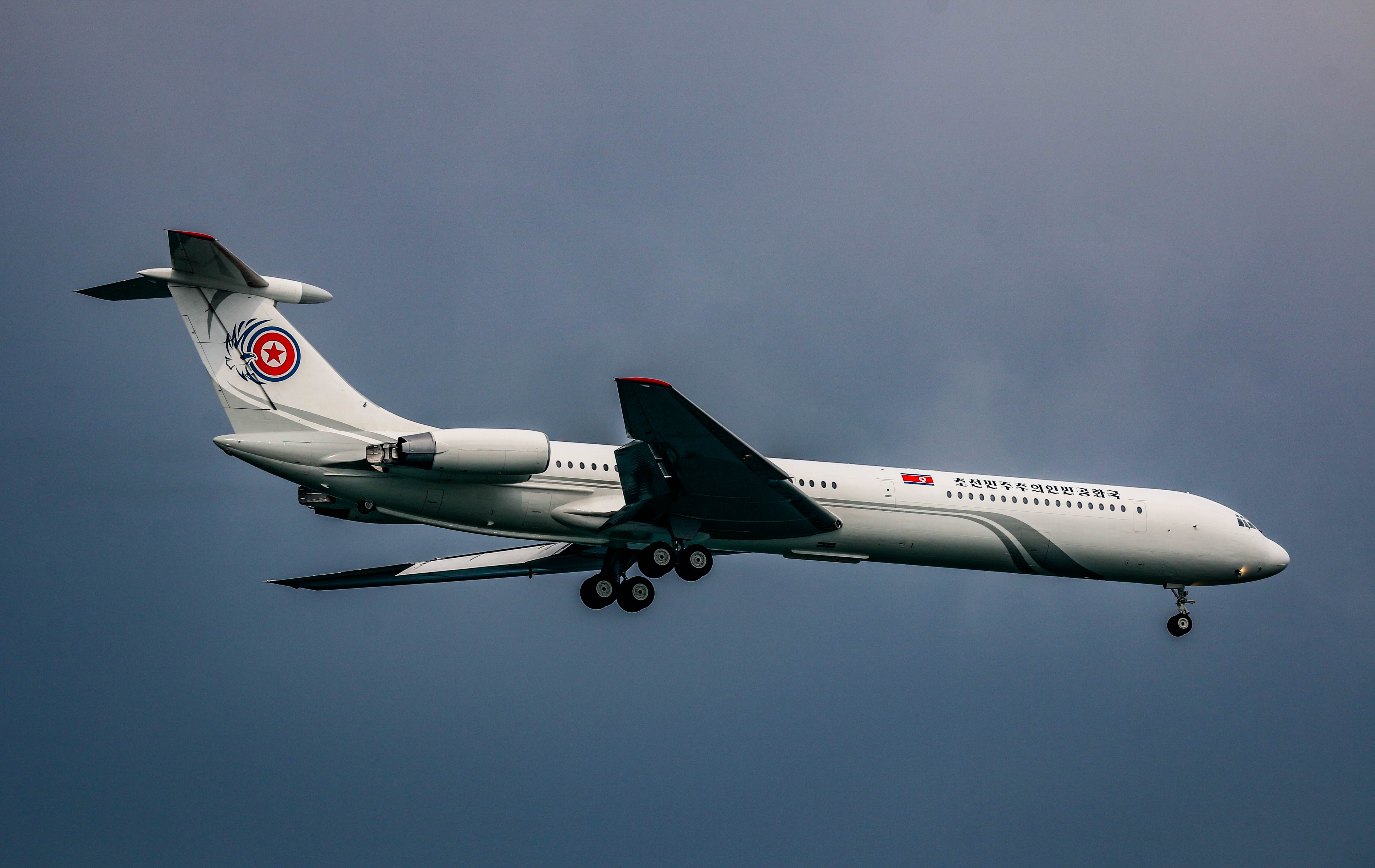 "Even though it is not my favourite aircraft, this has to be one of the rarest aircraft I've ever caught as only six remain in service today since its first flight in 1963," Xiang Shi said.
He nailed this shot at Carpark 5, as the Ilyushin ferried North Korean delegates into Singapore for the Trump-Kim summit in 2018.
"It is also special because it was here for the Trump-Kim summit, which saw the two major leaders meet for the first time," Nixon said. "In a way, we are also documenting a historical moment through our shots."
- Volga-Dnepr Airlines' Antonov AN-124-100
"The AN-124-100 'Ruslan' is one of the biggest aircraft in the world. It is also not a very common aircraft to be seen outside of eastern Europe and Russia as it was built and designed back in the Soviet era," Xiang Shi said, adding it was the golden rays from the sun that bounced off the jet's body that morning that made the photo special to him.
It "only comes to Changi once every few months to carry outsized or COVID-19-related cargo", Nixon said.
- Fedex McDonnell Douglas MD-11
"The MD-11 was actually produced by a company (McDonnell Douglas) that no longer exists today, so it's like capturing a part of history," said Nixon of one of his favourite planes, which he captured from Carpark 2.
- EVA Air's Hello Kitty Boeing 777-300ER and Boeing 747-400S
According to Xiang Shi, this 777-300ER is the "most iconic" aircraft in the EVA Air fleet because of its Hello Kitty livery. The jet in the background is a cargo jet that was on its last flight into Singapore, flown by his friend, Captain Andre Quiros.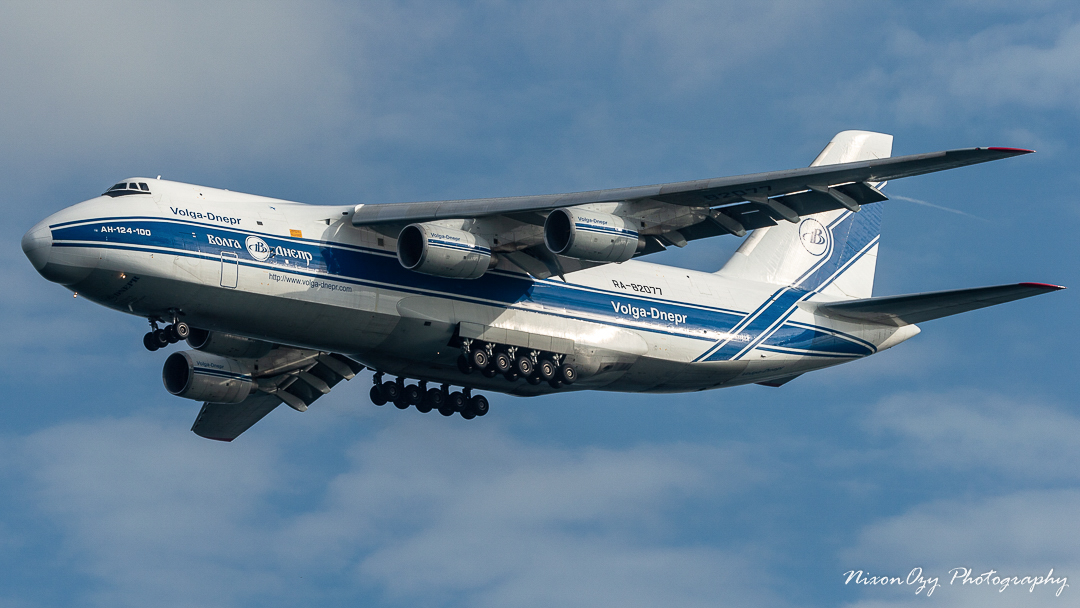 "The main thrill for me is … being able to spot rare aircraft and those with historical meaning in them," said Xiang Shi, who sometimes even cycles from Sengkang, where he lives, to Changi to catch the planes.
"This is also the thing that is closest to travelling now."
Nixon also uses plane spotting to unwind. "It's a bit of like an escape from reality because right now with COVID, it's easy to get caught up in the negatives."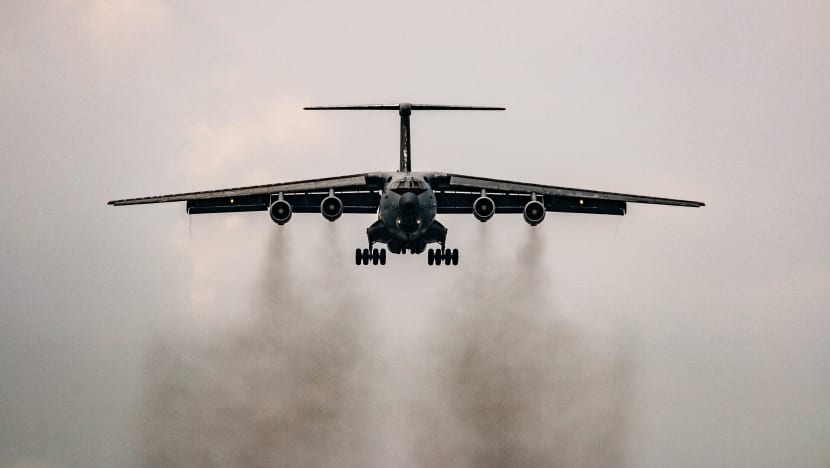 THE UNEXPECTED SIDE OF OLD CHANGI HOSPITAL
A stark white building at the end of Halton Road, overrun with underbrush and with graffiti scrawled across its facade, Old Changi Hospital has had a long history: Previously a military base camp, it became a facility for prisoners of war during the Japanese Occupation, British soldiers after World War II, and subsequently the public.
Abandoned since its closure in 1997, the landmark used to be a regular haunt for all sorts of urban explorers, from thrill seekers to vandals and ritual practitioners. It has also become the setting for numerous ghost stories.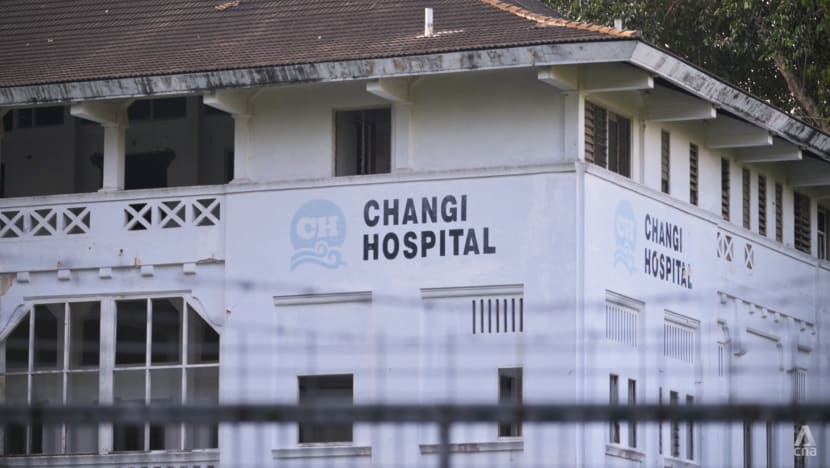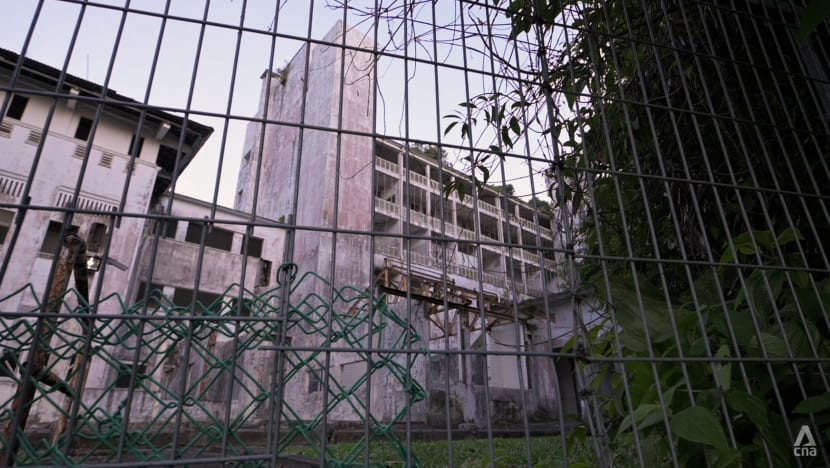 "I've met everyday Singaporeans that have told me they have visited OCH after a night of clubbing and supper," paranormal investigator Noel Boyd said.
"If you search 'Old Changi Hospital', you'll see it on international websites. People talk about it all the time. I have a lot of tourists - when they visited Singapore, they wanted to come to OCH, because they read about this in their own country."
The complex has since been closed to the public and fenced off.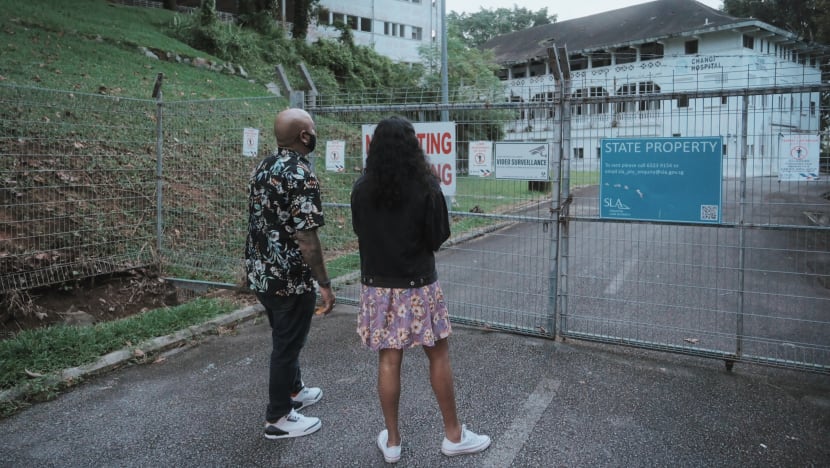 Relating his first time inside Old Changi Hospital, Noel spoke of his excitement at exploring the building. 
"The adrenaline was pumping because I didn't know this place at all, so at each turn, it's something new. You don't know if there's going to be wild animals in there. You don't know if there are druggies up on the second floor. So it was very exciting. And it was just me experiencing that - this historical building for the first time," he said.
"The last time I was in OCH was about six years ago, when it was still legal. We had special permission to enter the children's wing. To me it was a mind-blowing experience because I got to feel it; I got to see where the old canteen is ... It was a beautiful experience for me."
As a paranormal investigator, Noel uses an electromagnetic field (EMF) detector to pick up possibly unexplained changes in electromagnetic fields.
He showed us into a small disused guardhouse outside the hospital's compound along Hendon Road, which he said was used by the security officers who were stationed there to try to stop people from trespassing.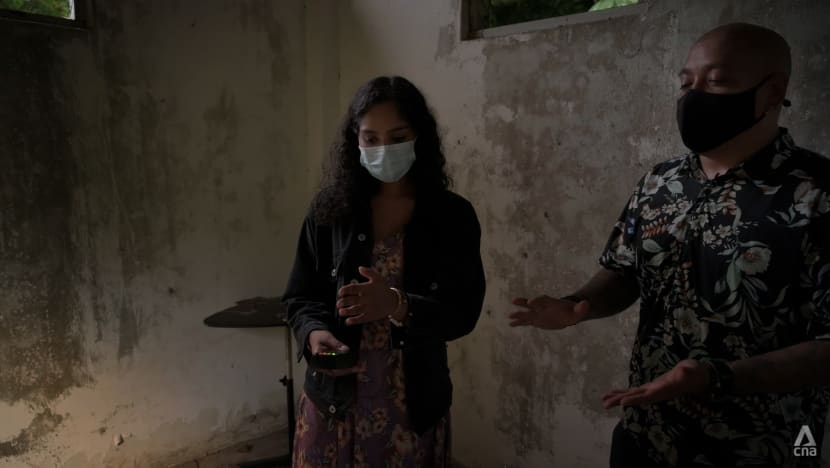 In a corner of the roughly 5 sqm room, the EMF device immediately started spiking, its entire array of LEDs lighting up. 
"When it's red, that means it's really close to us. It would probably be just above us, or it could be behind us," Noel had told us earlier. 
And just as abruptly as the device had started flashing, it stopped, leaving only a single green LED glowing as we walked around the guardhouse with it.
Pressed for an unexpected fact about Old Changi Hospital, Noel mused for a while before he said: "It's not as scary as everybody makes it out to be - and that's coming from me.
"If this was ever opened to the public, you can walk through it in the day. At night, it's a little dangerous because you don't know how good the structure is.
"But it's very calming. You don't feel like you're going to be scared at any moment unless you have a wild imagination."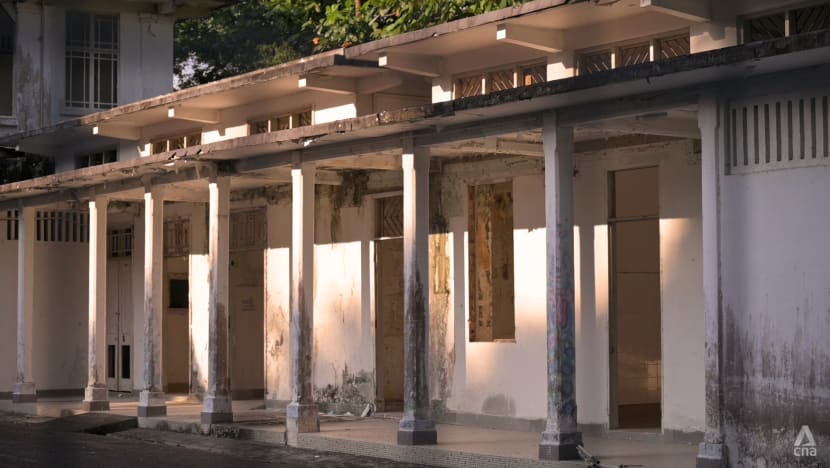 SECOND HOME: CHANGI AIRPORT
'CHANGI HAS TO BE MY LIFE': AN AIRPORT EMPLOYEE OF 40 YEARS
"I saw how Changi (Airport) grew from nothing to this building," said 60-year-old Mohd Aqbal Fakir Khan, who has been working at the airport since 1982, just months after Terminal 1 opened the previous year. 
"I decided Changi has to be my life."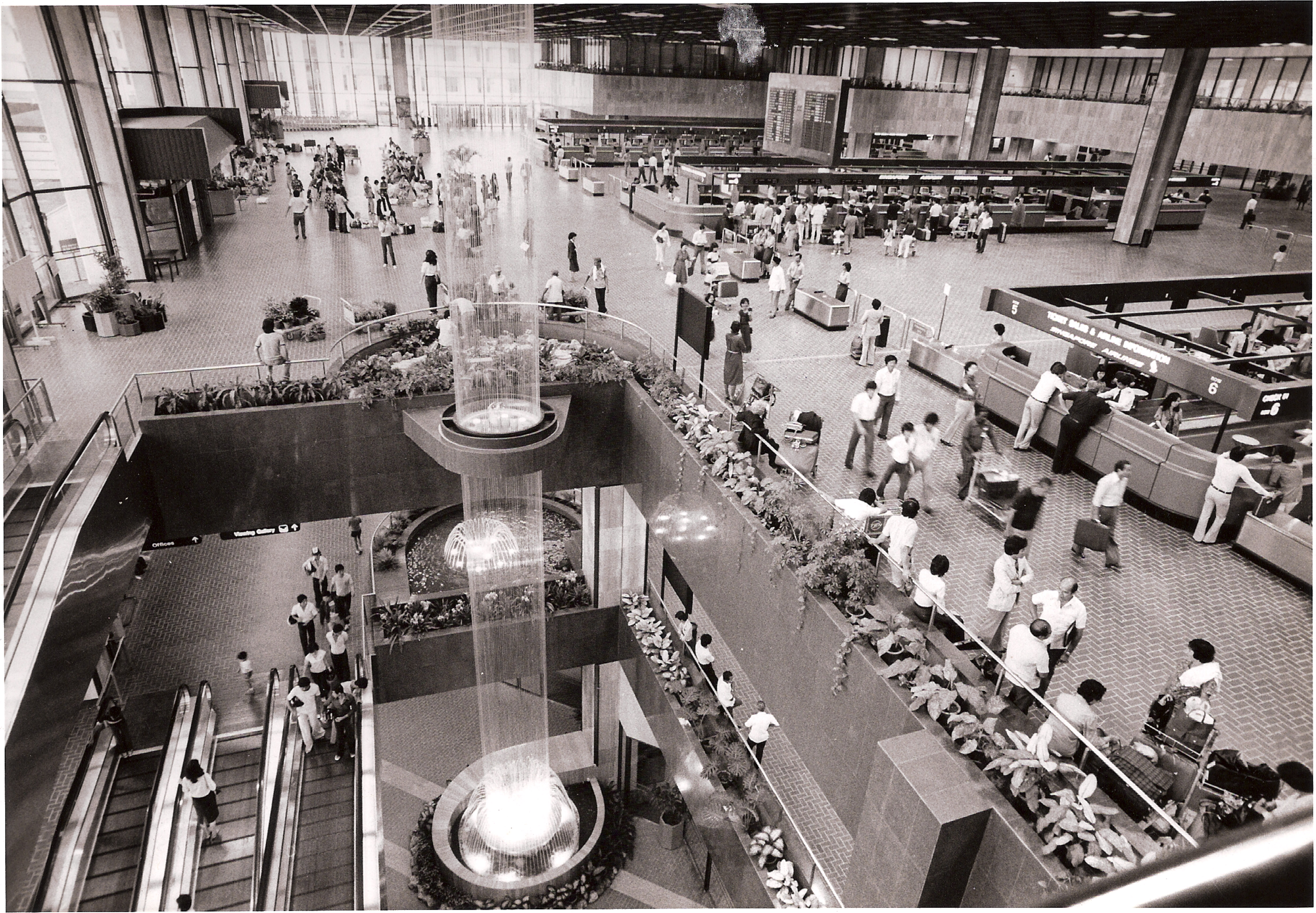 Changi Airport was not only where he built a career, but also where he met his wife. As his kids grew up, Aqbal took them out to Changi Airport for family trips.
"I feel complete when bringing them there. To me personally, (Changi Airport) is more of a second home," Aqbal said.
Aqbal would take his children to eat at the staff canteen in Terminal 1, where he is still based.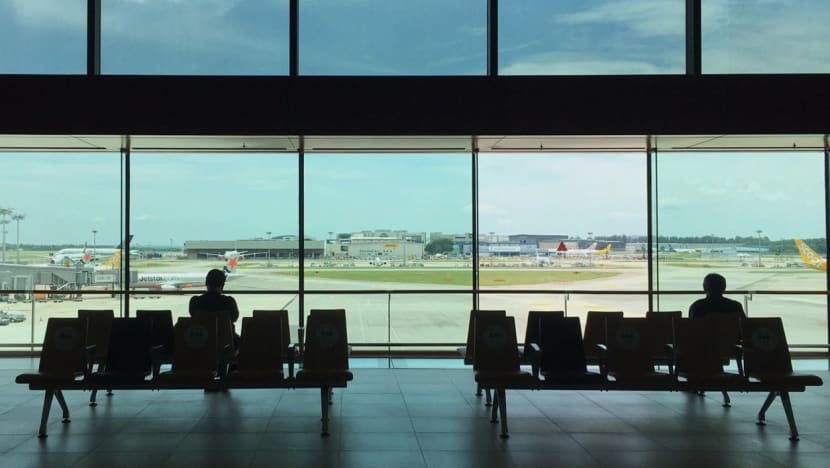 His children are now in their teens and 20s, but when they were younger, he also took them to the slides that span several storeys at Terminal 3, as well as the colouring booths there. Even his desk at dnata's office and the check-in counters were excursion destinations. 
"Knowing that they enjoy the place as much as I do ... I feel that they are at home with me," Aqbal said, adding that two of his daughters previously held temporary jobs at Changi Airport as well. 
"I hope that they will secure a job at the airport one day, but I will leave it to their decision," he said.
As a Changi Airport native, Aqbal has seen all the hangouts in the complex, old and new. 
He remembers the old Swensen's restaurant at Terminal 1, a popular destination for a generation of visitors to the viewing gallery. But it was the old Delifrance outlet, he noted, that was the airport employees' top dating spot.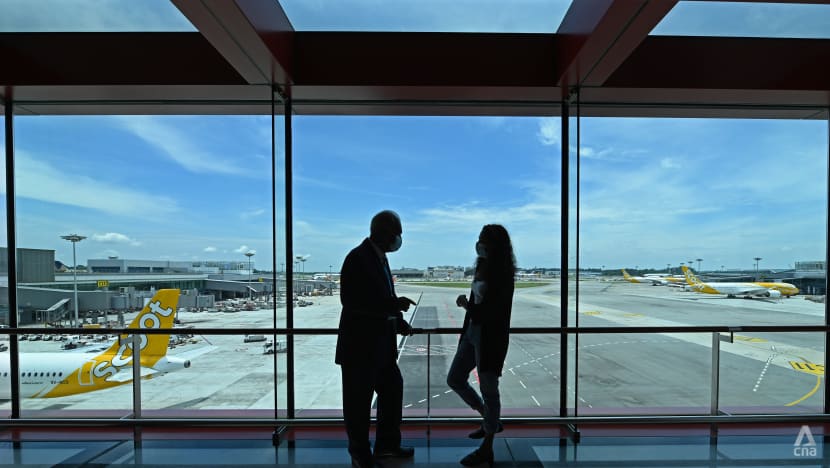 Those are gone now, but more hangouts have emerged all around the airport as it grew.
At the second basement of Terminal 3, for instance, is a large projector screen mounted on an overhanging ceiling, screening free movies like Shrek when we were there.
The screen has been there a couple of years, Aqbal said, but is still easy to miss. "The public and staff pass by this to go towards NTUC or the kopitiam (food court), so this is one spot that many could miss."
A BREAKER'S DANCEFLOOR
Visitors to Terminal 3's basements might come across the spectacle of breakdancers busting out a move in the third basement as fascinated onlookers - including Aqbal - watched from the floors above.
The airport's clean, smooth tiles and powerful air conditioning are an obvious draw for them, breakers, as they are known in their community, told us. But more than that, it's the tribe that they've found at Changi Airport.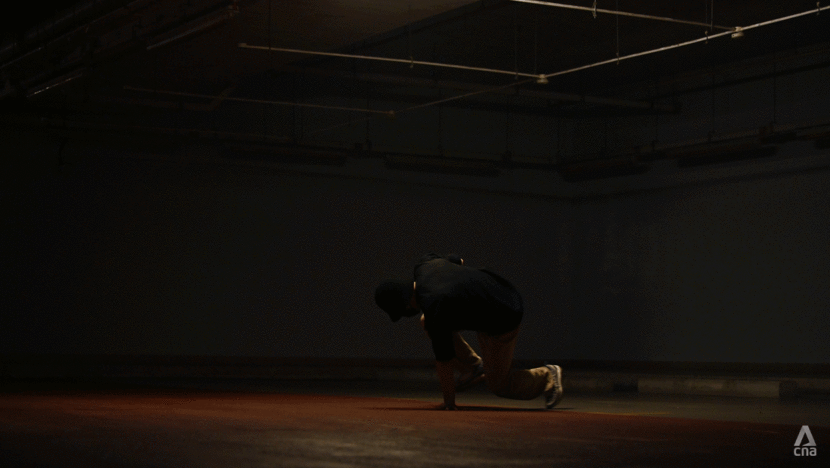 "When you go to the airport, you'd see one group of hip hop dancing at one corner, breakers at another corner and a group of people doing choreography. You feel like it's a vibrant place to dance - it gives out that energy," said 22-year-old Muhammad Haziq bin Suraimi, known as Zixz in the community.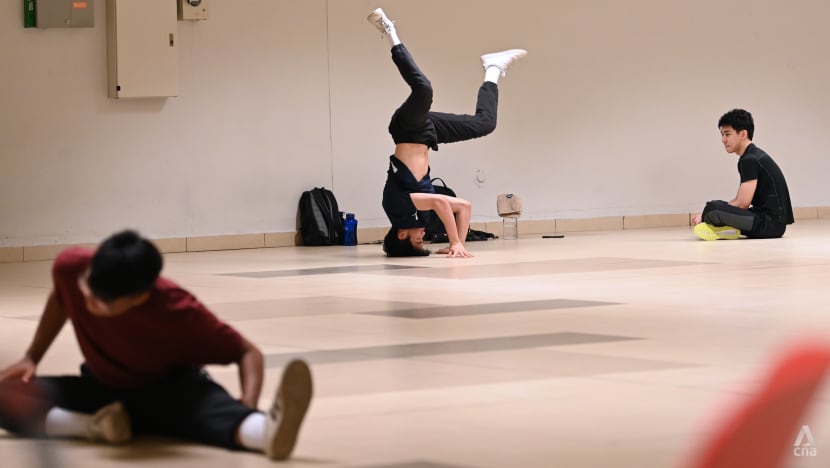 "Back then, I was breaking with the older generation," Haziq said. "They really made breaking fun for me. They taught me how to do this and that (and) they weren't just talking about breaking - they were talking about life and they helped me with problems. 
"They made me part of their group and they made me feel at home."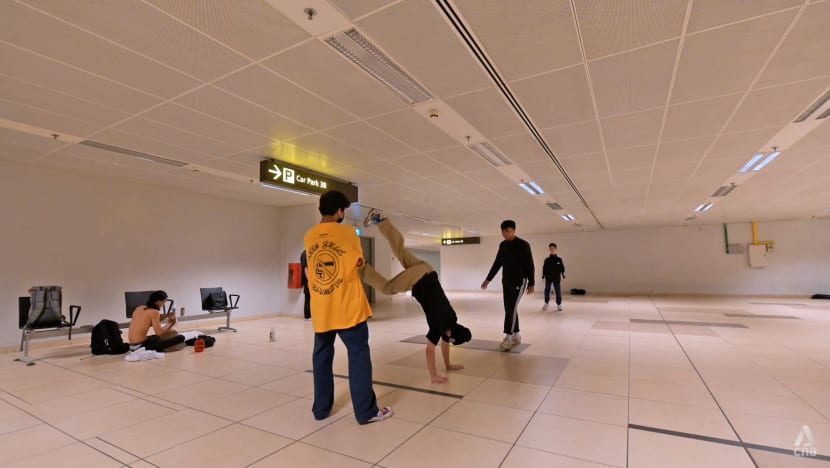 "The most important factor (at Changi Airport) would be the vibe," said 20-year-old Kong Chee Hoe.
"When you go there, there's that warmth that keeps us dancers as a community together. It's a place that we can bond with one another, share our experiences with each other."
It echoes the reasons that bring Changi Village old-timer Nik back to his old stomping ground time and again, years after moving out. 
"Something draws me here," Nik said. "I treasure this place only for one thing - it's the old memories. That one you cannot find anywhere else in Singapore."
Now it's your turn. We'd like you to tell us what's Up Your Alley. What is it that makes your neighbourhood unique? What are the places visitors may not notice at first glance, but are a unique and intrinsic part of the estate you know and love?
Write to us at digitalnews [at] mediacorp.com.sg or message us on Instagram or Facebook. Tell us about some of your favourite spots or about a person who embodies the spirit of the area.
We look forward to hearing from you!