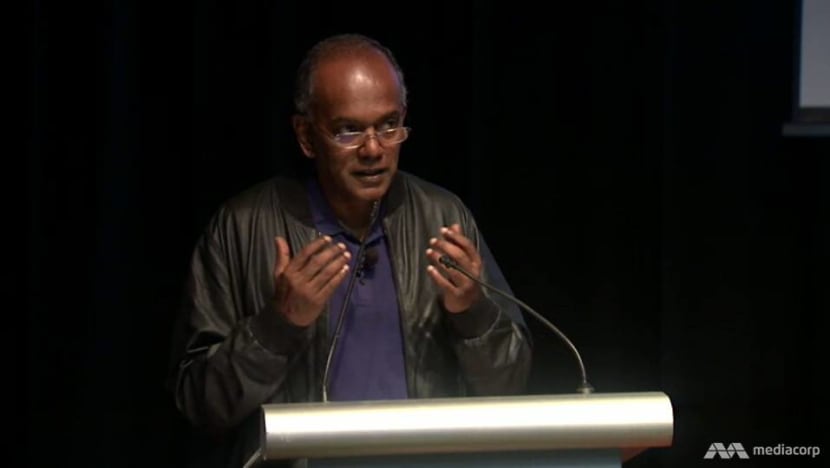 SINGAPORE: As individuals in Singapore become radicalised at a faster pace and more people are arrested, young people have a part to play in the "fight back" against extremism, Minister for Home Affairs and Law K Shanmugam said on Saturday (Aug 11).
Speaking at ITE College Central to a youth forum of about 300 students, Mr Shanmugam said that people can become radicalised more quickly, calling this a "worrying" development.
"The other thing that is worrying is, in the past, it took about two years for people to get radicalised," he said. "But now, sometimes it is two months, three months."
"Sometimes, internationally, it has even been three to four days," said Mr Shanmugam. "That becomes very difficult for the security forces."
In addition, the number of arrests being made in Singapore has been increasing, said the minister.
"If you take 2007 to 2014, that is eight years, we had 11 Singaporeans that we dealt with," he said. "But if you look at 2015 to the present, three-and-a-half years, we have arrested or dealt with 20 in just three-and-a-half years."
Of these 20 people, 18 were radicalised online, said the minister, adding that this showed "how important it is to make sure your online space is okay".
The minister also warned against complacency in the fight against extremism.
"We have the situation relatively under control, but neither you nor I can say we have won," he said. "We have to be on guard and we have to fight back."
To this end, defending against extremism does not just fall to the Government, but youth have a part to play too, said Mr Shanmugam.
"Fighting back does not just mean the Government," he said. "Fighting back essentially has to be you. You have to help in the fight back."
Firstly, young people should go to established sources to learn about religion, said Mr Shanmugam.
In addition, they can also "help in the fight by going online positively" with positive messages.
Said the minister: "You have to help, you have to teach your friends, you have to put out the positive messages of peace, universal brotherhood and sisterhood, friendship, living together and working together in a common space. That is extremely important."
He also touched on the importance of respecting the "common space", given Singapore's multi-racial, multi-religious and multi-lingual society.
"We respect each other but make sure there is a space for all of us. Both the individual space to go out and pray as you wish, live your life but also a common space," he said.
"We can be Indian, Malay, Chinese, we can be Hindu, Buddhist, Taoist, Muslim, Christian but there is another identity - we are Singaporeans," he added. "If we do not mix with each other, that identity is gone."
"MORE WORRIED" ABOUT AL-QAEDA, JI
Touching on extremism around the world, Mr Shanmugam said that while attention has been focused on Islamic State, he was actually "more worried" about groups such as Al-Qaeda and Jemaah Islamiyah (JI).
Al-Qaeda has been active around the world, including Southeast Asia, Indonesia and Malaysia, while JI is "particularly active" in Indonesia, Malaysia, Philippines and Singapore, said the minister.
"While the attention has been focused on (Islamic State), Al-Qaeda and JI have been quietly gathering strength, regrouping, putting out their material, gathering recruits, gathering money for major attacks in due course," he said.
"Al-Qaeda today is said to be bigger, more people, more countries, than they ever were. So we may see large-scale attacks fairly soon."
Mr Shanmugam was speaking to a youth forum entitled "Dangers of extremism in the cyber-world: Building resilience in youth".
The forum also included discussions by Facebook and non-profit charity organisation Touch Cyber Wellness.