Zalora turns to greener materials, second-hand items in push to be more sustainable
"We definitely don't stand for fast fashion," says the online fashion retailer's CEO Gunjan Soni.
SINGAPORE: Selling clothes made with more sustainable materials and adding second-hand items to its platform are among the steps taken by online fashion retailer Zalora to reduce its impact on the environment.
The company wants to cut its carbon footprint and do its part to promote more sustainable consumption, chief executive officer Gunjan Soni told CNA.
It has set targets to achieve by 2030, such as using only sustainably sourced cotton for its own brands, having its fulfilment centres and offices fully powered by renewable electricity and achieving carbon neutrality in its operations and delivery.
It also has other goals, albeit not at 100 per cent, to use more eco-friendly materials and renewable energy in its own production, as well as tap zero- or low-emission methods for its last-mile deliveries.
"I have no qualms in saying that our industry is among the most polluting globally … given how we inherit two very strong industries – fashion and e-commerce – on that parameter," said Ms Soni, who took the helm at Zalora in 2019.
"Therefore it is almost our obligation, as being one of the largest players in this space, to ... come up with a pragmatic roadmap of how to address it."
GO PUBLIC WITH GOALS TO BE ACCOUNTABLE: CEO
The company's sustainability strategy, which was first announced in 2020, has seen the roll-out of two product ranges that use greener fabrics such as tencel, organic cotton and recycled polyester.
Other ranges under its own brands have also begun using recycled polyester. Overall, about 4 per cent of Zalora's products incorporated sustainable materials as of last year.
The fashion e-tailer also curates and promotes products from other brands that meet its sustainability criteria through an Earth Edit range. Net merchandise value from this has grown 250 per cent since launching two years ago.
In a move to promote circular fashion, Zalora in 2020 introduced a second-hand category for customers to buy so-called "pre-loved luxury" products on its platform. This was expanded a year later, through a partnership with online luxury resale platform Reflaunt, to allow people to put their items up for sale.
This has created "different use cases for people to come on Zalora", Ms Soni said.
"Originally, you would come only for purchases but now you can also come to sell past purchases … By creating that longevity of products, we think it's a great way to enable the circular economy and continue to be relevant ourselves."
At the same time, the company is working to reduce its environmental footprint by having energy-efficient lights in its warehouses and exploring the use of solar panels, cutting down on plastic packaging and experimenting with low-carbon last-mile delivery options in two markets.
These efforts are bearing fruit, Ms Soni said. Key achievements in 2021 include diverting 92 per cent of its warehouse waste away from landfills through recycling, and sourcing 88 per cent of its delivery and internal packaging from more sustainable materials.
Overall, the company managed to reduce its carbon intensity by 10 per cent in 2021 from a year ago, while achieving 100 per cent carbon neutrality on its operations and deliveries by purchasing carbon credits to offset its carbon emissions.
"We are making some very good progress in a short span of time, which makes me think that in 10 years' time, there could be some real big differences," said Ms Soni.
Zalora has been and intends to keep providing updates on its progress annually.
"I think one of the best ways of holding yourself accountable is to go public, so we decided to do that by following the global best practices on this topic," the CEO added.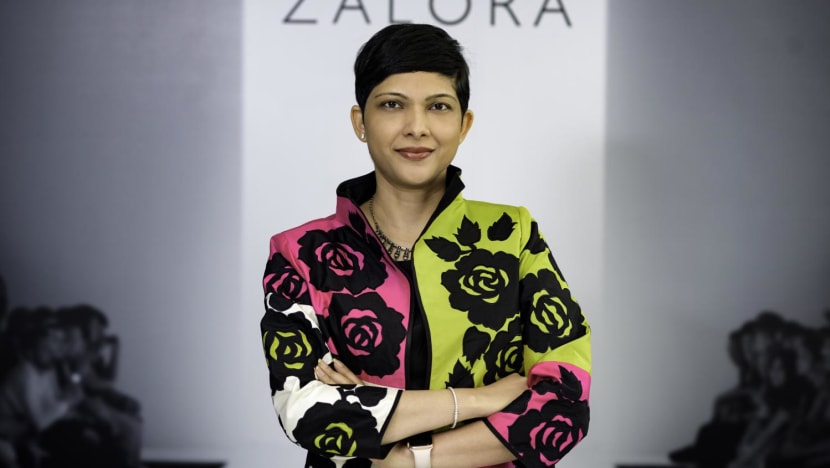 "WE DEFINITELY DON'T STAND FOR FAST FASHION"
But will this be enough?
The fashion industry has been labelled by environmentalists as an enormously wasteful business responsible for an estimated 92 million tonnes of textile waste annually, alongside chemical pollution and high levels of carbon dioxide emissions.
Amid growing awareness for climate change, fashion brands have felt the pressure to be more sustainable, such as Zara and H&M, through recycling drives, launching "eco-friendly" collections and offering services for repair and resale. Still, questions remain over if more should be done.
And in the case of e-commerce, deliveries require packaging and generate a trail of emissions from the various modes of transportation used to send each parcel to a buyer.
Returns – an industry standard in online fashion shopping – also contributes to waste, not just in packaging but also needless greenhouse gas emissions as things are shipped back and forth.
Asked if the company will relook its returns policy, Ms Soni said such a policy serves as the "best form of insurance" for consumers. It also remains necessary for the e-commerce industry which remains in a "nascent" stage with adoption rates of around 14 to 20 per cent in Southeast Asia.
"I can really improve my profitability if I either stop offering returns or make it harder for customers to do so … but we don't want to do a disservice to our consumers. That will also lead to people thinking that e-commerce is not a reliable channel of purchase, which is not a very sustainable situation to be in.
"Given it's still a very nascent industry, I think at this point in time, we need to offer everything to the consumer to give them trust and comfort. The return policy is one of them," she told CNA.
But Zalora has made efforts to reduce emissions associated with product returns. After identifying that a significant portion of customer returns were size-related, it has improved its sizing charts to be brand or sub-category specific last year, resulting in an overall decrease in such returns.
On how the company will convince skeptics about its sustainability efforts, the CEO said: "We definitely don't stand for fast fashion.
"We offer all choices, (including) choices with sustainable materials which have a longer shelf life. We proactively offer pre-loved products as well, so the way we see ourselves and our role is really enabling all forms of choices."
That said, Zalora is aware that more needs to be done.
It is, for example, looking to roll out its low-carbon last-mile delivery initiative in more markets such as Singapore.
"We came up with very specific targets and initiatives and I've been really happy with some of the progress. But of course, it's a long journey, and we want to continue to improve and learn from what we achieved," said Ms Soni.
INFLATION RISK
Zalora, which marked its 10-year anniversary earlier this year, is also watching out for uncertainties in the macro environment.
Like all e-commerce businesses, the company enjoyed a boom during the COVID-19 pandemic as more turned to shopping online. That tailwind has begun to fade this year with consumers returning to offline stores after the easing of pandemic curbs and inflation worldwide on a relentless upward march.
Zalora has seen some weakness due to the "revenge offline shopping", but is not too concerned as the trend will likely be temporary, said Ms Soni.
The bigger worry is inflation and its impact on consumer spending, the CEO said, noting that rising prices are already hurting demand.
"For most of this year, inflation is already a challenge. We've seen growth reduced versus the trajectory we saw during the pandemic," she said, adding that the full impact of inflation on consumption has yet to happen. "Everybody is closely watching that.
"Together with supply disruption, which was a big problem this year and continues to be, they form two big challenges that we see macro-economically at the moment."
But the company remains optimistic about growth prospects ahead.
For one, the pandemic has given e-commerce a boost and even then, there is still plenty of room to grow. Ms Soni noted that in Singapore, the adoption of e-commerce shopping for fashion has grown to just above 20 per cent from less than 3 per cent a decade ago.
"(The percentage of) someone who's made at least one digital purchase is very high but in terms of total consumption online in a year, that still ranges in the 20 per cent for fashion," she said. "So, I think overall adoption is still one of the big opportunities."
Other growth drivers include the addition and development of new offerings, such as kids' wear and pre-owned luxury items, as well as the potential to expand into other "vibrant" economies within Southeast Asia.
Zalora is currently in Singapore, Malaysia, Indonesia, Brunei and the Philippines. Beyond Southeast Asia, it also has presence in Hong Kong and Taiwan.
"With all of these, we think the growth opportunities are actually very healthy for us in the mid to long term," said the CEO.
Zalora is also drawing confidence from the fact that it achieved breakeven in its earnings before interest, taxes, depreciation and amortisation (EBITDA) last year – a first for major e-commerce players in the region, it said.
This followed an enhanced gross profit of 38 per cent in financial year 2021 and a compound annual growth rate of 27 per cent in net merchandise value over the past three years.
"It was a huge milestone for us … and it gives us the confidence to be able to invest in the opportunities that I talked about (and) makes us a lot more resilient in this environment," Ms Soni told CNA.