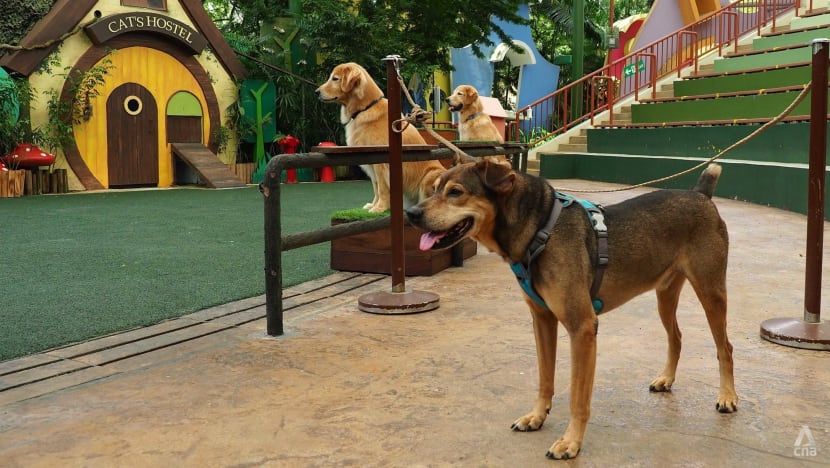 SINGAPORE: As the audience stood up to leave at the zoo's Animal Friend's Show, Bruce began to bark.
A rescue dog from the SPCA, he's not quite used to the attention yet, unlike the other dogs and cats in the show, who jumped through hoops and took to performing with gusto.
While other shows at the zoo feature wildlife, the stars of the Animal Friend's Show are domestic animals - two cats, two Japanese spitzes, two golden retrievers and a labrador-cocker spaniel mix - all rescues.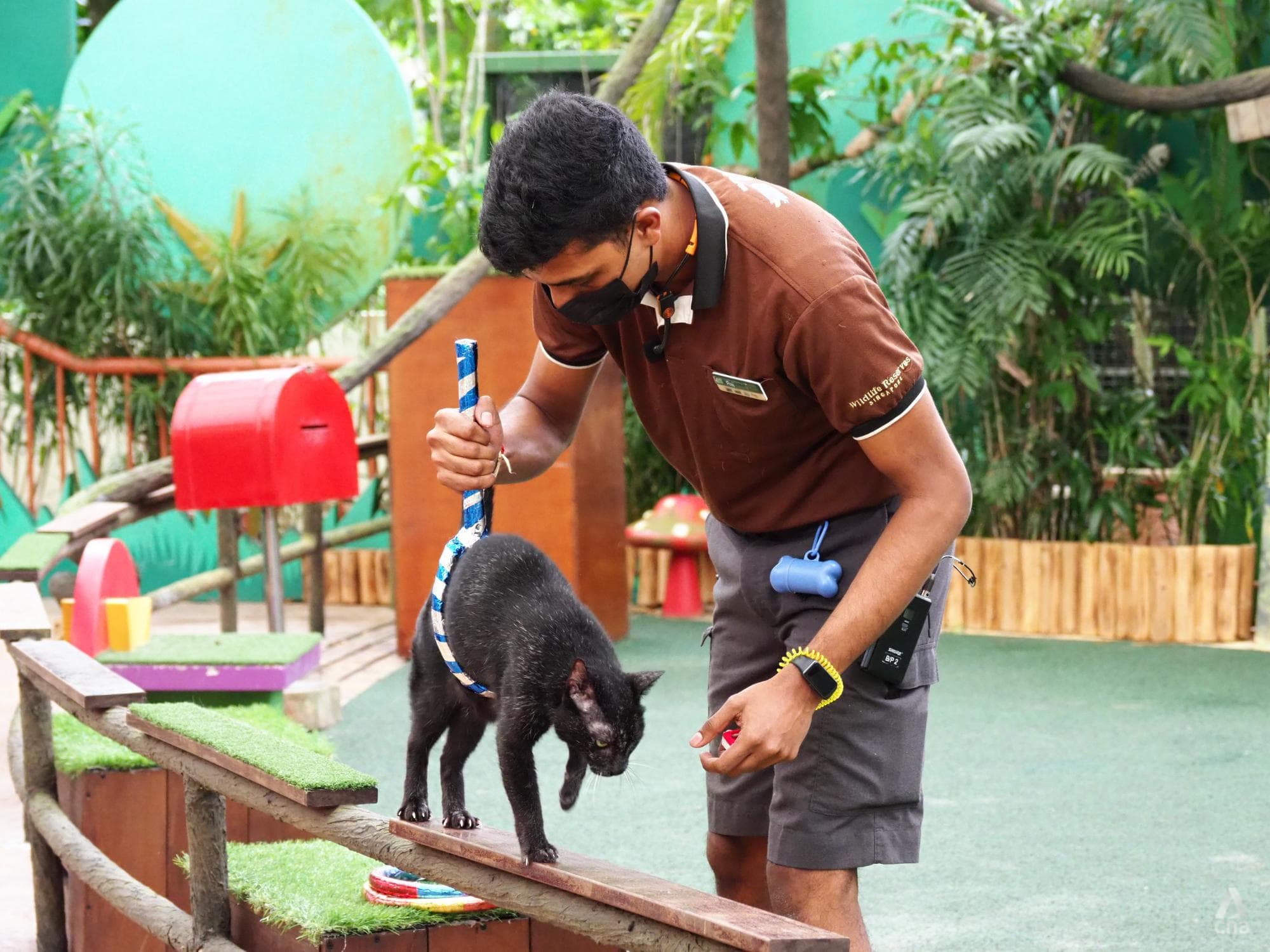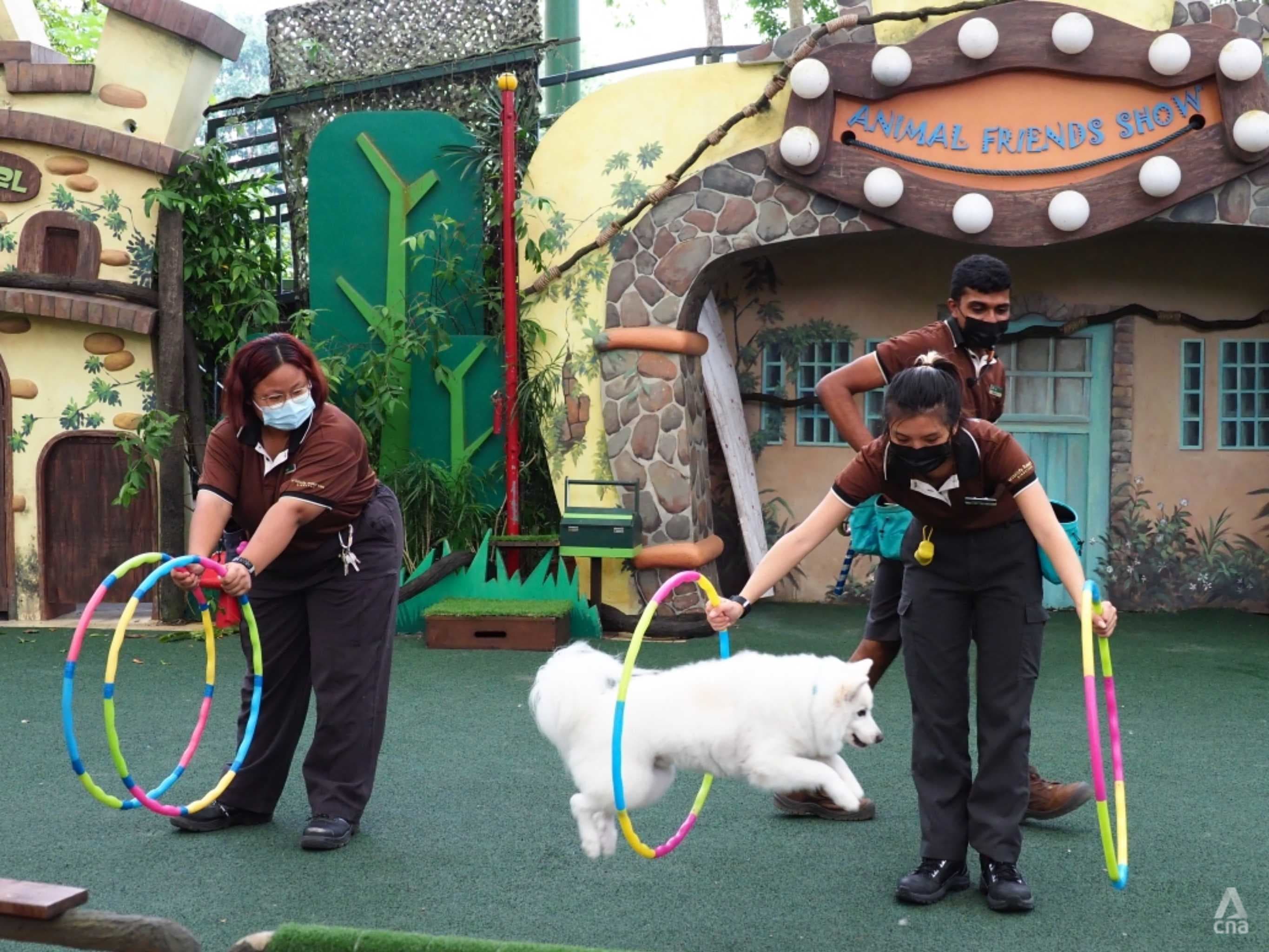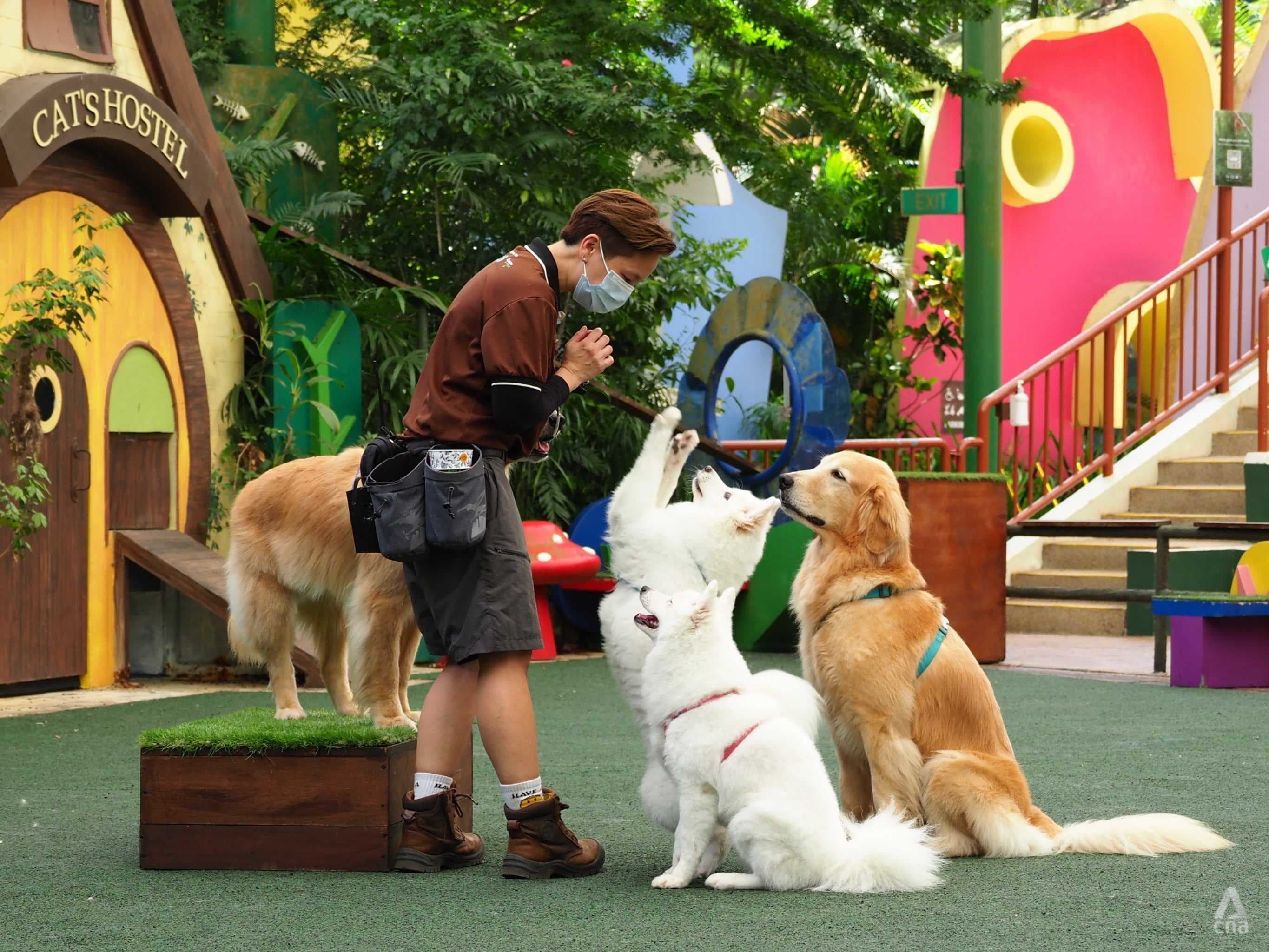 The show advocates adopting instead of buying pets to its audience.
Bruce, the latest addition, was fostered at the zoo in 2019 and the seven-year-old is now looking for a home after going through behavioural training and learning how to get along with other dogs.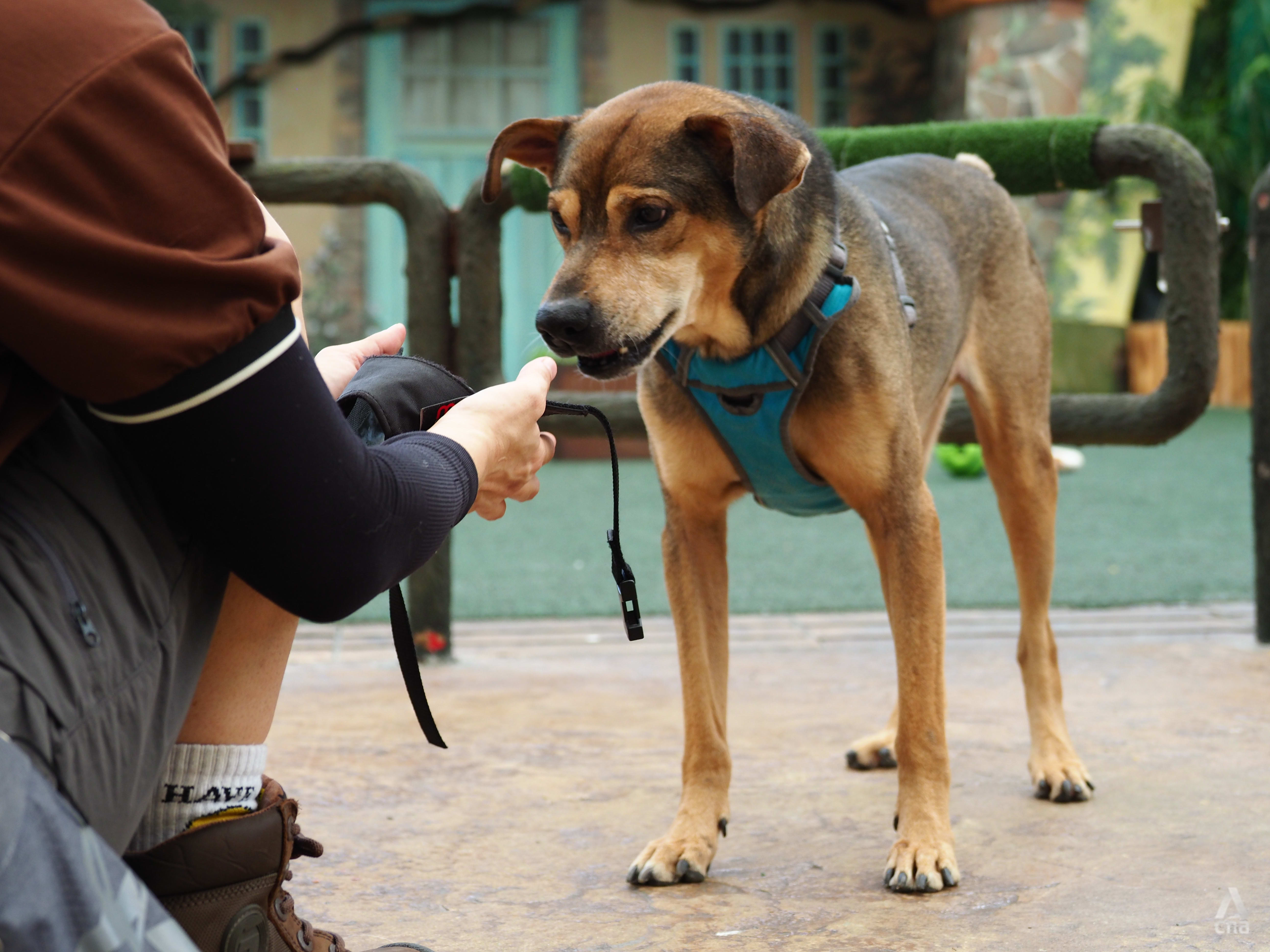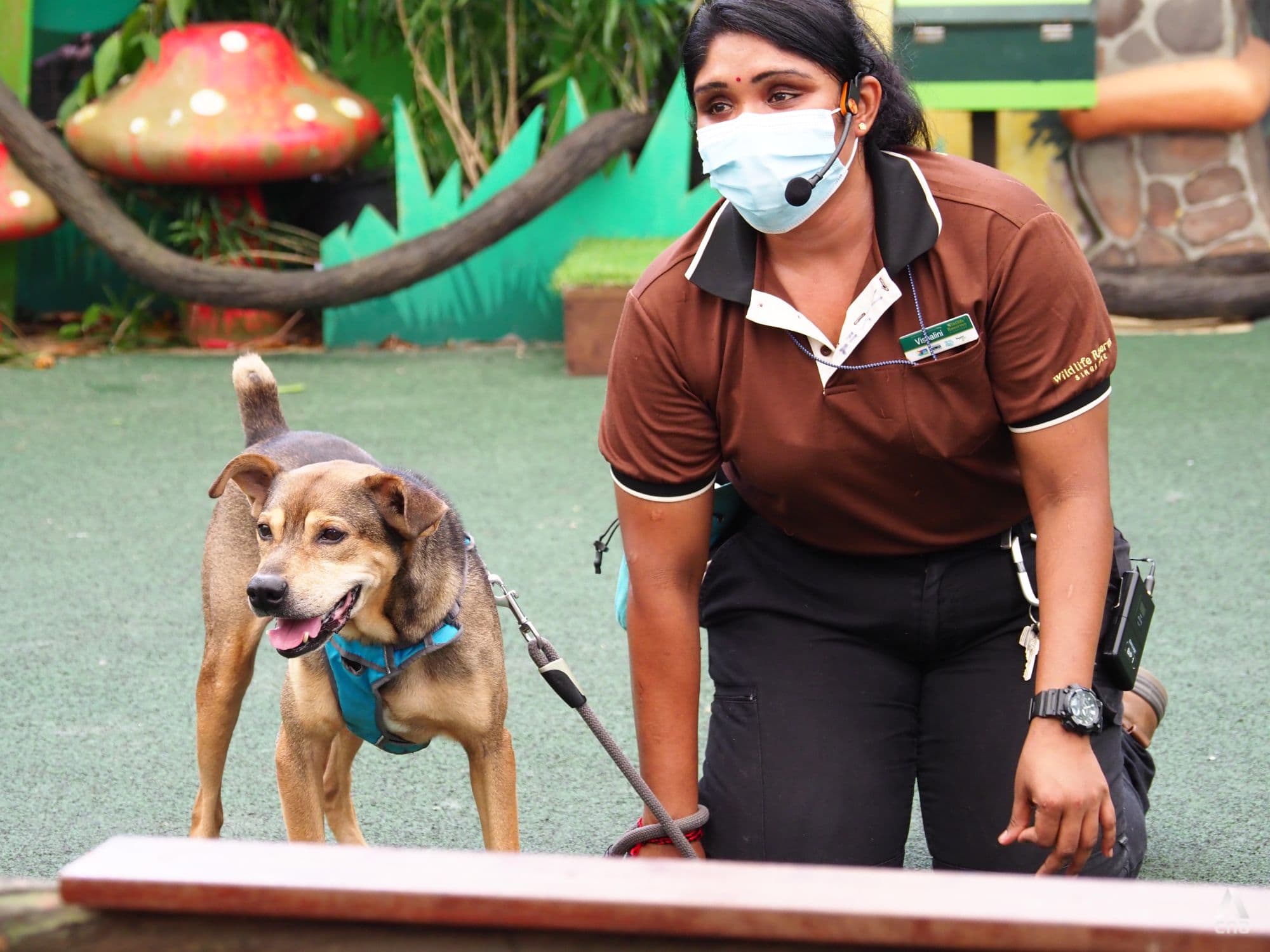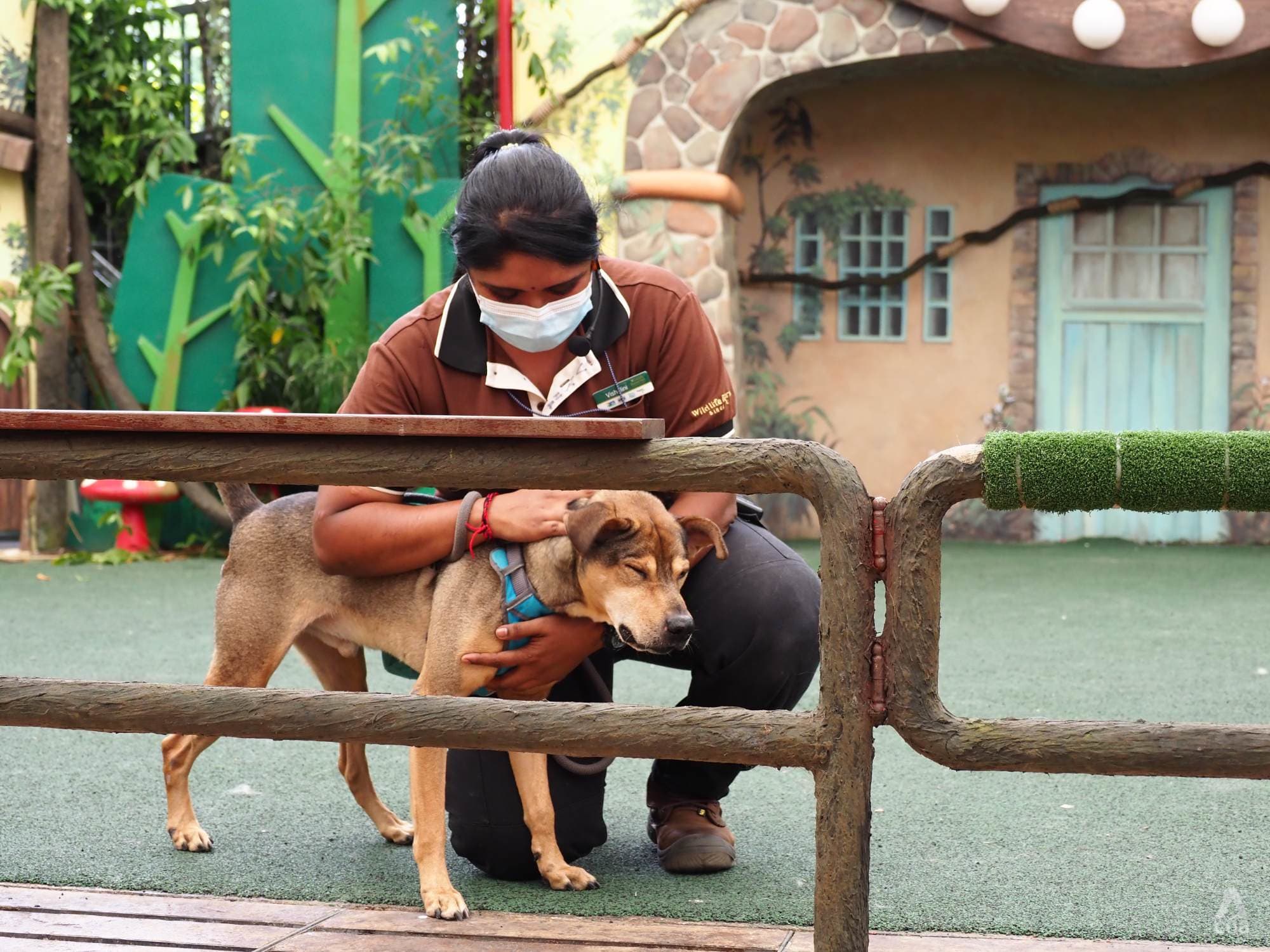 By 2019, Bruce had been a shelter dog at the SPCA for three years. The local, mixed breed canine, commonly known as a "Singapore special", was found on the streets with a broken leash and was assumed to have been abandoned.
Ms Natalie Chan, Bruce's trainer and an animal presentations manager at Wildlife Reserves Singapore, said that Bruce was seen as "less adoptable".
"When we first met him at SPCA, he would not go for people immediately - he's not immediately friendly, he would always explore the surroundings first," she said.
At the SPCA, he was also one of the last dogs to be walked as he was not friendly with the other animals. 
BARKED AT "ANYTHING THAT MOVED"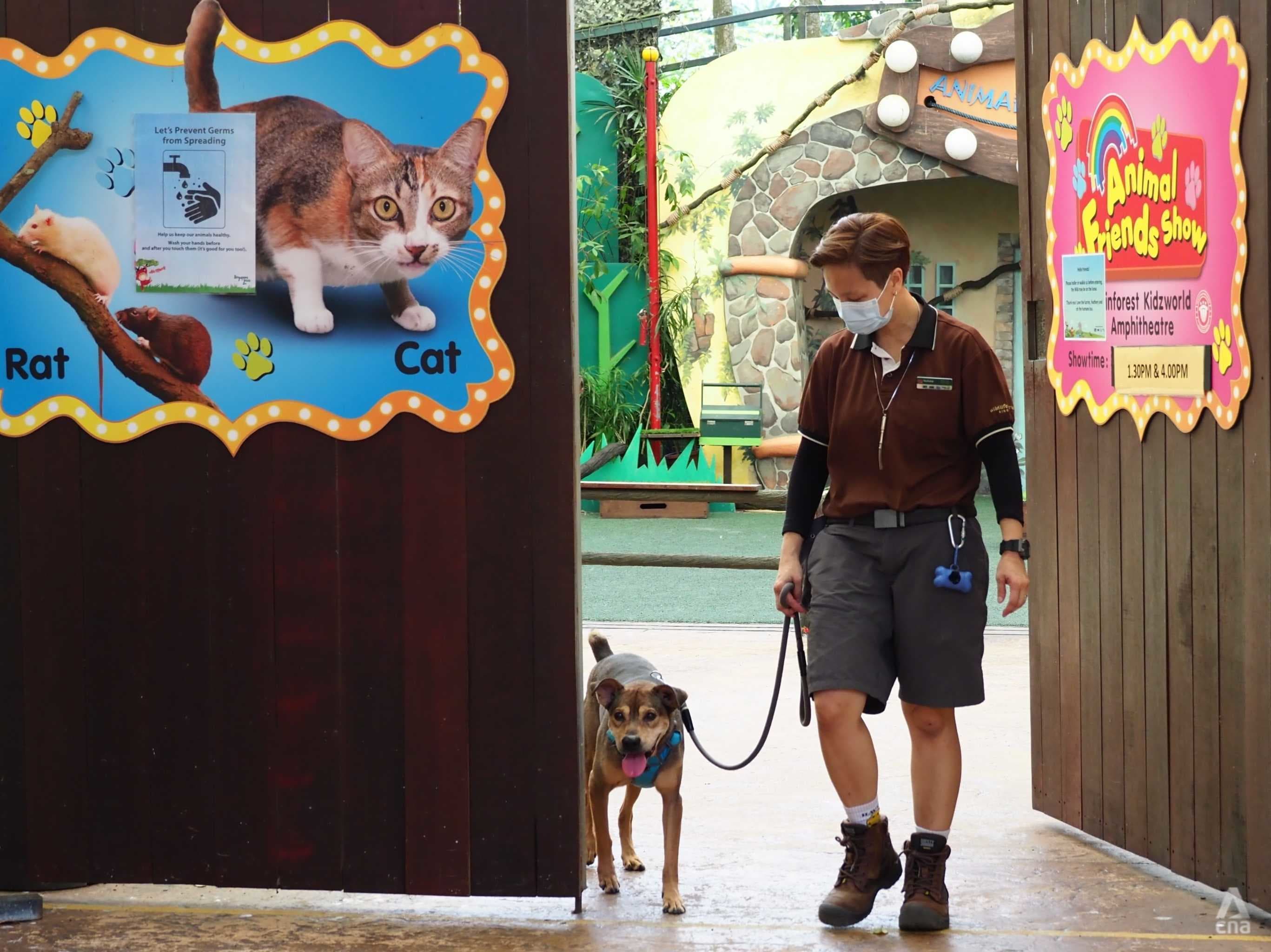 When he first came to the zoo, he would bark at "anything that moved".
"We realised that he was actually very reactive towards animals like the peacocks and the monitor lizards," said Ms Chan.
"So in the beginning we could not get him away from any trigger, he would continuously bark and try to go towards it."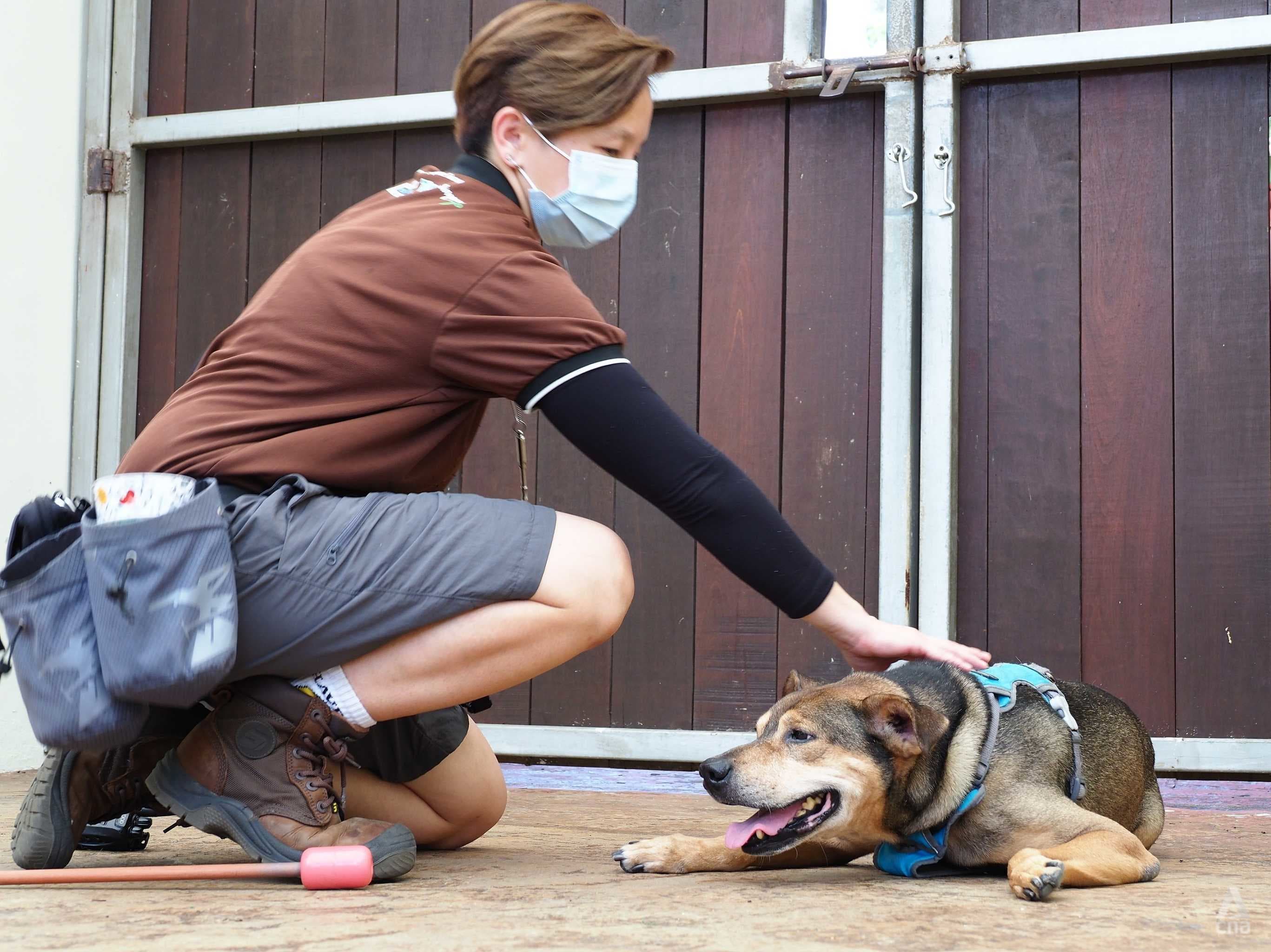 Using positive reinforcement training, Ms Chan and other trainers would wait for him to calm down, then reward him with a treat.
"He realised that whenever he's calm, he gets his reward. So now his intensity of aggressiveness towards such animals has reduced significantly," she said. 
"He is now, as you can see, integrated very well with the current pack at the animal friend show, and he has been to many parts of the zoo met a lot of people. It's an ongoing training process for Bruce."
Explaining their approach to training, Ms Chan said: "When you use positive reinforcement training, their behaviour is more sustainable and lasts longer … whereas if you punish a dog, they're avoiding a behaviour because of fear.
"When you use positive reinforcement what you get is a happy, motivated animal."
"MISUNDERSTOOD" SINGAPORE SPECIALS
Singapore specials like Bruce tend to be misunderstood, and people easily perceive them as aggressive, said Ms Chan.
"Like many Singapore specials, Bruce has a tendency to react to foreign objects and sudden movements by barking or lunging. This is his defence mechanism - hoping to scare off things that scare him," she explained.
That is why the zoo is collaborating with the SPCA to help train and foster dogs which have a lower chance of being adopted. Bruce is the first one selected for this Furever Yours programme.
SPCA said that over the years, people have become more receptive to adopting in general, and adopting local breeds and more mature animals specifically.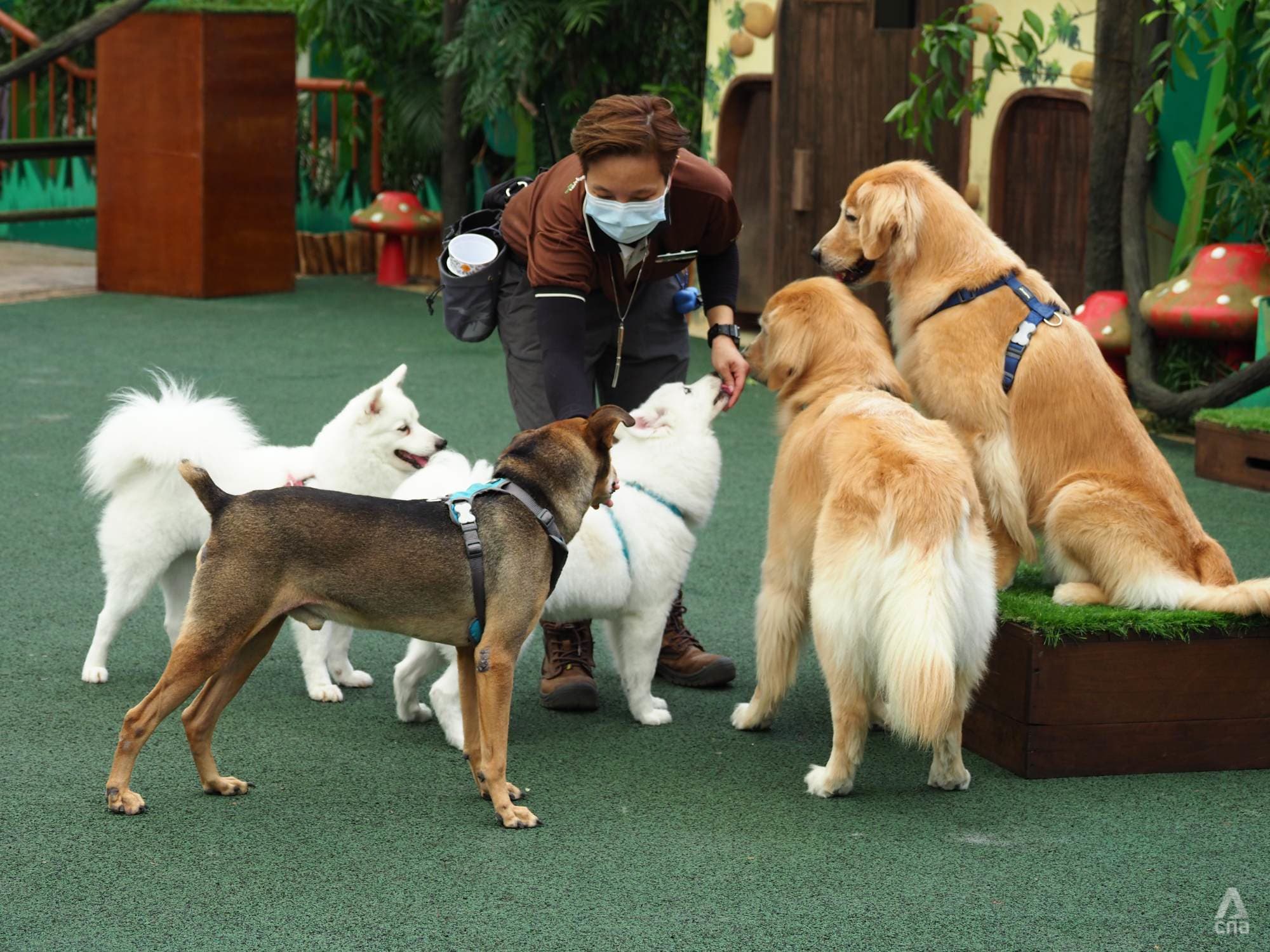 The success of programmes like Project ADORE has meant that more Singapore specials are now able to find homes in HDB flats, said Dr Jaipal Singh Gill, SPCA executive director.
Large dogs are usually not allowed to be kept in HDB flats but Project ADORE lets HDB dwellers adopt local, mixed breed dogs up to 55cm tall from animal shelters.
The programme, which started in 2012, has made it easier for such dogs to find homes.
Bruce was struggling to find a suitable home, but since the launch of the Furever Yours programme, SPCA has received 30 applications for him, said Dr Jaipal.
"We are confident that he will be rehomed soon. It is still early, but we are hopeful that more dogs can join the programme and find loving homes, and for more people to get the opportunity to learn about Singapore Specials and the value of adopting."
Said Ms Chan: "Bruce has a lot of love to give, and I think finally he is able to show it. We fully believe that in the forever home he'll be able to be who he is supposed to be - which is loving, patient and very, very loyal."