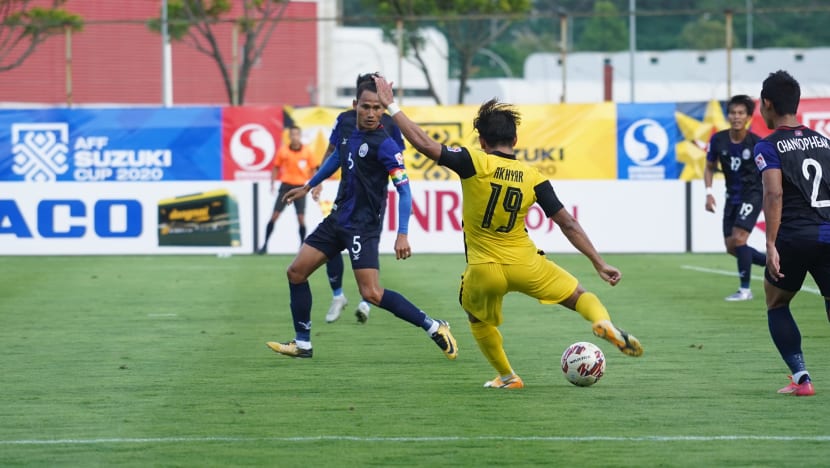 KUALA LUMPUR: Malaysia were dealt another blow in their AFF Suzuki Cup 2020 campaign in Singapore on Thursday (Dec 9) after two more members of their squad tested positive for COVID-19.
Head coach Tan Cheng Hoe said that the two players were winger Akhyar Rashid, who was named man of the match in the opening Group B fixture against Cambodia on Monday, and defender Quentin Cheng.
"Of course, Akhyar played very well in the previous match, but due to testing positive for COVID-19, he couldn't play this afternoon," he said during the press conference following Malaysia's 4-0 win over Laos at the Bishan Stadium earlier on Thursday.
Meanwhile, team manager Yusoff Mahadi informed Bernama that Cheng, who is a Selangor FC player, had also tested positive for COVID-19 at the same time.
The latest development sees four out of 24 players from the Harimau Malaya squad in Singapore currently unavailable due to positive COVID-19 tests, with goalkeeper Khairulazhan Khalid and winger Faisal Halim testing positive last Sunday.
Khairulazhan and Faisal - both asymptomatic - were ordered to self-quarantine for 10 days, and are almost certain to miss the first three Group B matches.
In the match against Laos on Thursday, Malaysia easily defeated the team coached by Singapore-born coach V Selvaraj to record their second victory in the group stage.
Malaysia are scheduled to face defending champions Vietnam on Sunday before facing Indonesia in their final Group B match on Dec 19.
Catch the AFF Suzuki Cup 2020 LIVE on meWATCH. Sign in now at mewatch.sg/affsuzukicup2020 and get into the action with Mediacorp, Singapore's official broadcaster of the AFF Suzuki Cup 2020.
Source: Others/Bernama/kg(ac)