From school dropout to world No 2, Singaporean pool player Aloysius Yapp reflects on his journey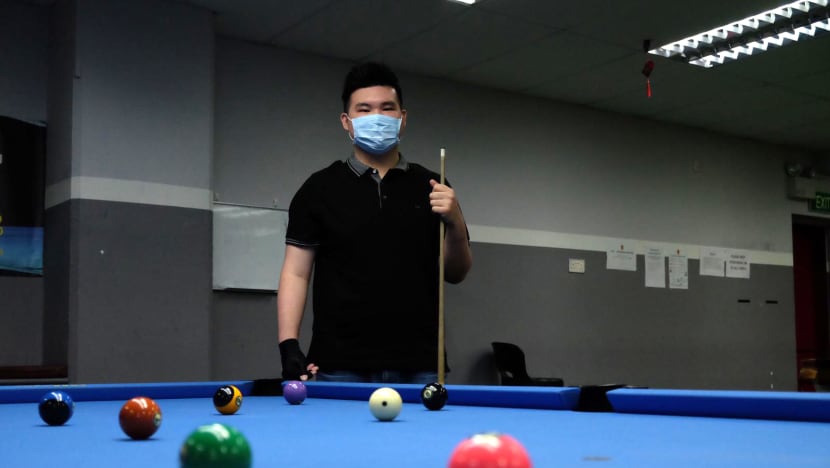 SINGAPORE: Until today, Aloysius Yapp, 25, can't pinpoint what exactly captured his imagination about pool.
It could have been the satisfying clatter of billiard balls colliding or the kaleidoscope of spinning colours and swirling patterns. 
From the minute he saw on TV what was a new and fascinating sport to him, he was hooked. All the eight-year-old wanted was to play pool.
He pestered and pestered his parents. First he made do with a toy table, then a 3ft table.
Yapp went on to frequent a local pool and billiards shop where he would take on all comers. It was there he met shop owner Paul Pang, his first coach and mentor.
"He would teach me the basics, the fundamentals of the game. (He) tried to teach me how to stroke certain shots, how to pop certain shots. It was mostly basics, because at that time I was definitely too young," Yapp told CNA.
The youngster looked forward to Fridays, because it meant visits to the shop.
"I just loved hitting the balls around. There were customers coming in, I would challenge (them) … I didn't want to leave the table – there was only one table – I kept trying to hog the table."
On his 14th birthday, his mother bought him a 7ft table. The table took up most of the space in the living room of the Yapps' family flat in Simei.
"After that I never left the table. I just kept playing the whole day," he told CNA. "Every day after school ... I would go home and start playing."
Even when his family planned vacations abroad, Yapp would have only one question – would there be a pool table?
"I could not stop thinking about it," said Yapp, who currently sits at second position on the World Pool-Billiard Association rankings.
A LIFE-CHANGING DECISION
During a trip to China, he went to a billiards exhibition and played a friendly match with a 16-year-old Chinese world champion. He lost, but his eyes were opened.
"Her mum took her out of school to play full time, then she became world champion," he recalled. "It got me thinking."
The seed was planted. He wanted to quit school and pursue pool full time.
"Being an athlete is not that easy. It requires a lot of commitment. At the time, because I was so young, I didn't know anything. I'm the kind of person that as long as I like something, I'll go for it all the way," said Yapp, who was then a Secondary 2 student at St Patrick's School.
He would skip school to stay home and play pool. After lunch, he headed to the Chinese Swimming Club where he had a choice of three snooker tables and a pool table.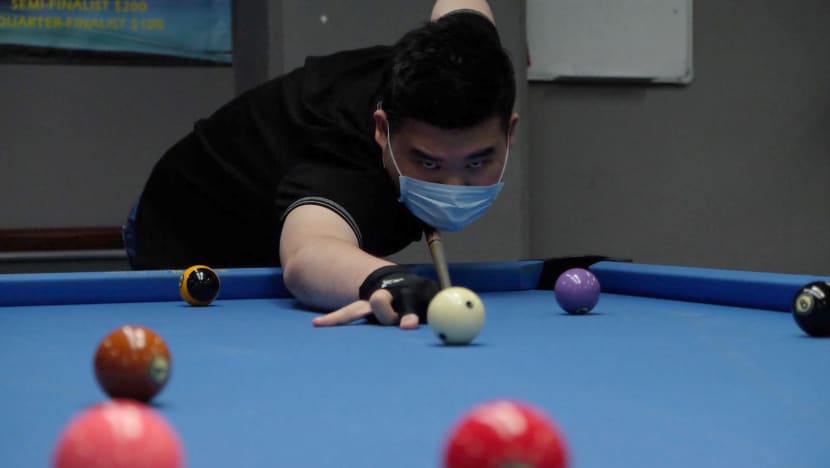 Yapp repeatedly tried to convince his mother of his desire to leave school permanently.
"She said no. It took some time for her to really, fully trust me. We sat down one day and we talked about it ... I said I really wanted to do it. I felt like I could," he recalled.
"I told her that I wouldn't go astray. I promised that I would train the whole day. I guess she really felt it also – that's when she decided, okay, give him a shot."
So Yapp's life took a different path.
"The moment I dropped out, I was so committed to the game … Everything was just pool. I never thought about anything else," he said.
"My coach (Pang) was … not happy about my choice, but he supported me all the way. I guess he also felt that I was crazy about the game."
Yapp spent hours at home training, watching YouTube videos of past matches and then trained at the Chinese Swimming Club later in the day.
But there were those who doubted Yapp and his decision.
"They would tell me: 'You're so young, that's really naive, you shouldn't do it.' But I was so fixed on doing it that there was no other option. I would look at them and I would tell them that I could do it.
"I really didn't care."
Yapp went on to complete his O-Levels at private institution Coleman College. 
DEALING WITH PRESSURE
The year after he dropped out of school, Yapp competed in his first regional and world level tournaments. He was 15.
"I was excited to get to play and watch all those (players) that I used to watch on TV … I was starstruck and I was playing at the same table as them. Just a crazy feeling."
Yapp continued to learn from Pang and picked up more tricks and tips from those he played against at the Chinese Swimming Club.
A few years later in 2014, the 18-year-old took home the Asian Junior title and then became the junior world champion when he won the nine-ball pool singles category at the Under-19 World Junior Championships in Shanghai.
In doing so, Yapp became the first Singaporean to win a world title in the sport.
"I was happy that I was able to win everything as a junior but it was time to move on (to the senior level)."
But things weren't always smooth sailing after.
There was the disappointment of the 2015 SEA Games, where he was eliminated in the nine-ball pool singles quarter-finals on home soil.
"There was a lot of pressure, a lot of struggles … It was painful but it made me even stronger. I learnt to deal with the pressure and struggles."
There was 2016, a barren year where he was eliminated early at most of the tournaments he competed in.
"After the SEA Games where I lost, I worked on a lot of things and just somehow everything clicked," recalled Yapp.
"In 2016, I kept thinking that I could do it, but at that time, looking back, I wasn't good enough. I had a couple of good runs, but I wasn't consistent. So in 2016, I suffered a lot mentally because I kept losing and I started to become scared of the ball, scared of the game."
After consulting his coach, Yapp made changes to the way that he practised, and turned a corner. He went on to win the men's nine-ball doubles gold medal at the 2017 SEA Games in Kuala Lumpur.
After serving his two years of National Service, Yapp had to take an extended break from February 2020 to June this year from competing abroad due to the pandemic. However, he said that it has proved to be a blessing in disguise.
"I felt it was even better because I had time to reflect and work on certain parts of the game, like (the) mental part," he said.
"I worked on my fundamentals. I had so much time to work on things that I was struggling at. When I was competing, I couldn't overhaul my whole game."
AN UPWARD TRAJECTORY
And 2021 has been a groundbreaking year for Yapp.
In September, he finished third at the World 10-Ball Championship in Las Vegas, and then took second at the US Open 9-Ball Championship in Atlantic City later that month.
Continuing his streak, Yapp won the Michigan 10-Ball Open for his first senior international title. His last senior level title was the 2017 Golden Break 9 Ball Open Championship in Malaysia.
"I wouldn't say I'm surprised that I did so well. Recently I have been playing better ... I was more focused on playing how I have been practising, doing what I have been working on ... I guess it was my hard work that sort of paid off."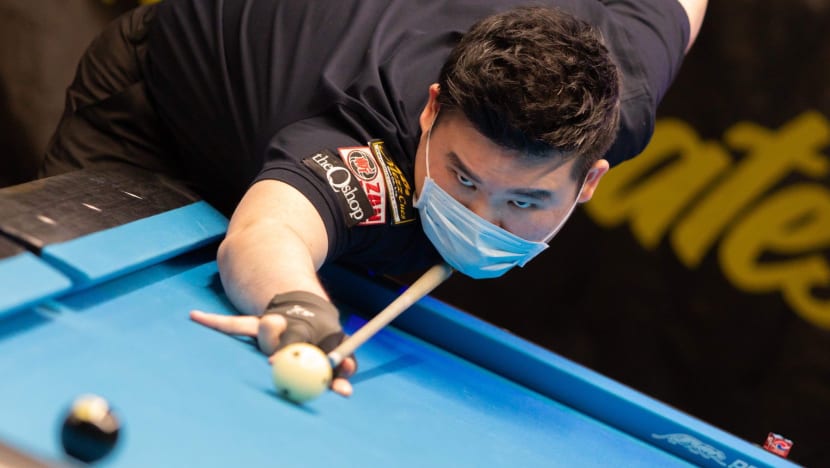 This stunning run of form meant that he was ranked first in the world rankings as recently as October.
"I was shocked (when I was told)," Yapp said. "I just couldn't believe it."
Now ranked second, Yapp has bigger goals – like a world title.
"If you always finish deep in an event, there's a chance you might be ranked number one. But for me, it's more like trying to win a major world tournament, to be a world champion."
At the same time, having reached these dizzying heights, Yapp has not forgotten what it took to get him there.
He recalls the unwavering support of his mother Angie, the sole breadwinner in the family. His father died when Yapp was nine.
"She had to sacrifice a lot for me," he said. "It was something that pushed me to continue to do my best. Through hard times and good times, I'm very thankful for my mum's support."
And her support for his leap of faith was key.
"You only live once. So I want to make full use of my life doing what I love.
"It's not about being super rich," said Yapp. "I just want to be happy and follow my dreams. Even if I don't make it, I would still be happy because I tried."