Flexing muscles to grow the sport: Singapore's arm wrestlers face off at first national championships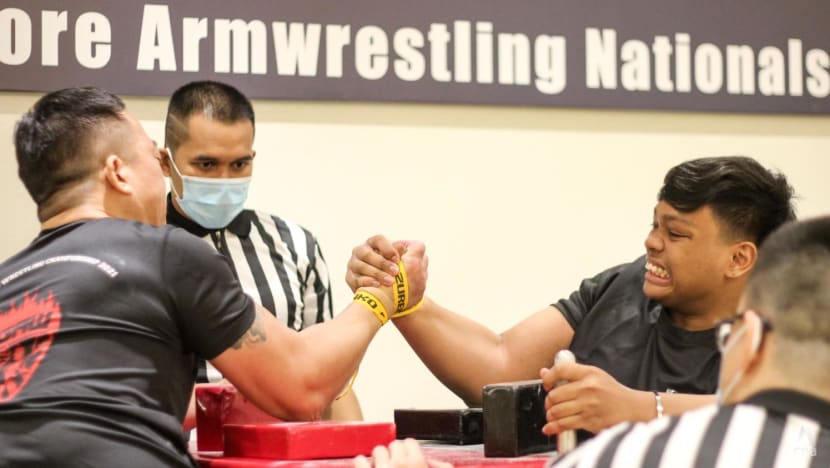 SINGAPORE: It was a typical Sunday morning at Downtown East – some people were waiting for a table to have their breakfast, while others were gearing up for a day at the water park. 
But at a function room tucked away at the back of the complex, Singapore's first national arm wrestling champions were about to be crowned.
Before any display of strength, the referees glanced left and right, signalling furiously while they checked the positions of the competitors. Meanwhile, the contestants – or pullers as the arm wrestlers call themselves – made tiny adjustments as they sized each other up.
"Ready, go!"
If you blinked, you might have missed it. As soon as the ideal position was reached, one of the referees yelled out the command for the battle to begin.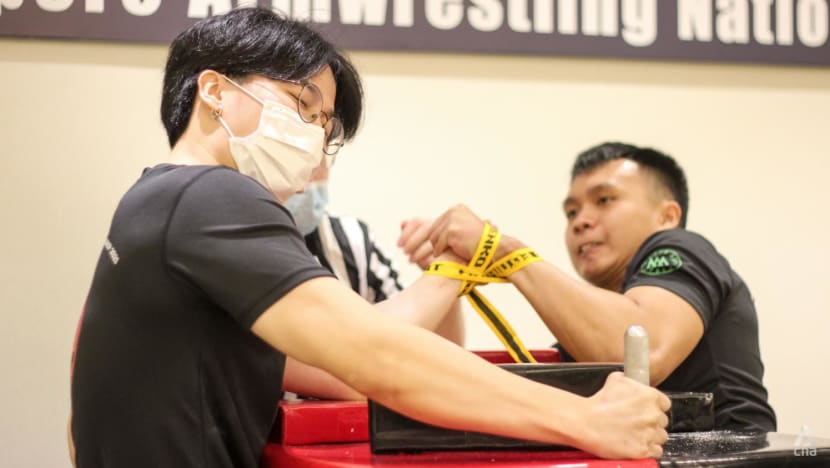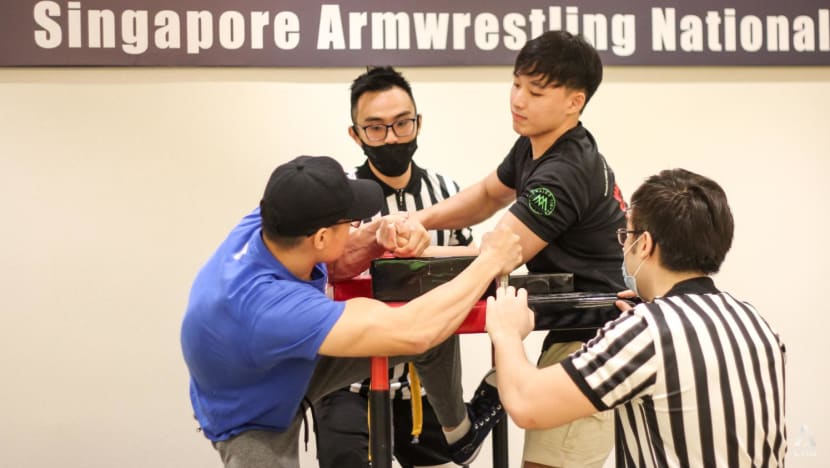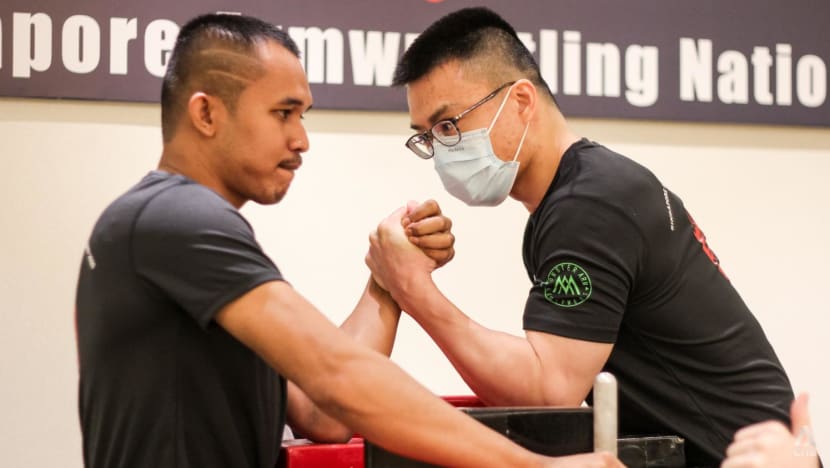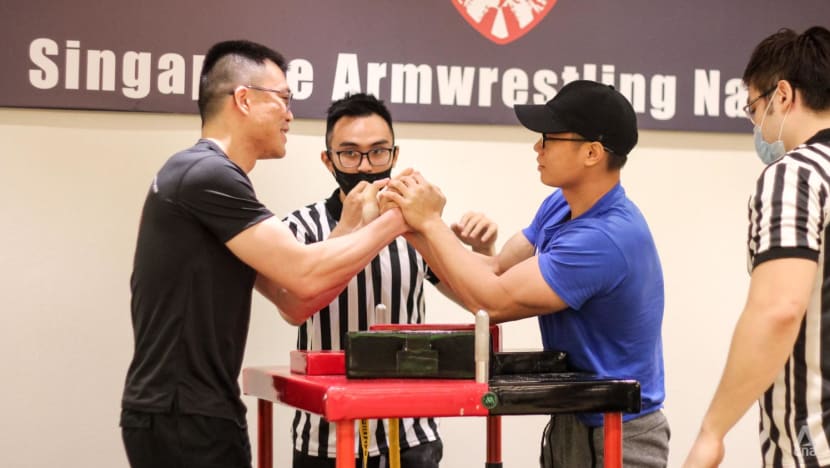 "TINDER OF ARM WRESTLING"
The popularity of arm wrestling has been growing in the years since CNA first covered the scene in Singapore. 
There is more coverage of the sport on YouTube and, last year, an app called Armbet was launched to connect aspiring competitors "somewhat like the Tinder of arm wrestling", said Desmond Lau, treasurer of Singapore Armwrestling.
"This led to a noticeable growth in the local arm wrestling community, both in terms of participating athletes and social media engagement," he said.
The only local affiliate of the International Federation of Armwrestling, Singapore Armwrestling organised the first National Armwrestling Championships.
The inaugural event on Dec 19 had been about a decade in the making, and Lau was around for much of the journey.
Back in 2009, Chinese daily Shin Min began organising an annual arm wrestling challenge, and a couple of years later, Lau got his first taste of the action.
"I came across the Shin Min arm wrestling competition in 2011 and took a punt to register. Surprisingly, I won the lightweight competition," he told CNA. 
"There, I got to meet the founding members of the local wrestling club that eventually became Singapore Armwrestling. I joined their regular training sessions and have been with them since."
In the early days, the team had just five members. Today, about 50 people regularly train for the sport in Singapore, while many others have taken an interest as spectators.
Lau continues to compete in the sport's 70kg weight class.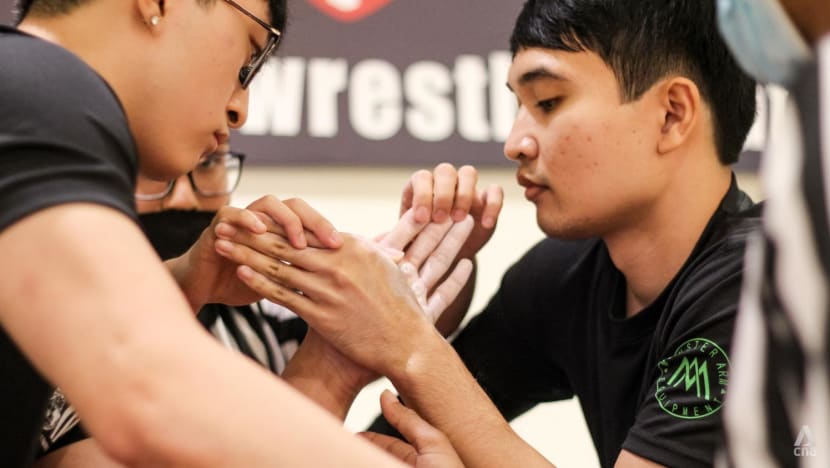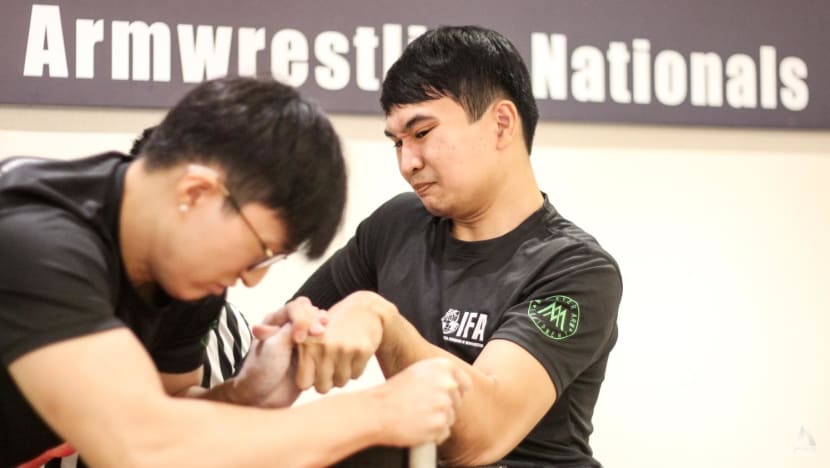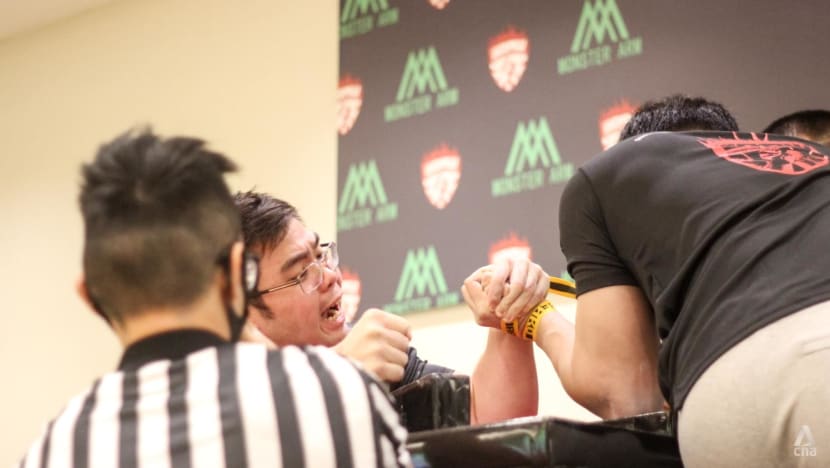 PULLING DURING THE PANDEMIC
The COVID-19 pandemic has impacted the sport in various ways. 
"Due to the COVID-19 restrictions, large-scale, prominently located training sessions the likes of what we had in 2018 are no longer possible. This took a bit of wind out of our sails, promotion-wise," Lau said.
Back then, Singapore's top arm wrestlers could be found flexing their muscles regularly at Public House bar behind Boat Quay. That partnership has since been dissolved, partly due to COVID-19.
In a way, however, the pandemic has also contributed to the growth of the sport here.
"It could be that the COVID-19 restrictions are tougher on team sports, so the no-frills setup of arm wrestling becomes relatively appealing," Lau said.
Pullers found ways to train at home and in smaller groups, which led to the foundation of smaller arm wrestling clubs.
Jasper Chan, another puller in the 70kg weight class, spoke of the challenges of staying fit during the pandemic, and how it altered the development of the sport in Singapore. 
"During the 2020 'circuit breaker' period, it was a particularly painful period especially for those that had no equipment at home to train," he said.
"At that time, many of us went to purchase weights, dumbbells and resistance bands in order to train to retain strength and muscle while waiting for the circuit breaker to ease.
"When Phase 2 … came into effect, the Singapore Armwrestling club remained closed due to restrictions. So naturally, many arm wrestlers, myself included, offered to host pulling sessions at their houses, leading to many small groups popping up all over Singapore."
This could be a good thing in the long run, said Lau, "since competition breeds progress".
The pandemic also prevented pullers from being able to travel to participate in competitions overseas, adding impetus to the staging of Singapore's first national championships for the sport.
"With the closure of borders and restriction on events, arm wrestlers have not seen any action in close to two years now. In the world of strength and combat sport, that can mean a lot of change," said Chan.
"Some have left the sport, many more have joined, and it is a good opportunity for those that are competitive to see where they stand against each other. 
"I see this competition as a push to encourage every puller that has left the sport to return from their two-year break, and for new pullers to find their competitive spirit."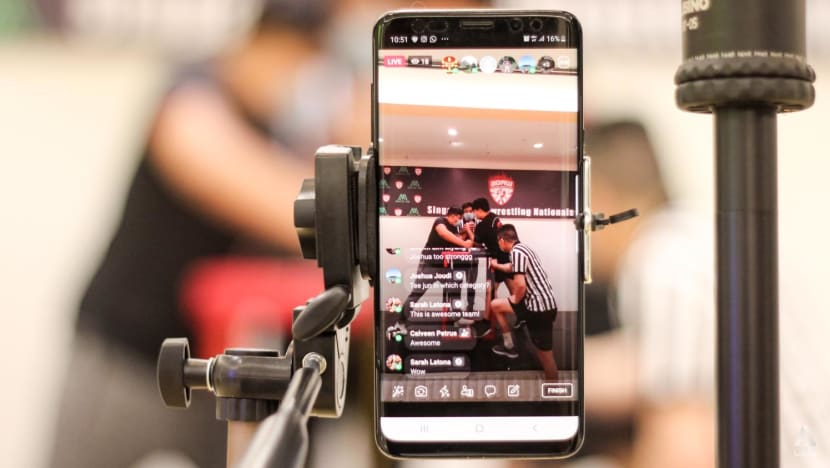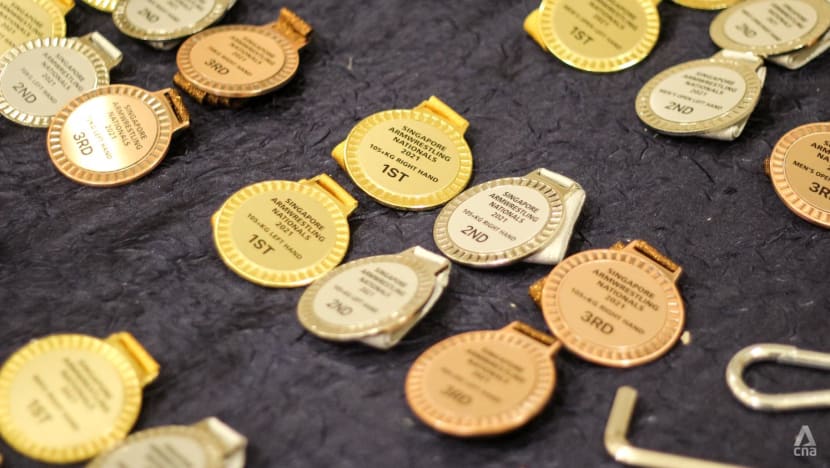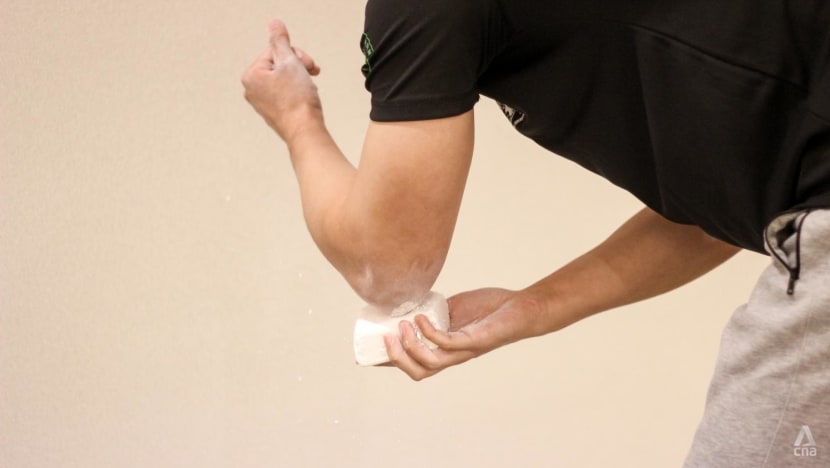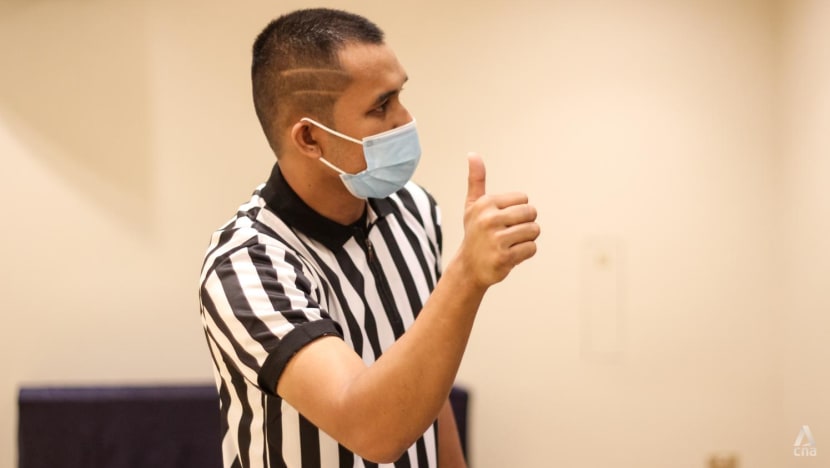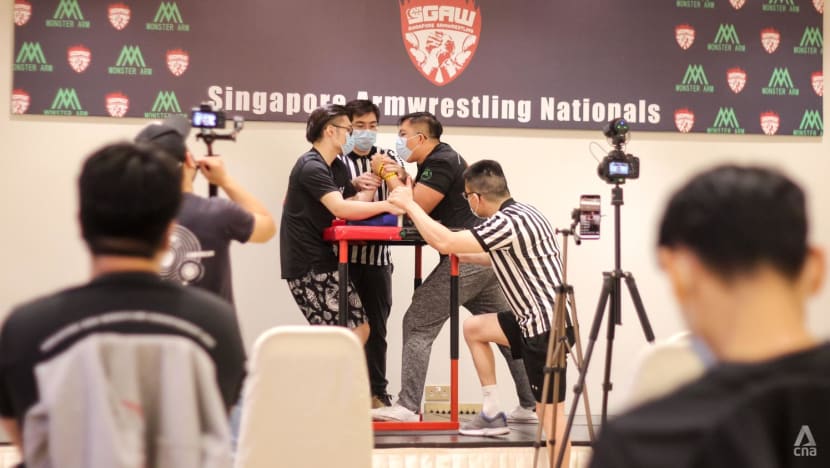 "A GAME OF CHESS"
At the national competition, many were already internationally recognised champions. Singapore Armwrestling president Valen Low had the most impressive CV, having won competitions in Australia, China and Malaysia.
Low and some of the other seasoned pullers played multiple roles in the championships, rotating between organiser, competitor and then referee.
According to the arm wrestlers, their sport is not purely a show of strength.
"This sport is like a game of chess – most of the time, the real battle begins before the match even starts," said puller Joshua Park, who competes in the 70kg category.
"Analysis of the opponent needs to be done in order to exploit their weakness and gain ultimate victory!"
Tay Jia Jun, a puller in the 78kg category, also compared the sport to chess.
"It brings out the nature of us as human beings. To be able to unleash your primal side yet keep your rational side at the same time," he said.
"It is one of the most technical yet power-driven sports. It is akin to a chess game but using your hands through your body."
Techniques can differ quite significantly between pullers, with some almost ending up under the table by the time their matches are over.
"In arm wrestling, there are generally three main moves, with that being the top roll, hook and press," said Park.
"I mainly utilise the top roll as an offensive move. Top roll means to attack the opponent's fingers and to also open up his wrist – this will (cause) him to lose his strength as he is not able to utilise the hand and wrist efficiently."
The hook and the press are considered "inside moves", Park adds. "(These moves) target the opponent's wrist and biceps, however, it requires a lot of elbow joint, tendon and shoulder strength," he said.
For the lighter weight classes, the combat can be over in a flash, often lasting less than one second. The heavyweight contests tend to last a bit longer, with pullers getting locked in wars of attrition.
It's a bit like sumo wrestling, where size and strength are in balance with speed.
Five weight categories were contested at the championships – 63kg, 70kg, 78kg, 86kg and 105kg+ – each split into left- and right-handed events. There were also open categories where the top pullers faced off regardless of weight.
"There are certain techniques that are more useful for those with a greater upper-body mass. Case in point: A dead wrist press. Such techniques are more popular among heavyweights than among lightweights," said Lau.
"Also, like many combat sports, mass comes at the expense of speed, so we expect lightweights to be quicker and more explosive in executing their moves."
In this sport, bigger is not always better.
"It is not uncommon to see sub-60kg guys that are able to match against 100kg guys," said Chan.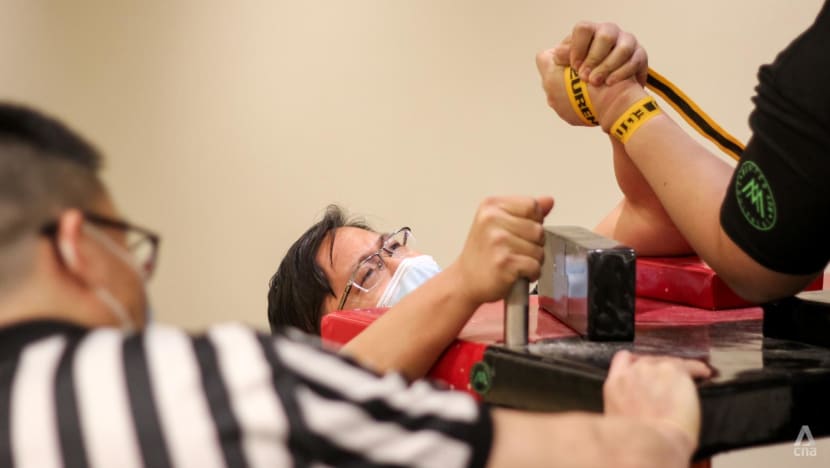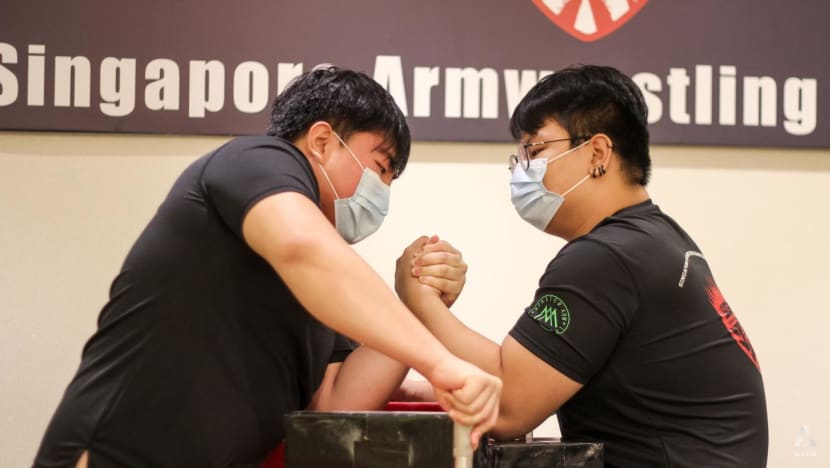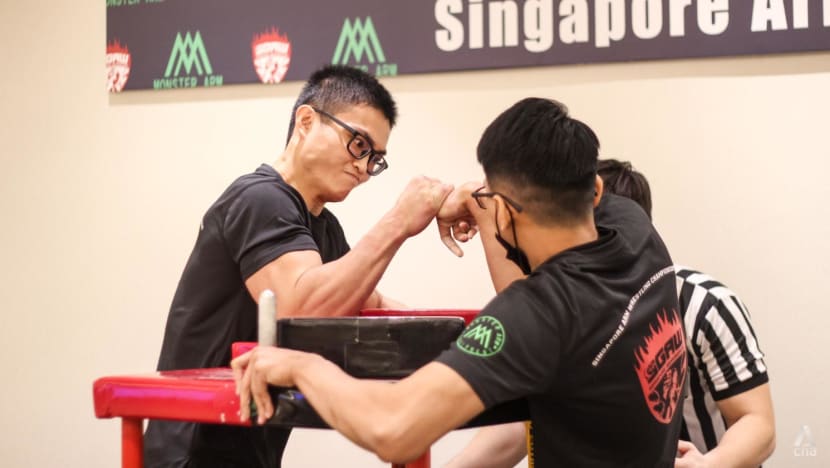 MISCONCEPTIONS
There are a number of misconceptions associated with arm wrestling.
"Arm wrestling, despite the name, is not about the arm, but rather the hand," said Tay. "Most of the time, the stronger hand will win the match."
Arm wrestlers aren't party animals either, said Park.
"The most popular misconception is that this sport is meant for the rowdy partygoers at the bar," he said.
"Rest assured, we are definitely the opposite from that, as we value self-discipline and sportsmanship as much as our training!"
Park trains six days a week, spending five on strength training and Saturdays on table training.
"The way arm wrestlers train is definitely different from conventional exercises. This is because we require certain muscles or tendon strength that can only be strengthened at various odd angles," he said.
Tay does arm wrestling-specific exercises three to four times a week and is careful with his diet in the lead-up to a competition.
"Preparing for a major competition, I will have a strict diet as most of the time we have to make weight (while) getting … nutrition for our joints to recover – joints take longer to recover as compared to muscles," he said.
"Loads of collagen and healthy fats in the diet."
Chan gives himself an opportunity to train as he moves around his home.
"I have a pull-up bar at the entrance of my kitchen, so I made it a point to do about 15 repetitions of pull-ups every time I enter the kitchen, for additional volume," he said.
Many pullers have backgrounds in other sports: Basketball, boxing and rugby for Tay, powerlifting and dragon boating for Chan.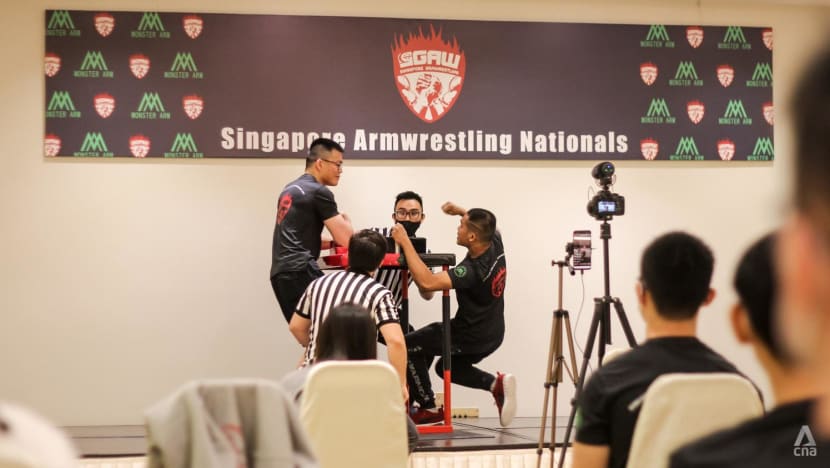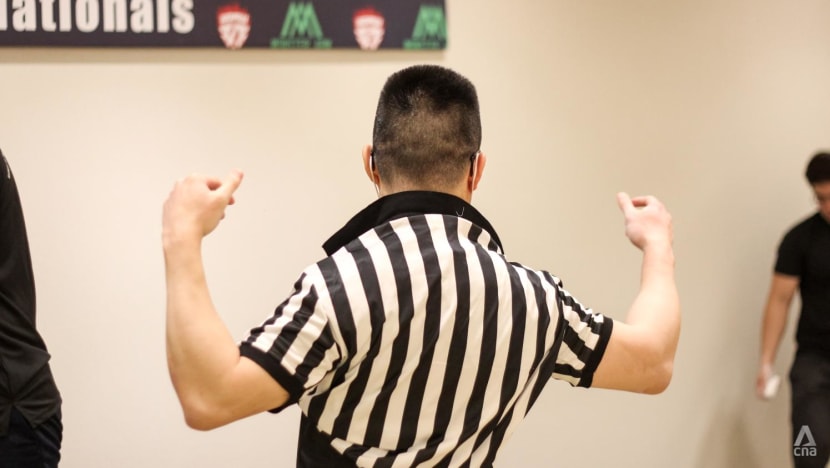 The use of leverage is essential as well, with matches taking place on special tables that allow a puller to use their body weight to their advantage.
"The most common misconception would be that it is illegal to use your body weight in arm wrestling," said Chan.
"Arm wrestling is a combat sport that utilises the entire body, and a good arm wrestler knows how to effectively utilise their body weight to brace, pivot and generate power off of it."
The use of body weight is not just allowed, but is actually key to avoiding injury, said Park.
"Using pure arm strength will in fact increase the risk of injuring yourself due to the sheer amount of pressure and force concentrated on the humerus and elbow joints," he added.
Unfortunately for one competitor at the championships, he suffered an injury in precisely that area in the middle of a match – a suspected fracture in his upper right arm.
In a display of the camaraderie among the pullers, they sprung into action, deploying a bag of ice while calling an on-site medic and an ambulance.
The medic arrived first within a few minutes and set the injured man's arm in a sling. In a few more minutes, the ambulance crew arrived and began treating him.
In less than half an hour, the situation had stabilised, and as the injured athlete was taken to hospital, he asked his fellow pullers to take care.
"I always enjoy the camaraderie of the team because we never fail to push each other and motivate each other so that we can improve ourselves together as a team," said Park.
BAND OF BROTHERS
When CNA first covered Singapore's arm wrestlers, there were several women competing among the men. However, they have since quit the sport or moved overseas, Lau said.
The inaugural championships were meant to have two weight categories for female competitors, but the organisers received no sign-ups, highlighting the challenge of growing the sport among women.
"As is usual for strength and combat sports, the barrier to entry for females is higher due to existing – and, dare I say, outdated – social norms," said Lau.
"The lack of females in the sport makes it harder for females to feel welcomed, and it becomes a vicious cycle.
"However, just a few women willing to give the sport a chance can break us out of this deadlock, so I am still hopeful about a vibrant local female arm wrestling community in the near future."
In a positive sign for the women's division, the emcee for the competition, Valerie Toh, decided that she wanted to have a go against one of the guys and took him on at a practice table at the back of the room. 
As it turned out, she had been a part of Singapore Armwrestling back in the Public House days and represented Singapore at an international meet in 2018.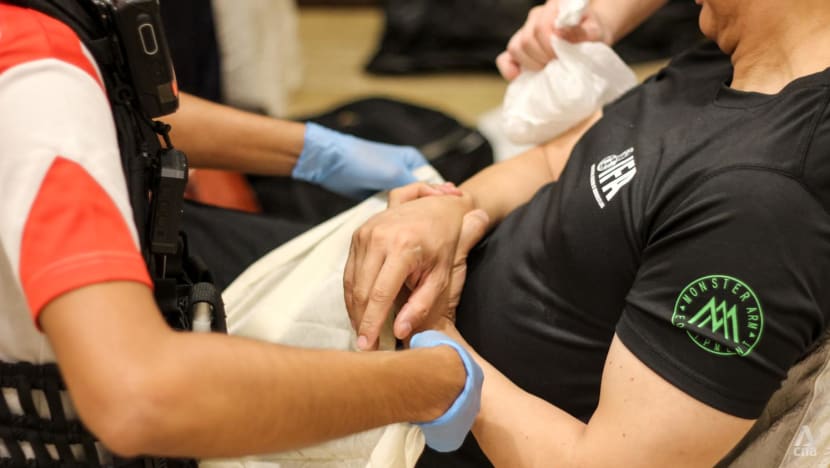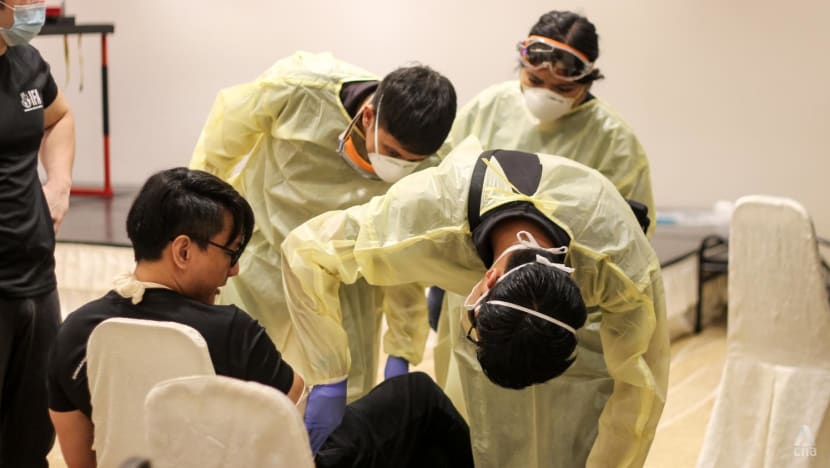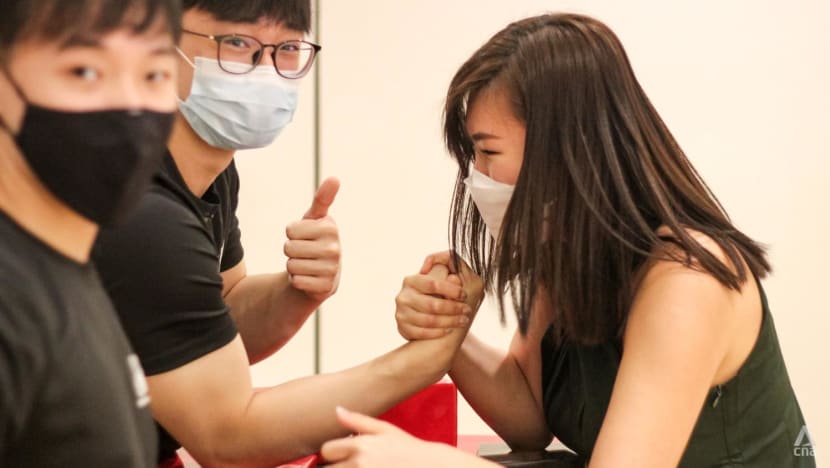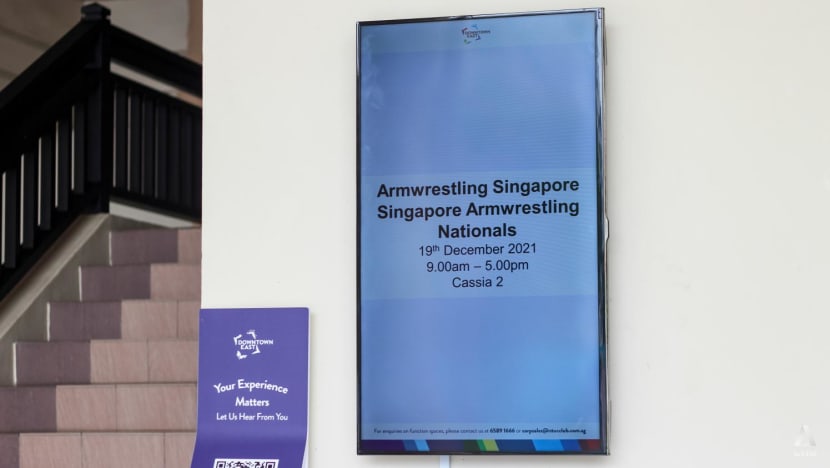 WHAT'S NEXT?
At the end of the day, Valen Low was the big winner, sweeping the 63kg and open category gold medals for both left and right arm, while Tay collected a haul of two golds in the 78kg class and a bronze in the right-arm open category.
In the 70kg class, Lau took home two silvers while Park and Chan walked away with a bronze each.
So what's next for the sport in Singapore after this milestone?
Lau hopes that arm wrestling gains recognition from Sport Singapore – a hope that had been expressed by Low back in 2018 – and more prestige at an international level.
"I … wish Sport Singapore can take note of our growth over the years and eventually recognise us as a sport under its banner," he said.
"On the global stage, I hope arm wrestling becomes an Olympic sport. We can start small with (the) SEA Games, but the end goal should be the Summer Olympics.
"We are perhaps where sport climbing was 20 years ago, and look where it is now. A lot of things can change in 20 years, but going by the trajectory arm wrestling took in recent years, I am optimistic."
Lau also wants to see more older competitors take up the sport.
"The good thing about arm wrestling is that arm wrestlers typically peak late, at 40-odd years old," he said.
"The 'old man strength' people often speak of is a key component to arm wrestling, and it usually takes decades to fully develop. As a result, starting at a relatively older age may not be that big a disadvantage."
Chan encouraged those who are curious about the sport to find a local club to join.
"To anyone that has any interest in arm wrestling, I highly encourage you to search for a club closest to you and join one of their weekly practices," he said.
"Train with like-minded pullers and you will definitely push each other beyond what you think you are capable of."
And don't be afraid to lose, said Tay.
"Most people give up because they do not want to lose," he said. "But as most sports are, losing is part of winning."