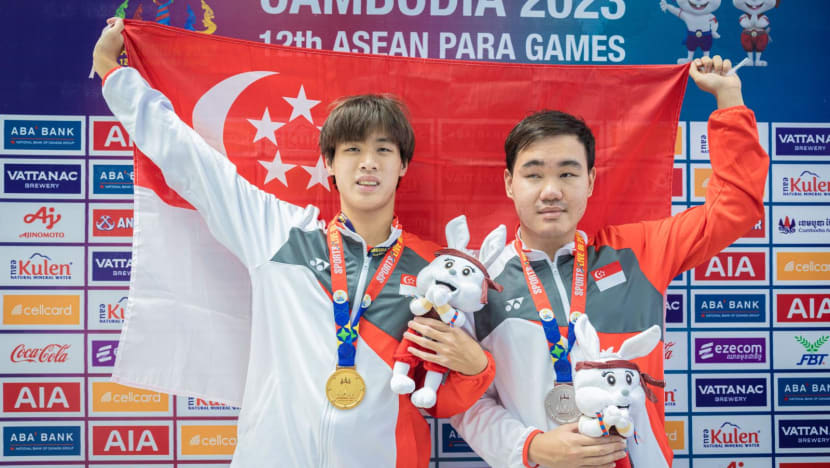 SINGAPORE: Singapore's swimmers struck gold three times on day three of the ASEAN Para Games in Phnom Penh, breaking two Games records in the process.
This brought the country's gold medal tally from the pool at the Morodok Techo National Stadium to seven.
Colin Soon and Wong Zhi Wei got Tuesday's (Jun 6) medal rush started in the men's 100m freestyle S13 with a one-two finish.
Soon, who had already won the men's 100m breaststroke SB13 and the men's 50m breaststroke SB14 golds with Games-record times, completed his hat-trick of titles with a time of 59.72 seconds. In addition to breaking the Games record, the time was also a new national record. 
He would later add a silver to his collection in the men's 100m backstroke S13.
His sister Sophie, who won the women's 100m breaststroke SB13 gold last Sunday, followed up with a gold in the women's 100m butterfly S13 – her time of 1:22.41 was also a new national record.
After winning two silvers and a bronze, Wong made it to the top step of the podium as he took gold in the men's 100m butterfly S13 with a time of 1:03.87 – a new Games record.
Already a two-time silver medallist at this year's Games, Danielle Moi also added to Singapore's tally on Tuesday with another silver in the women's 100m butterfly S14 and a bronze in the women's 200m individual medley SM14. 
Janelle Tong capped off Team Singapore's day in the pool with a bronze in the women's 200m individual medley SM10, setting a new national record with a time of 3:50.12 as she claimed her third medal of the Games.
A total of 26 Team Singapore athletes are competing at this year's ASEAN Para Games in athletics, badminton, boccia, powerlifting, swimming and table tennis.
The event, which officially kicked off last Sunday and concludes on Friday, is taking place in Cambodia for the first time.
Singapore is currently in sixth place in the medal table.