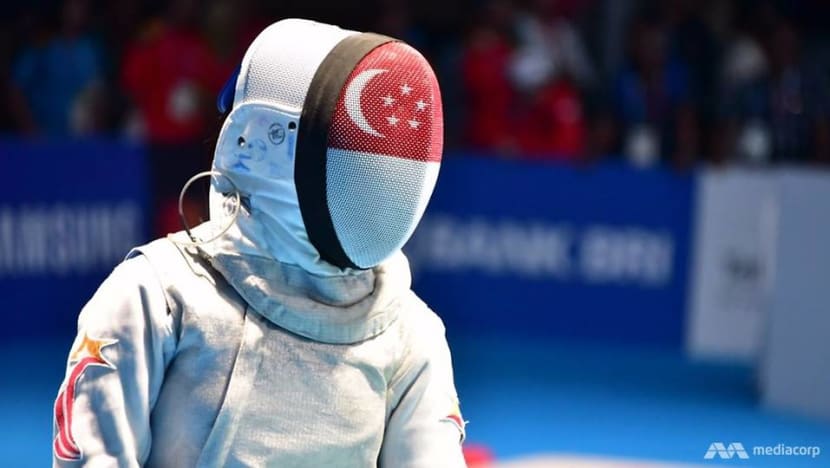 JAKARTA: Singapore's women's foil team secured the country's first fencing medal at the 2018 Asian Games on Thursday (Aug 23) after beating Chinese Taipei in the quarter-finals. 

The team - which comprised of Amita Berthier, Maxine Wong, Tatiana Wong and Melanie Huang - defeated Chinese Taipei 45-19 to clinch a joint bronze medal as there is no playoff for third and fourth place.

However, the team lost to China 14-45 in the semi-final on Thursday afternoon, denying them the chance to battle for a gold medal. 

The quartet were outmatched by their Chinese opponents, who are each ranked at least 85 places higher in the world senior rankings. 
The Singapore team's medal in Jakarta is country's second ever fencing medal at an Asian Games after Lim Wei Wen bagged the bronze in the men's epee event in Incheon in 2014.
It is also Singapore's first women's fencing medal ever at the Asian Games. 

Speaking to the media after the defeat to China, Amita, 17, said the experience in Jakarta "has been amazing", both for her individually and as a team. After her disappointing round of 16 exit in the individual foil category on Monday (Aug 20), she was delighted to have won a medal. 
"I'm happy that I managed to redeem myself in a way by helping the team and just doing what I have to do for my team-mates and keeping the spirits up and eventually it paid off," she said. 
"I'm going back to Singapore with an Asian Games medal in my bag and I'm really happy about that. I think it's a good way to close off our Asian Games, together as a team."  
Amita is confident that Singapore's foil team have the potential to qualify for the Olympics.
"I think they're working towards 2024 to 2028 when we're much older and have more experience, and have competed more. It's just a matter of time before we will be able to overcome the stronger countries," she said. 
In a press statement on Thursday afternoon, Fencing Singapore president Juliana Seow lauded the foil team's success, saying the quartet have "demonstrated grit and fabulous team spirit going into the 2018 Asian Games".