DOHA: Disbelief, dismay and disappointment.
Mexican fans Luis Riquelme and Alejandro Ortiz were crestfallen when this reporter broke the news to them on Friday (Nov 18) afternoon that no alcoholic beer will be sold to fans around any of the eight World Cup stadiums.
"It's not like you want to be drunk or something ... It's part of the (football culture)," said Mr Riquelme, who had arrived in Doha on Friday (Nov 18).
"It's like when I watch the Champions League in my house in the middle of the week ... I've got to get a beer. If you go to a stadium, there is no way you don't drink a beer."
Football's governing body FIFA on Friday announced that no alcoholic beer will be sold to fans around any of the eight World Cup stadiums following "discussions" with hosts Qatar.
A FIFA statement said a decision was made to remove "sales points of beer from Qatar's FIFA World Cup 2022 stadium perimeters".
Alcohol will still be sold at the FIFA Fan Festival, other fan destinations and licensed venues. It will also be available in VIP suites in stadiums and in some hotel and restaurant bars.
The alcohol-free Bud Zero beer will remain available at all stadiums.
"Host country authorities and FIFA will continue to ensure that the stadiums and surrounding areas provide an enjoyable, respectful and pleasant experience for all fans," said FIFA.
However, fans CNA spoke to pointed out that being able to consume beer adds to the party atmosphere of a World Cup.
"This is a huge parade, a worldwide parade. And we don't have beer? Where's the party?" added Mr Ortiz. 
"(We thought that) this would be something that they would figure out. But the news you just brought to us is the opposite of that!"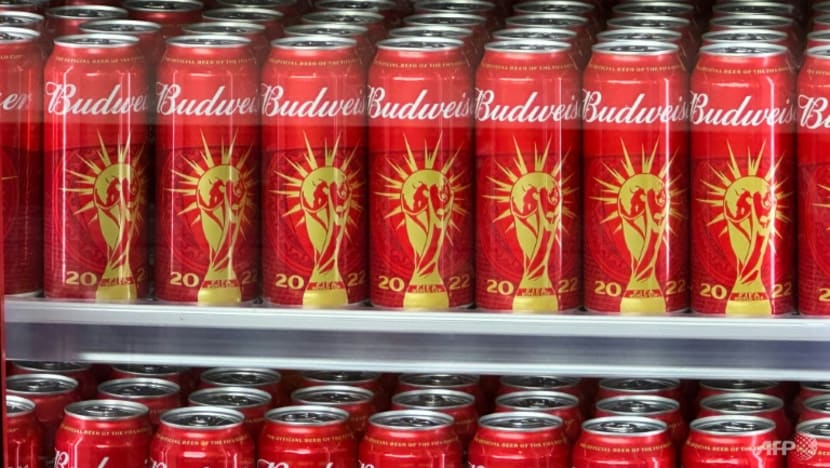 While Welsh fans Ian and Vicky Jones said that the news didn't bother them personally, they added that it would disappoint most fans.
"I think it's very disappointing (for most fans) because they've bought those tickets to enjoy the whole experience and now they've had quite a big part of that experience taken away at the last minute," said Welsh fan Vicky Jones.
"I would have had a beer but it doesn't bother me that I haven't. But I understand that for a couple of hours before the game, people want to have some drinks and really get the party going. I would have been part of that."
He added that decision could have implications on whether Qatar hosts future sporting events.
"You would think that it would damage of Qatar being able to get future events ... it can't be good for business."
FOOTBALL PARTY NOT DRINKING PARTY
Argentinian fans Marcos Vargas and Guido Cococcioni said in Latin America, beer and football come intertwined.
"It's okay (that this decision was made), but it is better to have beer. Beer for me is a good accompaniment for the match," he added.
"(In Mexico) sellers come to your seat, they have 20,30 beers with them, they are selling to everyone. You don't have to stand up from your place, they just bring it to you," added Mr Riquelme.
However, Mr Vargas and Mr Cococcioni both were indifferent to the decision.
"It's a beautiful place with beer or without beer," said Mr Vargas.  "This is a football party, not a drinking party."
Bidding farewell to CNA, Mr Riquelme and Mr Ortiz trudged off to the nearby FIFA Fan Festival to queue for beers. 
"We were just discussing two minutes ago (that we need a beer)!" remarked Mr Ortiz.
For now, that will be the only place where they, and most fans, will be able to do so.
Watch all 64 matches of the FIFA World Cup Qatar 2022™ LIVE on meWATCH. Visit mewatch.sg/fifaworldcup for details.