PHNOM PENH: Eighteen years after she won gold for Singapore in the women's foil team event at the Southeast Asian (SEA) Games, fencer Tay Yu Ling would stand on the top step of the podium again.
"It's quite the same - the feeling of everything coming together," she told reporters. "It's etched in your memory, you don't forget."
The quartet of Tay, Cheung Kemei, Maxine Wong and Tiffany Seet beat Vietnam 45-23 at the Chroy Changvar International Convention and Exhibition Centre to win gold on Monday (May 15). This is Wong's second gold of the Games, after victory in the women's individual foil. She has also been part of the last three victorious foil teams.
This is Singapore's third straight gold in the team event - no other nation has won it since 2011. The event did not feature in 2017, while fencing was not included at the 2013 Games.
"The younger fencers are the ones inspiring me, because they continue to write history and I'm so glad to be part of this journey and part of this history," said Tay, who returned to fencing about four years ago.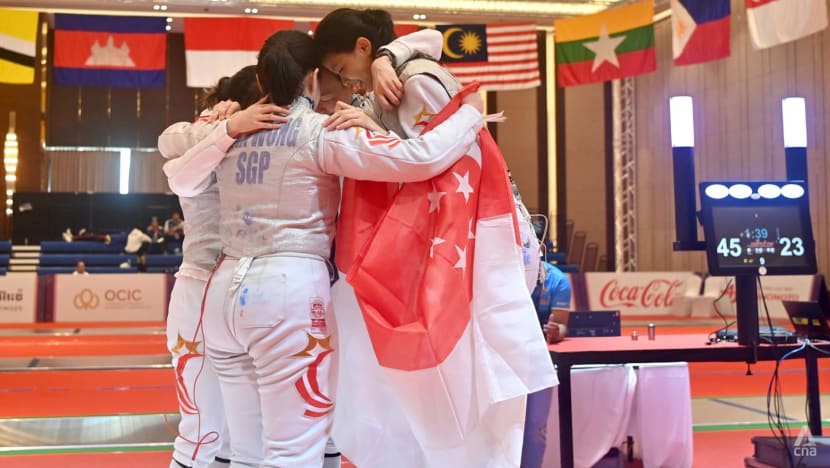 "They have broken barriers that in my time we hadn't managed to. They inspire me."
Earlier in the day, the men's sabre team of Nicholas Loo, Lucius Loh, Jorelle See and Dan Wei Zuo were beaten 31-45 by Vietnam in the final, taking silver. This is the first time the team has made the event final at the Games.
The foil team's win is Singapore's sixth fencing gold of the Games and means that the fencers have matched their gold medal haul from the last Games in Hanoi.
There have been wins for Wong, Si To Jian Tong (men's individual epee), Samuel Robson (men's individual foil), Elle Koh (women's individual epee) and Juliet Heng (women's individual sabre).