DOHA: It is a memory that 34-year-old Taka Sato will never forget - seeing both his parents sobbing after a football match.
And they weren't alone, for it is a date which most Japanese fans remember.
On 28 October 1993, Japan came within seconds of qualifying for their first World Cup.
But the Samurai Blue would concede a stoppage-time equaliser to Iraq, draw the game, and send South Korea through to the 1994 World Cup instead.
The location of that loss?
What is now known as the Hamad bin Khalifa stadium, a 20 minute drive away from the Khalifa International stadium where Japan would face Germany later on Wednesday evening (Nov 23).
"It would have been the first time that Japan would have made the World Cup," he told CNA before Japan's match with Germany. "Everybody knows it."
Mr Shuzu Chiba was one of the fans at that game. He described it as the "Doha disaster".
"All the Japanese fans were completely disappointed," recalled the 54-year-old. "Very, very sad."
"I want to achieve our goals here in Doha, this time as a manager, and turn it into the 'Joy of Doha'," said head coach Hajime Moriyasu at the World Cup draw in April.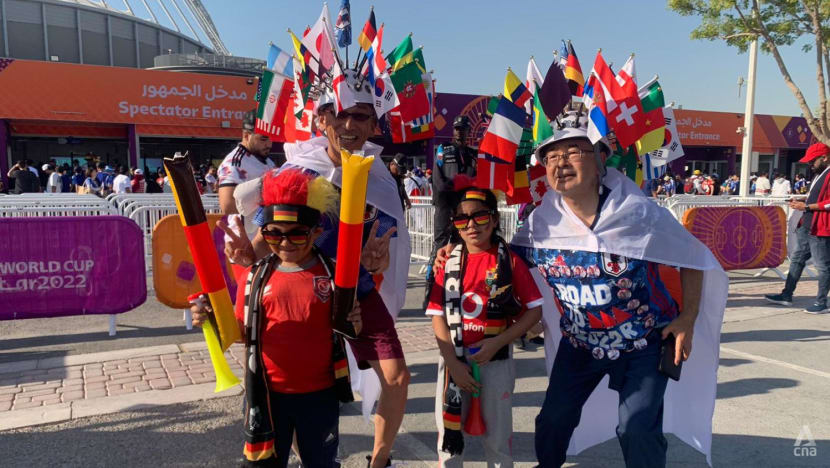 Mr Chiba would still travel to watch the 1994 World Cup, but it would be a tournament without his team in it.
Four years later, the Samurai Blue would eventually make their first World Cup. This is their seventh appearance at the tournament since then.
But Germany represented possibly the biggest test Japan has faced at the World Cup yet. The Japanese team also have Spain to contend with, and play Costa Rica as well.
"We just want to do our best, and we hope we can win," said Mr Chiba.
"MIRACLE OF DOHA"
In an incredible game of football, a lacklustre Japan fell behind to first-half penalty from Ilkay Gundogan.
But Moriyasu, a man who played in that fateful game against Iraq, came up with a masterstroke.
He threw Ritsu Doan and Takuma Asano on, in a gamble to drag his team back into the game. Doan netted the equaliser, while Asano's late strike gave Japan the win.
Delirium on the pitch, pandemonium in the stands.
And as the final whistle reverberated, an almighty roar was unleashed. A roar of relief, disbelief, and ecstasy.
History had been re-written.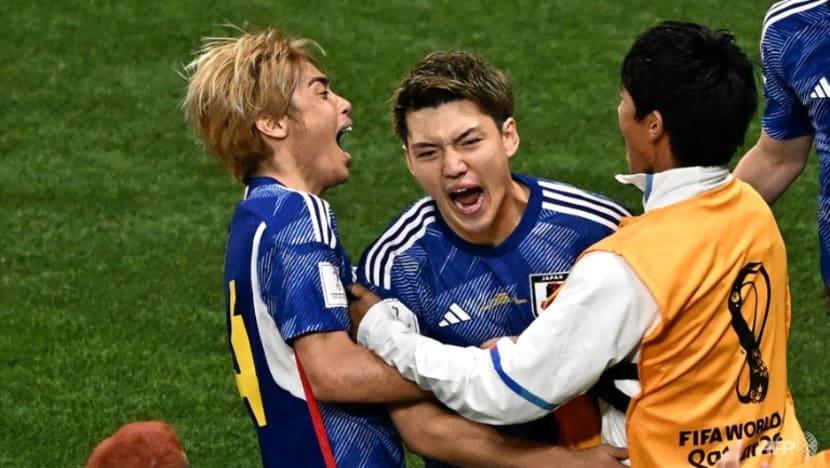 "We just made history," said Mr Nobuyuki Tsuji. "I cannot believe it."
"I think maybe all the Japanese will say that this is the 'Miracle of Doha'," added Mr Toshi Takano. "Last time we cried in sadness, now we cry in happiness."
As fans streamed out to the stadium after the win, I spot Mr Chiba in the distance, the flags of the various World Cup nations on his helmet sticking out among the sea of blue and white.
"We did it! We got it," he said. "But we haven't got to the next round yet.
"Our Japanese national team's target is the quarter-finals ... We are still on the road."
Watch all 64 matches of the FIFA World Cup Qatar 2022™ LIVE on meWATCH. Visit mewatch.sg/fifaworldcup for details.