Liverpool to play preseason friendlies in Singapore against Leicester City and Bayern Munich
Liverpool and Bayern will also hold open training sessions.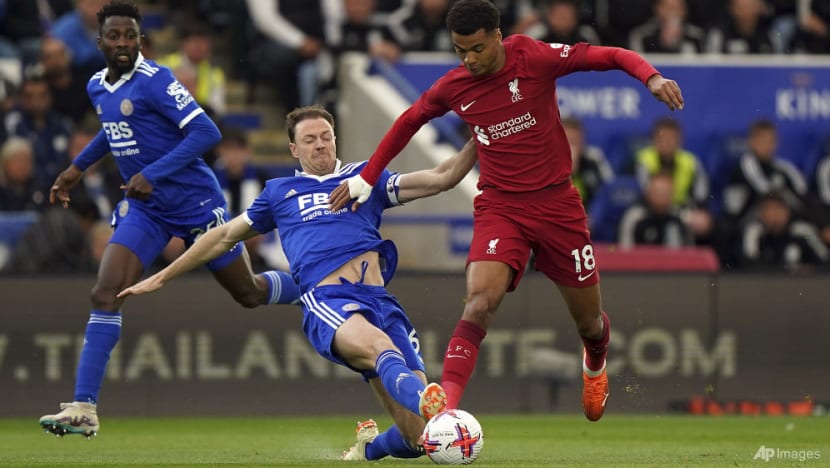 SINGAPORE: English Premier League side Liverpool FC will return to Singapore for a second straight year and play Leicester City and Bayern Munich in preseason friendlies.
The Reds were in Singapore last year, when they beat Crystal Palace 2-0 in the 2022 edition of the Standard Chartered Singapore Trophy. 
Liverpool will face Leicester City at 5pm on Jul 30 and take on Bayern Munich at 7.30pm on Aug 2, said promoter TEG Sport on Tuesday (May 16).
This will be Bayern Munich's first visit to Singapore since 2017.
Liverpool are currently in a top-four chase in the Premier League while Leicester are fighting to avoid relegation. On Tuesday, the Reds beat Leicester 3-0 in the league.
Bayern beat Schalke 04 6-0 on Saturday and hold a slender one-point lead as they aim to retain their Bundesliga crown.
It was also previously announced that Tottenham Hotspur will face AS Roma in a friendly in Singapore on Jul 26. 
All the matches will be played at the National Stadium, said TEG Sport.
Liverpool, Bayern and Tottenham will hold open training sessions during their time in Singapore.
Spurs will hold their training session at 6pm on Jul 25, while the Reds' session will be held at 8.30pm on Jul 29. Both training sessions will be at the National Stadium.
Bayern's training session will be on Aug 1, with the venue and time yet to be confirmed.
Tickets for all the events will go on sale from 10am on May 22 via Ticketek Singapore.
The football events are part of the inaugural Singapore Festival of Football Driven by CDG Zig that will run from Jul 26 to Aug 2. The events are supported by the Singapore Tourism Board (STB). 
CEO of TEG Geoff Jones said: "The Singapore Festival of Football Driven by CDG Zig marks an exciting time for football fans in Singapore and the region.
"We witnessed the overwhelming support and electrifying atmosphere at last year's game, and we are pleased to be able to bring back the highest quality football with five teams from three of the world's top leagues playing at the National Stadium."
STB's chief executive Keith Tan added: "We are excited to build on the success of last year's match to offer a star-studded week of football that will attract passionate fans from around the region."