Singapore's world champion and oldest competitor at upcoming SEA Games gunning for 7th straight billiards gold
In the third part of a series featuring Singaporean athletes headed for the SEA Games, Matthew Mohan speaks to an athlete with a remarkable track record which stretches back more than a decade.
SINGAPORE: In the dark of the night, sleep comes easy for most. 
But when he tastes defeat at a major tournament, six-time English Billiards world champion Peter Gilchrist remains wide awake.
He's seen it all, done it all, won it all. But losing still stings, even after decades of competing.
So, while others dream, his mind wanders back to what happened, and what could have been.
"You put on a brave face, you could say: 'It doesn't really matter, it was a small tournament', that sort of thing. You make excuses," Gilchrist told CNA.
"But it's in the night time when you can't sleep ... It shouldn't happen, but it does. You go through everything you got right, what you got wrong."
Although it is part and parcel of being an athlete, defeat always tastes bitter, said Gilchrist.
"I just hate losing, I absolutely detest it. I wish I didn't, I wish I could be like so happy," he added.
"I've said this before when I won a few tournaments. You're always a loser because you lose far more than you win - even the best in the world. So you're always up against that. And the losing hurts far more than the glory of winning."
At the Southeast Asia (SEA) Games, however, Gilchrist has not lost in the men's singles since 2009.
With six consecutive golds in the event at the Games, he is aiming to make it seven in Hanoi later this month.
HATING THE HEAT 
The last time the SEA Games were held in Vietnam, Gilchrist was part of the Singapore contingent as the national billiards and snooker coach.
After a stint coaching in Qatar, Gilchrist had just joined Singapore six months prior to the 2003 Games. That year, Singapore's Alex Puan and Keith E would win the snooker doubles gold.
"It was nothing to do with me, they were just fantastic," said Gilchrist.
But one thing he did do was to bring the duo to the UK, where they could learn from the best in the business.
"I had a lot of good friends in the game, and I took Alex and Keith to go and see really good coaches, just have a look-see what they think," he recalled.
For Gilchrist, Singapore was at first meant to be a brief stopover rather than the final destination.
A couple of years before, he had stopped by on the way back from a tournament in Sydney.
"When I went back I said I'll never go back here again because it's just so humid, I just hated the heat," he recalled.
"Then when I was in Qatar, I got offered a job as a coach (in Singapore), so (I thought) I'll give it a year. And then I met really good friends here and it's just been the best thing that has ever happened to me."
And so the Middlesbrough-born Gilchrist took up Singapore citizenship in 2006.
As he coached Singapore, Gilchrist also competed for the country. However, sustained success would mostly elude him.
"I was going to tournaments and playing players that I knew I was better than. And everyone was saying: ' Oh yeah, you're finished.' They were saying I was finished, because I was losing all the time," recalled Gilchrist, who had two world titles to his name before becoming a Singapore citizen. 
"Even my dad was like: 'They're all better than you now!'"
One of the major issues Gilchrist faced was that he was unable to train full-time due to his coaching commitments.
"I knew that my game just needed time and practice. That's all it was," he added.
Gilchrist competed in the 2007 Games but would finish outside the medals. He would win his first SEA Games gold in the 2009 edition and follow it up with another two years later.
But the game changer came in 2013 when he was one of the athletes awarded Singapore's Sports Excellence Scholarship (spexScholarship), which would allow him to focus on competing full-time.
"I would have just packed in (and focused on coaching if not for that)," he said.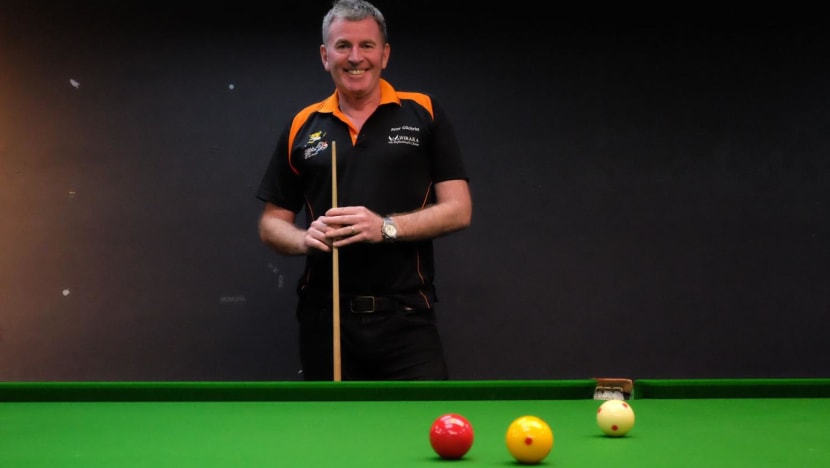 'MASSIVE' TO REPRESENT SINGAPORE
Thereafter, Gilchrist went on to win the world titles in 2013, 2015 (150-up format), 2016 and 2019. In the meantime, his winning streak at the SEA Games continued - with golds in 2013, 2015, 2017 and 2019.
"The first gold (2009) was obviously the best one … especially (given) the fact that in 2007 I lost. And if I had lost again, it would have been like what's happening you know?" he said.
"The Singapore one (2015) was special, because we were in Singapore."
Gilchrist clinched two golds at the 2015 Games, the second coming in the men's singles (500 points) event.
While he has competed and won at the highest level of the sport, the SEA Games remains a special competition to Gilchrist, who described it as "massive" for him to be representing Singapore in.
"It's definitely the fact that you're playing for your country (which makes it special). That's it. World Championships is an individual thing, and you losing in the SEA Games and you're you're letting everyone down," explained Gilchrist, who won the Sportsman of the Year award twice - in 2014 and in 2020.
"So that's what it is. And I've never been in that situation before."
The short format of the Games billiards competition means that anybody can win on the day, added Gilchrist.
"The SEA Games is more pressure than the World Championship. I love winning the World Championship, but because it's such a short format (at the Games), I think I put even more time on the practice table before the SEA Games because you've got to be sharp on everything," he explained.
"The players that I'm playing against - like the Myanmar players, and the Thai players, they are top 16 in the world. So it's like any slip-up and I'll definitely lose."
Despite his success, Gilchrist says he has been "really lucky" to keep the SEA Games streak going.
"I would say there's probably 50 billiards players who under this format could feasibly beat me. But in the long form, probably five," he said.
"I've been so lucky to win. Apart from one SEA Games where I won every game like 3-0, I've been really lucky."
And this time, Gilchrist wants not just the singles gold, but also the elusive doubles gold.
During his matches, he employs various techniques which take him away from the stress of the overall situation but direct his focus to his gameplay.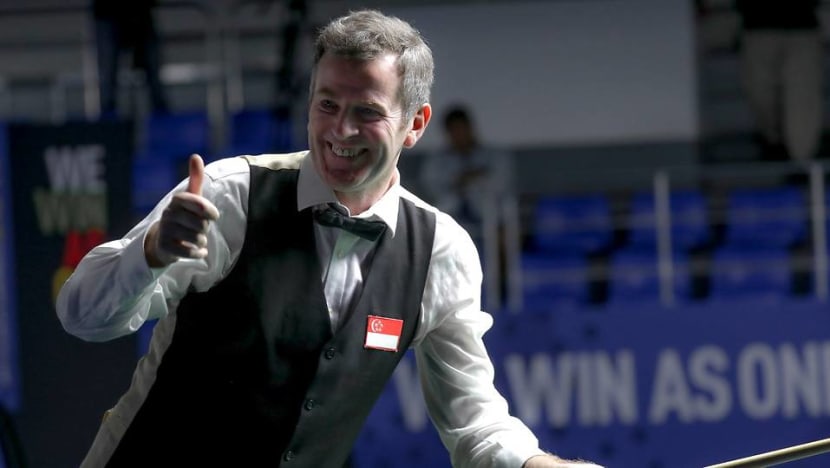 "The good thing about billiards is that you can get (into) a bit of a bubble, and if it means a lot, you can just focus. There are certain techniques that I use and it just gets switched on," he explained.
"Because I'm thinking of these things, I am not thinking about the consequences - what if I lose."
While others might feel the pressure of success, Gilchrist relishes it.
"I really look forward to it, I've just been in the UK … and my dad asked me, he said: 'Are you looking forward (to the Games)?' I said I'm looking forward all the time to this. It's nice to have the pressure," he explained.
'I STILL THINK I'M 25'
At 54, Gilchrist will be Singapore's oldest competitor at the Games, a fact that he didn't know till he was asked about it in a previous interview.
"I can't believe I'm the oldest, it's a little bit embarrassing," he said. "I still think I'm 25!"
Gilchrist hopes to compete for years to come. His goal - 10 World Championships titles and 10 SEA Games golds.
"I won my first world championship in 1994 when I was 26. And I thought I was quite good then … But I look back on videos of that, and my game was shocking …With billiards, it's like chess. You learn different moves (over time)," said Gilchrist.
"Recently, a good friend of mine, Martin Goodwill … told me something that I didn't know. I always think I know everything. And then all of a sudden, you think: 'Oh right!' It puts you in your place. And that's what I like about billiards, you keep improving."
But to ensure he continues to perform at his peak, Gilchrist has had to make some tweaks to his game.
This is because he has suffered from spondylitis - inflammation in the spinal bones - for more than two decades, resulting in back pains.
"When you want to win, you don't care (about these things) but now I'm thinking longevity-wise I've got to (take care of it)," Gilchrist added.
Before major tournaments, he spends about six hours a day training. 
"My practices are more focused, mainly … because of my back. I've just got to be careful," Gilchrist said.
For the past six months, he has been experimenting with approaching shots at different angles and postures to put less pressure on his back.
"I honestly think that if I'd been going in just my normal way ... I might only have another year in the game because my back is not good," he noted
Gilchrist has been implementing these changes at recent tournaments such as the Irish Open where he finished runner-up. 
But during the SEA Games, Gilchrist will revert to type should the situation call for it.
"There are a few shots that I'm just not comfortable about doing so during the SEA Games, I'm just going to go to my old way because I'm just not ready (with the new one)," he explained.
His goal is to eventually build enough confidence so that he can continue to compete in the years to come without risking injury to his back.
"I want to get it whereby I have the same confidence (in these new methods) - that's what I want. It might take a year," Gilchrist said.
"I can only do maybe 40 minutes at a time and come away from it, stretch then go back to it."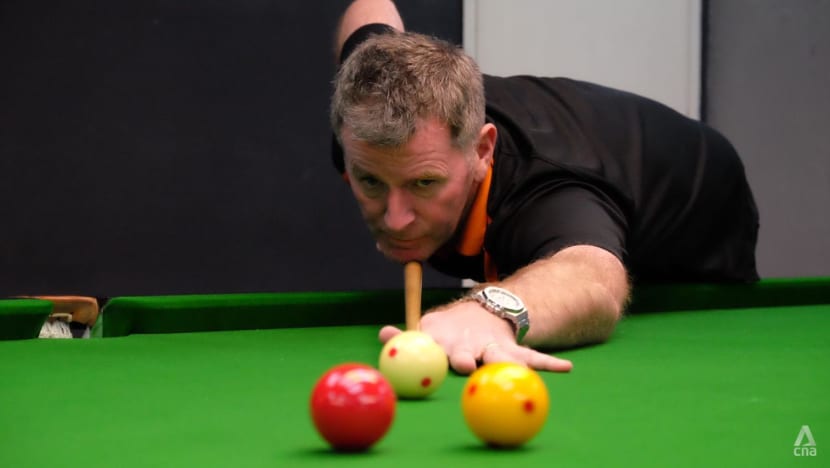 In his journey as a sportsman, one of Gilchrist's biggest fans is his nine-year-old daughter Ysabel.
Just like him, she is a competitor at heart, said Gilchrist.
"We go swimming - I was always the faster swimmer. Now she's probably a bit quicker than me and she just wants to beat me," he said.
"If I do beat her at something, she's a nightmare. She's loads worse than me!" 
Gilchrist will leave for the Games on her birthday. While he won't be able to fulfil Ysabel's wish to leave a day later, he aims to bring home some birthday presents when he returns. 
This is because his medals no longer just belong to him. They are now a keepsake for Ysabel, kept in a cupboard in her bedroom as treasured memories of her father's many achievements.
"She wants them, you know? But I don't think she'll be happy with a silver," he quipped.
And given Gilchrist's desire to succeed, it is gold or nothing.
For glory, and a good night's sleep.