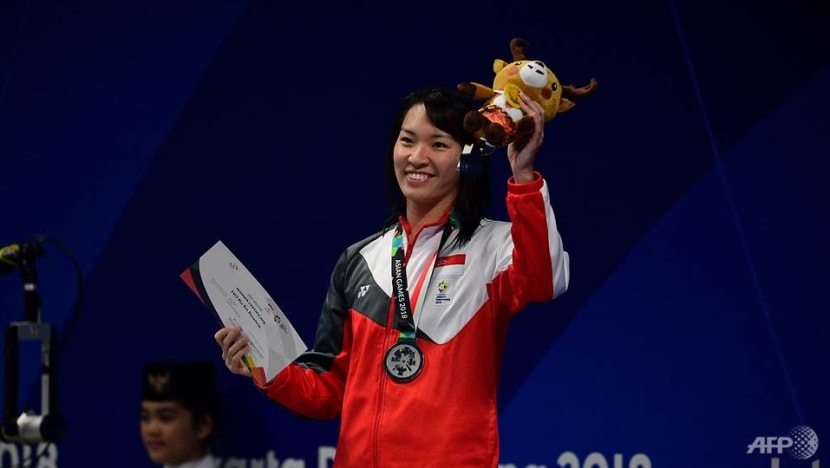 JAKARTA: Singapore's Roanne Ho won a silver medal in the 50m breaststroke at the 2018 Asian Games on Thursday (Aug 23), clocking 31.23s to break her own national record by 0.06s. 
She finished behind Japan's Satomi Suzuki, who touched the wall at 30.83s. China's Feng Junyang took the bronze. 

Ho had the third-fastest timing, but took the silver after Japan's Miho Teramura was later disqualified. 
It was seen as a surprise win for Ho given that she had finished sixth in the heats on Thursday morning, clocking 31.59s. 

The 25-year-old has made a remarkable comeback since suffering from a life-threatening collapsed lung in January 2016, forcing her to take a months-long break from training.

Speaking to reporters after the race, Ho joked: "The term comeback queen (for me) is very apt. Three days ago I had a very bad stomach flu ... To be here this morning (contesting at the heats), I'm very thankful for that." 
This is Ho's third Asian Games, and she attributes her achievement at this year's edition to hard work.  
"I think there was a change in attitude. In 2014, I went there mostly as a participant. I didn't really aim for anything. None of us really dreamt of an individual medal at the Asian Games. When Joseph (Schooling) did it (in 2014), everyone was like, hey, you can get a medal ... so coming here this year I had a new purpose, I didn't want to just be a participant at the final," she said. 

"I slowly learnt to believe in myself. People used to tell me - you can (get a medal) maybe at the next Asian Games. But talk is cheap, it's very easy to say these things. So when I started getting better and training harder, I started to see that hey, maybe this could happen," Ho added. 
Her win gave Singapore's women swimmers their first medal in Jakarta. 
WOMEN'S RELAY TEAM SNAG BRONZE
Following Ho's race, the Singapore women's 4x100m medley relay team produced yet another surprise result when they clinched the bronze.
The team finished the race fifth, but they were later awarded third after favourites China and South Korea were disqualified. 
The quartet of Quah Ting Wen, Quah Jing Wen, Samantha Yeo and Hoong En Qi clocked 4:09.65s on Thursday night. Japan won gold in 3:54.73s while Hong Kong bagged silver in 4:03.15. 
Earlier in the evening, Singapore Olympic champion Joseph Schooling clinched his second gold medal at the 2018 Asian Games after winning the 50m butterfly final.

Get the widest coverage of the 18th Asian Games (Aug 18 – Sep 2) from Jakarta and Palembang, Indonesia on Mediacorp. Go to toggle.sg/AsianGames2018 for details.