PHNOM PENH: The pool has long been a place of joy for Team Singapore at the Southeast Asian (SEA) Games, and it was fitting that the Morodok Techo National Aquatics Centre in Phnom Penh was where there was cause for celebration once more.
On Saturday (May 6), as the victorious quartet of sisters Quah Ting Wen and Quah Jing Wen, Nur Marina Chan and Amanda Lim posed with the glittering, golden fruits of their labour, this one shone a bit brighter than most.
For theirs was Singapore's 1,000th SEA Games gold.
It was a historic night in the pool on Saturday (May 6) as the women's 4x100m freestyle relay team from Singapore clinched their country's 1,000th Southeast Asian (SEA) Games gold medal. Lauren Ong reports.
The women's 4x100m freestyle relay team had dominated their race, combining to time 3:44.29 and reach the national milestone.
"Honestly, I didn't really know until my sister told me that our brother (Zheng Wen) got the 999th gold for the 100m back(stroke)," said Jing Wen.
"It didn't really spark something in me until I realised after. It's a really cool feat to say ... It feels amazing, it looks nice on paper, it sounds good. I mean, all the better!"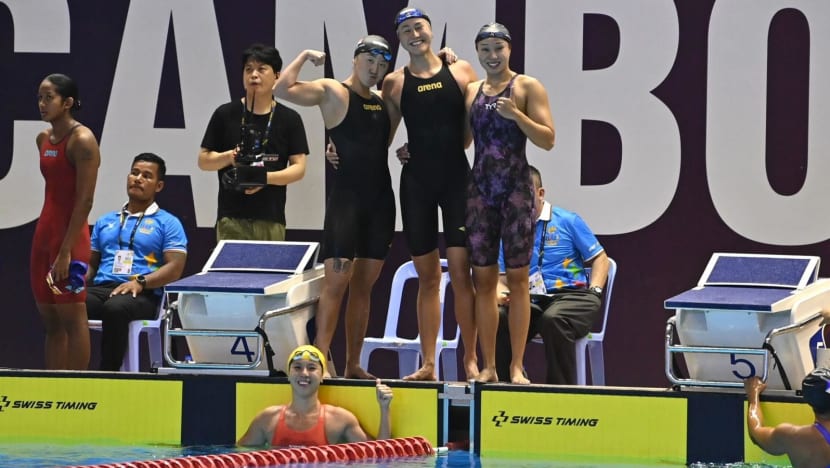 "Traditionally, we've always been strong at the SEA Games and winning that 1,000th gold medal for Singapore, I'm so glad it is in Singapore Aquatics' court," national head coach Gary Tan told reporters after.
There were four top-place finishes on the night for Singapore, with the women's relay team capping off a solid night.
In the men's 100m backstroke, Olympian Zheng Wen defended his 100m backstroke title with a time of 55.22s. Indonesia's Farrel Armandio Tangkas was second (55.80), while Jerard Dominic Jacinto from the Philippines claimed bronze (55.99).
But in the men's 100m freestyle, Jonathan Tan pipped Zheng Wen to the wall as he took gold with a new personal best of 48.80s. Zheng Wen timed 48.99s for a personal best of his own.
Jing Wen got the gold rush underway as she timed 2:10.63 in the women's 200m butterfly to retain her crown. Thailand's Kamonchanok Kwanmuang and Jinjutha Pholjamjumrus finished with silver and bronze.
In the men's 200m individual medley, Zachary Ian Tan clocked a personal best of 2:02.42 to clinch bronze, while Maximilian Ang timed 2:04.54 to finish 6th.
The event was won by Vietnam's defending champion Nguyen Tran Hung, while Thai Dulyawat Kaewsriyong took silver.