Quest for 2024 Olympics begins for some Singapore athletes amid busy year
For some Singapore athletes, the quest to reach the ultimate stage starts now.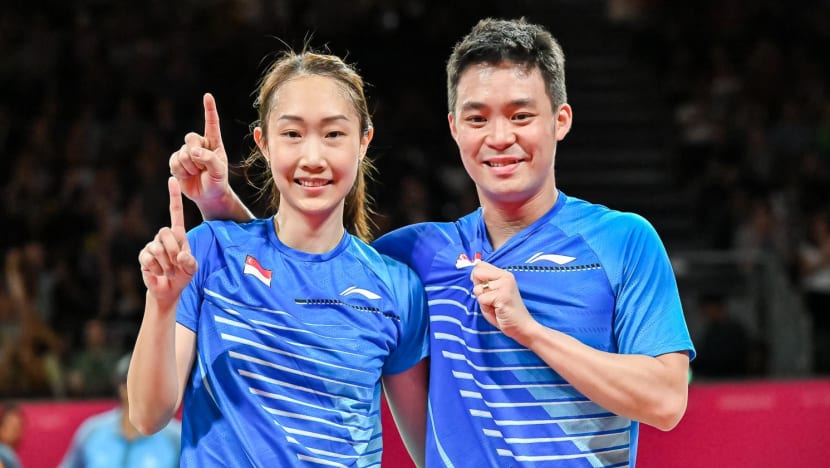 SINGAPORE: Singapore athletes will face a jam-packed sporting calendar this year, with regional, Asian and world competitions on the horizon for many of them.
But they are unfazed by the pressure of competing so frequently, after the COVID-19 pandemic forced competitions to bunch up or be postponed until the situation was more stable. 
For some national athletes, the quest to reach the ultimate stage, the 2024 Olympics in Paris, starts now. 
Closer to home, for the first time, the Southeast Asian Games (SEA Games) will be held in consecutive years.
For Singapore's fencers, they will be looking to repeat their dominant performance in the Hanoi games last May, at the Phnom Penh edition later this year.
At the regional games last year, national fencer and Olympian Kiria Tikanah won a women's team gold and individual silver in the epee event. 
GUNNING FOR PARIS OLYMPICS
She believes the Paris Olympics is now on everyone's minds. 
"It's going to be a lot more intense compared to 2022, because fencing-wise, everyone's going to be gunning for the Olympics. So the competition is going to be bigger, a lot more intense," said Kiria, who featured in the Tokyo Olympics in 2021. 
"The stress levels are going to be way higher than what they used to be. So that's something that I would have to be mentally ready for and to be in my best physical shape."
For her, qualification events squeezed into the next 12 months include the world and Asian championships, as well as the Asian Games. 
While last year was more of an adjustment period back into competing after the pandemic, this year's aim is to try and produce the results, said Kiria. 
"We are really going to put a bit more emphasis on producing better results consistently."
National shuttlers Terry Hee and Jessica Tan are also eyeing a place in the French capital next year. 
Last August, Singapore's badminton golden couple smashed their way to glory, clinching the country's first Commonwealth Games gold in the mixed doubles event. 
There is "a bit more pressure", said Hee. "But we hope that also gives the opponent a little bit more fear, hopefully. 
"We will never know but of course, we won't focus on the second match. We will just focus on the first round, then round by round. If you think too far ahead, it will not end well. We learnt it the hard way."
PACKED YEAR AHEAD FOR ATHLETES
For the husband-and-wife pair, 2023 is not going to get any easier.
"The tour starts in January. So there will be four back-to-back tournaments in Asia, starting with Malaysia, India, Indonesia and Thailand," said Tan, adding that there is a need to learn how to find a balance. 
"And then the rest of the year would just be really packed because there are many tournaments in the whole calendar, much more than 2022."
The whole year is going to be "crazy-packed", Tan noted. "As athletes, this is the journey that we choose to go through, so we just need to learn to adapt and cope with the stress, the pressure and the hecticness."
Meanwhile, national e-sports player Amos Ng is expected to make his SEA Games debut in May, where his team is aiming for a podium finish. 
He is looking to qualify in at least five other tournaments this year.
The 21-year-old, who is now competing at the Mobile Legends: Bang Bang M4 World Championship in Jakarta, said: "Our biggest competitors would be the teams from Indonesia and the Philippines, because I think they've been pretty dominant... 
"They have a proven track record and great teams. So we will prepare for them the most and we see them as the biggest threats to our goals."