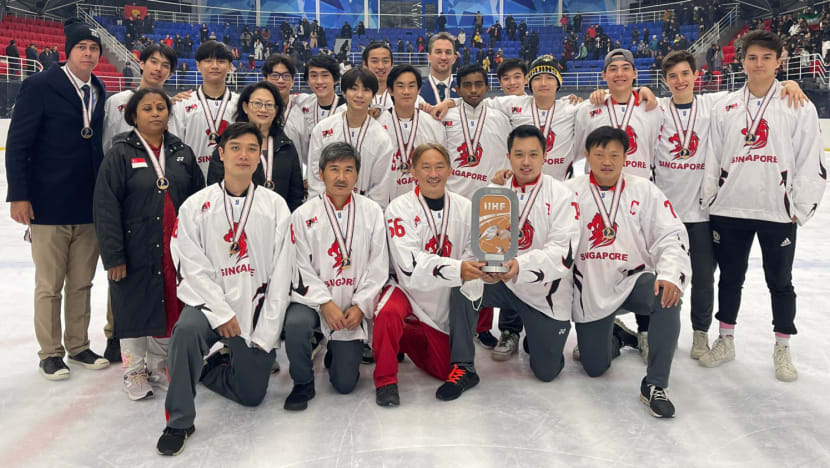 SINGAPORE: The Singapore men's national ice hockey team wrapped up their first trip to the IIHF world championships with a convincing 8-2 win over Malaysia on Tuesday (Mar 8), a result that secured them third place in the Division IV tournament. 
Singapore also picked up a win over higher-ranked Kuwait during the Mar 3 to 8 event. 
The team's journey to Bishkek, Kyrgyzstan, to compete in the tournament took 30 hours, but their road to Central Asia began in Manila more than two years ago. 
Singapore qualified for the World Championship after bagging the silver medal at the 2019 SEA Games and were scheduled to play in the tournament in March 2021. It was, however, cancelled as a result of the COVID-19 pandemic.
The ice hockey world championships are split into five tiers, with traditional powerhouses like Canada, Finland and the United States competing in the top division, and lower-ranked nations competing in Division I to Division IV.
A new entrant to the IIHF world rankings, Singapore is currently ranked 55th out of 55 teams on the world stage, and their opponents at the Bishkek Arena were Iran, Kuwait, hosts Kyrgyzstan and Malaysia.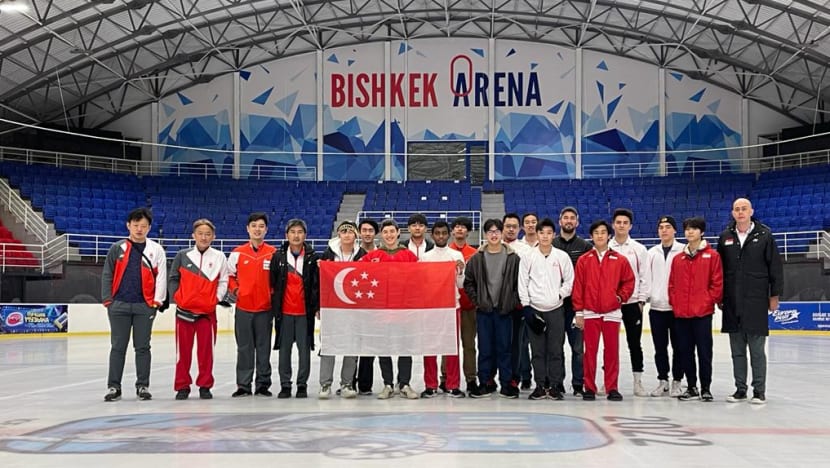 The COVID-19 pandemic meant that Singapore had some catching up to do to prepare for the tournament, said the team's coach Rob Martini.
"Many of the other countries have continued to practise throughout the pandemic, and this allowed them to hit the ground running – or the ice skating, if you will," he told CNA.
"Singapore has done an outstanding job handling the virus, and it goes without saying that public health always comes first at times like this, but it did mean that there were some adjustments that we had to make and challenges that we encountered during the early stages of the tournament.
"Additionally, the travel restrictions for some Singaporean hockey players currently living in other parts of the world, as well as the remote location of the tournament – and the costs associated with that – meant that some key players, who desperately wanted to be here, were unable to make the trip."
The team managed to put in the hours to make sure that they were ready for the tournament in spite of the pandemic, said captain Daniel Chew.
"The team worked hard to get in shape during the COVID-19 period, and we were able to skate (alongside) most of the (teams)," he said.
After the unexpected two-year hiatus, the team was happy to simply play international ice hockey again.
"It felt great to finally be able to play in international competition for the first time since the COVID-19 (pandemic)," said Singapore's top scorer at the tournament, Ethan Redden.
Being in Bishkek was already a milestone, but Singapore was not just there to make up the numbers.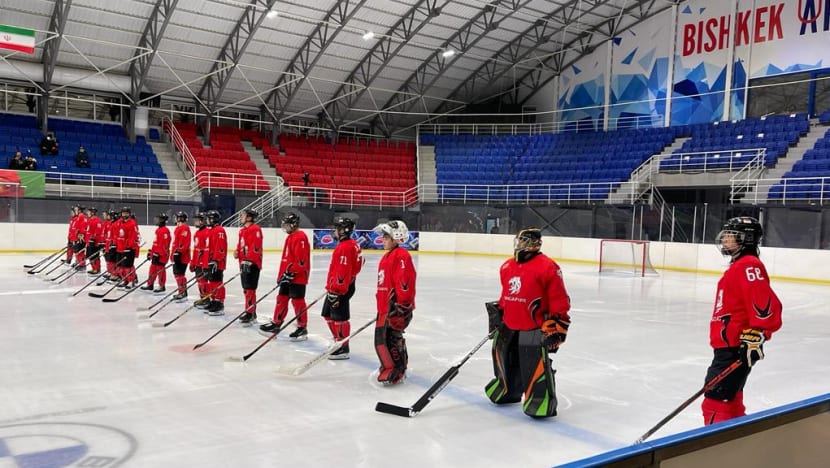 SINGAPORE'S CAMPAIGN
SEA Games bronze medallists the Philippines had been due to participate in the Division IV tournament alongside Singapore, but the team withdrew citing the closure of ice rinks in the country since the start of the COVID-19 pandemic.
At stake at the tournament was promotion to Group B of Division III for 2023 – the rung where SEA Games champions Thailand compete.
Singapore's campaign began with a loss against unranked Iran on Mar 4, but there were promising signs as Joshua Chan netted twice in the 5-2 defeat.
Up next on Mar 5 were Kuwait, a side ranked 51st and boasting past World Championship experience.
They proved to be no match for Singapore, who stormed to a 4-0 shutout win with two goals from Redden and one each for Chan and Ryan Tan.
Singapore's third game against 52nd-ranked Kyrgyzstan on Mar 7 was always going to be a challenge, compounded by the hosts coming into the tie on the back of a 13-1 win over Iran and a 22-1 victory over Malaysia. Singapore were duly dispatched 15-0.
Sitting in third place after three games, Singapore still had plenty to play for going into their final match against Malaysia, who are ranked two places higher.
The two sides traded punches in the first period, with Singapore's Bryan Lee and Tan scoring on either side of a Mohammad Hariz goal for Malaysia.
Redden put Singapore 3-1 up midway through the second period, and while Muhammad Fareez Afdlin gave Malaysia some hope with a goal two minutes later, Chan restored Singapore's two-goal advantage soon after.
The third period belonged to Singapore as Christopher Wong got on the scoresheet and Chan grabbed his second goal of the game.
Redden netted another before completing his hat-trick just before the buzzer to seal an 8-2 win and the bronze medal for Singapore.
Kyrgyzstan rounded out the tournament later on Tuesday with a 14-0 victory over Kuwait, claiming the title and promotion to Division III Group B with a perfect record and just two goals conceded.
Iran took home the silver, while Malaysia finished fourth ahead of Kuwait.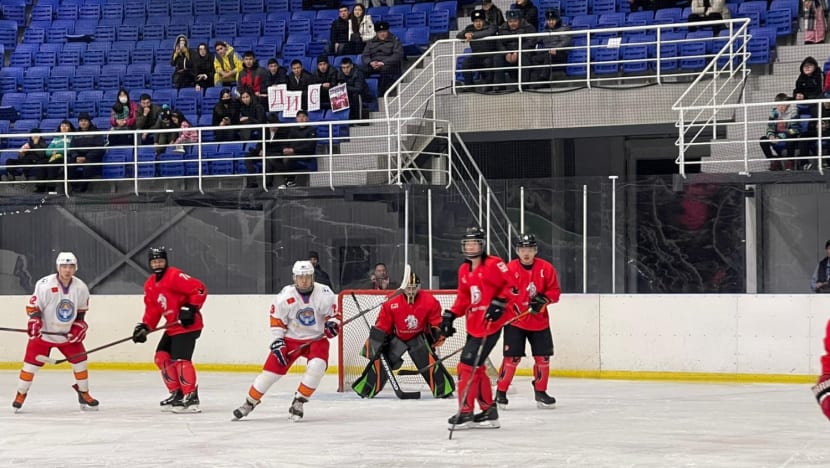 YOUNG GUNS
Coach Martini was full of praise for his side as they concluded their campaign.
"I have coached the Singapore national team at six international tournaments now, and as a Canadian, I am always struck by the passion that these players have for the Singapore name on the front of their jerseys," he said.
"The players' passion for hockey is infectious, and it's an honour to help them build their skills and their knowledge so that they can hopefully make all the citizens back in Singapore proud!" he added.
Singapore's squad in Bishkek were aged between 16 and 46, and Martini singled out one of his youngest players for praise.
"While it has been great to see the steady play of veteran leaders such as captain Daniel Chew and Ryan Tan, the highlight has to be the emergence of a core group of very young players," he said.
"Our goaltender Joshua Lee is 16 years old, and has proven himself to be the most talented goaltender in the tournament. While other goalies in the tournament may have better statistics, I can assure you that I have been playing and watching hockey for 30 years, and none of the other goaltenders in the tournament has shown the talent and skillset that Josh has.
"Additionally, we have had many players aged 16 to 21 playing big minutes, and (they) have taken huge strides this week, both offensively and defensively. The future of Singaporean hockey looks very bright, and I am excited for what the future holds for this group."
Chew and Redden said that having a core group of young players will be key to Singapore earning more success on the ice.
"Having a younger team will help to lead team Singapore to more medals," said Chew.
"We will be working harder to expand the team and try to have more younger players playing ice hockey."
Redden added that "the next stage for Singapore ice hockey is to continue to develop and grow its young roster of players", although he noted that the young and growing team have had to work around National Service obligations and fine-tune communication.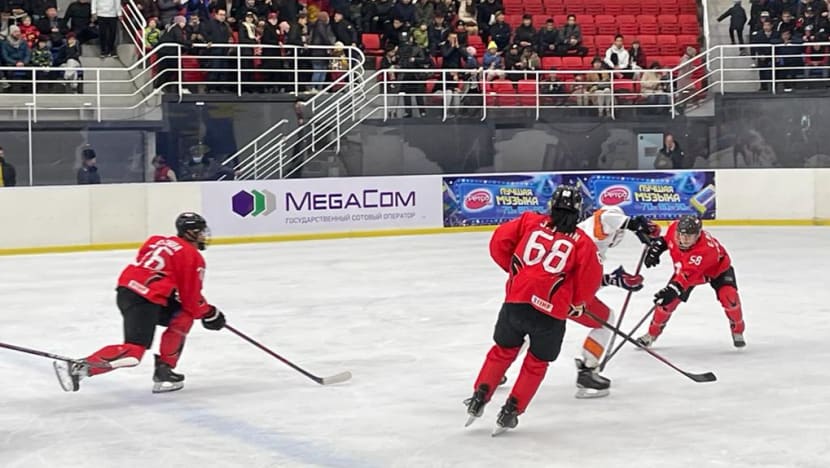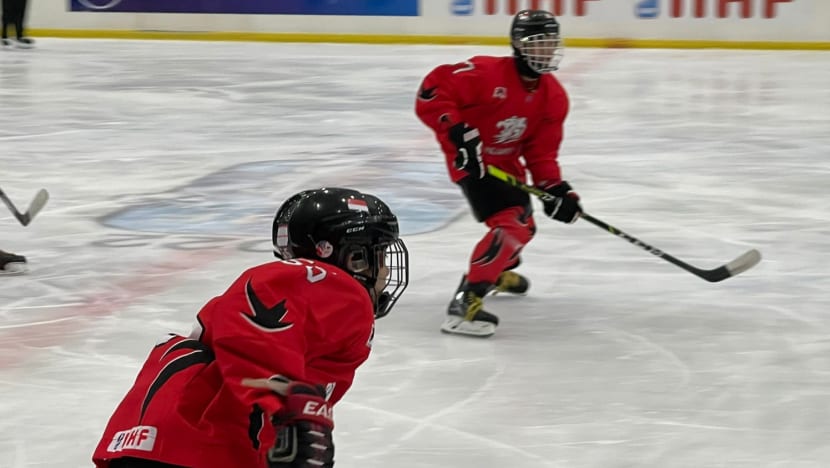 PROMISING FUTURE
Martini, Chew and Redden said that the team gained a lot of valuable experience at the tournament, even during the drubbing against Kyrgyzstan.
"Feeling the speed of the game at this level. Playing in a hostile atmosphere; the game against the local Kyrgyzstan team had nearly 2,000 highly enthusiastic spectators. There's nothing that you can do in training to prepare you for that, and it's great for these young players to get that kind of experience," said Martini.
Redden added: "We need more exposure to higher levels of hockey, so we need to continue to play and win in tournaments like this."
Looking ahead, Martini said Singapore ice hockey will continue on its upward trajectory.
"As these boys grow and develop into men, if they continue to dedicate themselves to their craft – which, given the strong character of these players, I have full confidence that they will – they will see their results continue to improve markedly," he said.
He hopes to see the sport itself continue to grow as well.
"Ice hockey had a lot of momentum pre-COVID, not just in Singapore, but in many of the surrounding countries. One of my biggest wishes is that everyone can pick that momentum back up," he said.
"As someone who grew up in a hockey-mad country, the game is in my blood. Many of my best qualities as a person and a human being stem from the lessons I learned playing ice hockey.
"My biggest hope is that the next generation of young Singaporeans gets the chance to experience those same lessons as well!"