Soh Rui Yong excluded from Singapore's Asian Games line-up; SNOC says he made 'disparaging' remarks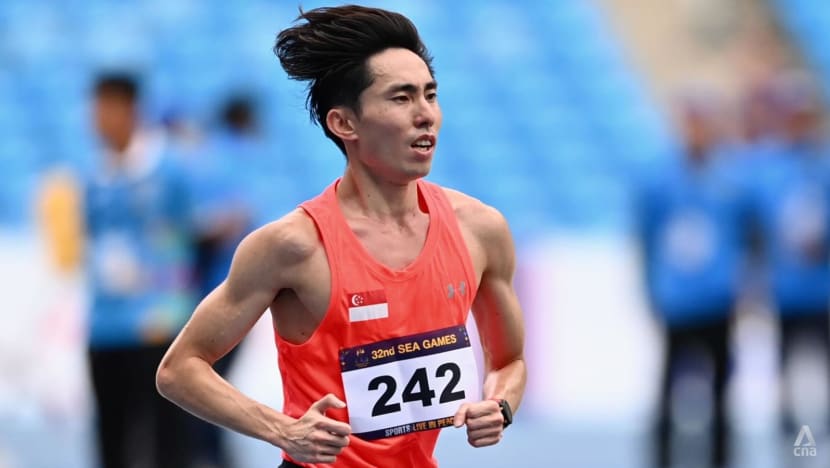 SINGAPORE: Distance runner Soh Rui Yong has once again been left out of the Singapore contingent and will miss the upcoming Asian Games in Hangzhou, China. 
The 31-year-old was not included in the Singapore National Olympic Council's (SNOC) list of successful appeals on Thursday (Jun 8), which comes a month after he returned to the national fold at the Cambodia SEA Games. 
Soh won a silver medal in the men's 10,000m SEA Games race in May, setting a new national record in the process.
His participation at the Phnom Penh Games marked the end of a more than five-year absence from major games following several clashes with SNOC, which eventually led to his exclusion from the 2019 and 2021 SEA Games despite meeting the qualification times for both competitions.
In response to CNA's queries on Thursday, SNOC said its appeals committee for the Asian Games considered Singapore Athletics' nomination for Soh's participation and decided not to select him. 
"The committee found Mr Soh to have failed to honour commitments which he had provided to the SNOC, including on occasions following his participation at the Cambodia 2023 SEA Games," a spokesperson said in a statement.
"In particular, Mr Soh continued to make disparaging and derisive remarks about others in the public domain. This behaviour does not commensurate with his apology given, undermines the sincerity of his commitment to avoid posting controversial content on social media, and renders his assurance to conduct himself in a more constructive, mature and professional manner hollow.
"It is unfortunate that notwithstanding efforts made to support and rehabilitate him, the committee is not satisfied that he has changed for the better to earn selection for the Asian Games."
SNOC did not reveal details about the incidents leading to its decision.
When contacted by CNA, Soh said he was keeping a positive attitude despite being snubbed.
"I'm focused on training well and building on the positive momentum we managed to establish at the SEA Games," he added.
"Should I eventually be selected, I am confident I'll be in shape to be the first Singaporean to break the 31-minute barrier for 10,000m at the Asian Games."
Soh had also been left out of the initial Asian Games line-up last year, despite his nomination by Singapore Athletics for the men's 10,000m event.
The Hangzhou Asian Games will be held from Sep 23 to Oct 8. It was postponed from 2022 due to the COVID-19 pandemic.
In its statement, SNOC noted that Soh was given the opportunity to represent Singapore at the latest SEA Games after he apologised for his past behaviour. 
The appeals committee for SEA Games 2023 also considered "various undertakings and commitments given by Mr Soh and Singapore Athletics to, amongst others, develop a positive and respectable profile off the track", said SNOC.
Among the high-profile incidents Soh was previously involved in was a dispute with teammate Ashley Liew after the 2015 SEA Games marathon event, over the latter's account of events relating to his act of sportsmanship.
During the 2017 SEA Games, Soh also had a disagreement with SNOC over its regulations regarding sponsors, which prohibited Team Singapore athletes from using their names for "promotional or advertising purposes" without permission.
Soh, winner of the 2015 and 2017 SEA Games marathon, is the national record holder of the 5,000m, 10,000m, half marathon and marathon events.