Top marathoner Soh Rui Yong excluded from SEA Games as conduct 'continued to fall short': SNOC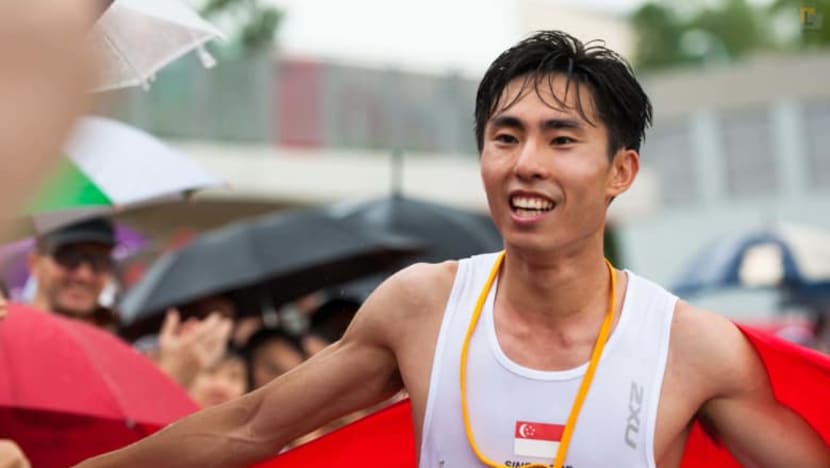 SINGAPORE: Top national marathoner Soh Rui Yong was excluded from the Singapore team for the upcoming Southeast Asian (SEA) Games in Hanoi as his conduct and behaviour have continued to "fall short" of what's expected, said the Singapore National Olympic Council (SNOC) on Thursday (Feb 17).
The comments prompted Soh to speak out against the decision, saying Singapore would lose out the most as it would cost the country a good chance at a gold medal. He noted that he had clocked a time of 2:22:59 in the qualifying window, which is more than 10 minutes faster than the qualifying mark of 2:33:08 set by SNOC.
This is the second consecutive SEA Games where the two-time marathon champion was not selected. 
He was left out of the contingent for the 2019 SEA Games in the Philippines, despite meeting the qualification mark.
On Thursday, SNOC said its selection criteria for the 2022 SEA Games "has been well publicised" and communicated to all national sports associations including Singapore Athletics (SA).
"Such criteria include meeting objective qualifying standards, as well as non-performance related standards and qualities such as attitude and behaviour towards coaches, fellow athletes and officials (whether in relation to sporting matters or otherwise), conduct and character which may affect the reputation, image, values or best interests of the athlete or the sport, and the ability to demonstrate team spirit and work well with teammates and officials," said SNOC. 
"The SNOC rejected SA's nomination for Soh's participation at the 2019 SEA Games as Soh's conduct fell short of the standards of attitude and behaviour the SNOC expects of and holds its athletes to," it added.
"Since then, Soh's conduct and behaviour have continued to fall short of those standards.  
"There has been no attempt by him to make amends, correct or apologise for his conduct and behaviour. Instead, there have been continued and persistent actions by Soh to challenge, mock, threaten and/or disrespect organisations and individuals including the SNOC."
SNOC did not mention specific incidents involving Soh, who won gold medals at the 2015 and the 2017 SEA Games.
After the 2015 SEA Games marathon, Soh was involved in a high-profile dispute with teammate Ashley Liew over the latter's account of events relating to his act of sportsmanship.
This led to a defamation suit mounted by Liew against Soh.
SNOC had also served Soh a letter of demand on Apr 1, 2019, for his allegations that Liew had lied about slowing down during the 2015 race to allow others who had taken a wrong route to catch up.
During the 2017 SEA Games, Soh had a disagreement with SNOC over its regulations regarding sponsors, which prohibited Team Singapore athletes from using their names for "promotional or advertising purposes" without permission.
"SINGAPORE LOSES OUT THE MOST": SOH
In a Facebook post on Wednesday night, Soh said Singapore loses out the most as a result of SNOC's decision. 
"When things like these happen, Singapore loses out the most as it costs us a good chance at a gold medal. At the two SEA Games marathons I've been to. I won two gold medals. My objective track record speaks for itself," he said.
"Soon after hearing about my non-selection today, I read SNOC's assertion that I have made no effort to make amends with them since 2019. This is categorically false and borders on defamation."
Soh said that in January, he met Minister for Culture, Community and Youth Edwin Tong who offered to help mediate the situation with SNOC.
"I have not been privy to his conversations with SNOC after that but I would like to say a big thank you to Minister Tong for his efforts," he said.
"As far as I'm concerned, any disputes in the past is long water under the bridge for me. I'm happy to make amends and resolve matters, but it takes two hands to clap.
"On my part, apologies for any inconveniences that have arisen from my past actions and apologies that Singapore will once again miss out on a marathon gold medal as things stand."
Singapore is expected to send 330 athletes to the SEA Games in Hanoi, which will take place from May 12 to 23. About 526 events will be contested across 40 sports.