4 Indonesian footballers breached COVID-19 measures in Singapore; barred from Suzuki Cup second-leg final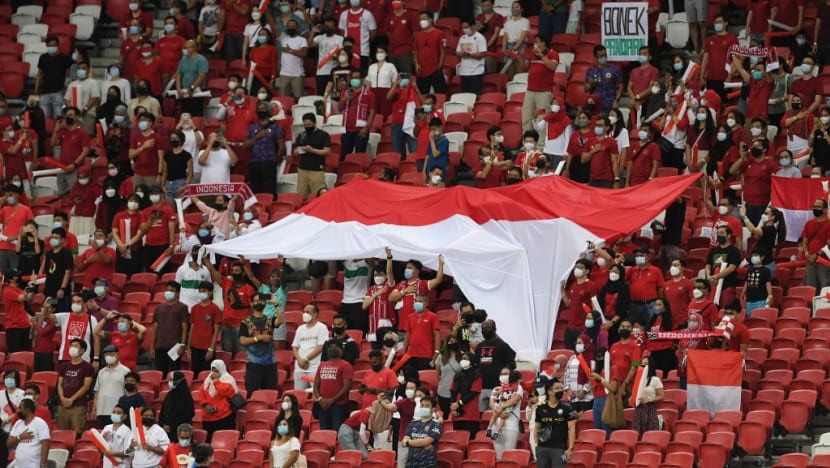 SINGAPORE: Four Indonesian footballers in Singapore for the AFF Suzuki Cup were found to have breached COVID-19 safety measures and were barred from participating in the second-leg final on Saturday night (Jan 1).
The four players are Elkan William Tio Baggott, Victor Chukwuekezie Igbonefo, Rizky Ridho Ramadhani and Rizky Dwi Febrianto, said Sport Singapore (SportSG) in a media statement. Defender Elkan Baggott was served a quarantine order in Singapore last month after being identified as a close contact of an Omicron case on his flight.
All 10 participating teams and match officials were placed on a controlled itinerary for the entire duration of the Suzuki Cup. 
They can only move between their assigned hotels, training venues and competition venues, and are not allowed to travel anywhere or take part in activities beyond the itinerary. 
"The controlled itinerary is a critical part of the safe management measures to protect the health of participating players, match officials and the wider community during the Suzuki Cup 2020," said SportSG. 
The four Indonesian national team players were found to have left their hotel for up to two hours on one evening, said the agency.
In response to CNA's queries, SportSG said the Indonesian team was staying at Orchard Hotel.
"The four players were seen with shopping bags in hand when they returned to the hotel," said a spokesperson, adding that the Football Association of Singapore was alerted of the breach on Dec 22.
"Investigations began immediately and the AFF Disciplinary Committee was convened," said SportSG in its statement, adding that it was decided on Friday that the four players had breached the rules and will not participate in the match on Saturday.
The announcement came ahead of Indonesia's match against Thailand, which kicked off at 8.30pm local time. Thailand won the championship for a record sixth time.
SportSG told CNA that all 10 teams were part of the tournament's COVID-19 testing regime.
"All these protocols and processes were clearly communicated to all teams before and during the tournament," it added.
Chief of the Singapore Sport Institute Dr Su Chun Wei said the four Indonesian players had put others' safety at risk by breaking the rules. 
"We will therefore be taking action against them," Dr Su said.
"We host events like the Suzuki Cup 2020 under strict safe management measures to protect the participants of the tournament and the community.
"We had emphasised this to all teams competing in the Suzuki Cup 2020 and worked hard to provide a safe environment for the football players and other participants."
CNA has contacted organisers of the AFF Suzuki Cup and the Indonesia Football Association for comment.