Suzuki Cup: Indonesia's Elkan Baggott in quarantine after taking same flight as Omicron COVID-19 case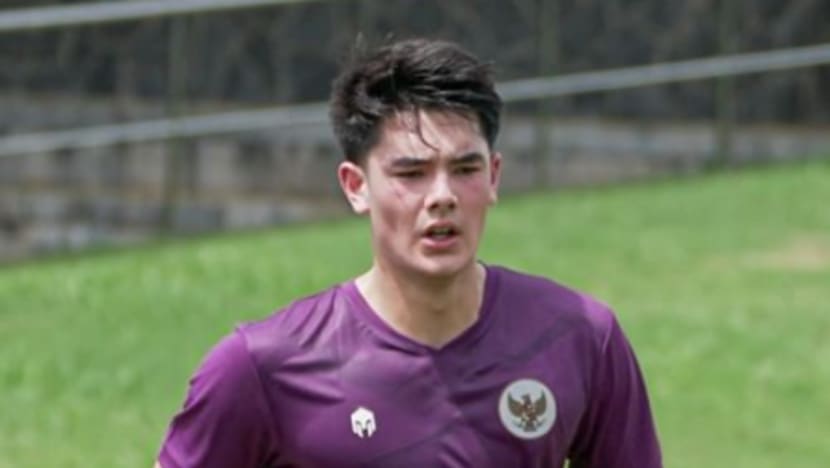 SINGAPORE: Indonesia defender Elkan Baggott has been served with a quarantine order in Singapore after being identified as a close contact of a confirmed Omicron variant COVID-19 case, an AFF Suzuki Cup 2020 official said on Wednesday (Dec 15).
The 19-year-old, who is on the books at English third-tier side Ipswich Town, is serving his quarantine in a designated facility until Saturday, said Mr Yazeen Buhari, deputy chairman of the tournament's Local Organizing Committee, in response to a CNA query.
"Mr Elkan Baggot has been served with a quarantine order in a designated facility till Dec 18, 2021. This is because he was identified as a close contact – defined as someone who has spent 15 minutes or more within 2 metres of the infected individual – of a confirmed Omicron case on board the same flight," Mr Yazeen said.
"Under Singapore's national guidelines, all close contacts of suspected or confirmed Omicron cases will be placed on 10-day quarantine at designated facilities, and they are required to undergo polymerase chain reaction tests at the start and end of their quarantine, even if they have been tested negative for COVID-19 so far.
"The quarantine period for close contact is set at 10 days since his last exposure to an infected individual as the risk of becoming a COVID case is highest in the first 10 days."
According to reports in Indonesian media, Baggott arrived in Singapore from the United Kingdom on Dec 8, and was served with the quarantine order on Dec 13.
He was able to play in Indonesia's 5-1 rout of Laos on Dec 12 before being served with the order.
As a result of the order, Baggott will miss Indonesia's key clash with Vietnam on Wednesday. However, he should be available for their final group stage fixture against Malaysia on Sunday if he tests negative for COVID-19 at the end of his quarantine.
CNN Indonesia, citing an official from the Indonesian embassy in Singapore, reported on Tuesday that Baggott has so far tested negative for COVID-19.
In a video posted on Facebook on Wednesday, Indonesian Ambassador Suryo Pratomo said that the secretary general of the Indonesian football association had asked the Football Association of Singapore (FAS) for Baggott to be exempted from quarantine, to which FAS replied that it had no authority to do so.
Mr Suryo added that there was no intention to weaken the national team, and that the actions of Singapore's Health Ministry were to guarantee the health of the passengers on Baggott's flight and to stop the spread of COVID-19.
Malaysia have had their own issues with COVID-19 during the tournament, with several members of their squad missing games after testing positive for the disease.
One member of Malaysia's delegation is currently self-isolating in his hotel room and will continue to do so until Dec 18, said Mr Yazeen.
Indonesia currently lead Group B ahead of Vietnam and Malaysia on goal difference with all three teams level on six points.
On Tuesday, Thailand and Singapore secured their progression to the semi-finals of the tournament from Group A.
Catch the AFF Suzuki Cup 2020 LIVE on meWATCH. Sign in now at mewatch.sg/affsuzukicup2020 and get into the action with Mediacorp, Singapore's official broadcaster of the AFF Suzuki Cup 2020.