Aiming for the stars: Team Singapore's first ever paraglider eyes a medal at Asian Games
Sky's the limit for professional paraglider Jessica Goh ahead of her historic debut in Indonesia.
SINGAPORE: On top of leaping off a ridge with about 20kg of equipment, Jessica Goh has to manoeuvre from a height of 400 metres and attempt to land precisely on a coin-sized yellow spot on the ground.
In attempting to do that, she runs the risk of being blown off course or twisting her ankle if she lands awkwardly. But Goh, a professional paraglider, takes these hazards in her stride as she goes about her daily training routine.
"I'd like to correct the misperception that paragliding is a hazardous sport," she told Channel NewsAsia in a phone interview on Monday (Aug 6).
"It's true that a small error could result in large and drastic consequences. But we pilots emphasise a lot on risk management and safety in flight," added the 39-year-old.
Instead of being overwhelmed by the dangers, Goh who took up paragliding professionally in 2012 after leaving her job as an executive with a firm in Singapore, focuses on what she loves of the sport.
"(I love) the feeling of peace when I'm out there. It's really quiet and the rolling hills and clouds are just beautiful. It's quite something to be floating in the sky," said Goh.  
Goh is set to make history at the 2018 Asian Games by becoming the first Singaporean to compete in a major international tournament in the sport of paragliding. She will be competing in two categories – cross country and accuracy.
Accuracy, which tests a pilot's landing precision, is Goh's pet event. She will aim to touch down on a bull's eye 2cm in diameter in a landing area marked by concentric circles at distances of 0.5 metres, 2.5 metres and five metres.
An electronic pressure sensitive landing pad registers her first point of contact. How well she scores depends on where she lands in relation to the dead centre, the bull's eye.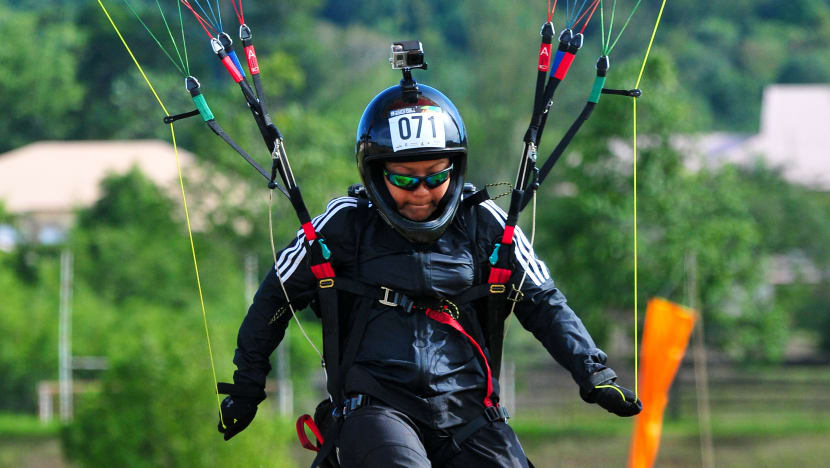 Goh hit the bull's eye earlier this year, achieving a perfect score at the Chung Buk paragliding union president open cup in Danyang, South Korea.
For the cross country event, Goh will have to manoeuvre a course determined by the race director in the fastest time possible.
Commenting on her chances of a podium finish in either event, Goh acknowledges that she faces stiff competition from Indonesian and Thai pilots. Regardless, she remains quietly confident.
"I want to give my best for the country, and hopefully my best is a medal at the Asian Games," said Goh.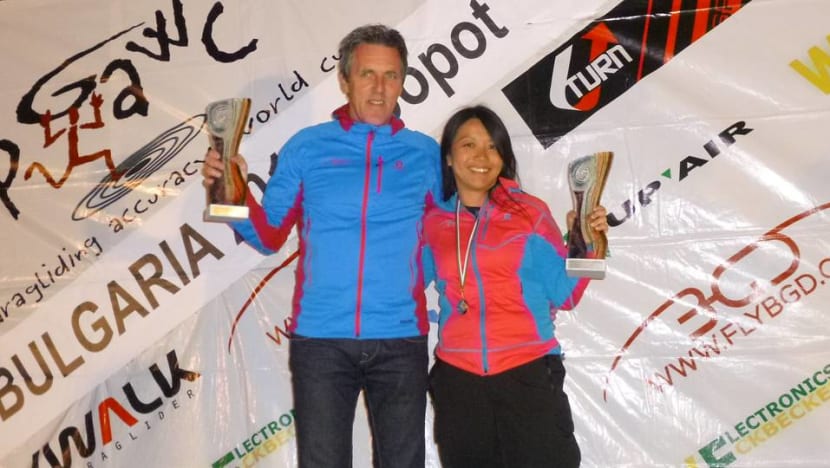 "I feel very honoured to be able to represent my country in paragliding at the major level Games, and with it comes the responsibility to highlight to other Singaporeans what the sport really is about," she added.
CHALLENGING PERCEPTIONS FROM HOME 
One of Goh's main motivations at the upcoming Asian Games is to boost the sport's profile in Singapore where, according to her, paragliding often gets mistaken for parasailing or skydiving. 
Goh is based in Ranau, a mountainous region in Sabah conducive for the sport. Paragliding is not allowed in Singapore due to airspace restrictions and the lack of mountains and hills.
But she said there are members of the Paragliders Association Singapore who use open public spaces in Singapore on weekends to practice ground handling, an essential training component.
According to Goh, some Singaporeans react strangely when they see these paragliding enthusiasts practicing in public areas. 
"Not many people understand this sport. So, when (the association) do it, they get a lot of weird stares, many questions, and some ask whether they are even allowed to do this," she said.
"So when I can go for a competition like the Asian Games, I hope it will bring recognition to the sport. "Hopefully, this will allow our paragliders to work closely with the land and aviation authorities to set aside a proper area to practice ground handling, so they can be safer pilots when they go overseas to fly," Goh added.
She acknowledged that the possibility of Singapore becoming a major paragliding hub is slim due to a lack of natural terrain, but maintains that the popularity of the sport will pick up if the authorities lend their support.
"If I achieve my personal goal of a medal finish, I hope to elevate the status of this sport, and hopefully push it to Olympic level in the future.
"I'd love to expose more Singaporeans to the sport. They can either join us to be paragliders to enjoy the sport or do tandem paragliding (with a pilot). I love it and I enjoy the sport tremendously. They will too," she said.