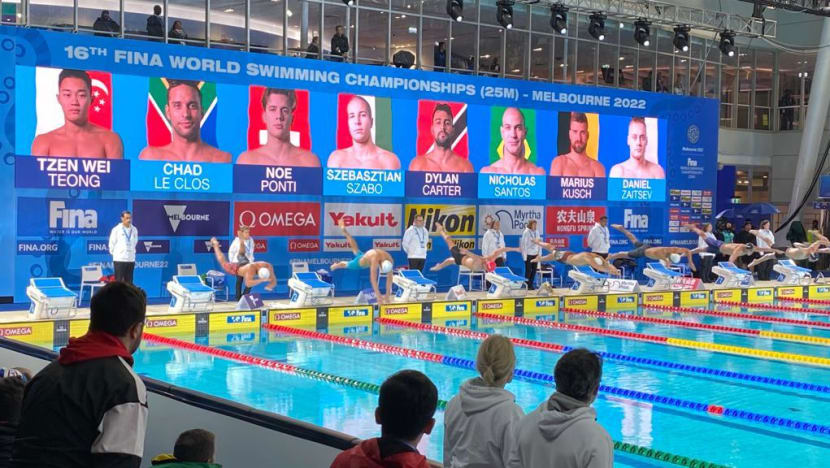 SINGAPORE: Singapore swimmer Teong Tzen Wei narrowly missed out on a medal at the 2022 FINA World Swimming Championships (25m) in Melbourne on Wednesday (Dec 14).
He finished fourth in the final of the men's 50m butterfly with a time of 22.01 seconds, equalling the Asian record he set a day earlier in the heats.
Brazil's Nicholas Santos claimed the gold in the event with a championship record time of 21.78 seconds while Switzerland's Noe Ponti took the silver with a time of 21.96 seconds.
Hungary's Szebasztian Szabo secured the bronze medal with a time of 21.98 seconds, finishing just 0.03 seconds ahead of Teong.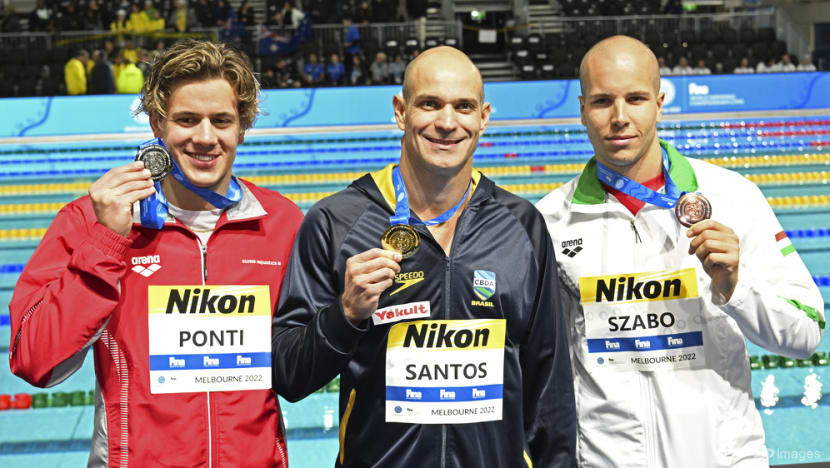 Speaking to the media via Zoom after the race, Teong said that he was happy with his performance, although he was disappointed to have missed out on a medal.
"I think my form has been not too bad this year, and with the past three months dealing with like certain external factors leading up to this meet, I think I've done well, and my team behind me at Singapore Swimming has really allowed me to reap the most out of this opportunity that was given to me," he said.
"It's always bitter to miss out on the podium just by a little, but I think it's okay because it'll just give me more motivation and my team more motivation to work harder and see what else in the future that we can go out there and achieve."
Teong's timing at the Melbourne Sports and Aquatic Centre on Tuesday surpassed the previous Asian record of 22.19 seconds, set by Japan's Takeshi Kawamoto at the 2020 Japan National Championships (25m).
He also broke his own national 50m butterfly short course record of 22.24 seconds, which he set at the Singapore National Swimming Championships in November 2021.
Teong's effort meant that he advanced to the semi-finals as the equal-fastest swimmer. He then progressed to the final as the seventh-fastest semi-finalist.
While major international sporting events like the Olympics and the Asian Games feature 50m-long pools, Teong said that he enjoys the opportunity to compete in 25m-long short-course pools as well. He even prefers the shorter pools as they suit his strengths.
"It is kind of a different event ... in short course, you get the walls, more walls, but in terms of reaching the world stage and competing with the best and honing in your racing skills, I feel like that part of this championship is very relevant to me moving on to next year, because any chances I get to race with the best is always a good opportunity," he said.
"And this being my second World Championships, leading into my third World Championships next year, I hope to just get better competing at a world stage."
Teong said that he would take some time to wind down ahead of his other events at the championships, the 50m freestyle and the 100m butterfly.
He will swim in Heat 10 of the men's 50m freestyle at 9.32am Singaproe time on Friday, with the event's semi-finals scheduled for later in the day and the final for 6.39pm on Saturday should he qualify.
His journey in the men's 100m butterfly begins in Heat 8 at 9.33am on Saturday, with the semi-finals scheduled for later in the day and the final for 4.42pm on Sunday should he qualify.
When asked if he had any medal targets for the upcoming events, Teong said: "Obviously, everyone who competes at this level, we all want to win, so that's my deepest desire, but I'll just give it my best shot and see where the road takes me."
Singapore has never medalled at a short-course world swimming championships.