Victoria Lee: 5 things about the late MMA fighter
ONE Championship's Victoria Lee was about to make her comeback when she died, aged 18.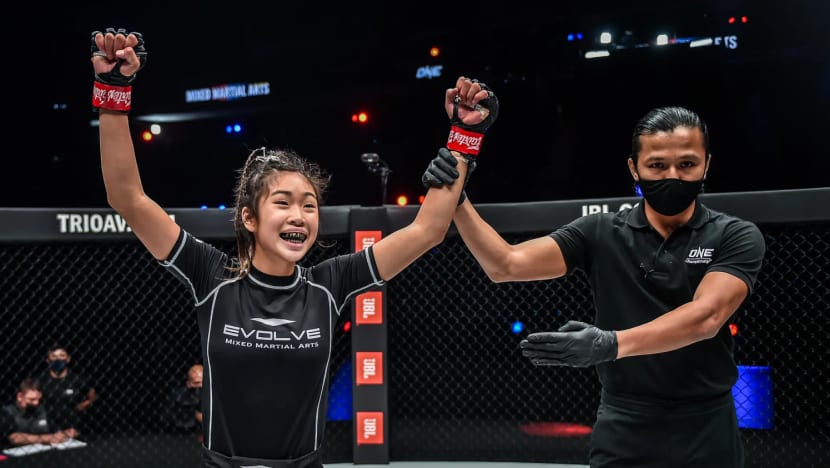 SINGAPORE: News on Sunday (Jan 8) of the death of mixed martial arts fighter Victoria Lee shocked the world of combat sports and beyond, with fans and fellow athletes mourning the loss of a rising star.
Victoria Lee died on Dec 26 last year, her sister Angela Lee said in an Instagram post after the 18-year-old's obituary was published by the Valley of the Temples Memorial Park in Kaneohe, Hawaii.
"She has gone too soon and our family has been completely devastated since then," Angela Lee said in her post.
"We miss her. More than anything in this world. Our family will never be the same. Life will never be the same."
Here is a look back at the life and career of the fighter nicknamed "The Prodigy".
She was born in Hawaii to a family with links to Singapore
Victoria Sun-hei Lee was born in Wahiawa, Hawaii, on May 17, 2004, to a Singaporean Chinese father and a South Korean-born Canadian mother.
Her father, Ken Lee, and her mother, Jewelz Lee are lifelong martial artists who ran their own gyms, according to a 2020 story by ONE Championship.
The Lees opened their first gym in Canada in 1996, the year that Angela Lee was born. The family then relocated to Hawaii in 2003, where Ken Lee switched his focus to his real estate company.
Martial arts was never far away for the family.
"Family is everything to us. My wife and I, fortunately, are on the same page. We put our family above everything else, and it has helped in the martial arts because my wife and I have been lifelong martial artists," Ken Lee said in a 2017 interview with ONE.
"It just became a way of life. We do it together, it is how we spend time together, and it was very important for us to educate our kids with martial arts as well.
"So, from a very young age, maybe three or four years old, every one of my children trained in martial arts."
In 2013, the Lees launched United MMA, a martial arts gym in Hawaii.
"When we had the gyms in Canada, it was more on a commercial level," Ken Lee said in 2020. "In Hawaii, it was all for our children."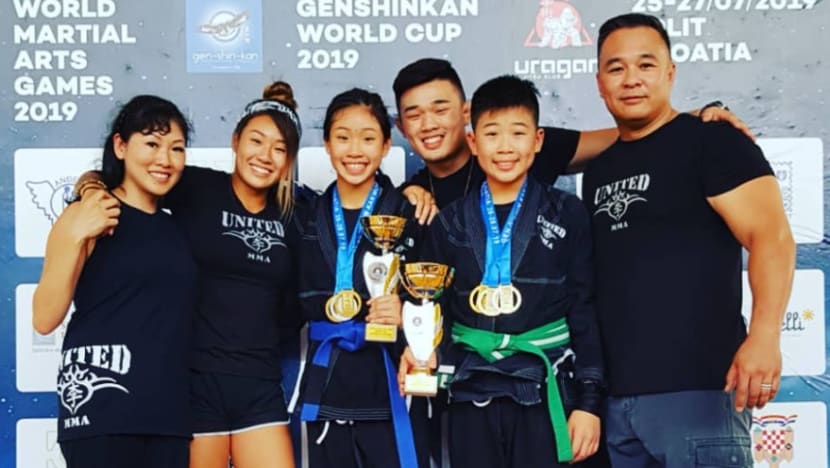 She was from a family of fighters
By the time Victoria Lee made her professional MMA debut, the Lee family already had two world champions competing under the flags of Singapore and the United States.
Her older sister Angela "Unstoppable" Lee, who debuted in 2015, was one of the promotion's biggest stars, winning her first nine fights, headlining multiple events and claiming the ONE women's atomweight world championship.
Angela Lee's title win in 2016 before her 20th birthday made her the youngest MMA world champion, ONE said at the time.
She still holds the atomweight belt, last defending it against Stamp Fairtex at ONE X on Mar 26 last year – her first fight after a two-and-a-half-year break that saw her become a mother.
Angela Lee's most recent fight was at ONE on Prime Video 2 on Sep 30 last year, where she came up short in an attempt to win the strawweight world title from Xiong Jing Nan.
Victoria Lee's older brother Christian "The Warrior" Lee also debuted in 2015 at the age of 17.
Four years later, he captured the ONE lightweight world championship, becoming the youngest male MMA world champion and making him and Angela Lee the only MMA world champion siblings, according to ONE.
Christian Lee lost his title to Ok Rae Yoon in September 2021, but won it back in a rematch 11 months later.
In his most recent fight at ONE on Prime Video 4 on Nov 18 last year, Christian Lee defeated Kiamrian Abbasov after stepping up to the welterweight class to become a two-division world champion.
The youngest of the Lee siblings, 17-year-old Adrian Lee, is also on his way to MMA success, winning an amateur title in Hawaii last month.
Victoria Lee celebrated her brothers' victories in her last public posts on social media.
She was undefeated in professional MMA fights
Victoria Lee's professional MMA career spanned three fights over seven months in 2021. All three were at ONE events at the Singapore Indoor Stadium.
She made her debut at the age of 16 at ONE Championship: Fists of Fury on Feb 26 of that year, defeating Thailand's Sunisa Srisen by submission with a rear-naked choke in the second round of their bout.
Her second fight came on Jul 30, when she scored another submission win with an armbar against China's Wang Luping in less than four minutes at ONE Championship: Battleground.
Her third and final fight took place at ONE Championship: Revolution on Sep 24, where she defeated Victoria Souza of Brazil by TKO in the second round.
Her 3-0 record illustrated a bright start for a young and talented fighter.
She was already a world champion
While Victoria Lee's professional MMA career was only just beginning, she already had a long list of accolades.
When she was signed by ONE in September 2020, the promotion's chairman and CEO Chatri Sityodtong introduced her as a world champion before noting that she had two famous siblings.
She won one world title at the 2019 IMMAF Youth MMA Championships in Rome, taking the 57kg gold for the 14 to 15 age group.
She was also a two-time pankration junior world champion, according to ONE, and she won a state-level high school wrestling title in Hawaii in 2020.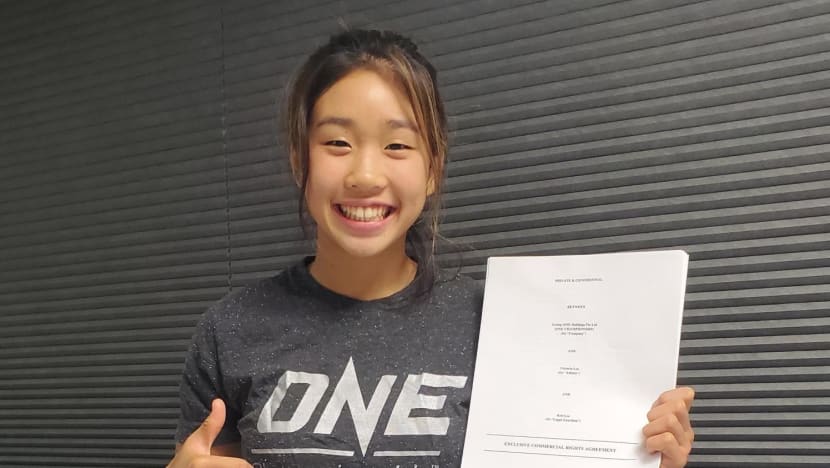 She was about to make her comeback after graduating from high school
Victoria Lee had to balance her MMA career with her studies and had been out of competitive action for more than a year.
But after graduating from high school last May, she said that she was looking forward to turning her focus back to MMA.
"When I was fighting throughout the school year, it was definitely pretty difficult to juggle, like the timing of school and training, as well as the homework," she told ONE last June.
"So now, it's nice to have all that time in the day just to train. Now I get to focus on just training and it's just a way more enjoyable experience."
She was particularly looking forward to competing in a US prime time bout after ONE signed a deal with Amazon Prime. At the time, she had just begun preparing for her return to ONE.
"I would love to get back in the Circle. Maybe towards the end of this year. I just started training again, and I'll definitely be ready by the end of this year," she said.
"I have been watching some of the fights in my division. But I never want to choose a fight. Whoever's ready and whoever's next line, I'll just be ready to fight.
"There's no specific person that I want to choose. I do feel that my skills have prepared me and my training enough to face someone in the top five and be able to come out with a victory against them."
According to the South China Morning Post, Victoria Lee was slated to compete in her fourth professional MMA fight, against India's Zeba Bano, at ONE on Prime Video 6 on Jan 14 in Bangkok.
In an interview published by ONE just days before her death, Victoria Lee said that she drew inspiration from her older brother's victory over Abbasov.
"It showed the heart of a true champion. It was really inspiring in general. The way that he was able to push through and fight through that adversity and come out on top was just an amazing finish really," she said.
"I think that performance is just the true definition of what a champion is. He was able to showcase his skills so perfectly and overcome the adversity and really show why he's the double champ."
A celebration of Victoria Lee's life has been scheduled for Jan 22 before her burial.