South Korea boss acknowledges 'difficult' Brazil task, bemoans tight World Cup schedule but will not give up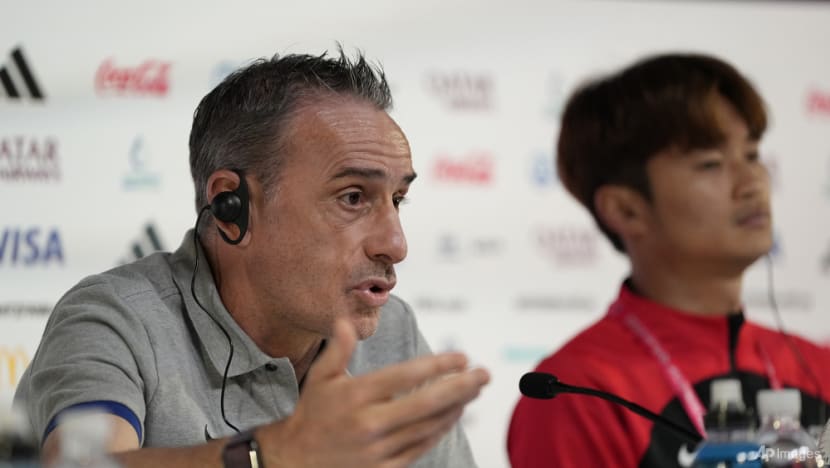 DOHA: South Korea head coach Paulo Bento acknowledged the magnitude of the task that his team face ahead of their knockout phase match against Brazil, but stressed they will not give up.
Speaking at a pre-match press conference on Sunday (Dec 4), Bento bemoaned the lack of rest time that his side have had between their last match and their round of 16 fixture.
South Korea's last match against Portugal was on Saturday, and they face Brazil on Monday.
"After the physical tiredness from the previous games, especially the last game against Portugal where we were emotionally very fatigued, we decided to let our players rest yesterday and we trained this morning," he said.
"After the group stage (in 2018) I do not remember seeing games played after 72 hours. I think the space in between the matches was longer. In my opinion, I do not think it's fair to play every match after 72 hours but we need to accept it."
Brazil, on the other hand, had the luxury of rotating their team in their 1-0 loss against Cameroon, having already booked their spot in the next round.
"It's difficult to play against a great team such as Brazil. In my opinion, Brazil has the likelihood of winning this World Cup and if we add this to all the burdens that we have, our task obviously will be very difficult," said Bento.
"Having said that, we will try, we will not give up."
The last time South Korea made the quarter-finals of the tournament was in 2002, when they co-hosted the event with Japan. They would go on to finish fourth.
"I do not think that it is something that we need to consider at this moment, Our goal, our target and our energy should be directed to what we should do tomorrow and what has to be done tomorrow. After that we'll see what the future is ahead of us," said Bento.
"I'm a realist, I've already conveyed ... to them that it is a tough objective we have ahead of us, we will obviously have to try with different strategies, but we have to try."
THE NEYMAR FACTOR
South Korea finished second in Group H, after beating Portugal 2-1 in their last group game.
The win, coupled with the fact that Uruguay could only beat Ghana 2-0 meant that Bento's men were level on points and goal difference with the South American side, but progressed having scored more goals in the group stage.
Meanwhile, Brazil topped Group G with relative ease.
The Selecao won both their first two group games, keeping clean sheets in both. However, a late loss to Cameroon and a number of injuries to key players mean that they no longer look as invincible as some thought.
But Tite's men are also facing somewhat of an injury crisis. Both the injured Alex Telles and Gabriel Jesus are out of the World Cup altogether, while Alex Sandro will sit out the game against South Korea.
But Danilo and Neymar should be back, Tite said on Sunday.
Neymar suffered an injury in Brazil's opening 2-0 win against Serbia and missed the next two games against Switzerland and Cameroon.
"We would be hypocrites if we said that we would prefer playing with Neymar (on the field), that would be a lie. We would prefer that he would not be in the field of play," said South Korea's Bento.
"But honestly speaking, I always prefer that the best players are in the field of play, and of course, if they are not in the field of play, we would hope that it is not because of an injury."
For Bento, his team have "nothing to lose" against the star-studded Brazil side.
"We will fight to the utmost of our efforts as we have done so far. I believe we have been able to prove that we are a team that likes to play, we don't give up, we compete and we leave everyone with a good impression," he said.
"There's nothing to lose, absolutely nothing to lose, there's only something to win. The only thing we must remember is to show the image of a team that wants to play, wants to compete, wants to fight until the very last whistle. And there's no doubt whatsoever that's what my players will do."
Catch free highlights and moments from the FIFA World Cup Qatar 2022 at mewatch.sg/fifaworldcup.