The good luck charms you'll want to wear every day
Put on some jewellery that'll bring you the very best vibes. 
It's an age-old concept in jewellery and one of the reasons why women love wearing it — besides adding interest to your outfit, jewellery is extra special when there is a special meaning attached to it.

Symbolic jewellery speaks to a woman's sentimental tendencies, which explains why charm bracelets have enjoyed such popularity. 
Besides trinkets that remind you of a special moment or person in your life, there are also precious creations that signify hope or a little personal wish. Scroll down for some fine examples of such meaningful jewellery, each also a beautifully crafted masterpiece.
Comète collection, by Chanel.

Stars have a special place in Gabrielle Chanel's universe, one of the many personal talismans she kept close by herself that were also an important code of her fashion empire. 
In fact, her first fine jewellery collection, created back in the 1930s, featured some brilliant pieces inspired by constellations and shooting stars. Why not make a wish upon one of the pretty star-shaped diamond designs from the Comète collection? Who knows — you might just get as lucky as Mademoiselle did.

Amulette de Cartier necklaces, by Cartier.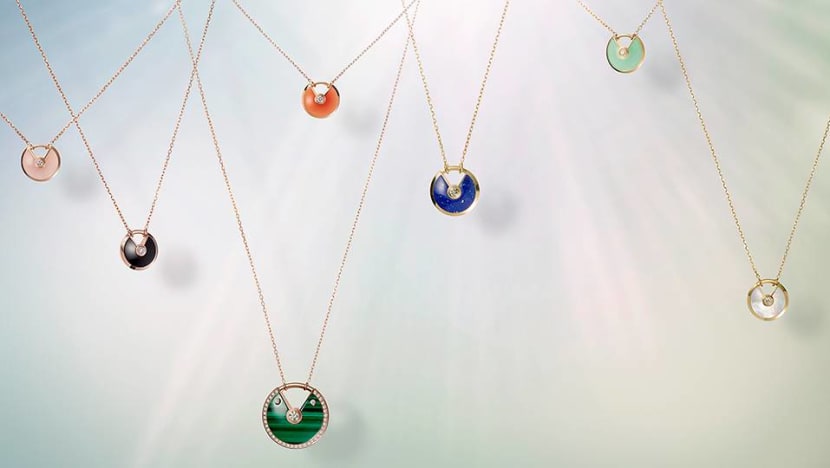 Make a wish and keep it locked in an Amulette de Cartier piece (the pendant bears a clasp that opens just like a padlock) — it's a secret personal talisman that you can wear as a constant reminder of your special dream and subliminal encouragement to move you towards achieving it.
Hand of Fatimah necklaces, by Cartier.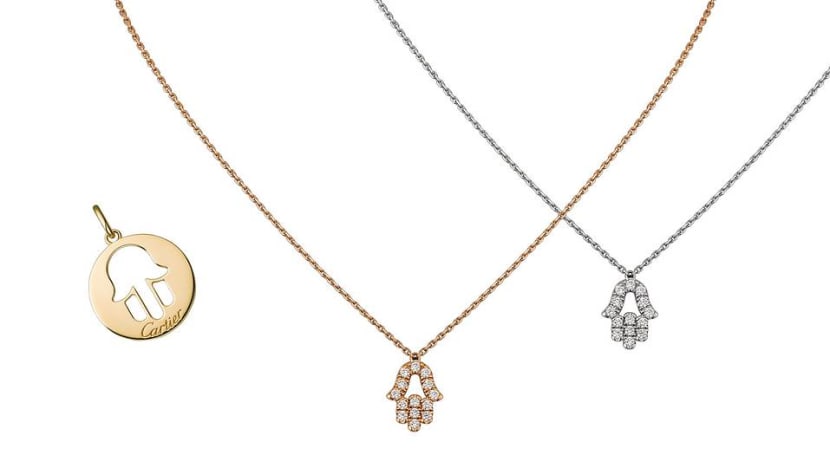 The hamsa is a popular symbol of luck in Middle Eastern cultures and is thought to protect against evil, on top of bringing its owner luck, health and happiness. Thinking of arming yourself with one? We think you'd love these dainty versions by one of our favourite jewellers. 

Rose des Vents necklace and ring, by Dior.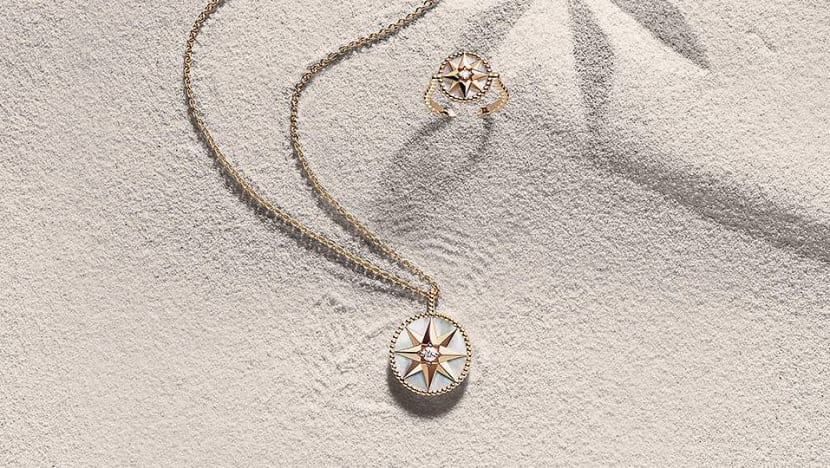 The Rose des Vents collection is a reinterpretation of Monsieur Christian Dior's cherished lucky star in the form of a wind rose — an eight-pointed star. The star is one of the superstitious designer's favourite symbols and the rose, his favourite flower — both combined in this pretty jewellery collection.
Lucky Motif necklaces, by Mikimoto.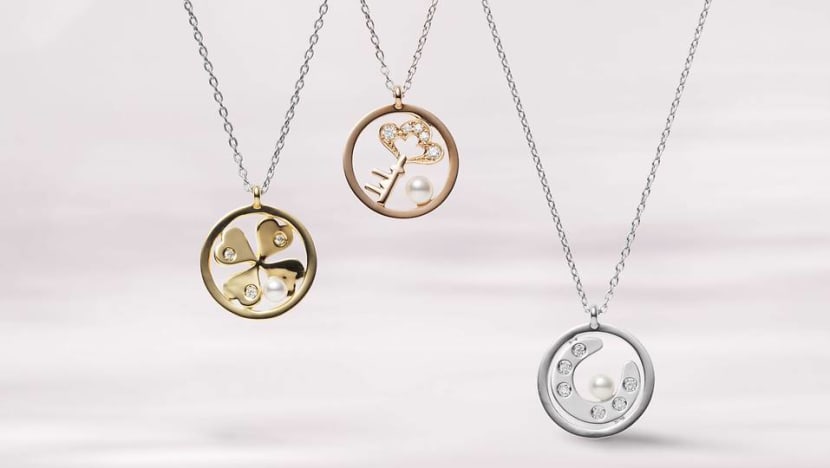 This trio of pendants represents fortune, health, luck and happiness with icons of a horseshoe, four-leaf clover and key. Each is set with diamonds and features a Japanese Akoya cultured pearl encased within a ring — signifying that your luck will last forever. 
Magic Alhambra bracelet, by Van Cleef & Arpels.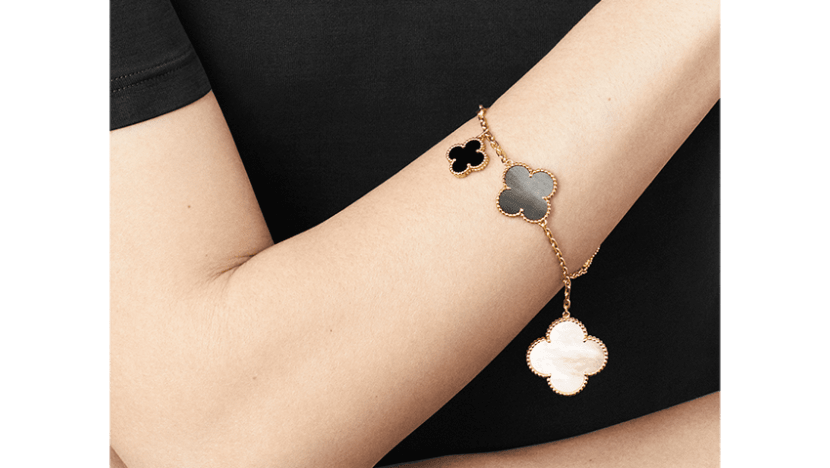 The four-leaf clover is made ever so desirable by Van Cleef & Arpels with a variety of gemstones from onyx to malachite, chalcedony and more. Framed by a gold-bead edging, these pieces will not just bring you luck but also glances of envy.
Tiffany Charms collection, by Tiffany & Co.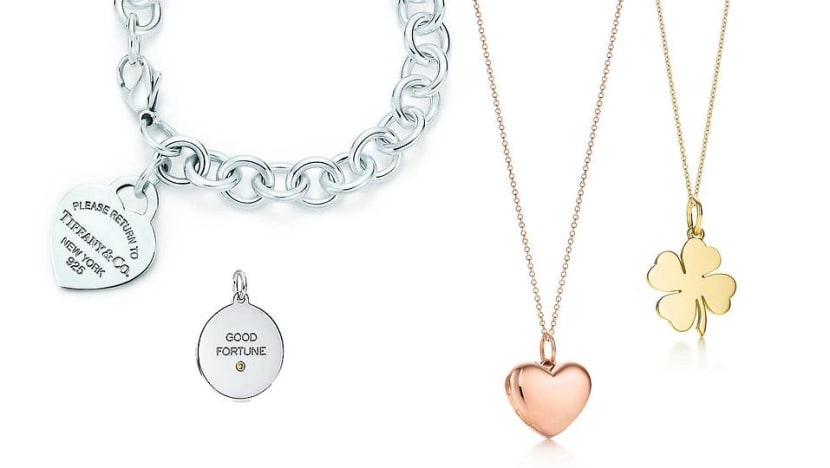 One cannot think of charms without being reminded of Tiffany & Co. Remember those chain-link charm bracelets that were all the rage in the Noughties? Well, there's a whole assortment of charms that you can purchase at Tiffany's — so go ahead and pick one that represents your most fervent wish.