South Korean actress Kim Tae-Ri is the new face of Flower by Kenzo
The Korean ingénue gives ELLE Singapore the l'eau-down on her new gig as the muse of Flower by Kenzo.
Who is Kim Tae-ri? 
The first thing you'll notice when you meet the luminous luminary is just how fresh she looks. Pair that with her sunny personality and svelte figure and the 25-year-old South Korean actress can easily be mistaken as a college student (except she isn't, of course). 
Kim, who topped Forbes Korea's recent 2030 Power Leaders list, penetrated the public consciousness in The Handmaiden (2016). Her indelible performance as a swindler in the erotic thriller helmed by critically acclaimed South Korean filmmaker Park Chan-wook, earned her a slew of Best New Actress wins notably the 37th Blue Dragon Film Awards and 17th Busan Film Critics Awards. Which leads us to Kenzo Parfums' creative director Patrick Guedj. 
"I first saw her in The Handmaiden and was blown away by her performance," enthused Guedj at the unveiling of Flower by Kenzo's new campaign in Seoul. "I knew that someday, she'd make a beautiful choice for a Kenzo campaign". 
Now the star is fronting Kenzo Parfums' flagship fragrance Flower by Kenzo, succeeding predecessors Shu Qi and Ming Xi. ELLE Singapore sat down with Kim for a one-on-one chat on her sweet-smelling success.
Kim's only recently become more invested in scents. 
"In the past, I only used a perfume on special occasions but now, I wear it every day. Scents represent who you are s a person." 
She sings in the campaign video.
"My audition with Patrick was a good chance for Kenzo Parfums to know me better and vice versa. I wasn't nervous until he played the music and told me to do a walk. He also said that I had to sing so when they offered me the role I thought, 'Oh my goodness, I better start practising!'"
She's fallen in love with San Francisco. 
"The video was shot in San Francisco and marked my first visit to the city. I like it because it's such a diverse melting pot of different cultures."
Flower by Kenzo works with all her outfits. 
"Besides its lovely scent, I'm also amazed by its timelessness. After I started wearing it, I find that it matches every outfit I pick." 
She'll most probably wear the scent to play this scene. 
"I've yet to match my scents to any movie scene, although I'd imagine Flower by Kenzo to be perfect for the beginning of a day. That's because it feels and smells like I'm kick-starting the day on a fresh and positive note." 
Her first-ever perfume was a gift from a suitor. 
"I received my first perfume as a present from an admirer back when I was just 21. To me, fragrances were meant for 'adults' and worn only during special occasions, so that was a very dear memory to me."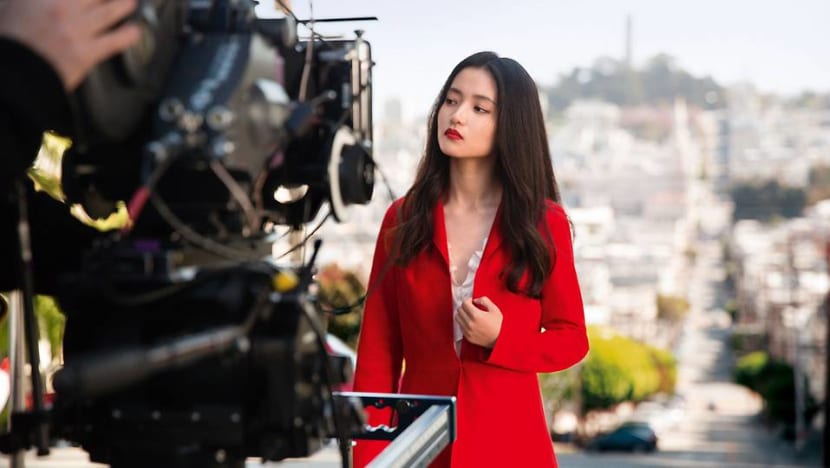 Photo: Shelby Duncan 
The "aha!" moment that sparked her love for acting.
"I never dreamt of becoming an actress until I participated in a college play. When the audience applauded after my performance, I felt a huge sense of achievement. That was when I realised I wanted to pursue an acting career." 
She's not taking all the credit for her award-winning outing in The Handmaiden. 
"Director Park made a wonderful film and his work always connects with people so because of that, I get to enjoy the success of this masterpiece." 
In her first TV drama, she stars opposite Korean hottie Lee Byung-hun. 
"In Mr Sunshine, I play a daughter from an esteemed family. It's set at the end of the Joseon dynasty and my character has a strong personality. Somehow, I keep getting such roles!"
Photo: Shelby Duncan 
For her, there are no dream roles to chase after. 
"No, I don't look out for specific characters to play. I'm always open to different opportunities and I look forward to seeing where that'll take me." 
She's not stressed by her success. 
"If I ever feel stressed, it'll likely be coming from myself because I'll always want to give my best in every role."