From salon floor to salad bowl: Discarded hair upcycled into urban farming growth medium
Researchers from the Nanyang Technological University said they have found a way to use keratin extracted from human hair to grow crops. 
SINGAPORE: Clumps of discarded hair on the salon floor could one day help to grow your lunchtime salad, scientists from Nanyang Technological University Singapore (NTU) said in a news release on Wednesday (Sep 21). 
Using keratin extracted from human hair collected from hair salons, NTU researchers found that they could mix cellulose fibres into the keratin solution to strengthen it. The mixture is then dried into a spongy substrate that can be used to grow crops such as bok choy and rocket leaves.
This spongy substrate - known as hydroponics substrates - is used to create the growth medium used in urban farming.
Hydroponics is a method of growing crops without soil by using a substrate that acts as a support structure and a reservoir for water and nutrients. 
The findings of this proof-of-concept study were published in the peer-reviewed scientific journal ACS Sustainable Chemistry & Engineering.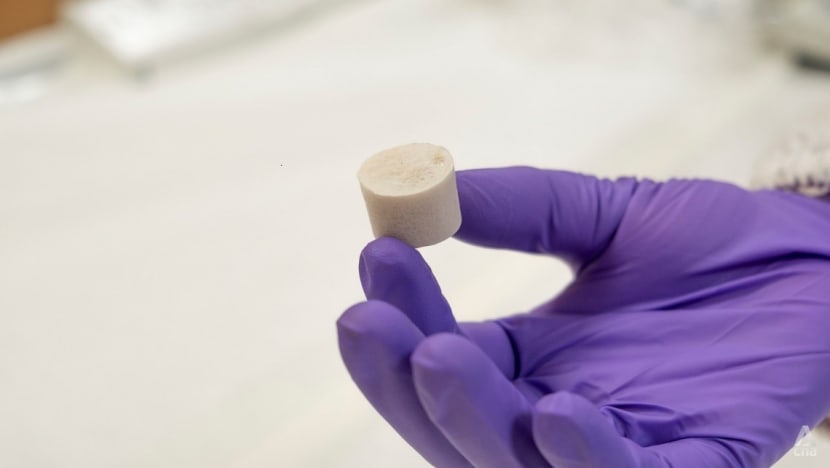 "This keratin-based substrate can absorb and retain large quantities of water, making it a promising growth medium to support seed germination and crop growth in hydroponics", Dr Zhao Zhitong, a research fellow at NTU's School of Material Sciences and Engineering (MSE) said. 
The substrate is able to hold water up to 40 times its original weight, said NTU, adding that this is on par with commercial substrates in the market. 
In their experiments, NTU researchers were able to produce three blocks of substrates measuring 1.5cm by 1.5cm by 3cm from a gram of human hair.
The keratin can also be extracted from poultry feathers, which contain proteins that behave similarly to those in human hair.
The keratin substrate can last between four to eight weeks, depending on conditions, said NTU.
It leaves no waste behind in comparison to commercial substrates that do not degrade and become solid waste after harvest, the university added.
To boost the substrates' nutrient content, scientists incorporated nano-nutrients such as copper to enhance seed germination, crop yield and overall plant health by suppressing various plant diseases. 
The research team is in now talks with industry partners, including local urban farms, to perform large-scale field tests. 
The team's vision is to maximise the yield by customising keratin-substrate compositions to meet the requirements of different crops.