Scientists urge rethinking of Britain's unsustainable green spaces
Keeping gardens picture-perfect and weed-free requires abundant chemical fertilisers and pesticides, which create a toxic environment for insects and other wildlife, say experts.
LONDON: Britain is home to around 22 million private gardens, covering about 400,000 hectares.
While that sounds green, scientists said many of these gardens - kept for purely aesthetic reasons - are unsustainable, and instead damage the environment.
Keeping them picture-perfect and weed-free require abundant chemical fertilisers and pesticides. These create a toxic space for insects and other wildlife, and hurt both the environment and humans alike, said Professor of Biology Dave Goulson.
"The highly manicured lawns - they have lots of chemical input, which are toxic to us. The fertiliser input contributes to climate change. They're basically pretty awful, sterile habitats," the University of Sussex professor said.
Pollution from gas-guzzling lawn mowers to keep the grass uniformed also choke the environment, while hosing lawns to keep them green and lush puts a drain on water resources.
LET GARDENS GO WILD
Britain saw its hottest summer on record this year, and imposed a hose-pipe ban in many places across the nation.
Some turned to plastic lawns - aesthetically-pleasing, neatly-trimmed fake turfs that need no watering or maintenance.
However, experts said that these artificial grass carpets are uninhabitable for most wildlife and eventually end up in a landfill.
Scientists believe it is time to relook what goes into green spaces, and what grows out of them. They suggest natural gardens that may look less than perfect, but will be thriving with life.
"Just relax that intensive management. Allow some flowers to creep in and the grass to grow and the roots to get deeper and the carbon to be sucked in by the growing of plants, and suddenly life starts to blossom," said Professor Goulson.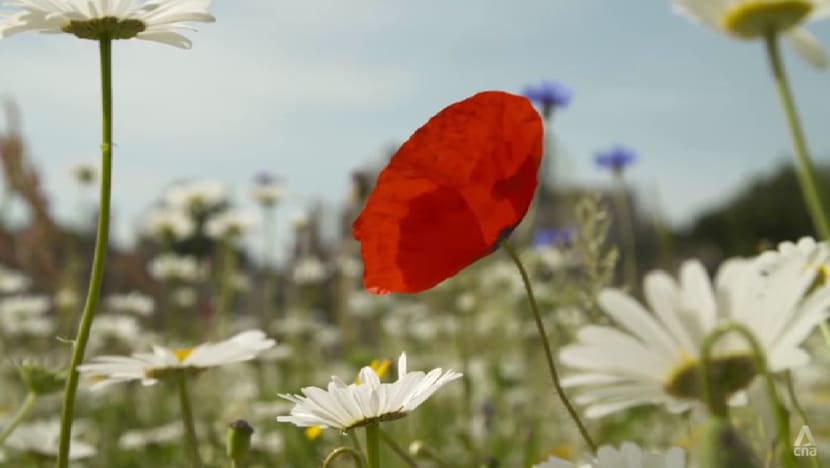 Environmentalists said simple changes can make a world of difference, like letting insect-friendly flowers blossom and swapping chemical fertilisers for organic ones.
At last year's United Nations Climate Change Conference, the government promised to reach net zero carbon emissions by 2050.
However, environmentalists warn that Britain's natural green spaces, vital for biodiversity and reducing carbon emissions, are at risk of disappearing.
In the last 100 years, the country has lost 97 per cent of its meadows and grasslands.
SWITCH TO HARDIER PLANT SPECIES
There are projects across the country to try and revive ecosystems at risk of extinction.
One such green space is a 300-year-old lawn at King's College in Cambridge, which has been allowed to grow freely. It has since seen a resurgence of flowers, insects and bats in the area.
As the planet warms, experts said it is time to rethink what goes into planting - for example, replacing standard turf grass with tougher native species that can survive on less water.
Worldwide, there are around 12,000 grass varieties, and many of them are hardier and better at withstanding climate change than ordinary turf.
"Grasses are adapted to really specific environmental conditions. They've evolved to deal with conditions like drought, like grazing, like wildfires," said Mr Joe Richomme, a botanical horticulturist at Kew Gardens.
"So where other plants can't establish, you'll find that grasses can thrive. We've even got grasses as far south as Antarctica, where not much else will grow," he added.
Kew Gardens, a UNESCO heritage site southwest of London, boasts one of the most diverse botanical collections in the world.
The famed botanic garden has more than 300 species of grass, and is at the forefront of finding innovative ways to grow more sustainable lawns.
Some of its grass species need little upkeep. "In the grass garden here at Kew, I only watered once even in the really hot period we had this summer," said Mr Richomme.