Tuk the turtle swallowed more than 300 pieces of trash, and its rescue highlights Thailand's marine waste problem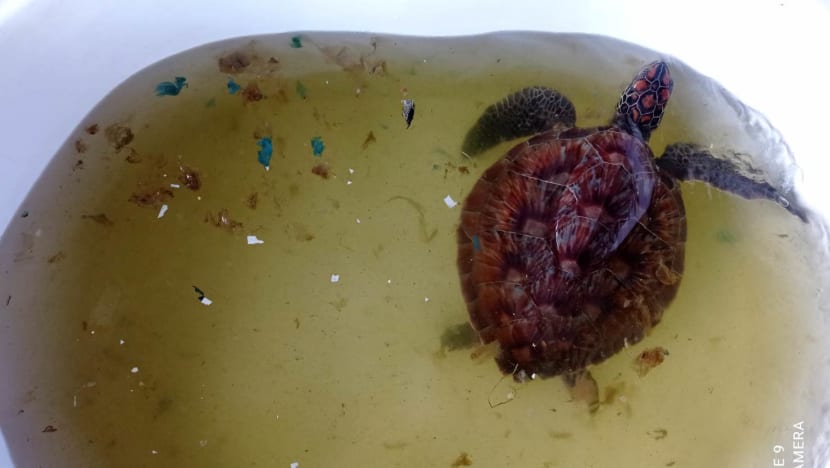 BANGKOK: Marine veterinarians in Phuket say a young green turtle found to have ingested hundreds of pieces of marine trash is expected to be able to return to the wild after its treatment.
It was rescued last month after being found stranded on a local beach and has been receiving care at the Phuket Marine Biological Center (PMBC).
The turtle, named Tuk by veterinarians, was weak, could not eat by itself and had trouble swimming. Subsequent examinations and X-rays revealed that it had ingested a shocking amount of plastic bags, hard plastic, cloth and other trash, which were obstructing the turtle's gastrointestinal tract but were later defecated. 
"We were surprised. This is the first sea turtle that had ingested more than 300 pieces. Normally we have sea turtles that have ingested 10 or 20 pieces. This one is like, wow," said Araya Boonkasemsanti, the marine veterinarian caring for Tuk at PMBC.
"It's quite a serious matter for the turtle's health. 
"Right now she's still weak but she can swim and eat by herself. She needs more nutrition and we need to check on her external wounds," she added.
"If the X-rays show no impaction, then she can go back into the wild," she said, referring to the possibility of a mass of stool that can't be pushed out by the turtle.
This is just one example of a much wider problem affecting sea turtles, as well as other marine life in Thailand.
Far from being an isolated case, prominent Thai marine scientist Thon Thamrongnawasat said he receives reports of turtles being stranded every day. Many of them are suffering similar issues after eating debris.
"There are normally 500 to 600 turtles per year. Every day we have almost two turtles stranded and 50 per cent of them, we find some plastic inside," said the researcher from Kasetsart University.
"If they're stranded, they could be dead within a few days or weeks or cannot go back to the sea anymore. Life can adapt to some things, but not that much."
Despite the grim statistics, Thailand has had great success in building up local networks to identify and rescue vulnerable marine creatures and then return them to the wild. Thon said their target of 80 per cent returns is currently being met successfully and the country has good facilities and trained staff to treat such cases. 
But, he admitted that the problem of marine plastic is getting worse, leaving more animals in distress.
"We are doing this very well. We are trying to work very hard to save their lives. We are moving forward but sometimes the problem is moving faster than us," he said.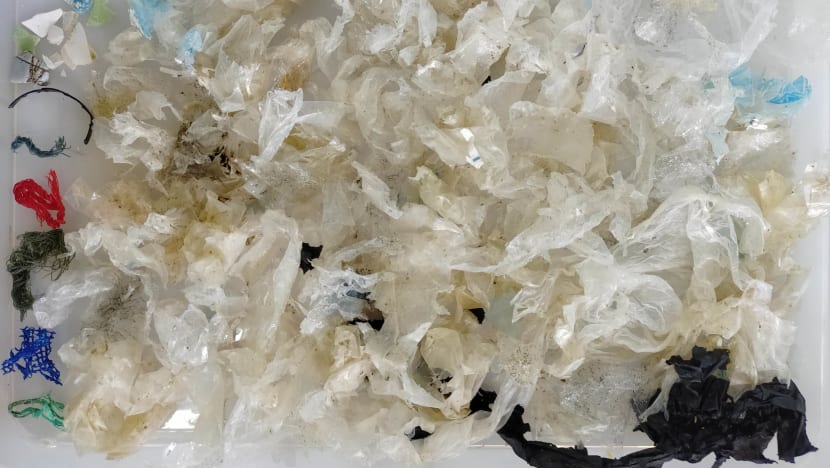 A WAVE OF PLASTIC
A new research study has found that juvenile turtles are especially prone to eating polyethylene and polypropylene, both types of plastic commonly used in single-use packaging, as well as hard plastics and fibres from fishing nets. 
The report, released this month in Frontiers in Marine Science, studied a variety of turtle species in the Pacific and Indian Oceans and found that many young turtles had not developed adequate behavioural instincts to determine what was food and to avoid plastic.
Their oceanic habitats were also found to overlap with highly polluted areas. Among green turtles studied in the Pacific, some 83 per cent were found to have ingested plastic in some form.
These plastics can cause dire health effects from malnutrition and chemical contamination and can result in death if the debris causes internal lacerations or blockages.
Thailand is among the world's top offenders when it comes to contributing to marine pollution.
A 2015 report by Washington DC-based environmental advocacy group Ocean Conservancy showed more than half of plastic waste in the ocean originated from five rapidly growing economies - China, Indonesia, the Philippines, Vietnam and Thailand.
About 51,000 tons of uncollected and improperly disposed plastic waste in Thailand gets washed into the sea each year, according to SEA circular, a United Nations initiative.
The COVID-19 pandemic has been a major contributor to a worsening problem, as the use of single-use plastic has skyrocketed, due to hygiene reasons and a surge in food delivery services.
Bangkok city data showed that plastic waste increased in April by 62 per cent compared to last year. That equates to up to 3,432 tonnes of plastic thrown away every day.
"It is a shame. I think Thailand was making some really good progress up until COVID. We had the plastic bag bans, the styrofoam bans, the plastic straw bans and I think the level of awareness among the general population was really high," said Dominic Thomson, the Southeast Asia deputy director of the Environmental Justice Foundation (EJF).
"I think it will take a long time to get back to what we had in 2019 and early 2020. It's going to be a real struggle unfortunately," he said.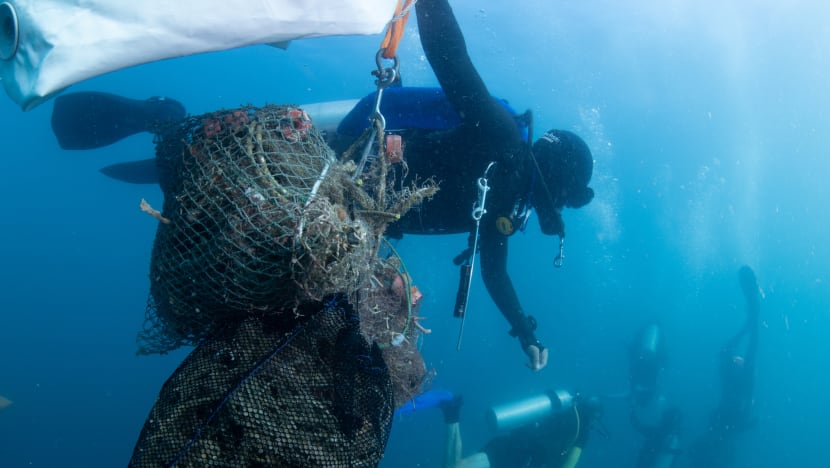 This waste is making the natural habitats of turtles and other animals much more unhealthy and dangerous.
"We hope that if the COVID situation passes, we can reduce the number but not right now. We don't know what to do right now," said Thon, the marine scientist.
"I feel very sad. I know the exact problem and I know that sometimes I cannot deal with the problem. At the moment we just can't find a way." 
EJF launched a project last year called Net Free Seas, which the organisation hopes can play a role in removing debris and preventing it entering marine ecosystems in the first place.
It specifically targets discarded fishing gear, of which at least  640,000 tonnes of gear are estimated to be left in the seas around the world every year. The plastic from this so-called ghost gear can entangle wildlife and become a mistaken food source for animals like turtles.
The project works with about 100 Thai coastal communities, who assist with collecting and then recycling or upcycling the debris into useful products with the aim of  "diverting as much tonnage from the marine environment as possible", Thomson said. 
"If we can tap into that economic benefit for these communities then that's a really attractive way to accelerate wider plastic recycling and awareness to hopefully address it on a wider scale," he said.
"It's due to our own negligence and mismanagement that this has proliferated to such an extent globally, that these kinds of plastics are used so frequently and just thrown away with so little thought or care and then they have a devastating impact on so many different charismatic species."
While the plight of Tuk looks to be heading towards a happy ending, the marine veterinarians at PMBC know that the next case of a struggling animal in need will not be far away. 
"Everyone is worried about the situation in the sea. It's not a situation that can be resolved by just one unit or a vet," Araya said. 
"Cases like this will happen again and again until we take care of this properly."