10,000 in Singapore to be taught AI basics for free
The AI for Everyone programme is one of two initiatives unveiled by AI Singapore to give a boost to the local tech scene.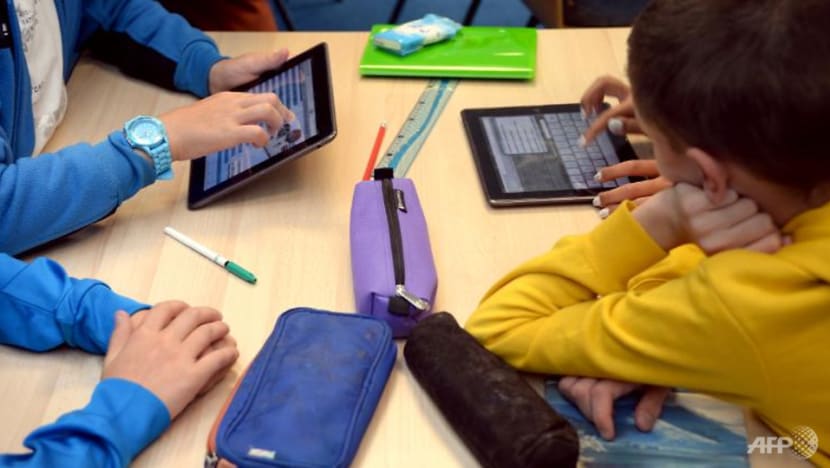 SINGAPORE: Singaporeans ranging from secondary students to working adults will get to pick up artificial intelligence (AI) basics for free as part of a programme called AI for Everyone (AI4E) unveiled on Thursday (Aug 30).
The programme, which targets 10,000 participants, aims to familiarise them with AI and help them understand how it can be used in their daily lives, said Minister for Communications and Information S Iswaran at an event to commemorate the first-year milestone for AI Singapore (AISG).
It will also help dispel fears that AI will replace jobs, according to a separate joint fact sheet by AISG, Info-communications Media Development Authority (IMDA) and the National University of Singapore (NUS).
Materials for the three-hour workshop will be provided by tech giants Intel and Microsoft. 
These free workshops will start from the end of this month and will run for three years. 
AISG is a national programme set up to enhance Singapore's AI capabilities and to power the country's digital economy, its website said.
EQUIPPING THE PROFESSIONALS
A more industry-centric programme called AI for Industry (AI4I) was also announced on Thursday, targeting about 2,000 engineers, software developers, as well as managers and executives who are technically inclined and are keen to learn or deepen their Python programming skills to build applications, the fact sheet added.
The Python programming language is one of the primary coding language for work in AI.
On completing the Data Scientist in Python course comprising 20 modules that would take three months to complete, participants will receive a Foundations in AI certification.
The course will cost S$500, but IMDA will provide financial support to those who qualify under the TechSkills Accelerator (TeSA) Critical Infocomm Technology Resource Programme+ (CITREP+). 
A full-time National Serviceman or student will receive up to 100 per cent fee support while trainees sponsored by small- and medium-sized enterprises (SMEs) and Singaporeans 40 and above will get up to 90 per cent of support. 
Microsoft and Intel are also content partners for AI4I, and will be joined by DataCamp, on online data science learning platform. Courses will start from end-October, the fact sheet said. 
"Singapore needs a deeper bench strength of talent to further grow our AI ecosystem," Mr Iswaran said. "AI Singapore can and will play a key role in this regard by working closely with its research and industry partners to nurture a strong pipeline of AI talent for Singapore."
BUILDING A TRUSTED AI ECOSYSTEM

In addition to growing the local AI talent pool, the Singapore Government is also working to build a trusted AI ecosystem, Mr Iswaran said.
He provided more details on the Advisory Council on the Ethical Use of AI and Data, which was first revealed in June this year.
It will be led by former attorney-general V K Rajah, and will comprise 10 industry leaders.
They are:
Ms Jenni Aldrich, Asia Pacific vice president of Google
Mr Amit Anand, managing director of Jungle Ventures
Prof Chan Heng Chee, chairman of Lee Kuan Yew Centre for Innovative Cities at the Singapore University of Technology of Design
Dr Chen Wei, COO of Social Credits
Mr Chia Song Hwee, president of Temasek International
Mr Andreas Ebert, worldwide national technology officer at Microsoft
Mr Piyush Gupta, CEO of DBS Group
Ms Hamidah Aidillah Mustafa, founder of Parrot Social
Mr Peter Ho, chairman of National Supercomputing Centre steering committee
Ms Sara Yu Siying, group vice president, deputy general counsel and partner at Alibaba
The minister said the advisory council will "canvass widely" for views from businesses, trade associations and chambers and consumers.
"I look forward to the advisory council's recommendations on how organisations can develop and deploy AI solutions in a responsible and trusted manner," Mr Iswaran said. 
These initiatives come on the heels of AI being identified as one of four technologies to transform the local infocommunications media (ICM) sector. 
Then-Minister for Communications and Information Yaacob Ibrahim said last November that AI is not high-brow or obscure a technology, but one that is already present in our daily lives. 
Companies, big and small, can use existing AI solutions to improve their business offerings, he added. 
Within the public sector, the drive towards AI has already kicked up a gear. 
In the Digital Government Blueprint launched this June, one of the key performance indicators for the next five years include all ministries and related agencies having to use AI for service delivery or policy making.