AI eyed to help bring lift maintenance to a higher level
Surbana Jurong, which monitors about 25,000 lifts in Singapore, says it is months in a year-long project with apprentices from AI Singapore's training programme to develop a prediction model for lift faults.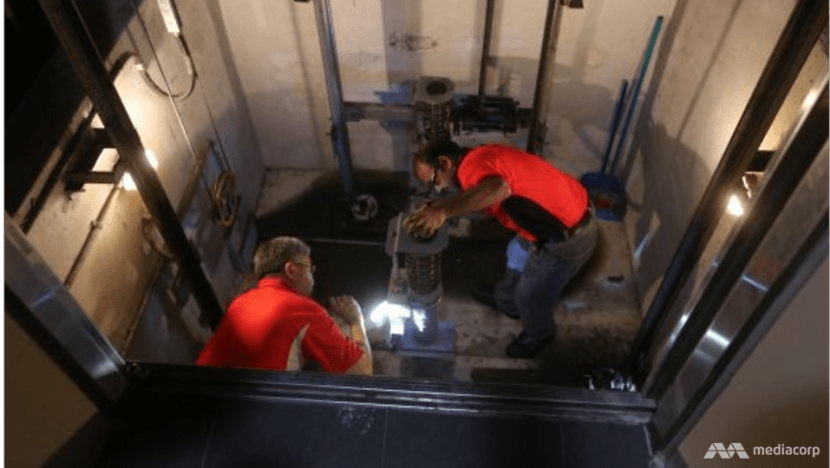 SINGAPORE: A "fresh pair of eyes" to look at an age-old problem: How to better predict when a lift is going to break down, or when it is in urgent need of servicing to prevent a malfunction?
That is the problem Surbana Jurong is hoping to solve as it monitors 25,000 lifts under its charge.
Its current lift maintenance system already tracks 21 fault indicators such as whether a lift is travelling too fast or too slow but does not have a predictive element, explained Dr Chuah Jun Wei, head of Internet of Things (IoT) and Data Science at the urban consulting firm, told Channel NewsAsia during a recent interview.
"Whenever these lifts have faults, then the system is triggered. It is more of an alert system."
Mr Cliff Chuah, head of Innovation Program Office at Surbana Jurong, added in the same interview that the industry traditionally went with preventive maintenance, which is based on fixed servicing schedules.
"If a lift is making a loud noise already, then sending someone down to fix it is a matter of course," Mr Chuah said. "But what if it is just making a soft sound, but this factor, combined with other indicators, could lead to a prediction of a lift fault and gets you to send a technician down before it happens?"
Two apprentices from AI Singapore's (AISG) training programme have been roped in to help the urban consulting firm come up with a solution - a prediction model using artificial intelligence (AI) to identify lift faults one week before the lifts actually break down. This will ideally complement its current system, the Surbana Jurong executive said. 
It would also help companies like Surbana Jurong better allocate its manpower, considering the lack of technicians in the industry currently, he added. 
A 2017 report stated that more than 2,000 lift technicians service more than 63,000 lifts in Singapore, with plans to attract 1,000 more in the next three years.
GROOMING AI TALENT
Beyond helping to solve an industry pain point, the AI project also serves another purpose: Supporting Singapore's efforts to groom AI talent by allowing apprentices to work on real-world problems, said Dr Chuah.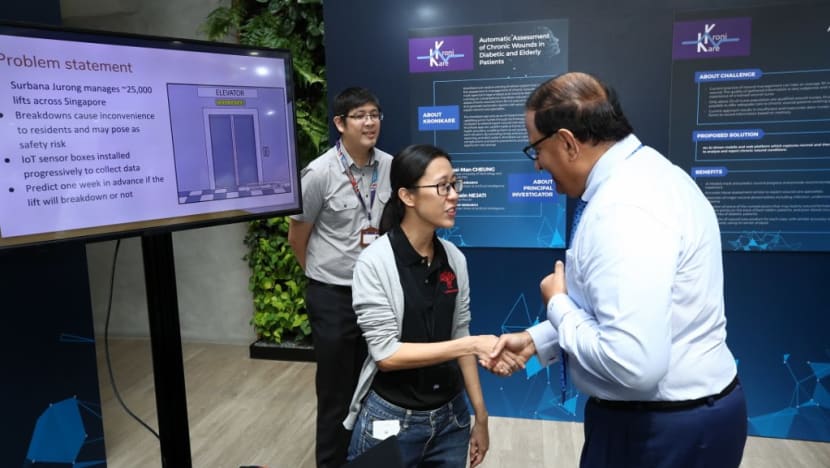 One of the two apprentices Surbana Jurong is working with, Ms Eunice Soh, was cited in Minister for Communications and Information S Iswaran's speech at AISG's first-year anniversary event on Thursday (Aug 30). 
Mr Iswaran pointed out that while she majored in life sciences and does not have a computer science background, opportunities like the AI Apprenticeship Programme (AIAP) is helping her, and others like her, to pursue their aspirations in the field of AI.
Speaking to Channel NewsAsia at the sidelines of the event, Ms Soh, 27, shared that she has always wanted to get into data science but "chose the wrong major". She professed to an early interest and liking to computers, which led her to join the media club in her secondary school.
Before signing up for AIAP, she was at a job which required her to handle and analyse data, Ms Soh shared.

The other apprentice, Mr Lee Chengkai, also left his job in software development to pursue his interest in this field.
"I felt I wasn't really growing anymore," the 28-year-old shared.
With the Surbana Jurong project, he is able to deal with a huge volume of data that is "challenging" and exposes him to machine learning and statistical learning, which he professed to "having no clue of before".
"These are good skills for data engineers to have in general," Mr Lee said.
Mr Lee said the project started in May this year and the team is currently setting up the infrastructure for the collection of the sensor data being sent back by the IoT boxes installed on 1,000 lifts, which is why the analysis of the data has yet to start.
Surbana's Dr Chuah said he is looking to hire both Ms Soh and Mr Lee after the AI project is over as he looks to grow his "small" team which was formed in 2017.