SINGAPORE: Container truck driver, Mr Yusof Ahmad, heard a "popping" sound as he was climbing down from the cabin of his prime mover.
"I was getting down when one leg went one direction, and the other one didn't follow," the Singaporean told Channel NewsAsia. He found out later that he had torn his meniscus.
Mr Yusof said picking up and delivering containers can take a physical toll on him and other drivers, given that many of them are elderly.
At 49, the driver said his age is "average" among the drivers he has met, but there are many in their 60s, following the revision of the age limit for driving heavy vehicles in 2015.
Mr Harry Hew, managing director of Union Transport, which also has a container trucking business, corroborated this. He told Channel NewsAsia in a separate interview that among his six Singaporean drivers, the youngest is 55 years old and the oldest, 64.
The physical toll on a greying driving pool is but one of the many challenges the traditional container trucking sector is grappling with as it attempts to reinvent itself in order to remain relevant in the digital age. 
THE CHALLENGE IS NOT JUST PHYSICAL 
The mental toll is another challenge faced by prime mover drivers like Mr Yusof, who has been working for a small container trucking company for the past two years.
Another is keeping the sleep monster at bay. The long journey involved in transporting a container from Tuas to Changi, for example, meant that he "can get sleepy" while on the roads, Mr Yusof admitted.
"Short trips not so bad, you get up get down, that (makes you) wake up."
It's not just staying awake though. Speed plays a part too.
Given that he is paid per trip, the quicker Mr Yusof makes a delivery, the better. Channel NewsAsia spent a morning with the container truck driver and in that time, he moved a container from Bulim Avenue to Gul Circle before heading to Jalan Buroh to pick up another trailer to haul another container. He then drove over to a yard at Pioneer Road to pick up a container that was meant for Jurong Island.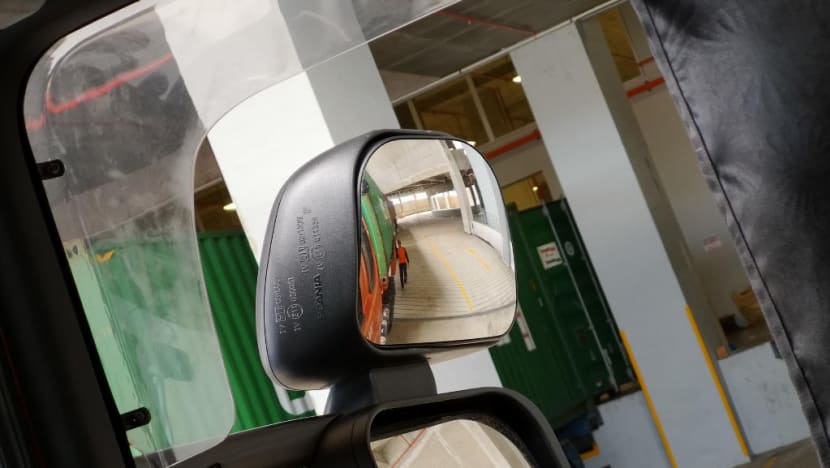 He also had to contend with the difficulty of finding parking on a two-lane road leading to the container yard at Pioneer Road. There are three container yards in close proximity and the stretch of road can become quite congested with trucks waiting their turn to get in.
It took an hour to pick up the container from the yard, something Mr Yusof said was "quite fast already" considering we could have been stuck there for hours.
His working hours vary, depending on the number of containers the company has to move, but it is about 12 hours on average - the maximum stipulated hours by the Ministry of Manpower. He admitted though that there days when he would drive longer than that. 
The issue of overwork among heavy vehicle drivers was placed under the spotlight by a Talking Point episode during which some drivers recounted having to work beyond the 12-hour limit set by the law and migrant workers being threatened to be sent home when complaining of fatigue to their bosses.
Amid it all, Mr Yusof shared that he hoped to keep driving for another five to 10 years as his younger son is still in school and the older one is pursuing varsity education after his NS.
"Usually I'll just work lah, unless got something urgent," the 49-year-old said.
FINE MARGINS, COSTLY CHALLENGES
The bosses of these container truck drivers face a different set of challenges that may inadvertently contribute to those faced by Mr Yusof.
Ms Lim Mei Ling, director of Waterfront Services, the company that Mr Yusof works for, told Channel NewsAsia that her small, family-owned business owns eight prime movers and more than 80 trailers and these in themselves pose a challenge: How do you maximise the use of the hardware and, if not in use, park them legally without incurring fines from authorities?
"We need to turn around (our jobs) quickly," Ms Lim explained, "Or else it would mean needing to pay for parking spaces."
Under the Land Transport Authority's rules, each owner of a heavy vehicle would be required to hold a Vehicle Parking Certificate as proof that his vehicle has a designated space for overnight parking. This costs about S$160 a month, and excludes the cost of the parking lot, she said.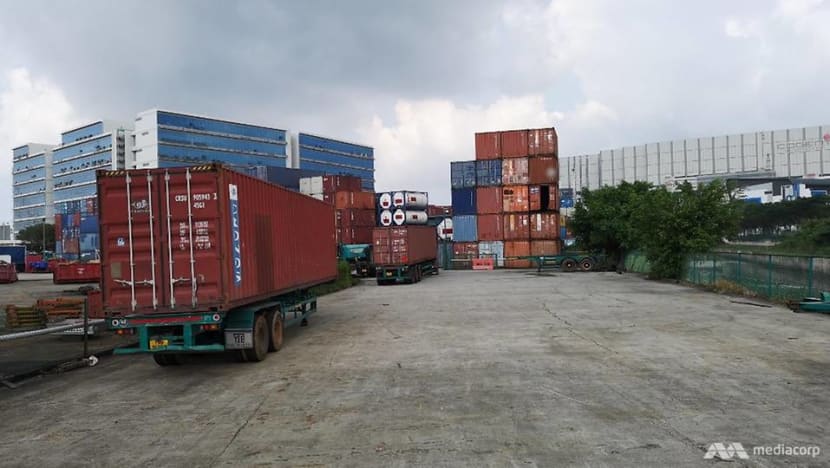 And there are not enough of the cheaper lots operated by the Urban Redevlopment Authority (URA) and Housing and Development Board (HDB) to meet demand and she could be on the waiting list for months and even years. Many container trucking companies, particularly the smaller ones, turn to private operators who either tend to charge more or could terminate the agreement at short notice.
Another reason why drivers would need to work above and beyond the stipulated working hours is the size of the container ships that visit Singapore: They have gotten bigger.
So even if they make port calls less frequently, the number of containers they bring in each time has increased - making the peaks and troughs for these container trucking companies that much more pronounced, Mr Sebastian Shen, co-founder of start-up Haulio, explained.
This leads to a more pressing problem: The manpower to drive the trucks.
"We can buy more prime movers, but who will drive them?" Mr Hew pointed out.
As it is, Ms Lim said she only just got the full complement of eight drivers for her fleet, and even then she has to constantly fret over their availability.
To encourage her drivers to turn up each day, the Waterfront director has turned to giving allowances when they start work early (before 7am) or when they work late (after 11pm), as well as dangle incentives so they do not take leave.
On average, she said her drivers receive between S$3,000 and S$6,000 monthly depending on how much they work. Mr Yusof said his average monthly take-home pay is about S$3,500 but it depends on his workload.
Ms Lim said the situation with these drivers are such that they may decide to stop driving or change employers at the drop of the hat, without advance warning. "Here, your notice period is when the driver hands in his keys," she said.
There are also drivers who may decide that they have earned enough for a certain period of time, and just stop turning up for work. This is the reason why the industry pays drivers on a per trip basis, she explained.
Meanwhile, the talent pool is shrinking with no new blood coming in to replace the aging drivers. Mr Hew said that for his company, even after placing advertisements in the Jobs Bank, the only applicants are those already in the industry and are in their 50s, if not older.
Both companies have been relying heavily on their foreign workers to sustain the business.
They make up at least half of the driver pool and they tend to be called on at times when the local drivers may not be available (such as public holidays or weekends) or are physically less suited to the task (such as when moving heavy loads that require much manoeuvring), both Ms Lim and Mr Hew said.
PRIMED FOR DISRUPTION?
Given the challenges faced by the drivers and trucking companies, it appears the industry is primed for a tech disruption. And this is where Haulio, a start-up incubated by PSA International's corporate venture capital arm PSA unBoxed, hopes to reap the rewards.
Mr Shen said there are about 230 haulage companies in Singapore, and of these, about half - mostly the smaller players - have signed up to its platform.
Essentially, it hopes to shake up the industry like ride-hailing firms Uber and Grab did for the taxi industry here. With its self-developed algorithm, Haulio looks to match available prime movers to existing jobs posted on its platform with prices set by the companies themselves. It then takes a 3 to 5 per cent cut from a successful match.
Haulio's Shen said while the Government has championed the need for digitalisation and the move to Industry 4.0, the haulage industry appears to be stuck in 2.0. He shared how he has met business owners who are stuck in the old ways of doing business through "phones and fax machines".
Then there are those like Waterfront's Ms Lim who choose to "take each day as it comes". The daily challenges are already "so big" to deal with, she said, leaving her with no chance to see how technology could alleviate some of her pain points.
On his end, Mr Shen hopes to create a platform that would have buy-in from drivers, business owners and the wider logistics ecosystem, or as he puts it: "One with an overarching trust."
Mr Hew, though, was more sceptical of Haulio's proposition.
Unlike the taxi industry, when a Grab or Uber could easily dispatch the nearest available car or taxi to a commuter who requested a ride, the haulage business is different in that a prime mover driver cannot just pick up a job along the way to another assignment without negative consequences.
"If my driver goes to pick up a job and gets stuck (in a jam) at the container yard picking up the container, then I'd have failed to deliver on my original job to an existing client," the managing director explained. 
But what about driverless trucks announced by the Ministry of Transport and port operator PSA in January last year to alleviate manpower and traffic congestion challenges? 
Mr Hew and Mr Yusof said they have seen these driverless trucks deployed within PSA's ports, but they are confined to specific and clearly demarcated spaces and might not work well outside the port.
It is "very difficult" for these trucks to operate outside the port due to the uncertain traffic conditions as well as fluid situations at the container yards, Mr Hew said. 
As a first step, he suggested PSA be more transparent with the data they already have like vessel arrival and departure times or types of containers on board a vessel. These, he said, are available at a cost to companies but he reckoned it should be made freely available to create more efficiencies.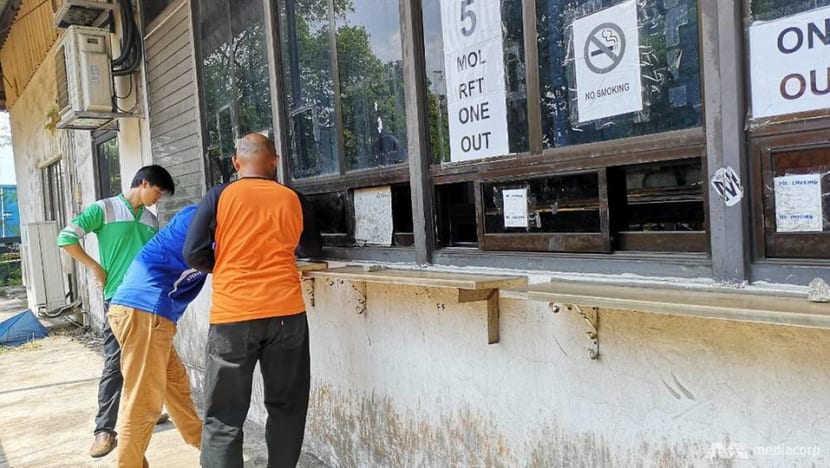 Mr Peter Ho, president of the Container Depot and Logistics Association (Singapore) or CDAS, told Channel NewsAsia that his association had asked PSA to release the information since it had explored the idea of a Container Management System (CMS) in 2012 and that was subsequently launched in 2014.
The information would theoretically close the loop between the ports, the container yards and the trucking companies, but Mr Ho acknowledged that there are differing agendas in the industry though they may want to fix the same problems. 
"Like that, how to collaborate?" 
When asked to comment on the industry's efforts to improve processes, a PSA corporate spokesperson said Haulio is in line with the organisation's vision for the container port of the future, which looks at increased connectivity with the logistics and supply chain industry. 

Mr Ho did point out that job-pooling and asset-sharing are "great concepts" and CDAS is looking to make this a reality. It told its members, which number more than 70, in June that it's looking to use its existing technologies like CMS, electronic container trucking system (e-CTS) and Transport Integration Platform-Transport Management System (TRIP-TMS) to offer such a service.
The president said unlike profit-driven entities like Haulio or PSA, however, the association would offer this as a value-added service and intends to charge a flat administrative fee if and when such a job-pooling service is rolled out.

"It's ultimately up to the industry to decide, like it did in the ride-hailing sector with Grab and Uber, which solution it wants to adopt," he said. 
Mr Ho added that beyond the business proposition and technology advances, the most important hurdle to cross is mindsets.

"There are many hurdles in terms of mindset shift: From being competitors to collaborators, sharing of competitive knowledge (such as) customer base, providing visibility to another's available assets, etc," he said.
"These need to be addressed and resolved before job-pooling or asset-sharing can be effective."