Protecting wildlife and ecosystems: Countries seek to reach agreement at biodiversity conference COP15
Scientists have repeatedly warned that human activities and climate change are threatening ecosystems and causing a dire decline of animals, plants, and other species.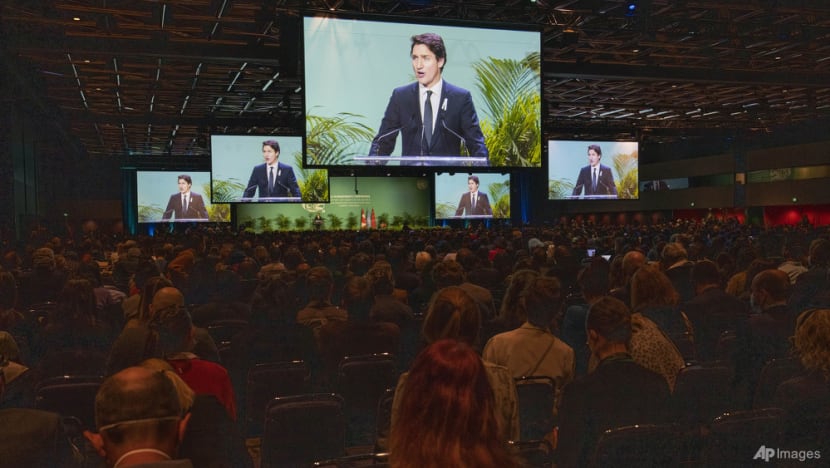 MONTREAL: Earth is home to a stunning range of biodiversity, with millions of animal species, natural areas that are almost untouched by development, and a vast world beneath the oceans.
But that biodiversity is under grave threat, largely as a result of human activity.
Trying to restore that balance is the difficult task facing the thousands of delegates from nearly 200 countries convening in Canada this week.
Following a two-year delay due to the COVID-19 pandemic, the 15th United Nations (UN) Biodiversity Conference (COP15) in Montreal will focus on developing a new 10-year global biodiversity framework.
Delegates and experts will be seeking to reach a new agreement on protecting the planet's wildlife and ecosystems.
UNPRECEDENTED DECLINE OF ECOSYSTEMS
Scientists have repeatedly warned that human activities and climate change are threatening ecosystems and causing a dire decline in animals, plants, and other species. They are calling for urgent action at COP15 to contain the deterioration, calling it the "last chance" for nature.
"Nature is declining at an alarming rate. We've never seen that in history. 1 million species are now threatened with extinction," said Ms Lin Li, senior director of global policy and advocacy at the World Wildlife Fund (WWF) International.
"Global wildlife populations have declined by a staggering 69 per cent since 1970. So our relationship with nature is really dangerously unbalanced," she added.
In the buildup to the conference being held from Dec 7 to 19, UN officials and experts have stressed on the need for a Paris-style agreement on biodiversity.
They are pressing for a treaty similar to the landmark global climate agreement adopted at the UN Climate Change Conference in Paris in 2015, which helped drive increased global awareness over the threat from climate change.
CONSERVATION PLEDGE
More than a hundred nations – including Germany, Japan and Britain – have called for a so-called 30x30 initiative, pledging the conservation aim of 30 per cent of nature by 2030, to be included in the new framework.
"One of the main focuses we're pushing for is a global agreement to protect and conserve at least 30 per cent of the world's lands and oceans by 2030," said Mr Brian O'Donnell, director of conservation group Campaign for Nature.
"So an area-based conservation target that will make sure that habitat for wildlife is safeguarded, as well as those natural systems that are important for preventing storms."
Among the benefits of preserving habitats is the mitigation of the risks and destructive effects of natural disasters. For example, intact mangroves and wetlands can act as buffers during typhoons and hurricanes and help to reduce damage further inland, he added.
Officials have called for the framework to be set with clear targets and commitments at a high level from all parties.
WORLD LEADERS NOT IN ATTENDANCE
However, as with the climate change agreement, getting the buy-in from the world's largest economies may ultimately determine what is possible.
Originally scheduled to take place in Kunming in Yunnan province, COP15 was relocated to Montreal due to China's COVID-19 restrictions.
While China is still chairing the conference, it has not invited world leaders to the summit. Chinese President Xi Jinping will also reportedly not attend.
The only head of state attending the event is Canadian Prime Minister Justin Trudeau.
The United States is also not a full participant at the conference, having never ratified the Convention on Biological Diversity (CBD) – a multilateral treaty to protect nature at the global level. However, it will still play an important role at COP15, having sent a delegation to Montreal.
ACCOUNTABILITY
Experts are also calling for developed economies to be held accountable for the destruction of the environment in developing countries through the unsustainable acquisition of raw materials. 
"Effective action will only be possible if greater recognition is given to the direct role that developed countries' economies play in driving deforestation in countries like Indonesia, like Brazil, through unsustainable consumption," said Ms Li.
"For example, studies have revealed that G7 countries have a significant deforestation footprint outside of their own countries, with an average loss of nearly four trees per person each year."
Biodiversity targets at previous conferences have not been met, amid challenges including securing financing.
But as the situation grows more precarious, there are hopes that the global community can work together at the COP15 to bridge the divide.