As glaciers melt but water runs dry, climate migrants emerge in Nepal's last forbidden kingdom
Asia's Great Climate Frontiers: Water systems have been altered in the Himalayas amid global warming. In the second part of a monthly series, CNA looks at how communities have no choice but to adapt and uproot themselves.
LOMANTHANG, Nepal: The passage into Samdzong is a dramatic one. The mountainside settlement emerges through a deep canyon, flanked by sculpted, red mineral cliffs.
Snow-capped peaks in the distance encircle the village, situated just kilometres from the Nepal border with Tibet. 
This is land enriched by culture and myth - part of Upper Mustang, a place once known as the country's last forbidden kingdom, long isolated and still protected as a conservation area.
But the idyllic scene is not all that it seems. In recent years, its longtime residents have been heading for the exit. The small trickle of fresh water in a dusty riverbed nearby is a clue to what has happened here. So too are the parched fields, the empty livestock circles and the houses with padlocks on their doors.

Samdzong is running dry. And the families that have called it home for generations have become a new breed of climate migrants in the Himalayas.
Climate change is remaking the rules in high-altitude regions. Temperatures are increasing at faster rates than elsewhere on the planet. Snowlines are rising higher and glaciers are retreating at an alarming speed.
For as long as Samdzong locals can remember, a distant glacier has fed a spring under the mountains. The annual melting of glaciers during warmer months is a normal process that sustains life in these remote areas.
But that natural tap has become irregular and unreliable.
Many families have abandoned Samdzong already. Nine remain, though those left behind are overwhelmingly the elderly - like Bakki - unwilling to uproot in their final years. 
The younger ones, unblinkered by the emotional grip of Samdzong have relocated for long-term survival.
"In the early days, we used to have plenty of water but now even though we have put pipes in the channel, there's no water. Also, the water is salty and so you get belly problems when you drink it," Bakki said. "It used to be nice. We are quite lonely now."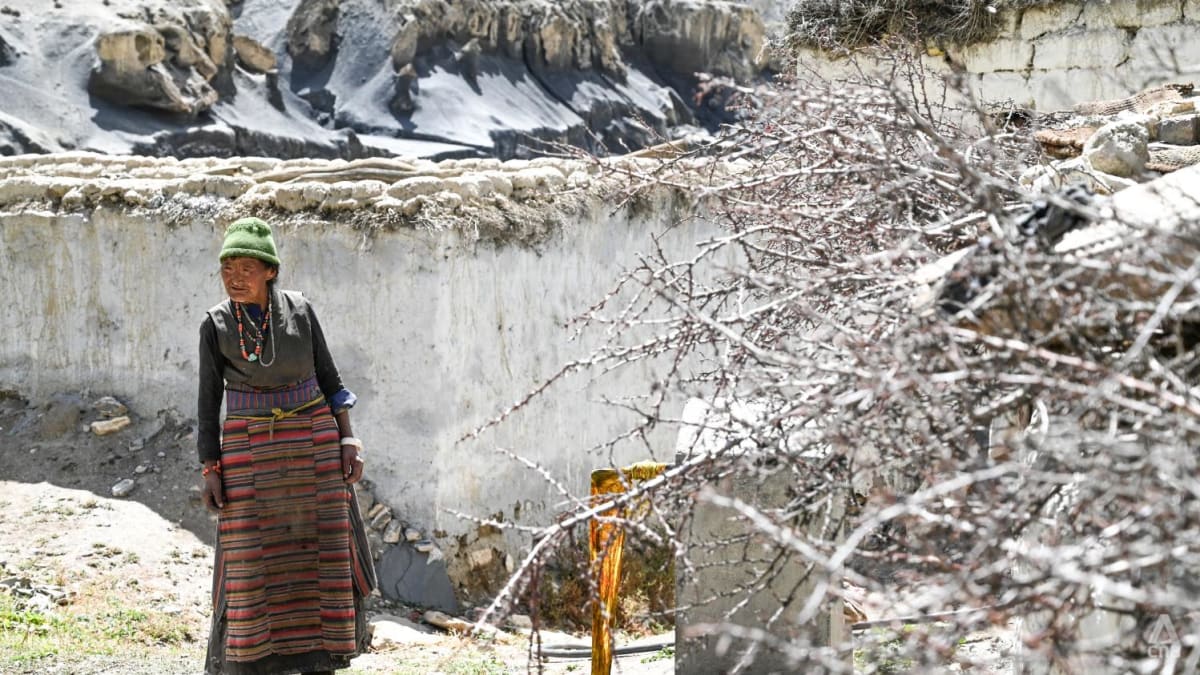 The situation in Samdzong is the result of complex alterations to the water systems in the Himalayas.
This year, scientists reported that about 40 per cent of the region's glacial mass has been lost since the Little Ice Age, a period 400 to 700 years ago. The rate of melting in recent decades is up to 10 times faster than previously and the root cause is global warming.
"As the glaciers get smaller, first of all, there's more runoff. And then after that, there's less runoff. There are some smaller glaciers that have already reached that point," said Miriam Jackson, the program coordinator for the Cryosphere Initiative
 at the International Centre for Integrated Mountain Development (ICIMOD) in Kathmandu.
"So some communities are already seeing this, that the water is getting less and less. And you can adapt to it to a certain point. But, you know, after a while, you just can't adapt anymore," she said.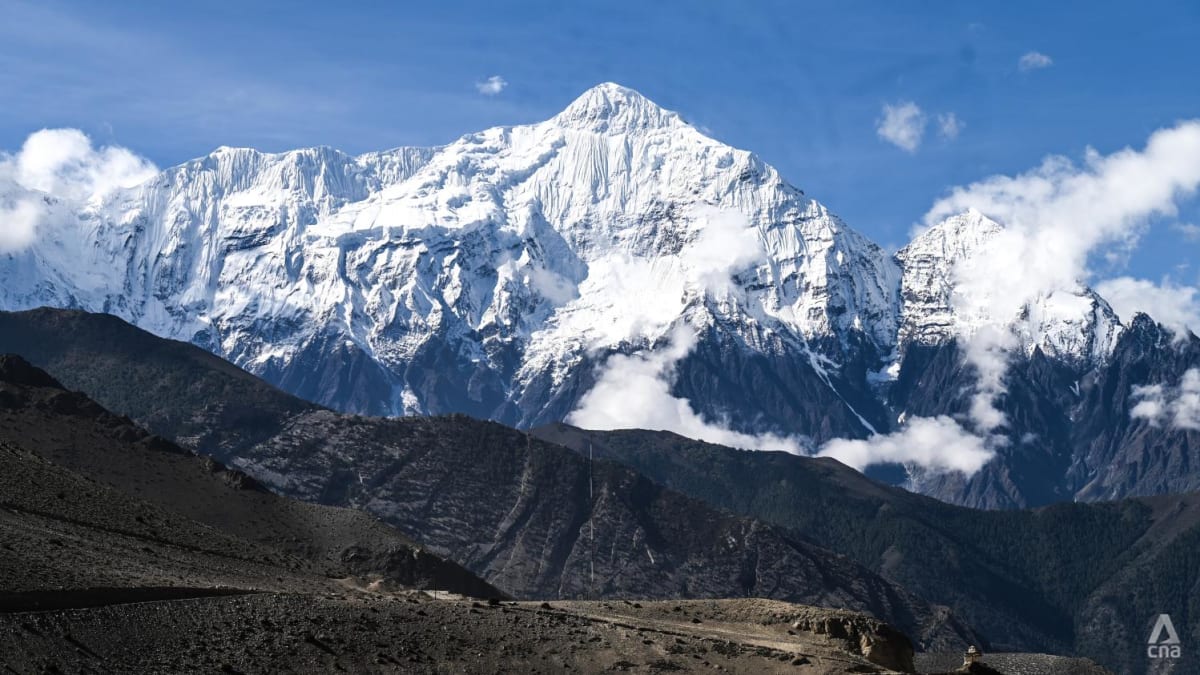 At the same time, climate change is triggering more extreme rain and snow events, with potential cascading consequences including floods, landslides and lake outbursts.
Samdzong has repeatedly experienced flash flooding - another one of the reasons many of its residents chose to leave. Worryingly, many of these shifts occurring in the Himalayas cannot be reversed soon.
"Even if we stop all the emissions, we're basically locked into a certain amount of change," Jackson said. "The main thing is to slow things down, because we can't stop it. We know these changes are coming and are going to increase until the end of the century at least."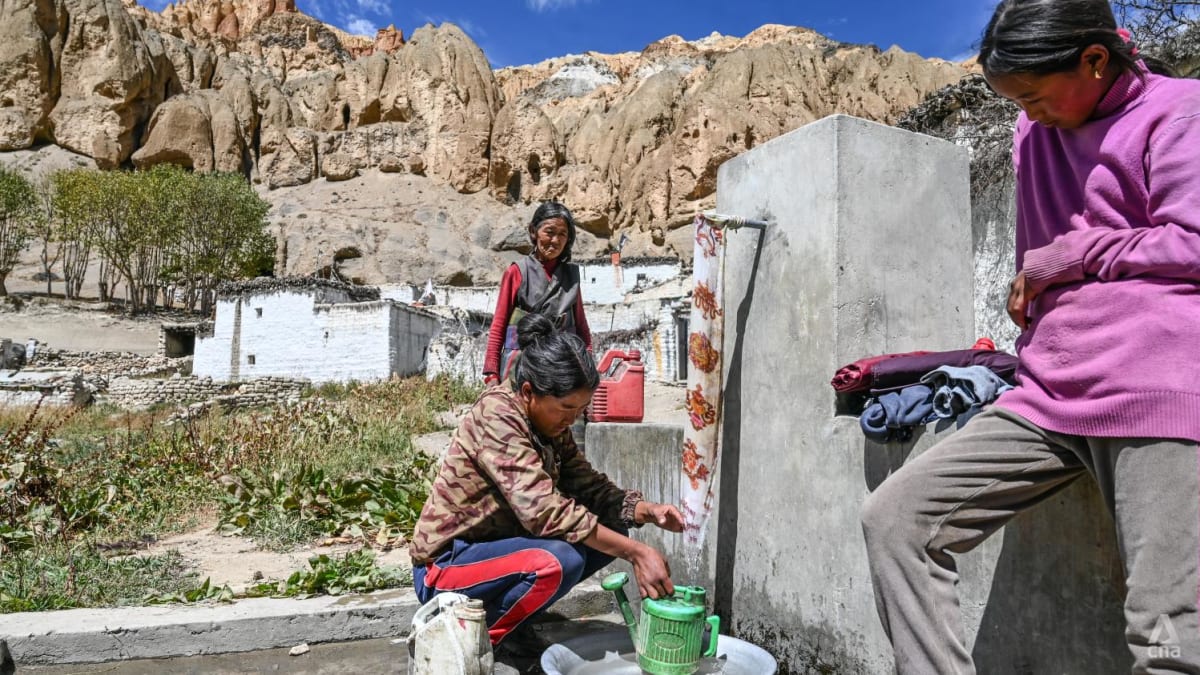 "I WAS HEARTBROKEN"
Bakki's daughter Sangmo Gurung is one of those to have forsaken her former home. She, her husband and young children are now forging an existence in a newly created village in Namashung, about a day's walk from Samdzong.
Life is different here. Winds whip up dust from roads and long-neglected fields. In the four years since the first resettlers arrived, the community has been working together to make the area more viable for raising animals and planting crops. 
"When we first had to leave, I was heartbroken and more also by the thought that our children were going to have a tougher future, somewhere new in this barren land. But now that we have started living here, it's not so bad," Sangmo said.
There is a physical distance between her and her mother now, and an emotional lament about their separation.

"I keep worrying if my mother is ill or how she is doing. So I suggested she sell her goats and move here with us. But she said that she will live there as long as she's alive."
Experts say if global emissions do not reduce - at current polluting rates the Himalayas region could lose two-thirds of its glaciers by the end of this century - moving communities will become even more common.
"I think gradually shifting whole villages is the only option. We can do some other options like rainwater harvesting, but that may not be enough for them, and it will be more costly," said Rijan Bhakta Kayastha, the coordinator of the Himalayan Cryosphere, Climate and Disaster Research Center at Kathmandu University.
"Some people don't want to move from their original place. But first, we have to survive, and only then can we look at other things like social sense or religious culture. First, we have to survive, and for that we need water," he said.
Finding this land, where locals could have land ownership and options for livelihoods, was already problematic. And Namashung has a shadow hanging over it as well, a fact clear in Sangmo's mind.
"I keep wondering what the future holds for this place and my children. I fear that there will be a flood here that might sweep us away," she said.

Her fears are real. The evidence of a deadly flood is a daily sight in this village and even more so slightly up the river in Chhoser.
The riverbed here resembles a rocky moonscape, littered with numerous white stones that bounced down from higher mountains decades ago.
This community was in the strike zone of a suspected glacial lake outburst flood - or GLOF - in 1986. After widespread damage, family relocations and a number of casualties, the fear still lingers.

"The flood took away so many people, houses and livestock. We had such a tragedy," said Ngawang Khedup, a local resident.
"There were 32 families living in houses across the river. They all got swept away. All the belongings along with people got taken away. Now you see all these rocks that the floods brought. 
"So people live in fear. Because there have already been two deadly floods here, there is fear that a third one might arrive. It's dangerous. We don't sleep in peace at night."
ANGERING THE GODS
In another Mustang village - Dhakmar - Pasng Gurung recalls a dry sunny day descending into chaos, as a sudden mudslide engulfed the stream that flows through a normally picturesque settlement beneath steep mud formations. 
There was no rain or anything else. I looked up and I saw dust and mass gathering and dropping down the river and I carried my tools and started to run down," he said.
"I hoped that I would be able to run down to the village and save some things. But of course, the water ran down much faster and I was left behind.
"I think we angered the gods. We have been messing with the earth and water," he said.
While locals cannot be certain of the precise cause of such damaging events, climate science spells out reasons for instability in the earth and atmosphere in the Himalayas. 
With abnormal annual melts due to global temperature rise, glaciers at high altitudes are feeding massive amounts of water into surrounding lakes. The risk of these lakes collapsing - in a phenomenon called a GLOF - has communities throughout the region on edge.
Events like these - though currently rare - are reminders of how climate change impacts in the Himalayas matter to more than a handful of villages with small populations. 
In Nepal, there are currently 21 lakes considered potentially dangerous, with a further 26 in neighbouring countries considered at risk.
Throughout South Asia, huge populations depend on glacial melt and river flow for their drinking water and irrigation needs. And key infrastructure as well as community assets are built close to these water resources, all of which are at risk in the event of a GLOF.
Pakistan, home to more than 7,200 glaciers, has been devastated by extreme flooding this year amplified by climate change as early snowmelt combined with heavy seasonal rainfall. The meltwater peak met the monsoon peak, a scenario that could easily repeat more frequently as weather patterns shift.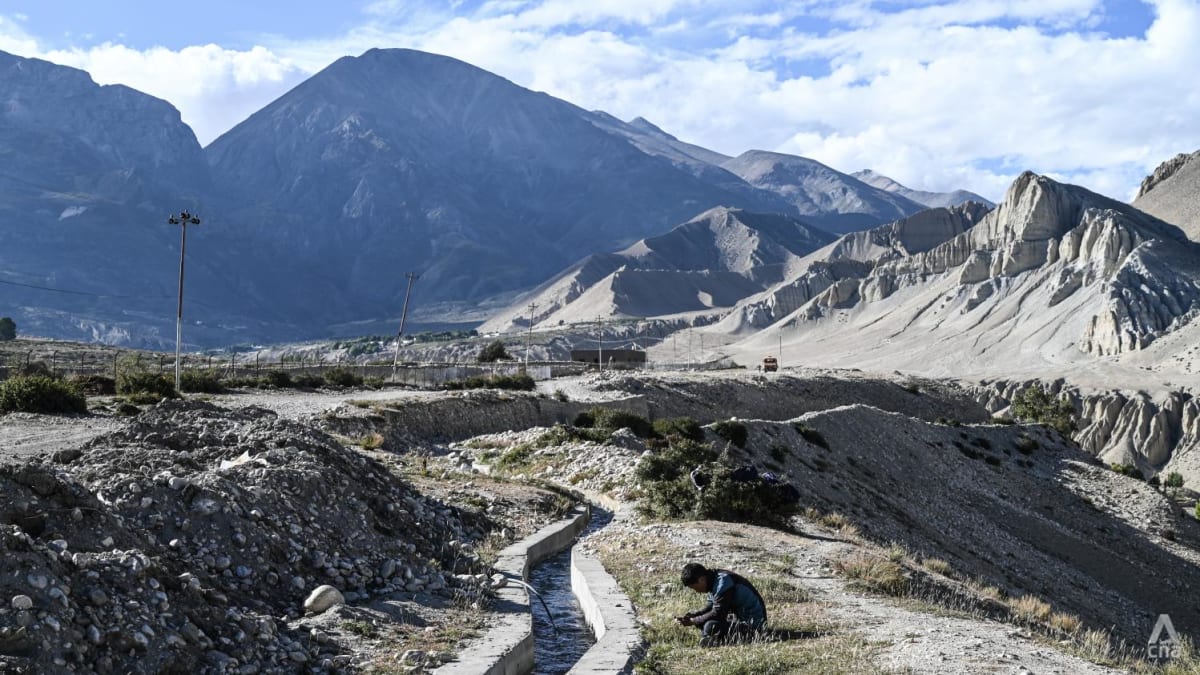 "Floods are going to be bigger and glacial lake outburst floods are going to be more frequent," said Jackson of ICIMOD.
"You can't keep on mitigating against these kinds of things. You have to adapt and say, well, perhaps we shouldn't be building in a floodplain, or we shouldn't be building the most important infrastructure, like schools and health centres too close to the river," she added.
Rijan of Kathmandu University said the transboundary nature of the problem means countries need to coordinate better to come up with plans for the future, including better planning, early warning systems and efforts to physically reduce water levels in risky lakes.
"It doesn't matter about the political boundaries. Countries like Nepal, China and India should work together in order to minimise the disasters," he said.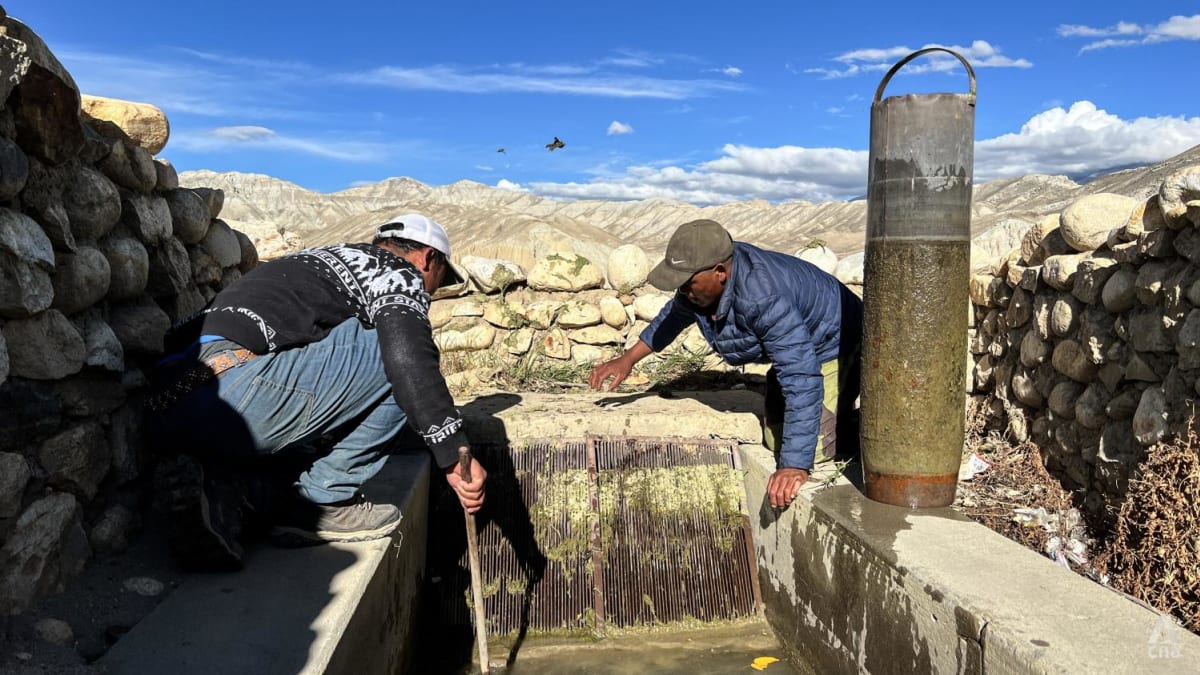 SUNNY PROSPECTS
As the afternoon sun casts long shadows on the semi-arid mountainous terrain around the village of Charang, two men wade in shin-deep water. They are maintaining their community's energy supply, a simple hydropower operation fuelled by a steady stream from the mountains.

"It's quite an amazing thing that we had electricity 34 years ago. Because of this blessing, we are still using this hydropower rather than the national grid electricity," said Tashi Dhindup, the village warden.

Hydropower has worked efficiently and cheaply for communities like this for decades. Connecting to the national grid power is a logistically problematic and expensive option that locals like to avoid where they can.
Nepal has invested heavily in the sector - nearly all of its electricity is generated from hydro plants both domestic and imported from India.
Given climate projections, there is future risk in this reliance on a system powered by nature.
"We still have enough snow and ice in the Himalayas, but in 20 or 30 years there will be very much less," Rijan said.
"Then the meltwater, especially in the pre-monsoon and post-monsoon, will be reduced considerably and that will have negative impacts on most of the hydropower in Nepal."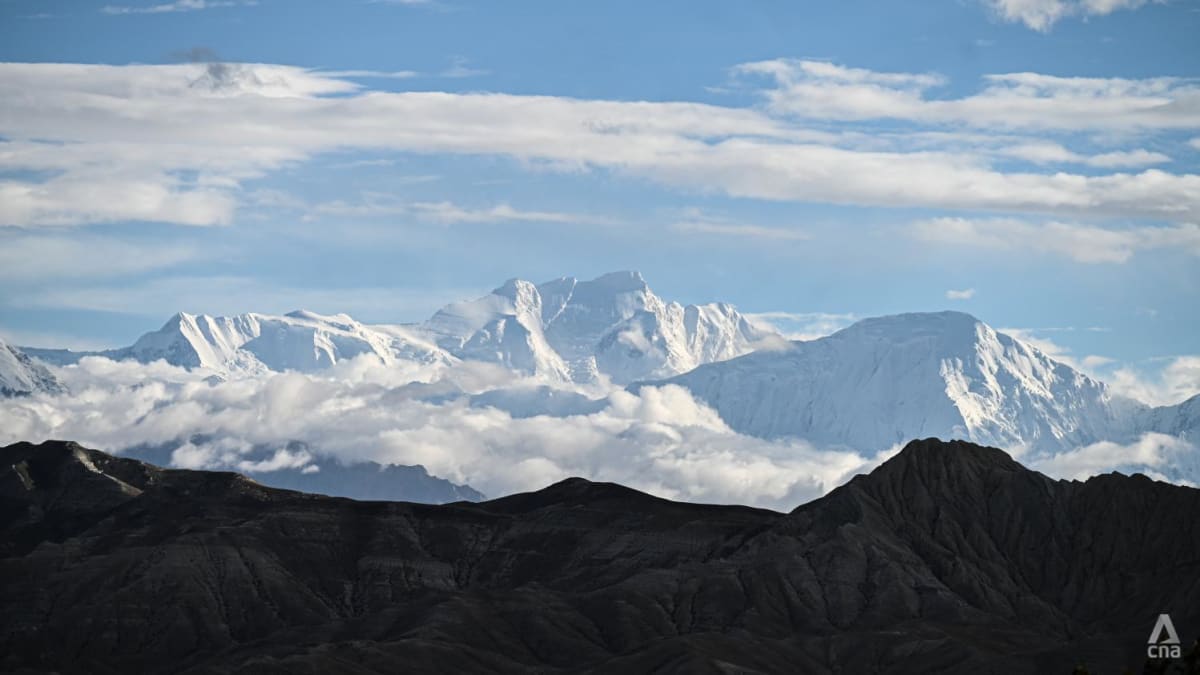 The situation has experts urging a diversification of energy supply. Mountainous communities are primed to be the victims of failing hydropower and the beneficiaries of small-scale solar and wind projects.
"I don't feel any immediate threat of water scarcity. In the winters, the water decreases a little but in the summer, it's always flowing well. But it would be amazing to have wind and solar electricity as well," Tashi said.
A few hours' drive away, Tashi Gurung is already enjoying what the power of the sun and the whipping alpine winds can do. 
A small hybrid system installed by a Nepalese non-government organisation provides each village household with power for two LED light bulbs. Such a small change has had a profound life impact on the 49-year-old, who runs a small restaurant for visitors.
"The grid electricity barely lasts half an hour. But this wind power is on all the time day and night," she said. 
"It was clear and bright all of a sudden. It was like opening the eyes of someone who couldn't see."
For communities whose future is in the hands of others and whose place in the mountains hangs in the balance, these small victories are ones worth savouring. 
Additional reporting by Tashi Bista.
When the Himalayas heats up