Crypto crashes, bankruptcies spark calls for tighter regulations even as users demand fewer rules
The crypto space is on tenterhooks, as it waits to see which way the legislative winds will blow, said observers.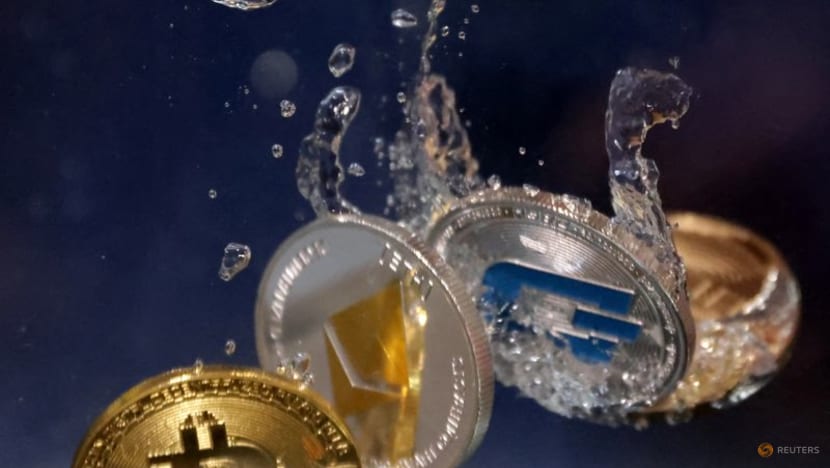 WASHINGTON: Debate is raging between cryptocurrency users who want fewer rules and greater fiscal autonomy, and politicians who feel more oversight is needed to shield them from the volatility of a decentralised system.
The crypto space is on tenterhooks, as it waits to see which way the legislative winds will blow, said observers. 
This comes as a series of recent crashes and bankruptcies in the crypto sector sparked calls for tighter regulation in the industry. 
Crypto fever, with a market cap of more than US$800 billion globally last year, has gripped the United States, infiltrating the world of sport, art and politics. 
'CRYPTOCURRENCIES ARE SPECULATION'
Studies have shown that roughly three-quarters of all people who have ever bought bitcoin have ended up worse off.
"Cryptocurrencies are speculation," said Dr Nicholas Weaver, a lecturer at the University of California, Berkeley's International Computer Science Institute. 
"The only value in a cryptocurrency is what somebody else will pay more for later. A greater fool. Eventually, the system runs out of fools, and if you're the last one, you will lose everything."
When Terra Luna — which used to rank among the top 10 most valuable cryptocurrencies — plummeted 98 per cent in value overnight last summer, some people lost their entire life savings.
From this year, however, things could turn out differently. 
The US Treasury said crypto now needs "adequate regulation", which includes the protection and segregation of customer assets.
The White House is also urging Congress to implement President Joe Biden's suggested reforms, one of which includes a digital dollar — a digital currency that is fully regulated and backed by the central bank.
US Federal Reserve chair Jerome Powell has told lawmakers such a move would eliminate the need for other crypto coins.
CRYPTO STILL HAS LOYAL FAN BASE
The Senate Banking Committee has also held a series of hearings investigating how bankrupt crypto exchange FTX's implosion could impact the market.
Senator Elizabeth Warren of Massachusetts, one of crypto's biggest sceptics, has spent the past several months fighting for change. 
"Think about it this way — those who purchased crypto near its peak, who were lured in by the celebrity hype machine, have witnessed its total value fall by over two trillion dollars," she noted. 
"These losses have been devastating, especially for black investors and for people from underbanked communities, the very people that crypto boosters said that crypto would help the most."
Yet this digital space still has a loyal support base, with defenders of crypto insisting that the digitisation of currency is the future. 
Its biggest fans argue that crypto is more than just a tradable commodity. 
They claim it will form the foundation of the next financial revolution, a new age which investors have to buy into now. 
"If you want to be a part of that upcoming shift, if you want to participate in the metaverse, if you don't even believe in it but you believe in the natural evolution of technology, and you want to participate in it, the only way you can participate is through cryptocurrency," said Web3 and metaverse consultant Ishmael Diaw. 
"You don't need to be a trader, you don't need to have experience trading futures or derivatives. All you need to do is to purchase some form of cryptocurrency, whether it's bitcoin, ethereum, or a stable token tied to a fiat just like tether or (USD Coin). You'll need this in order to participate."