Donald Trump indicted: What it means and what next for the former US president?
Former US president Donald Trump has been indicted by a Manhattan grand jury. What's next in the judicial process and can he still run for presidency?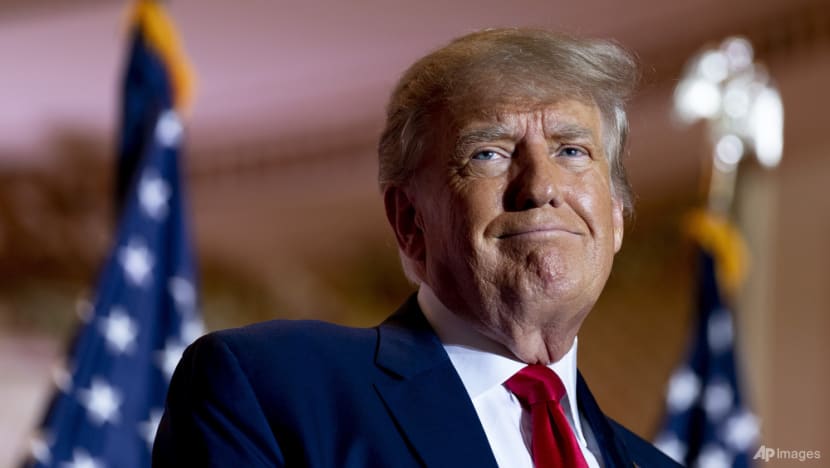 Donald Trump had expected to be arrested. He said so about two weeks ago amid an investigation into hush money paid to porn star Stormy Daniels to cover up an alleged affair in 2006.
His indictment by a grand jury on Thursday (Mar 30) marks the first time in US history that a former president will face criminal charges.
What does it mean to be indicted, what next for Trump and can he still run for president?
WHAT IS AN INDICTMENT?
The exact charges against Trump have not been revealed but they follow an investigation led by Manhattan district attorney Alvin Bragg, a Democrat.
The prosecutor studied the information gathered and presented it to a grand jury – in New York, it comprises 23 members of the public.
The grand jury, which meets in secret, then voted and decided that there was enough evidence to charge Trump with a crime.
All these proceedings are sealed, meaning only those in the courtroom will know what transpired. One of the most common reasons for such procedures is to ensure that a defendant does not flee the state or country.
Being indicted means Trump has been given formal notice that he faces criminal charges. The indictment – a document containing the basic information of the charges – will be given to him or his lawyer.
The indictment is expected to be unsealed in the coming days by a judge, which means the exact charges will be made known.
WHAT IS TRUMP ACCUSED OF?
While the indictment remains under seal, the charges are said to be in connection with payments made to Daniels ahead of the 2016 presidential election, after she contacted media outlets offering to sell her account of her alleged affair with Trump. 
Michael Cohen, Trump's personal lawyer and fixer, admitted to arranging a US$130,000 payment to Daniels to buy her silence about the affair.
Trump denies the affair happened.
In 2018, after the Wall Street Journal reported on the payment to Daniels, Cohen stated publicly that he paid her using his own money and was not directed to do so by Trump. He also said Trump never reimbursed him for the payment.
However, Cohen would later contradict both statements under oath. He testified that Trump directed him to make the payments "for the principal purpose of influencing the election".
WILL TRUMP BE ARRESTED? 
After a person is indicted, they can be arrested or they can surrender. In Trump's case, Bragg's office said it has contacted Trump's attorney to coordinate a surrender.
Either way, he will go through the same process once he is in custody – having his fingerprints and mug shots taken.
After the processing is done, Trump's first court hearing will be an arraignment, when he will be asked to plead guilty or not guilty to the charges.
The arraignment is the initial hearing and is usually on the same day or a day after they are processed, said the US Department of Justice on its website.
There may also be a bail hearing to decide if Trump can be released or has to be remanded in custody.
WHAT NEXT IN THE JUDICIAL PROCESS? 
Trump has said he is "completely innocent", describing the indictment as "political persecution".
Once Trump is arraigned and enters a not-guilty plea, there will be a series of preliminary court hearings to set a date for a trial and decide on witnesses and evidence.
Before it goes to trial, the prosecution must show there is enough evidence to go ahead with the case. If the judge decides there is not enough evidence, he or she may dismiss the charges.
If there is a trial, a jury will be selected.
A defendant can avoid going to trial by entering into a plea agreement with prosecutors, in exchange for a lighter sentence, for instance.
But in Trump's case, this is not likely.
CAN TRUMP STILL RUN FOR PRESIDENT IN 2024?
Trump has said he plans to run for president in 2024.
There is nothing in the US Constitution to prevent Trump from running for the presidency, even if he is being charged, on trial or sentenced.
The US Constitution only lists three qualifications for presidency – he or she must be at least 35 years old, be a natural-born citizen and have lived in the US for at least 14 years.
Trump told reporters previously that he would "absolutely" stay in the race for the presidency even if he was indicted.
WHAT HAS BEEN THE REACTION?
As to how it will affect his third bid for the White House, it remains to be seen. The Republicans are united in denouncing Trump's indictment as a politically motivated attempt to derail his campaign, AFP reported.
Even Florida Governor Ron DeSantis – seen by some as Trump's potential rival for the Republican nominated – called the indictment "un-American" and a "weaponisation of the legal system".
Nicholas Creel, a political analyst at Georgia College and State University, said Trump's base in the "Grand Old Party" (GOP) was "simply too bought-in" to abandon him.
"Even now, we see Trump's Republican competitors, such as former vice president Pence, actively defending him in this scandal instead of using it to attack him for his own gain," he told AFP.
"This indicates that Trump's GOP rivals fully understand how his base has an unshakable cult-like devotion to him, one that isn't letting up any time soon."
House Speaker Kevin McCarthy also criticised Bragg, the Democrat who pushed the criminal inquiry against Trump.
Detractors are worried that if Trump was cleared, it could make it easier to cast any future indictment as a "witch hunt", as some have called it.
On the left, figures like former White House strategist David Axelrod have characterised the hush money scandal as the least significant of four criminal probes of Trump.
There are also potential racketeering and conspiracy charges in a much more consequential probe of Trump's efforts to overturn Georgia's 2020 election results.
And a quasi-independent federal prosecutor is overseeing historic investigations into Trump's mishandling of classified documents and involvement in the 2021 insurrection by his supporters at the US Capitol.
"Trump getting indicted should absolutely ruin his presidential aspirations. It should. But based on the undying support from his base, I do not believe it will," Amani Wells-Onyioha, a Democratic election strategist, told AFP.

"In fact, I think it will give him a surge in the polls and cause his base to rally around him even more."
Democrats in the House also weighed in.
Nancy Pelosi, the former Democratic House Speaker, said: "No one is above the law, and everyone has the right to a trial to prove innocence. Hopefully, the former president will peacefully respect the system, which grants him that right."
Ted Lieu, another House Democrat, called the indictment a "horrible precedent" but necessary if Trump committed crimes.
Jamaal Bowman, a fellow House Democrat, said: "It's time we ensure Trump is banned from running for any public office again."
Source: Agencies/CNA/mi(gs)