Snap Insight: Trump's arrest will only polarise US politics more
To be charged over campaign finance violations, in a locale deemed a bastion of Democratic liberalism, risks turning Donald Trump into a political martyr, says Adrian Ang U-Jin of RSIS.
SINGAPORE: Donald Trump has been indicted by a Manhattan grand jury over his alleged role in a 2016 hush-money payment scheme. This is a watershed moment in US history, as no former US president has been charged with a crime before.
The indictment, arising from an investigation led by Democratic Manhattan District Attorney Alvin Bragg, was filed under seal and the specific charges are likely to be announced in the coming days. Trump had earlier predicted he'd be arrested last week and warned of potential "death & destruction" if he faces criminal charges.
Trump lawyer Joe Tacopina said the former president is expected to surrender early next week.
"This is Political Persecution and Election Interference at the highest level in history," said Trump, as he called the indictment a "witch-hunt".
Investigations into The Trump Organization initially resulted in tax evasion charges against two Trump business entities and the group's chief financial officer, but none against Trump. Bragg, however, reopened investigations into whether Trump committed a crime by listing a US$130,000 payment to adult film star Stormy Daniels as a legal expense rather than an expenditure during his 2016 presidential campaign.
Trump has repeatedly denied any wrongdoing regarding the payment to Daniels, as well as her claims of an affair.
No one knows for sure how things will unfold. There is no precedent for criminal charges being laid against a former US president and a leading presidential candidate.
REPUBLICANS HAVE FALLEN IN LINE
In the meantime, Republicans from erstwhile vice president Mike Pence to Senator Lindsey Graham have fallen in line to defend Trump. Republican House Speaker Kevin McCarthy tweeted that Bragg "has irreparably damaged our country in an attempt to interfere in our Presidential election".
He said on Mar 18 that he would direct House committees to investigate whether federal funds were being used in "politically motivated prosecutions" such as Trump's.
After all, Trump's prosecution may be on flimsy legal grounds. In 2018, federal prosecutors considered but ultimately rejected charging Trump for campaign finance violations, in the belief that there was insufficient evidence against the former president to make charges stick.
To resurrect these old charges and prosecute him in a locale deemed a bastion of Democratic liberalism risks turning Trump into a political martyr and worsening the country's political polarisation.  
Even Trump's putative rivals for the party's presidential nomination have picked up on this and spoken out against the indictment. Chris Sununu, the moderate GOP governor of New Hampshire and a potential presidential candidate, told CNN previously that the case was "building sympathy" for Trump and "there's more pressing issues of the day".
Florida governor Ron DeSantis, widely considered to be Trump's chief rival for the Republican nomination, accused Bragg of "stretching the law to target a political opponent", and said Florida wouldn't help extradite Trump to New York.
THE "TEFLON DON"
Republicans might yet decide that Trump carries too much political baggage with all his legal jeopardy. He still faces federal special counsel investigations into his role in attempts to overturn the 2020 election results and his handling of classified documents, as well as potential state racketeering and conspiracy charges over his role in attempting to overturn election results in Georgia.
If the collateral damage of Trump facing multiple indictments tanks the GOP brand ahead of the 2024 elections, Republicans would be forced to jettison the former president. Until then, however, both Trump and the GOP calculate that they stand to gain from a rally brought about by the Bragg prosecution.
Republicans might also repudiate Trump if his calls for protests over his arrest descends into political violence.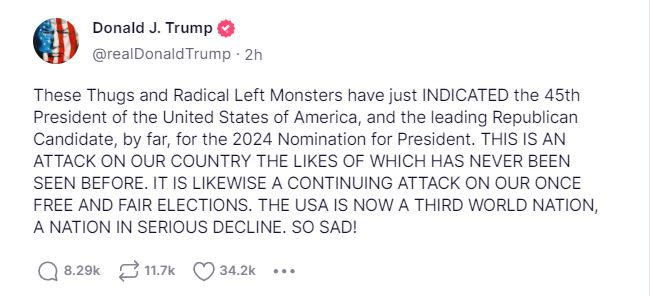 Still, Trump has a well-deserved reputation for being the "Teflon Don" - an uncanny ability to thrive in chaos (much of it of his own making) and turning adversity into political advantage.
Adrian Ang U-Jin is a Research Fellow and Coordinator of the United States Programme at the S Rajaratnam School of International Studies (RSIS), Nanyang Technological University (NTU).