From holograms to virtual avatars: US brands explore innovations to attract shoppers post-COVID-19
One technology firm claims its holographic displays can increase customer footfall by up to 30 per cent, compared to traditional advertisements.
NEW YORK: From virtual avatars to hologram displays, retailers in the United States are looking for new ways to engage with customers, even as in-store shopping makes a return post-pandemic. 
The need for e-commerce during the COVID-19 pandemic has accelerated the pace of innovation in the retail sector by up to 20 years, and that is influencing brick-and-mortar retail, said some analysts. 
And in the fast-evolving world of retail, standing out from the competition is critical, they added. 
FINDING INNOVATIONS THAT FIT THEIR NEEDS
Earlier this month, more than 950 exhibitors gathered in New York for the annual National Retail Federation Expo. 
The exhibition featured a dedicated innovation lab for some 50 companies to demonstrate how new technologies, such as artificial intelligence, virtual avatars, robotics, and machine learning, are being applied in the retail sector.
Such industry events offer retailers opportunities to shop around and find innovations that fit their needs.
"Meeting consumers where they are, when they want to shop is the future, and it is happening now and it's going to continue to happen in new and exciting ways in places like the metaverse," said Mr Seth Webb, executive vice-president at Tusk Strategies. 
"We have a number of companies that are helping brands and retailers prepare to show their wares and share them with consumers in a new virtual space."
Last year, about 15 percent of retail sales in the US were done online. 
Now, many retailers are looking to incorporate what people like about online shopping into their physical stores.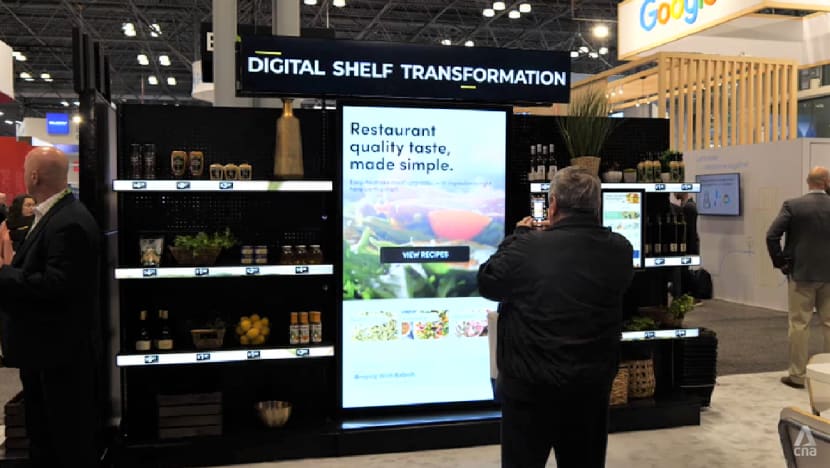 RETAILERS PLAN TO BOOST TECH SPENDING
ARHT Media's hologram display Capsule, for instance, aims to bring some of the convenience and customisation provided by online shopping to the in-store experience.
Using hologram and touch-screen technology, it allows people to virtually appear in a store from anywhere in the world, or for customers to interact with a brand's latest products. 
"This not only allows you to be in the store, but it allows you to find out more about the product without having to have an actual interaction with a sales associate, which sometimes is hard to find," said Ms Gorana Seeley, vice-president of global retail at ARHT Media. 
"And it gives you a piece of entertainment, so you can find the product there and really understand what they are all about."
According to research and advisory firm Coresight Research, more than two-thirds of US retailers plan to boost their technology spending over the next three years.
Technology firm Hypervsn said its holographic technology can increase customer footfall by up to 30 per cent, compared to 2D advertising. 
"Sometimes, it can be just the 'wow' moment," said Ms Lisa Jey Schanley, director of business development entertainment at Hypervsn. 
"Maybe they just want to draw people in and have them spend more time in the store, and when you increase dwell time and foot traffic, you're going to increase spending."