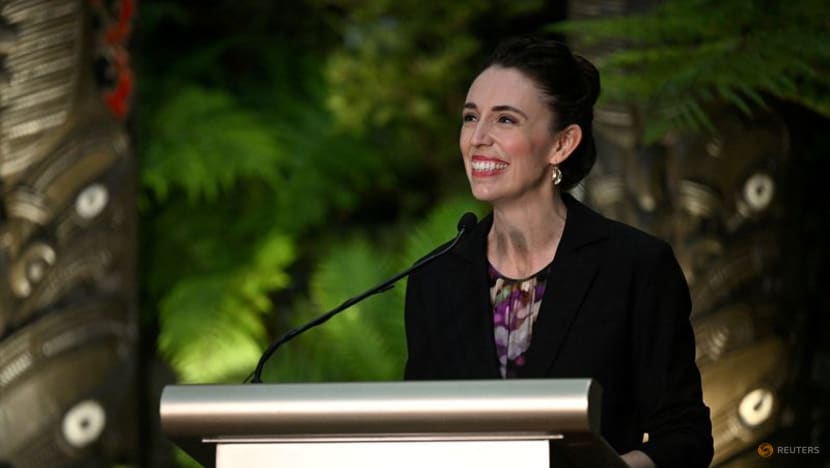 SINGAPORE: New Zealand Prime Minister Jacinda Ardern on Thursday (Jan 19) made a shock announcement that she had "no more in the tank" to continue leading the country and would resign by Feb 7 and not seek re-election.
Holding back tears, Ardern said that it has been a tough five-and-a-half years as prime minister and that she needed to step aside.
"This summer, I had hoped to find a way to prepare for not just another year, but another term – because that is what this year requires. I have not been able to do that," Ardern, 42, told a news conference.
"I know there will be much discussion in the aftermath of this decision as to what the so-called real reason was ... The only interesting angle you will find is that after going on six years of some big challenges, that I am human," she continued.
"Politicians are human. We give all that we can, for as long as we can, and then it's time. And for me, it's time."
Here is a look back at some of the key moments of her tenure.
Youngest New Zealand prime minister in 161 years
Arriving on the world stage as a fresh-faced opposition leader, Ardern was elected prime minister in 2017.
Just 37 years old at the time, she became the country's youngest prime minister since 1856 and a global icon for progressive politics.
She was elected to parliament in 2008 and in March 2017 became the Labour Party's deputy leader, saying at the time that she was not ambitious and saw herself as a backroom staffer.
Ardern transformed from a self-described "policy nerd" to prime minister on a wave of "Jacindamania" after being thrust into the Labour leadership about seven weeks before the 2017 election.
Although her party did not win the most seats in the vote on Sep 23 of that year, they were able to oust the incumbent National Party by teaming up with New Zealand First and the Green Party.
Ardern was sworn in on Oct 26, 2017.
She made headlines again the following year when she became only the second prime minister in the world to give birth while in office – after Pakistan's Benazir Bhutto in 1990.
Ardern's daughter, Neve, was born on Jun 21, 2018, and the new mother won accolades in September when she was photographed kissing and bouncing her baby inside the hall of the United Nations General Assembly.
It was the first such appearance by a baby in the organisation's history.
"I want to normalise it," Ardern told CNN. "By being more open it might create a path for other women."
Uniting the country in wake of Christchurch mosque shootings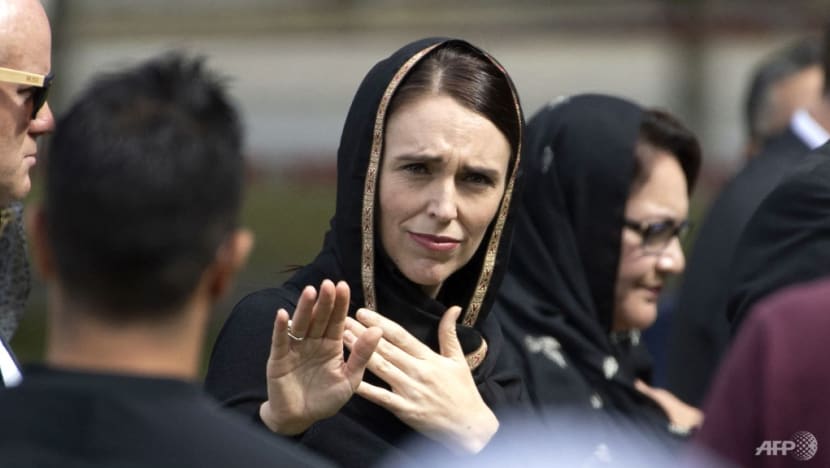 Ardern's empathetic leadership style was cemented by her response to the mass shootings at two mosques in Christchurch on Mar 15, 2019, that killed 51 people and injured 40.
She had been in office barely 18 months when a white supremacist gunman opened fire at the mosques during Friday prayers.
Her deft and compassionate response to the rampage of hate defined the charismatic centre-left leader's image around the world.
Ardern swiftly labelled the attacks "terrorism" and wore a hijab as she met with the Muslim community a day after the attack, telling them that the whole country was "united in grief".
She would later describe her donning of the headscarf as a spontaneous gesture of respect to the Muslim community.
She vowed not to speak the name of the perpetrator, denying him the notoriety he sought.
Ardern also won plaudits for decisive policy action in response to the attacks, including the swift enactment of gun law reforms and a push to force social media giants to address online hate speech.
In December 2019, she again offered comfort to the nation when the White Island volcano erupted, killing 21 people and leaving dozens more with horrific burns.
Winning an election during COVID-19 by a landslide
Ardern won plaudits for how she handled the COVID-19 pandemic, which saw New Zealand face some of the strictest measures globally but also record one of the lowest death tolls.
Ardern won a second term by a landslide on Oct 17, 2020, snatching a clear parliamentary majority as she rode a wave of popularity underpinned by her handling of the pandemic.
She dubbed her second win – the biggest New Zealand had seen in decades – "the COVID election".
She campaigned on her government's success in eliminating community transmission of the coronavirus, which at the time had claimed 25 lives in a population of 5 million.
New Zealand only fully reopened its borders in August 2022. The total number of deaths attributed to COVID-19 in the country has climbed to about 2,500 by January 2023.
Earlier in 2022, a small but vocal segment of New Zealand's population turned against Ardern's pandemic response.
Across four weeks, starting in February, hundreds of demonstrators occupied the lawn in front of the distinctive Beehive parliament building in the capital Wellington.
Ardern refused to meet the protestors – many of them espousing anti-vaccine conspiracy theories – and said they were using "intimidation and harassment" to get their point across.
The demonstrations ended in a flurry of violence, with some people ripping up paving stones and hurling them at riot police who were attempting to clear the camp.
More than 100 people were eventually arrested, with Ardern later describing the situation as "incredibly difficult" and "challenging".
Boosting New Zealand's international standing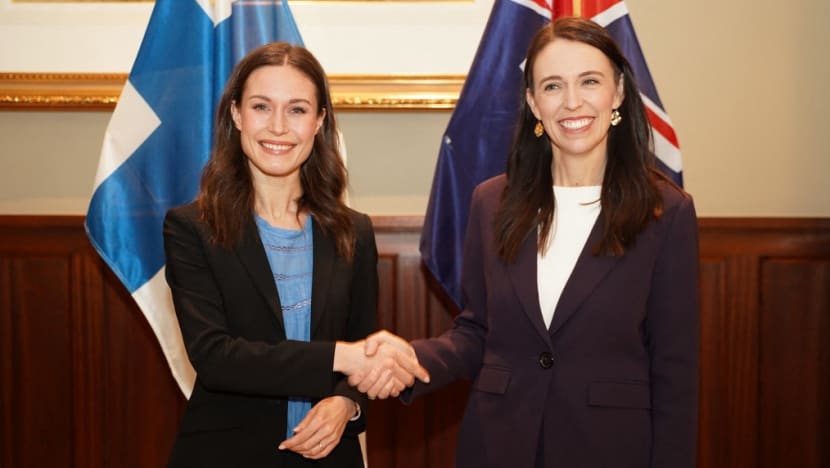 The esteem in which Ardern was held globally provided a boost to New Zealand's foreign relations, and 2022 saw her travelling to meet fellow world leaders again.
Her first official overseas engagement since the start of the COVID-19 pandemic was a trip to Singapore in April 2022, where she met Prime Minister Lee Hsien Loong.
Both leaders reiterated that their countries had excellent bilateral relations, with Ardern calling Singapore a very close friend.
United States President Joe Biden described her as a "not-so-old but … good friend" when they met at the White House a month later.
In July, she was also welcomed at 10 Downing Street by then United Kingdom prime minister Boris Johnson – although it was an awkward handshake between the two that made headlines.
Back at home in November, Ardern held a press conference with Finnish Prime Minister Sanna Marin and the duo had a viral moment when they shot down a question on age and gender.
They were taking questions from the media when a journalist asked about the purpose of the first visit to New Zealand by a Finnish prime minister.
"A lot of people will be wondering are you two meeting just because you're similar in age and, you know, got a lot of common stuff there," asked Joey Dwyer from Newstalk ZB.
Ardern was quick to cut off the question. 
"I wonder whether or not anyone ever asked Barack Obama and John Key if they met because they were of similar age," she said, in reference to the former leaders of New Zealand and the United States.
"We, of course, have a higher proportion of men in politics, it's reality. Because two women meet, it's not simply because of their gender."
Seeing her popularity wane
While Ardern's popularity rose internationally, she faced growing political headwinds domestically, as she struggled to prove that her leadership extended beyond crisis management and kindness.
Her ratings dropped on a worsening housing crisis, rising living costs and mortgage rates, and growing concerns about crime. She remained, however, more popular than her rivals.
Despite her promises of transformational leadership, Ardern's affordable housing programmes were set back by blunders.
Even on climate change, which Ardern called her generation's "nuclear-free moment", progress had been incremental.
The stress of the job was evident, with Ardern showing a rare lapse of poise in December when she was unwittingly caught calling an opposition politician an "arrogant p****".
Recent polls have indicated that a centre-right coalition of the National Party and ACT New Zealand will win the upcoming general election on Oct 14, although Ardern said that was not the reason for her resignation.
"I am not leaving because I believe we cannot win the next election, but because I believe we can and will," she said on Thursday.
"I am leaving because with such a privileged job comes a big responsibility. The responsibility to know when you are the right person to lead – and also when you're not."
Source: Agencies/CNA/kg(mi)