Deeper understanding of Singapore's local context needed in aquaculture push
The Singapore Food Agency recently organised a study trip to Southern and Western Australia to learn how to address challenges facing the country's fledgling aquaculture sector.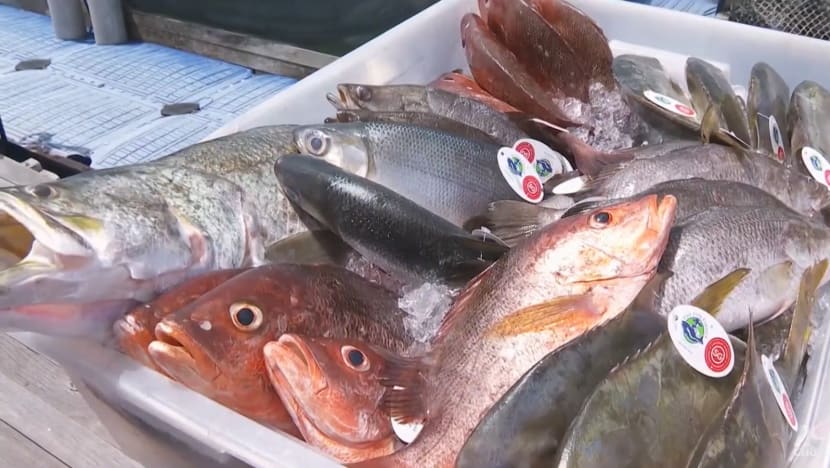 ADELAIDE: Singapore is looking to Australia for ways to address challenges facing its fledgling aquaculture sector, an area it looks to grow in strengthening its food security.
The introduction of legislation, along with close private-public partnerships, is one aspect that is being explored, following a recent study trip to Southern and Western Australia organised by the Singapore Food Agency.
Deepening research into science-based solutions to test and monitor water quality for fish is also on the cards, as Singapore draws key takeaways from Australia's collaborative approach in this field.
However, some experts note that it is still crucial to look at what caters to Singapore's own context, such as having limited space with plenty of activities taking place in the southern waters.
ROLE OF LEGISLATION
To bring the various players together requires a set of standards and legislation, which the Western Australia government said is important when dealing with funding support and ensuring sustainable practices.
"So getting the brood stock to spawn, getting viable eggs, growing those eggs through very small larval stages and up to a fish of about five grams which can then be grown out more easily … that adds up to a fairly high cost," said Mr Steve Nel, aquaculture manager at the Department of Primary Industries and Regional Development.
The high costs is something which could make aquaculture firms, especially smaller ones, reluctant to invest, he told CNA.
"That's where the government can really step in to provide capital and operating costs for facilities like that for their establishment and operation," he said.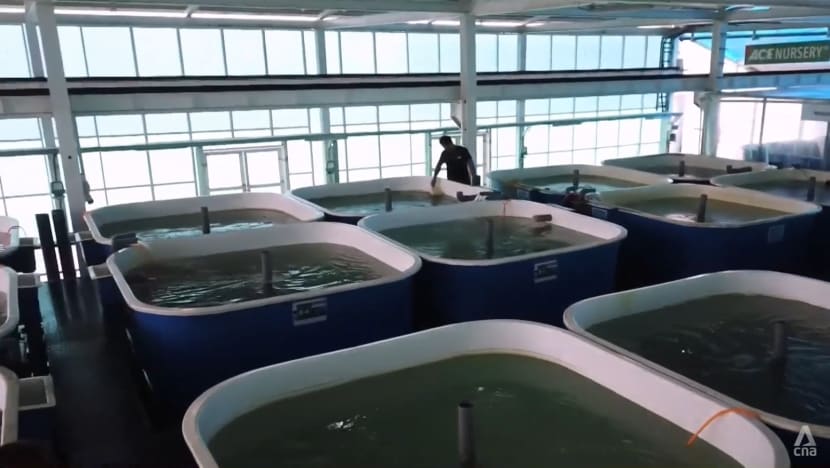 Mr Nel added that the country's regulations are focused predominantly on environmental sustainability, with different approaches to ensure that operators who have aquaculture licenses take the necessary measures to monitor water quality.
"We won't grant an aquaculture license until we are very clear that that person understands the requirements, what's needed of them, and the fact that we will be checking up on them through the compliance people," he said.
IMPORTANCE OF COLLABORATION
Another key takeaway was the importance of deeper and wider collaboration in the sector, whether through industry cooperation or public-private partnerships.
For the Singapore Agro-Food Enterprises Federation, that means getting its member fish farms on board to track how much feed is needed for a healthy fish population.
The federation's CEO Ken Cheong told CNA: "If all the farms decide to start this off (and) we all start recording how much we feed, start recording how much fish do we put down and how much fish do we harvest, I think that is a very quick and sure step forward."
Professor Charlie Huveneers, a shark ecologist from the College of Science and Engineering at Flinders University, told CNA the way that Australia involves various stakeholders when tackling aquaculture issues.
"What we are finding in Australia today is that a lot of the funding model has now moved and evolved towards getting a contribution from the industry, from government and from universities," he said.
Industry players typically raise important questions or priorities that they need to address, then collaborate with governments and universities to try and find solutions, said Prof Huveneers.
AUSTRALIA'S NATIONAL STRATEGY
Apart from collaboration, research is also at the heart of Australia's aquaculture sector, currently estimated at US$2.5 billion.
Scientists at Flinders University helped formulate Australia's national strategy for the sustainable use of ocean resources, something that Singapore's budding aquaculture industry is looking to learn from. 
Whether it is relying on sea grass to gauge water health or studying how fish food affects water quality, Singapore authorities are urging local fish farms to similarly explore science-based solutions to manage challenges.
For example, researchers at universities and fish farms across Australia are studying how sea grass provides food and shelter to marine life, to use as a barometer of water quality.
Mr Robert Gratton, CEO of Clean Seas Sustainable Seafood, told CNA: "The health of the seagrass in the places that we farm is the most important metric in terms of understanding the impact of our farming. And so we conduct a sort of ongoing and regular monitoring of the environment."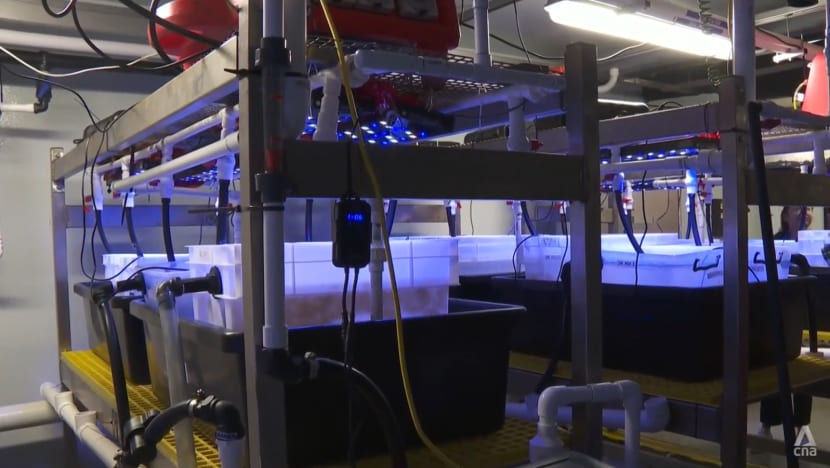 Although the conditions are different in Australia, there are still certain sustainability measures that can be adopted in Singapore.
"We also make sure that we fallow locations regularly to avoid any impacts. And then obviously, make sure that we aren't feeding without seeing the fish respond, and so making sure that only the exact right amount of feed goes in at any time," said Mr Gratton.
Singapore's Barramundi Group is seeking to understand how water quality is affected by the way fish in its farm are fed.
Its CEO James Kwan told CNA: "So having a fish being fed with floating feed means that a lot of that feed does not come down the water column. And then if it's uneaten, it pollutes the benthic layer and the seafloor and that is something that we are very, very particular about."
UNDERSTANDING SINGAPORE'S CONTEXT
Academic and conservationist Toh Tai Chong noted that Singapore needs a lot more research before it dives into developing its aquaculture sector, to study issues like how many fish an area of water can best carry.
Dr Toh, who is a senior lecturer at the National University of Singapore's College of Alice and Peter Tan, said that while collaboration is key, it is crucial to look at what caters to Singapore's context.
"For example, in clean waters like Australia, that carrying capacity of the farms may work for their context, but in Singapore's context, water quality is vastly different and we are in a tropical area, then that would change the entire equation of how the carrying capacity might be calculated," said the co-founder of Our Singapore Reefs.
"We need to have a better understanding of our own marine system before embarking on ambitious projects like aquaculture farms."
Singapore can also learn from Australia how to tap on both economic and environmental opportunities for research, he said.
"I think for us how it will look like will be basically having, beyond just situating the industries close to IHLs (Institutes of Higher Learning), I think it's basically coming up with a very active network to identify gaps (and) to proactively identify the areas that we can actually work together on," said Dr Toh.
This will help Singapore with a lot of issues including funding, research questions, and setting key output targets for the country, he added.