What is it like to have monkeypox? Patients share their experience
With monkeypox being declared a global health emergency, CNA spoke to two monkeypox patients based overseas to find out what their experience was with the disease.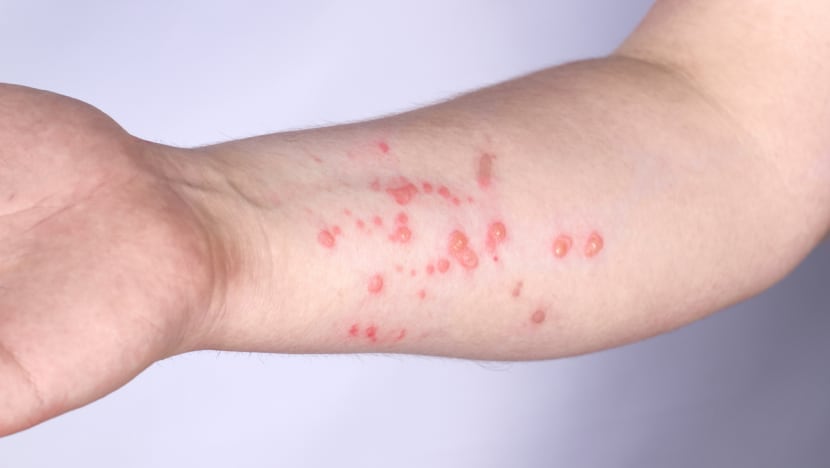 It started with a bad headache in mid-June. Bumps then began appearing on her face and chest.
"I had a big zit on my forehead and a bunch on my nose bridge as well as my cheek. Which I thought was weird because I don't usually have breakouts like this," said the woman, who goes by the name Kyrie Fluffins on TikTok. She requested to remain anonymous for this article.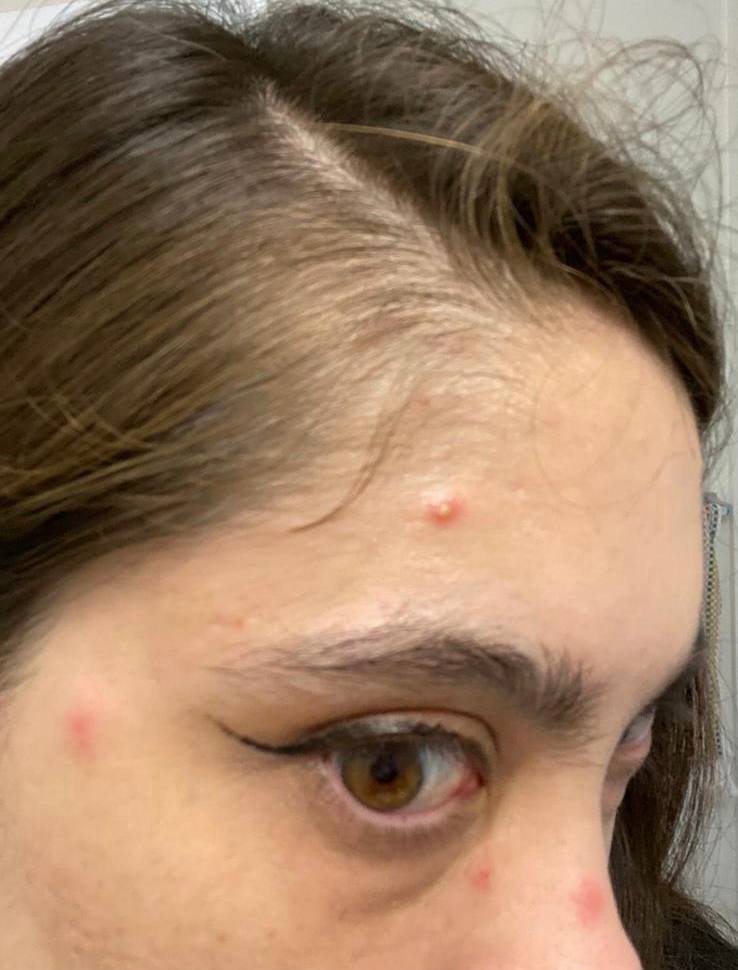 Speaking to CNA on Wednesday (Jul 27), Kyrie, who is based in California, said she initially suspected that she had COVID-19 as some of her friends tested positive for the virus recently. But her tests came back negative.
The bumps continued to spread to other parts of her body including her back, legs and scalp. Then her eyes started to itch.
Alarmed, she went to see a doctor, who said that she might have monkeypox and told her to get tested.
"I just shut down, it was like getting delivered really bad news. It was really depressing and scary especially because they told me there's no cure," she said. "They said since it's a viral infection, all I can do is to let my system ride it out, do its thing and fight it off naturally.
"It was so disheartening to hear that there's no medicine that you can take to make it go away."
While waiting for test results to confirm she had the disease, she also developed a secondary infection of cellulitis – a common bacterial skin infection that causes redness, swelling and pain – on her left elbow.
According to the World Health Organization (WHO), other complications include bronchopneumonia, sepsis, pneumonia, encephalitis, confusion and infection of the cornea with ensuing loss of vision.
Kyrie is still not sure how she contracted monkeypox, though she suspects she could have caught it during a massage at a spa or by sharing food with her friends.
What is monkeypox?
A viral disease, monkeypox can be transmitted through contact with bodily fluids, lesions on the skin or on internal mucosal surfaces, such as in the mouth or throat, respiratory droplets and contaminated objects. 
Human-to-human transmission is limited, with the longest documented chain of transmission being six generations, according to WHO. This means that the last person to be infected in this chain was six links away from the original patient.
Monkeypox is related to smallpox but its symptoms, while similar, are often less severe and last between two and four weeks. Those who are infected usually experience fever, headache, muscle ache, backache, swollen lymph nodes, chills, lethargy and rash.
However, patients CNA spoke to also reported symptoms such as sensitivity to light and prolonged diarrhoea.
Currently, there are no specific proven or safe treatments or vaccines available for monkeypox. Treatment is typically symptomatic and supportive, which means it can only help to relieve some symptoms.
Vaccines and antiviral medication are also being developed and studied for use in the prevention and treatment of monkeypox.
With her infection going on for more than a month now, Kyrie said it has impacted her health as well as her quality of life.
New lesions are still appearing on her body and she continues to grapple with exhaustion and itchy eyes.
A software engineer, she used to do yoga every day and was generally healthy. Since contracting monkeypox, she has lost a lot of weight and gone down at least one dress size.
"When I got sick, I was just in bed for weeks and I had to take a lot of time off work. And I'm still not fully recovered," Kyrie said.
"It is very confusing because at first (the doctors) told me that the lesions would be gone within a week and to just wait for the lesions to crust over and fall off – which I did and new skin grew underneath – but then they came back. As of day 31 of my infection, I'm still getting new lesions.
"It feels never-ending."
For 40-year-old Maxim Sapozhnikov, who tested positive for monkeypox on Jun 21, his infection appeared to be milder.
Based in Milan, the founder and CEO of creative production agency Fashion To Max said he experienced symptoms including headaches, a low-grade fever and lesions. He isolated himself for 19 days.
"I had about 10 lesions, with the biggest one on my (index) finger. I also had a couple on my chest, a small one on my face that went away quite quickly, my legs and one in an intimate area," he said.
"I had back pain that lasted for one to two days. But if you're asking if this is the worst (infection or illness) I've experienced so far – then I would say, for me, it was fine in general, it wasn't the worst for me."
No new lesions appeared after the first week and Mr Sapozhnikov said he has since recovered.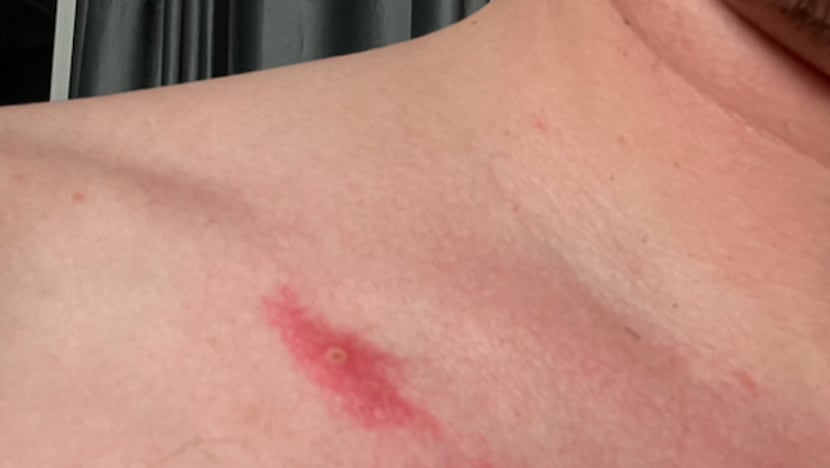 WHO's external situation report published on Jul 25 said that the global outbreak of monkeypox has grown to more than 16,000 cases, including five deaths.
While cases remain heavily concentrated in Europe, the five deaths were reported in African nations.
On Wednesday, Singapore reported its 11th case of monkeypox since June, a 32-year-old Singaporean man who tested positive two weeks after developing a fever.
Of the 11 cases, five are imported and six are local. None of them are linked.
Health Minister Ong Ye Kung previously said that MOH does not recommend the mass vaccination of Singapore's population against monkeypox, given the self-limiting nature of the disease.
FIGHTING STIGMA
With data showing that the global monkeypox outbreak appears to affect mostly men who have sex with other men, it has sparked concerns about stigma and discrimination towards some communities.
A study published in the New England Journal of Medicine on Jul 21 – the largest to date – found that of 528 confirmed infections diagnosed between Apr 27 and Jun 24 this year, 98 per cent were gay or bisexual men, and 95 per cent were suspected to have caught the disease through sexual activity.
The WHO's latest situational report found that 5,470 of the 5,561 cases – or 98 per cent – with reported sexual orientation identified as gay, bisexual and other men who have sex with men. Of the 4,614 cases with reported HIV status, 1,873 cases – or 41 per cent – were HIV-positive.
However, public health experts stress that the spread of monkeypox is not just limited to sexual activity or sexual orientation. The disease can also be transmitted through close contact as well as contact with bodily fluids, which means that it is possible for the virus to infect people who have sex with people of the opposite sex and through kissing.
For Kyrie and Mr Sapozhnikov, who shared their experience with monkeypox on their social media accounts, the existing stigma surrounding monkeypox initially made them hesitant to do so.
"Because of the stigma, people are just afraid to tell anybody and actually, it was the same for me," said Mr Sapozhnikov.
"When I got it, it was very scary. And a month ago, you can imagine there wasn't a lot of information about monkeypox and there wasn't anyone one social media talking about their experience, so I decided to do it.
"Now there are probably about 40 over people around the world who have come out to share their experience and talk about it. When you see somebody who is going through the same thing as you and sharing their experience, you feel like you're not alone and also learn how they deal with this, where to go for help and what to do," he added.
As for Kyrie, she initially started taking videos of her lesions to show her doctor the progression of her spots. However, after being denied antiviral treatment, she eventually decided to turn to the online community for support.
"I didn't know what to do and I received no help from my doctors. People kept saying it's a gay disease and I'm a straight woman," she said.
"So I started posting and then people started reaching out and saying that they have the same thing and that they had been denied testing as well," she said, adding that people also shared recommendations to relieve symptoms.
"To see people who are going through the same thing and get support is a good thing but, it is such a heavy illness to carry in the sense that it's very exhausting both emotionally and physically."