Russia's mobilisation indicates Putin preparing for long war in Ukraine: Analysts
Experts add that Russian President Vladimir Putin's nuclear rhetoric - used since even before his invasion of Ukraine - is likely a bluff.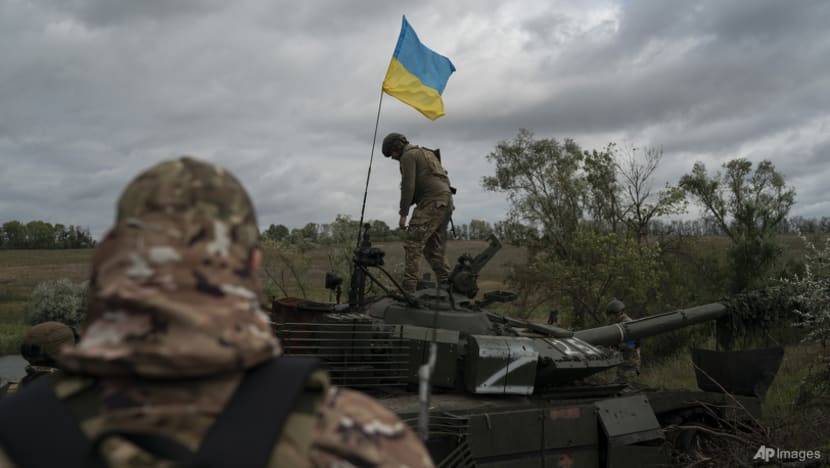 SINGAPORE: Russia's first mobilisation since World War II is an indication that President Vladimir Putin is preparing for a long, drawn-out war in Ukraine, said analysts.
Russia lacks combat-ready reservists and will need time to train and deploy them to the war zone. With a mobilisation drive spread over months, Moscow is gearing up for a prolonged offensive against Ukraine, the experts explained. 
"Russia is expected to take a long time to filter through any actual additional combat power. So it's a statement that Putin is looking at a long war," said Mr Keir Giles, senior consulting fellow of the Russia and Eurasia Programme at think-tank Chatham House, on Thursday (Sep 22).
Mr Putin on Wednesday ordered a partial mobilisation of up to 300,000 reservists and threatened to deploy nuclear weapons, following a series of setbacks on the battlefield that led to Ukraine reclaiming parts of its territory. 
Analysts said this signalled Mr Putin's recognition that his invasion has not gone according to plan - and that despite dangling incentives to attract volunteer soldiers, Russia is facing a manpower crunch on the frontline.
"(Despite) all that we've heard in Putin's claims of Russian success, it's a realisation that Russia needs to dig deep into its reserves of manpower and industry to stay in the fight," said Mr Giles, speaking on CNA's World Tonight programme.
RUSSIAN RESERVISTS "NOT HIGH-QUALITY"
Russia's reservists are unlikely to be hardened forces as most have been out of the service for a long time, and Moscow would need to spend time and reserves training them, said Mr Mark Cancian, senior adviser at the Center for Strategic and International Studies' (CSIS) International Security Program.
"It's going to take a while to train them up. Russian reservists don't have (regular training). They are really just names on a list. It's going to take a long time and these are not going to be very high-quality units," he explained on CNA's Asia First.
He said that this would likely give Ukraine a chance at making further headway in regaining more territory.
"It certainly puts some pressure on the Ukrainians to try to get as much territory as they can before these new reserves start showing up on the frontlines. That's going take a while though, so they have a little time to continue this offensive," said Mr Cancian.
PUTIN "BLUFFED SO MANY TIMES"
Mr Putin on Wednesday also made a thinly veiled reference to using nuclear weapons and emphasised that he was not bluffing.
"When the territorial integrity of our country is threatened, we will certainly use all the means at our disposal to protect Russia and our people," he said. "It's not a bluff."
But analysts said the Russian leader's nuclear rhetoric has been used too many times, since even before his invasion of Ukraine. 
"The reason Putin has to say that he's not bluffing is because he's bluffed so many times before," said Mr Giles.
"The effect of these nuclear threats, or these half-threats, is wearing thin as he's resorted to them so very often ... So everybody is interpreting this now as yet another bluff."
However, the experts stopped short of dismissing the possibility of a nuclear response from Moscow further into the war - especially if Russia sees its "red lines" being crossed.
"Basically, (Putin has) laid out two conditions that might engender a nuclear response. One is for NATO troops to enter Ukraine and engage the Russians directly. And the other is if Ukrainian forces push into the Russian homeland," said Mr Cancian.
Ukraine's presidential advisor Mykhailo Podolyak has called on world leaders to give Moscow a stern rebuke for Mr Putin's threat.
"The world today should clearly say to the Russian Federation: 'Look, if you go down the path of using nuclear weapons, we will be forced to do the same … We will be forced to strike the places from which nuclear weapons were launched against other countries'," Mr Podolyak told CNA's correspondent Julia Chapman.
"Because if the world does not fix this, then of course, the Russian Federation and any other nuclear power will be able to say that they have the 'right of the strong' to use it, to seize foreign territory and use nuclear weapons for its protection - well, let's say, its unprovoked expansion," said Mr Podolyak.
NO PEACE UNTIL ONE SURRENDERS - OR WINS
Analysts added it would be challenging to negotiate an agreement with both sides desiring very different outcomes to the conflict.
"Russians say that they're going to take over all of Ukraine, or at least hold on to what they have. And the Ukrainians want them out of all of Ukraine," said Mr Cancian.
"I think it's going to be very difficult to negotiate an agreement. I don't see any negotiations possible. At least until one side essentially decides to give up the fight."
The peace process is also tough because Moscow has set its sights beyond Ukraine, said Mr Giles, adding that the only way to thwart Mr Putin's ambitions is for Ukraine to defeat its aggressor.
"Putin has set out his aims as much more than Ukraine: Putin wants to resurrect the Russian Empire and believes implicitly in this right of Moscow to govern peoples and nations that are well beyond Russia's borders. So Ukraine was just the first target," he said.
"And that's why it's so important for Ukraine, backed by the West, to inflict a defeat on Russia. That's the only way to protect Europe at this point."