Strained ties between India, Canada hit 'new low' after accusation of Sikh leader's murder
The allegations have prompted tit-for-tat expulsions of diplomats on both sides.
Accusations linking the Indian government to the killing of a Sikh separatist leader on Canadian soil have dealt a blow to diplomatic ties between Canada and India, but the tensions have been simmering for some time, said observers on Tuesday (Sep 19). 
Dr Purnendra Jain, emeritus professor at The University of Adelaide's Department of Asian Studies, said the already sour bilateral relationship has hit "a new low".
"This is not the only issue which has created tensions between Canada and India. There are other issues as well," he told CNA's Asia Now. 
"So the tensions which we see today have been simmering for some time, and this issue has come to the fore with drastic actions, diplomatic actions taken by both nations."
DIPLOMATIC EXPULSIONS, POSTPONED TRADE MISSION
Canada said on Monday that its security agencies have been "actively pursuing credible allegations" of Indian government agents being involved in the murder of Canadian Sikh leader Hardeep Singh Nijjar in British Columbia three months ago. 
The Sikh separatist leader was shot dead outside a Sikh temple on Jun 18 in Surrey, a Vancouver suburb with a sizable Sikh population.
He had supported a Sikh homeland, in the form of an independent Khalistani state, and was labelled a "terrrorist" by India in 2020. 
The accusations have prompted tit-for-tat diplomatic expulsions on both sides. 
Canada has also abruptly postponed a trade mission to India that was planned for early October, after tensions between the two nations flared during the G20 summit in New Delhi last week.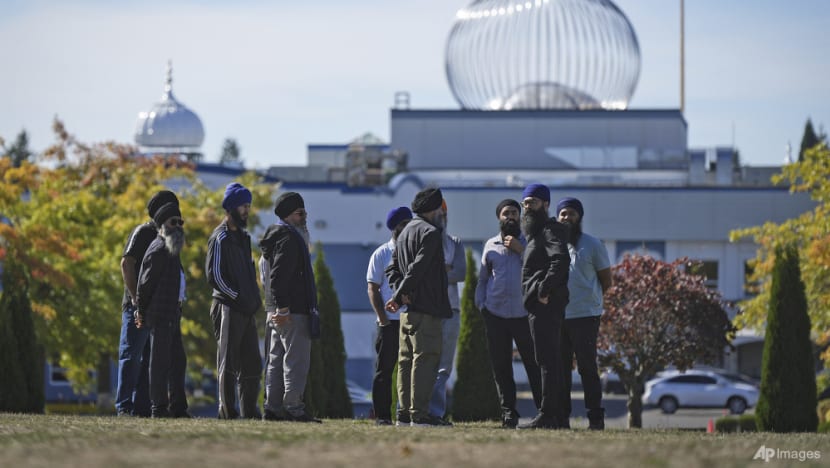 "From there, the relationship has gone downhill," said Dr Jain. "It is very important that a diplomatic solution is found sooner rather than later, and that this situation does not escalate to a level where diplomatic negotiations become even worse."
On Monday, Canadian Prime Minister Justin Trudeau said in an emergency statement to the House of Commons that "the involvement of any foreign government in the murder of a Canadian citizen on Canadian soil is an unacceptable violation of our sovereignty". 
Mr Trudeau said he had raised the murder with Indian Prime Minister Narendra Modi on the sidelines of the G20 summit. He also urged the Indian government to "cooperate with Canada to get to the bottom of this matter".
The Indian government has taken the stance that any separatist movement, even outside of India, is a threat to the country's solidarity and integrity, said Dr Jain. "And it takes this principle very, very seriously."
On Tuesday, India dismissed claims of involvement in the killing. The foreign ministry called the allegations "absurd". 
A BLOW TO CANADA'S INDO-PACIFIC STRATEGY 
This is an "extremely serious" situation, said adjunct professor Vina Nadjibulla of the School of Public Policy and Global Affairs at The University of British Columbia. 
"These are still just at the level of allegations and of course, if proven to be true, this would be a serious blow to Canada's bilateral relationship with India and would also jeopardise Canada's efforts in the Indo-Pacific where India is a critical partner."
There is a need for both sides to collaborate to resolve this matter "because the relationship between Canada and India is a really important one", the international security and peacebuilding specialist told CNA's Asia First. 
Canada has been hoping to improve relations with India "as part of its Indo-Pacific strategy and a desire to be a much more active and reliable partner in the region", she added.  
"India is just pivotal to that. So any efforts to try to find a way to de-escalate and to also get to the bottom of this intelligence information would be really important."
Canada has a Sikh population of more than 770,000, or around 2 per cent of its total population. 
Ms Nadjibulla said this is "a very large diaspora community" in Canada, and "that population has a small percentage of folks who are interested in advocating for a separate state" for the Sikhs in India. 
"I have to stress that it is a small group and a small portion of it has also been designated by the Indian government as having links to violence, to terrorism, and so forth," she added.
"But the government of Canada has consistently insisted that the issue is one of freedom of speech and freedom of assembly, and that Canada is a rule of law country and a democracy.
"As such, people are free to gather and people are free to worship, and it has to protect those rights and it is advocating for pluralism and dialogue."