Tensions in Korean peninsula expected to rise as South Korea, US mark 70 years of alliance with military drills
South Korea will hold more than 20 joint military drills with the US next year, while Pyongyang is expected to conduct its seventh nuclear test.
SEOUL: Tensions in the Korean peninsula are expected to rise next year, as South Korea and the United States mark 70 years of their alliance with several military drills.
South Korea has said it will hold more than 20 large-scale joint military drills with the US next year, a move which could enrage Pyongyang.
The North conducted its highest number of missile tests in 2022, the most in a single year since leader Kim Jong Un took power in 2011, and more than the three previous years combined.
Among the more than 60 missiles fired were intercontinental ballistic missiles believed to be capable of reaching the US.
Some analysts also expect Pyongyang to conduct its seventh nuclear test in 2023, its first since 2017.
NO END IN SIGHT
Experts are convinced North Korea will not stop its launches, as long as there are no talks between Pyongyang and Washington, or Seoul and Pyongyang.  
One Korea Center president Kwak Gil-sup said: "North Korea's attitude will remain consistent for the time being. If it wants to maintain tension through what it considers minor provocations to make nuclear possession a fait accompli and create conditions for disarmament talks, it must continue to upgrade nuclear power through strong provocations."
Amid rising tensions on the Korean peninsula earlier this year, South Korea and the US held their largest joint military drills in years.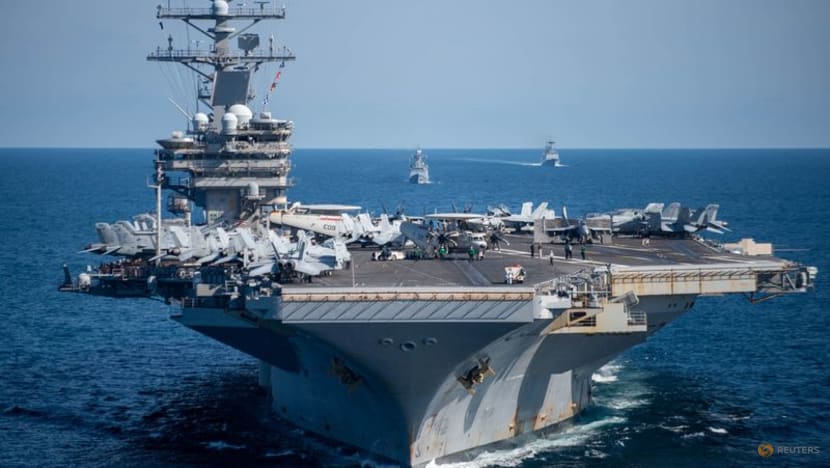 The US sent its nuclear-powered aircraft carrier, the USS Ronald Reagan, to take part in the Vigilant Storm operation alongside South Korea's warplanes, staging mock attacks on enemy forces.
Both forces also conducted a joint river-crossing drill, in what was seen as a large-scale operation to counter threats from North Korea.
Both countries have said the drills are purely defensive and necessary, while Pyongyang has angrily condemned them as a rehearsal for an invasion of North Korea.
With more of such drills on the way, tensions on the Korean peninsula are expected to only go up.
A MORE AGGRESSIVE NORTH
There are concerns that the hardline stance taken by South Korean President Yoon Suk Yeol could push North Korea to take more provocative actions next year.
Pyongyang is also turning more towards Russia and China, after failing to get any easing of sanctions from the United States.
Talks between Washington and Pyongyang have largely stalled since a failed summit between North Korean leader Kim Jong Un and then-US president Donald Trump in 2019, despite the Biden administration saying it remains open to talks without preconditions.
Mr Park Hwee-rhak, Nuclear Defence Chair of the Hansun Foundation, said: "I think not in the distant future, but soon, North Korea will attempt to reunify South Korea by launching a surprise attack, including the use of nuclear weapons."
He noted that national unification is included in North Korea's constitution, adding: "It doesn't say unification per se in the constitution, but it conveys the idea of North Korea's willingness to complete its socialist state and expand it to the Korean peninsula."